*This post may contain affiliate links, as a result, we may receive a small commission (at no extra cost to you) on any bookings/purchases you make through the links in this post. As an Amazon Associate, I earn from qualifying purchases. Read our full disclosure.
Tourism in Slovenia has really picked up in the last five years – it increased by 9% alone in the last year! And in an effort to preserve the beautiful landscapes and culture of the country, the Slovenian government enacted the
Slovenia Green
initiative – a nationwide effort for the sustainable development of the tourism industry. How cool is that?
When you think of traveling to Slovenia, what destinations come to mind? Lake Bled? The capital city of Ljubljana?
Even as tourism in Slovenia grows, most visitors don't venture out beyond Ljubljana and Lake Bled. Which is a shame, seeing as the country has some incredible hidden gems to offer!
One of these hidden gems is Piran, Slovenia.
Why Piran, Slovenia?
Nestled along the "Slovene Riveria" – the 46km (29 miles) coastline of the country along the Adriatic Sea – Piran is a treasure of the Mediterranean.
If you love the winding cobblestone streets of Venice, the relaxed coastal towns in Croatia and the cleanliness and sustainability of Slovenia as a whole – you're going to love Piran!
We recommend visiting during the shoulder seasons – March to May and August to October. Weather in Piran will still be nice during this time of the year, but there will be hardly anyone else there.
Things to do in Piran, Slovenia
Visit the Church of St. George
This is the most popular sight to see in all of Piran – and with good reason! It's located right in the main square. And if you choose to climb the stairs to the top of the bell tower (well worth the 1€ it'll cost you), you'll have a view of the whole town!
Learn About Salt Mining at the Sečovlje Salina Nature Park
This nature park is both an educational and entertaining experience for anyone that visits. You'll have the chance to tour the largest salt evaporation site in all of Slovenia, and see salt traditionally harvested.
With your ticket to the nature park, you'll also have access to a guided tour of the saltpan museum and if you are lucky, you might even go home with a bag of salt you harvest yourself!
Relax at the Lepa Vida Thalasso Spa
The Lepa Vida -Thalasso Spa offers a unique experience. This outdoor spa experience allows guests to take in the beauty of Sečovlje Salina Nature Park while relaxing and unwinding at the same time.
Thalassotherapy incorporates natural minerals and salt to help refresh your body, restore balance and give it energy.
You can also walk from Piran to the neighbouring town of Strunjan along a paved path that starts in Sečovlje Salina. It's a super easy walk that takes just over an hour to complete, and every moment of that will be filled with incredible views of the peninsula!
You can also visit the nearby town of Portoroz, a more modern Slovenian town full of casinos and resort hotels. They have a walkable boardwalk along the coast and thermal baths that are a popular stop for travelers!
Note: though Piran Beach is not sandy, it's still worth a visit. You can walk along the coast and enjoy an immaculate sunset, or swim in the Adriatic!
Enjoy the Beauty of Piran, Slovenia Through Unique Walks
Whether you want to learn about the rich cultural history, religion or salt industry in Piran, there's a trail for you!
Check out this awesome list of hiking experiences in the region.
Live Out Your Foodie Dreams
If you're a foodie like us, this region of Slovenia is perfect for you! We went on an olive tour of Gramona Farms that included an olive oil tasting and a tour of the grounds.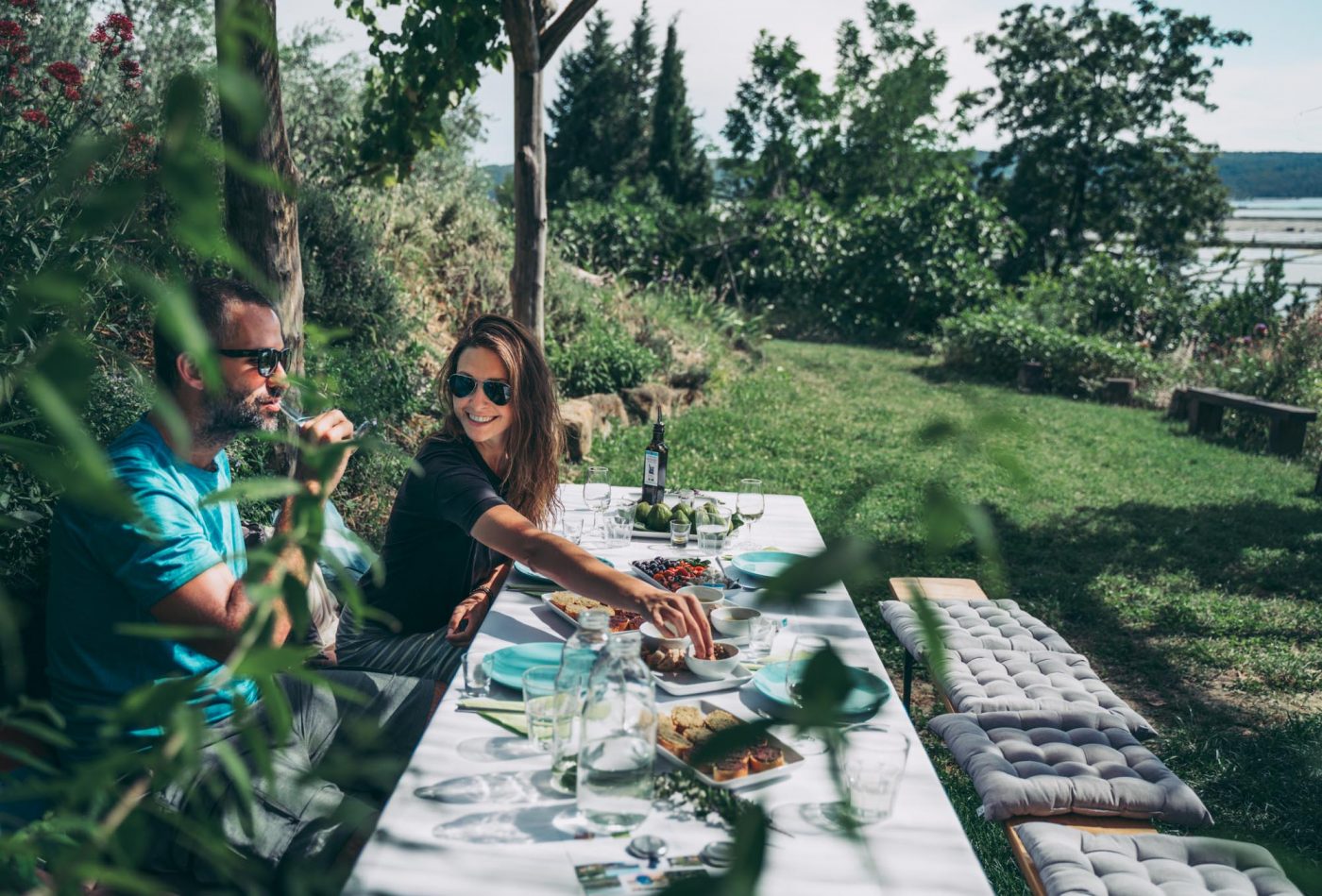 There are also a bunch of wine tasting tours including this sunset walking tour that includes local food and wine. You can even go truffle hunting with a local expert!
Explore the Slovenian Coast on a Boat Tour
Since the coastline is so short, you'll be able to cover most of it on a panoramic tour like this one.
If you'd like to add a bit of adventure to your boating excursion, there are an array of diving trips available from Piran – all levels of experience welcome!
And if you're feeling extra adventurous, you can even take a day trip to Venice, Italy by boat!
Explore the Ancient City Walls of Piran, Slovenia
The construction of these city walls span from the seventh to the fifteenth century, and they're all very well preserved! It won't take you long to explore the ruins, but getting to the highest vantage point will grant you incredible views of the city and sea.
Where to Stay
In Town: Pachamama Guest Houses and Apartments
PachaMama, which means Mother Earth in the Incan language, is a small Slovenian chain of accommodations geared towards sustainability. They have a lovely selection of guesthouses and apartments in Piran that are located in the heart of town.
Most of their rooms cost less than 100€ a night. There are few hotels in Piran, Slovenia that is considered eco-friendly, but PachaMama is doing everything they can to make your stay not only comfortable and fun but low-impact and sustainable.
Out of Town: Slovenian Istria Houses (Hiške Slovenske Istre)
This eco-hotel acts as the perfect base for people wanting to explore the Slovenian coast. Located among the beautiful vineyards and sprawling hills of the Istria region, Hiske Slovenske Istre keeps local culture alive and thriving in every room they've got to offer.
For more information about sustainable accommodation options, check out our post all about the best eco-hotels in Slovenia.
Airbnb
We love staying in an Airbnb whenever possible, and there are some really incredible properties available on Airbnb in Piran.
If you are new to Airbnb, sign up today and get $50 off your first stay!
Piran Camping
There are a handful of campsites (like Campsite Lucija) in Piran that are incredibly affordable and allow you to sleep under the stars right next to Piran Beach. How dreamy!
Interesting note: If you're visiting Piran with a rental car, keep in mind that all parking within city limits of Piran is reserved for residents of the town with special parking passes.
We recommend parking outside of the Piran city centre and exploring on foot or by bike – like with this awesome electric bike tour.
Need more inspiration for your trip to Slovenia – Piran and beyond? Check out our article with our top recommendations!
Have you already been to Piran? Tell us what your favourite part was!
Disclaimer:This post contains affiliate links which means that we receive a small commission on your bookings at no additional cost to you.