Of all the countries in East Africa for a safari experience, Uganda is still the least known destination, but there are so many things to do in Uganda. It's a country full of wonderful wildlife experiences and natural wonders.
*This post may contain affiliate links, as a result, we may receive a small commission (at no extra cost to you) on any bookings/purchases you make through the links in this post. As an Amazon Associate, we earn from qualifying purchases. Read our full disclosure
Uganda Safari and Other Things to Do in Uganda
A visit to Uganda offers an opportunity to go on a gorilla safari in Uganda's Bwindi National Park, to spot tree climbing lions in Queen Elizabeth National Park, to get a dose of adrenaline on a whitewater rafting adventure on the Nile River, and experience many more Uganda tourist attractions!
Want a sneak preview of what awaits you in Uganda, check out our video below to get a sneak preview of all the destinations mentioned above.
No matter the reason for your visit, we hope to convince you that a Uganda safari has much more to offer than what you originally thought. Having spent 3 weeks exploring things to do in Uganda in November 2017, we visited many corners of the country and are excited to share our favourite destinations in the Uganda safari itinerary below.
If you are looking for things to do in Uganda, these are the destinations worth adding to your Uganda itinerary.
Kampala: 2-3 days
At first glance, you may not want to add Kampala to your Uganda travel itinerary. The city looks like any other African capital: busy, dirty, and somewhat uninviting, but behind its grim facade, Kampala is full of interesting pockets and lively nightlife. The city is home to lots of great restaurants, shopping centers, and local markets and is well worth a short stop at the beginning of most Uganda tours.
Traveling Soon?

Here is a list of our favourite travel providers and accessories to help get you ready for your upcoming trip!
Where to Stay
It may be hard to navigate Kampala on your own and especially hard to find those great pockets of goodness without the help of a guide, so we highly suggest hooking up with a local through an Airbnb stay.
Bunyonyi Lake: 1-2 days
The beautiful Bunyonyi Lake lies in Western Uganda, about 5-6 hours from Kampala. The lake offers spectacular views and feels like a very welcome change from the hustle and bustle of Kampala.
Its shore encircles 29 islands, many of which are home to lovely guest houses and lodges. Most of these can organize boat trips on the lake and many offer incredible views and a relaxing atmosphere that makes Lake Bunyoni an ideal stopover en route to Bwindi National Park for the ultimate safari in Uganda.
Where to Stay
We didn't spend the night in Bunyonyi, but heard that Bird Nest Lodge offers the best accommodation in the area for those on their way to gorilla safaris in Uganda.
Bwindi National Park: 2-3 days
Thanks to the fact that Bwindi National Park is home to 11 groups of mountain gorillas, this destination usually tops the list of things to do in Uganda for every visitor. Gorilla Trekking in Uganda is one of the top Uganda tours. Be prepared for an experience of a lifetime as you spend the day looking for a gorilla!
Safaris aren't the only activity in the park. Consider extending your stay for a chance to hike to the waterfalls inside the park or an opportunity to visit the local village and to support those living in this impoverished community.
Where to Stay
There are 3 sections in the park, Rushaga, Buhoma and Ruhija, each one with their own set of gorilla groups. Each section offers a selection of accommodation options conveniently located near the meeting point for your gorilla safaris in Uganda.
We recommend staying at the Gorilla Safari Lodge in the Rushaga Sector, a small Ugandan owned full-board eco-lodge with close ties to the Rushaga Community. Their wonderful staff will make you feel at home and will help you organize activities in the area to add even more adventures to your Uganda travel itinerary.
Queen Elizabeth National Park: 2-3 days
Queen Elizabeth is one of the most frequently visited National Parks in Uganda, offering diverse landscapes including savannah, bushland, wetlands and lush forests. The park is inhabited by 96 species of mammals, including hippos, elephants, lions, leopards, jobs, and many others and is a popular destination for a Uganda safari.
Where to Stay
Ishasha Wilderness Camp is a wonderful full-board eco-lodge located on the banks of the Ntungwe River inside the park. Its perfect location makes it the ultimate choice to experience this part of your safari in Uganda.

Ishasha Wilderness Camp, Queen Elizabeth National Park, UgandaTheir simple but comfortable solar-powered eco-tents offer beautiful views of the river and provide an ideal place to lay your head at night. The lodge has close ties with the local community and will happily organize community visits, cooking classes, and other activities to add to your stay in Queen Elizabeth National Park and to make your Uganda safari experience to remember.
Read More: Safari in Queen Elizabeth National Park, Uganda
Kibale National Park: 2-3 days
This lush tropical rainforest is believed to have the highest density of primates in all of Uganda. Kibale is a prime destination for chimp tracking and chimp habituation experiences, but those that have the time to linger a bit longer will be pleased to discover lots of other activities and Uganda tourist attractions in the area.
While tracking with chimps is a really great experience, we also particularly enjoyed our visit to the Bigoti Wildlife Sanctuary where we spotted 8 other species of primates. The sanctuary itself is a wonderful community conservation project set up to protect the 4-sq-km (1.5 sq miles) Magombe Swamp and employ young guides from the area.
Where to Stay
It's easy to visit Kibale National Park while staying in Fort Portal or at the Crater Lakes. We stayed at the Ugandan owned Crater Safari Lodge that offered spectacular views of the lakes and served as a quiet retreat ideal for relaxation and to get ready for the next leg of your Uganda safari.
The lodge has a pool, provides easy access to the nearby village and offers walks and boat rides around the Crater lakes.
Murchison Falls National Park: 2-3 days
Murchison Falls National Park offers many surprises to those that brave the bumpy road en route to this beautiful destination. The park is named after an enormous 45-meter (148 foot) waterfall, created by the Nile River that crashes down through a narrow gorge inside the park. There is a beautiful boat ride that takes visitors for a game ride along the river and a worthwhile walk to the top of the falls that offers a unique perspective of the falls.
And if that wasn't enough to entice you to add this stop to your Uganda travel itinerary, Murchison Falls National Park is also a great destination for wildlife viewing. The park is home to four of the Big Five (excluding rhinos, who have been killed off by poachers) as well as 400+ bird species and many other mammals.
Where to Stay
We recommend spending a few nights at Baker's Lodge, one of the best eco-friendly accommodation options in Murchison Falls. Located on the Victoria Nile, their luxurious thatched bandas overlook the river where a large herd of hippos come to cool off during the day.
Kidepo National Park: 2-3 days
The most remote National Park in Uganda is also arguably the best place for wildlife viewing in the country. Set in a beautiful valley in the far north of Uganda, Kidepo offers incredible views and features large concentrations of elephants, zebras, buffaloes, bushbucks, giraffes, lions, jackals, leopards, hyenas and many other animals making it one of the best parks to visit while on a safari in Uganda.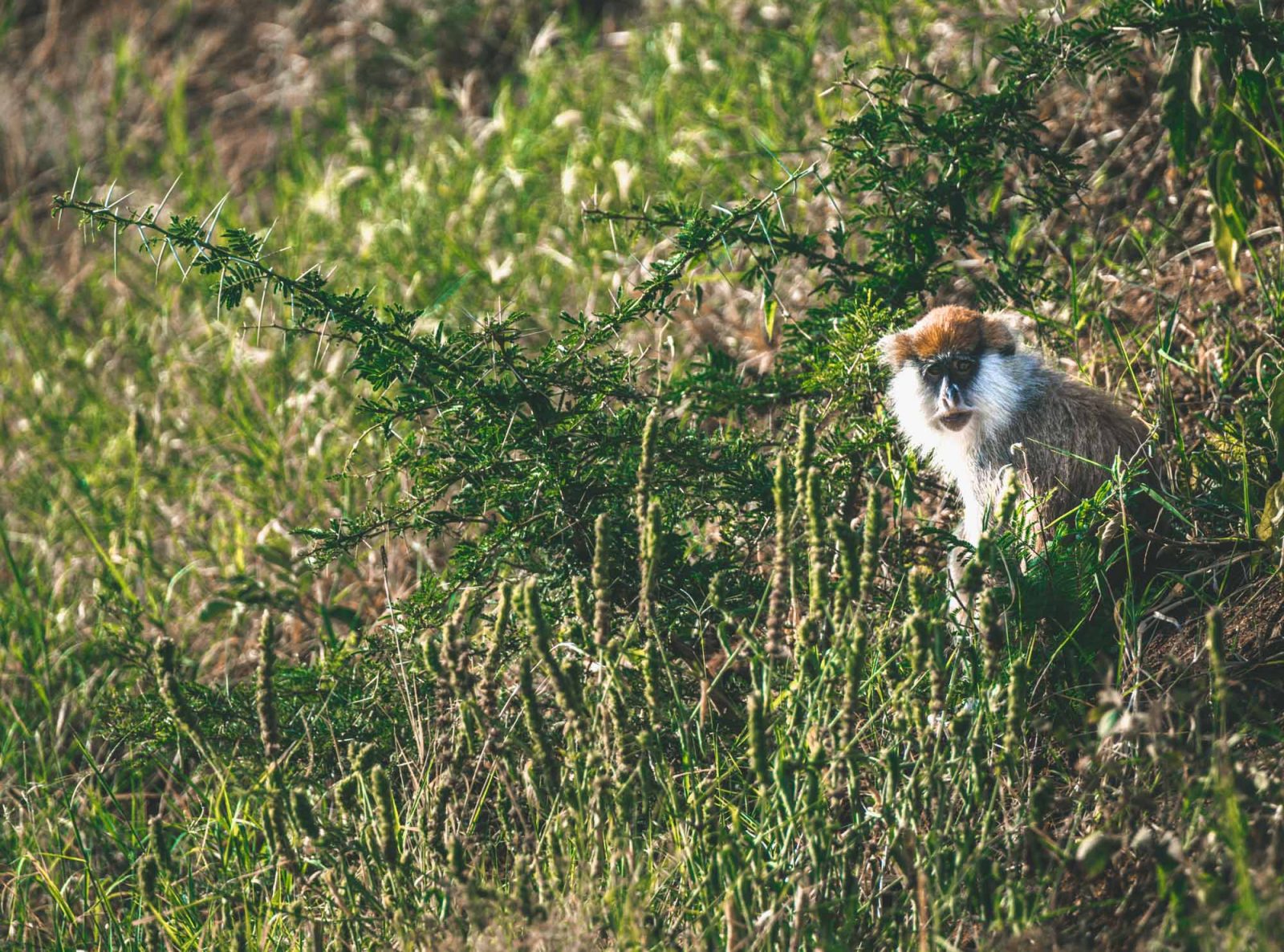 The animals here seem to be particularly calm and undisturbed by human presence. Many herds are happy to be grazing on grass or lounging in the shade of the park's accommodation, which makes for an especially unique Uganda safari experience.
Where to Stay
There is no better place to stay in Kidepo than Apoka Safari Lodge. Located on a rocky kopje in the heart of the Kidepo National Park, this sustainable lodge offers private thatched-roof cottages, each one with its own veranda overlooking the savannah.
The lodge boasts some of the best food in all of Uganda and makes every visitor feel like royalty (in a very low key down to earth kind of way). Our favourite place at the lodge was the amazing pool carved into a natural rock that served as a watering hole for wildlife and a great place to cool off for the guests.
Wildwaters Lodge, Nile River, Jinja
A small town of Jinja, located about 2 hours away from Kampala prides itself on being the historic source of the Nile River. While Jinja is considered a very popular place to stay and experience the Nile, we found an even better place to feel the true power of Africa's longest river.
Located on a private island reserve is Wildwaters Lodge, a beautiful lodge surrounded by the Nile River rapids. The lodge offers 10 private cabins each one with a unique view of the Nile River.
Some cabins, like the cabin where we stayed in during our visit, look out onto the rapids and offer incredible views of the rapids, others, offer a quieter stay and look out onto the rainforest or the flat parts of the river. We loved the roar of the river that permeated through the walls of our cabin filling our room with white noise.
The lodge offers a unique stay on the river and their sister company, Adrift, offers kayaking, family floats, and whitewater rafting trips on the Nile.
No matter how you choose to enjoy the river, it's bound to be an unforgettable experience and an addition to your Uganda itinerary that is well worth the detour from Kampala.
If you want to include all of the above destinations mentioned in your list of things to do in Uganda, plan to spend 2-3 weeks in the country, as long distances and bad roads make it difficult and time-consuming to get from place to place.
Traveling fast and staying in each destination for only 1-2 nights will be exhausting for those who visit Uganda. Safaris are exciting, which can make visitors tired after a day of seeing certain animals in the wild for the first time.
Uganda Safari in Just 10-12 days?
Yes, it's possible and while you won't get a chance to experience all of the things to do in Uganda mentioned above, you'll get a good taste of what a Uganda safari has to offer. Be sure to go gorilla trekking. Uganda is known for many creatures, but gorilla safaris in Uganda are often a highlight for visitors.
If you are short on time, we suggest that you skip Bunyonyi Lake, Kidepo National Park, and spend no more than 1 day in Kampala. Your Uganda safari itinerary should still include a few days in Bwindi, Kibale, and Murchison Falls National Parks.
You can also save time by flying, as many of these destinations offer charter flights from Kampala and from other airstrips in the country.
Have you experienced a safari in Uganda? Share your tips and other things to do in Uganda with us below!