The Lost City (Spanish: Ciudad Perdida) is an ancient abandoned city that lies deep in the Sierra Nevada mountains, some 100kms away from Santa Marta, Colombia.
*This post may contain affiliate links, as a result, we may receive a small commission (at no extra cost to you) on any bookings/purchases you make through the links in this post. As an Amazon Associate, we earn from qualifying purchases. Read our full disclosure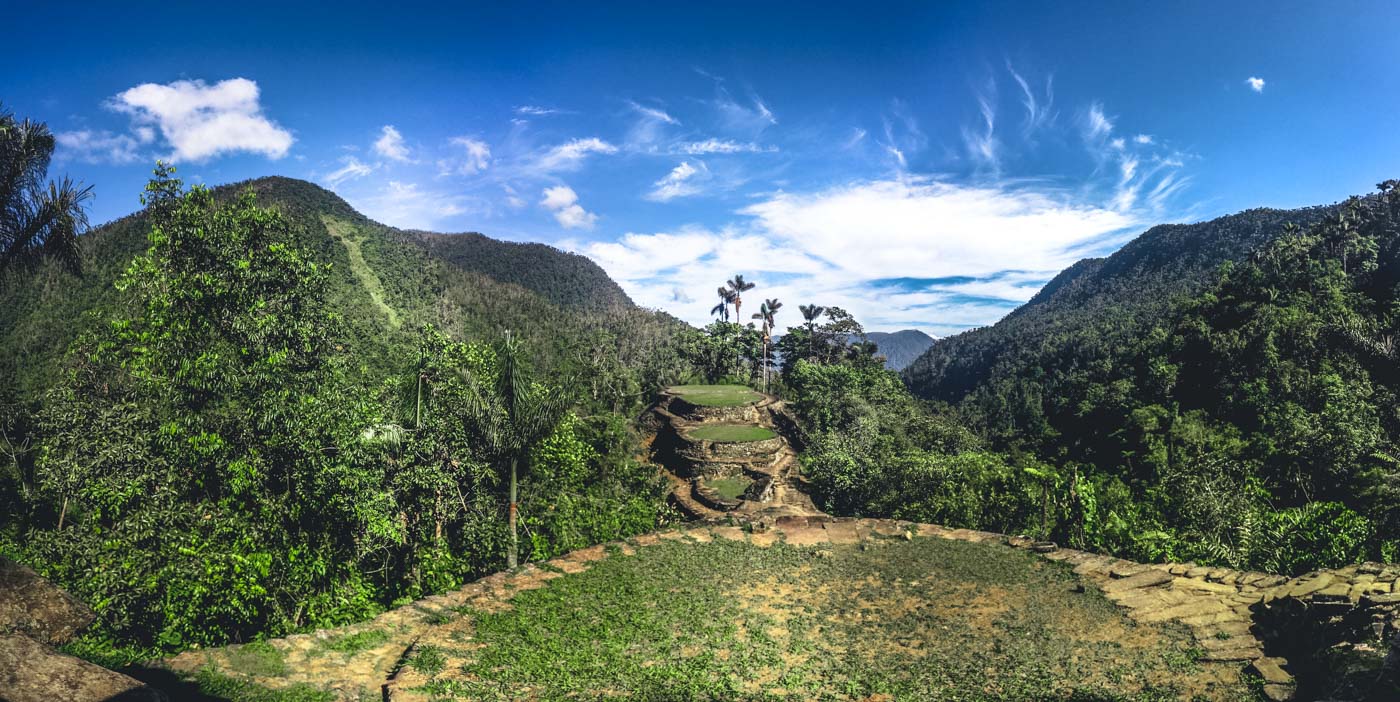 Traveling Soon?

Here is a list of our favourite travel providers and accessories to help get you ready for your upcoming trip!
The Lost City, Colombia: A Little Bit of History
The Lost City in Colombia dates back to the 14th century when it was populated by some 2,000-4,0000 native Tayrona people and served as their biggest urban and commercial hub spread over an area of 2sq kms (1.2 sq miles).
During the time of the Spanish Conquest, the Tayrona people disappeared deep into the lush tropical jungle of Sierra Nevada mountains leaving behind their wooden homes and the stone structures used to support them.
Unfortunately, as the result of a 75-year long war, their culture, traditions, and any remains of their civilization vanished without a trace. While the civilization was lost forever, the remains of the city were rediscovered in 1970 when a local man stumbled upon the city in his grave-robbing expedition.
For about a decade, the Lost City, which at the time was referred to as Infierno Verde, (Green Hell) was a site of fighting between the grave-robbers (Spanish: quaqueros), until the government finally allocated resources to protect and excavate the site.
The Lost City Trek: Day by Day
Today, the Lost City, Santa Marta remains one of the largest pre-Colombian towns discovered in all of the Americas. The ancient ruins of the Lost City site are accessible only on foot, making the Lost City trek one of the most exciting and beautiful treks in Colombia.
The trail you'll follow for the Lost City hike in Colombia runs along the same path, weaving through the thick jungle of the Sierra Nevada mountains and covers the total distance of just over 45kms (28 miles) as the crow flies, or over 75kms (46.5 miles) if you account for all the ups and downs. The distance is usually covered in 4 days, but there are officially 3 options for the Lost City trek.
The 4-Day Lost City Trek

option includes 2.5 days of trekking to get to the Lost City and 1.5 days to get back.

The

5-Day Lost City Trek

option breaks up the return journey by splitting up the 4th day of hiking into 2 shorter days.

The

6-Day Lost City Trek

option breaks up the 2nd (the longest and most exhausting day) into 2 days.
Below is the day by day breakdown of the hike.
* Note that this breakdown is based on our personal experience hiking with Guías Y Baquianos. If you choose to hike with another tour company, some details of this breakdown, particularly the accommodation options and camp facilities may differ.
Colombia's Lost City Trek: Day 1
El Mamey to Adán Camp
Facilities at camp: electricity, bathrooms, and showers
Official Distance: 7.6km (4.5 miles) Actual Distance: 12.5 km (7.5 miles)
You'll be picked up at your hotel or asked to gather at the tour company's office in Santa Marta. From there, a 4WD van will embark on a 3-hour journey towards a small town of El Mamey. The van will stop for a bathroom break at a little convenience store about 1.5 hrs into the journey. From there, it's another 1.5 hours along a bumpy road until you reach El Mamey.
Lunch will be served in a small restaurant in El Mamey, where you'll share the space with hikers from all 4 companies. After lunch, you'll set off on the first leg of the trek.
If you are doing the 4-day hike, Day 1 will be the easiest section of the entire hike. A gentle up and down trail with a few river crossings and a few short uphill stretches eases you into the Lost City trek.
The views are beautiful, so don't forget to look around and have your camera ready for some spectacular views along the way.
You'll walk for about 1.5-2 hours, until you reach a small shack serving fruit with a side of some beautiful views of the Sierra Nevada valley.
You'll come to love these fruit stops over the course of the trek, as they always bring a much-needed break along the trail, and best of all they are free and included in the tour.
Another 1.5-2 hours of walking and you'll arrive at Camp #1 where you can jump into the chilly waters of the nearby river to give your sore muscles a break and indulge in a delicious meal shortly after sunset.
Tonight, you'll sleep in open air bunk beds with mosquito nets. Pillows and blankets will be provided.
Colombia's Lost City Trek: Day 2
Adán Camp to Paraiso Teyuna Camp via Mumake Camp
Facilities at camp: Electricity, showers (limited) and bathrooms
Official Distance: 14.7km (9 miles) Actual Distance: 23.5km (14.6 miles)
Day 2 is a long day of hiking and it is the toughest one of them all. You'll be up at the crack of dawn (around 5-5:30am), ready for a hearty breakfast at around 6am and departure shortly after 6:30am.
The morning hike is pleasant and easy, with a gentle up and down the trail. It's about 1.5 hours to get to the first fruit and water stop and another 1.5 hours to get to the lunch stop.
Mumake Campsite (pictured above) will serve as a lunch stop on this leg of your journey, but also an overnight stop on your way back. If at this point in the trek, you'll realize that your pack is way too heavy and you are carrying a lot of extra stuff, you'll have an opportunity to leave a bag of stuff behind at Mumake Camp and pick it up on the way back. Ask your guide for assistance.
You'll arrive at Mumake around 10-11am, and have plenty of time to relax and unwind before lunch. Keep your bathing suit at the top of the pack as there is another swimming hole waiting for you at Mumake. It's about 5-10 min walk away, but a dip in the chilly waters is an absolute must. Your muscles will thank you!
Lunch is served at the camp, followed by a little presentation from the local community members. You'll depart for the afternoon portion of the hike shortly after the meal.
This afternoon section of the trail starts off with an easy and picturesque 2-hour trail along Rio Buritaca. Just as you start to feel tired and ready for a fruit and water break, the trail turns into a steep 1-1.5 hour long ascend.
The fruit and water stop awaits you at the top, followed by another 1.5 hours of up and down and a deep river crossing.
That night, the campsite is shared with all 4 companies. With over 100 people camping in one area, the campsite is busy, the shower lines are long, and there is a high potential to pick up a nasty bug.
Sanitize your hands more than necessary and opt to take a shower and wash off your sweat in the river instead of the communal showers.
Colombia's Lost City Trek: Day 3
Paraiso Teyuna Camp to Mumake Camp via The Lost City
Official Distance: 13.6km (8.5 miles) Actual Distance: 22.2km (14 miles)
Facilities at camp: Showers and bathrooms. Electricity is generator powered and only goes on from 6pm-9pm. You will need to ask the owners as the outlet is in the house.
Day 3 is another early 5:30am wake-up call. You'll grab breakfast and set off on today's hike by about 6:30am. It's about an hour walk from the campsite to the start of the 1200 step climb up to the Lost City.
It sounds like a lot of steps, but you get in the groove of it and reach the top within 20 mins. Not as gruelling as it sounds at all!
Once at the lower level of the Lost City, you'll be given an in-depth presentation about the archaeological site and the ancient ruins. You'll learn all about the discovery of the site, the excavation and ongoing restoration process in the area.
You'll have about 3 hours to walk around the site, snap as many photos as you like, and take the time to reflect on the ancient civilizations that occupied the city back in the 14th century. On the way back, you'll get a chance to meet a few local families (Kogi people) who to this day live in a few of the houses alongside the ruins.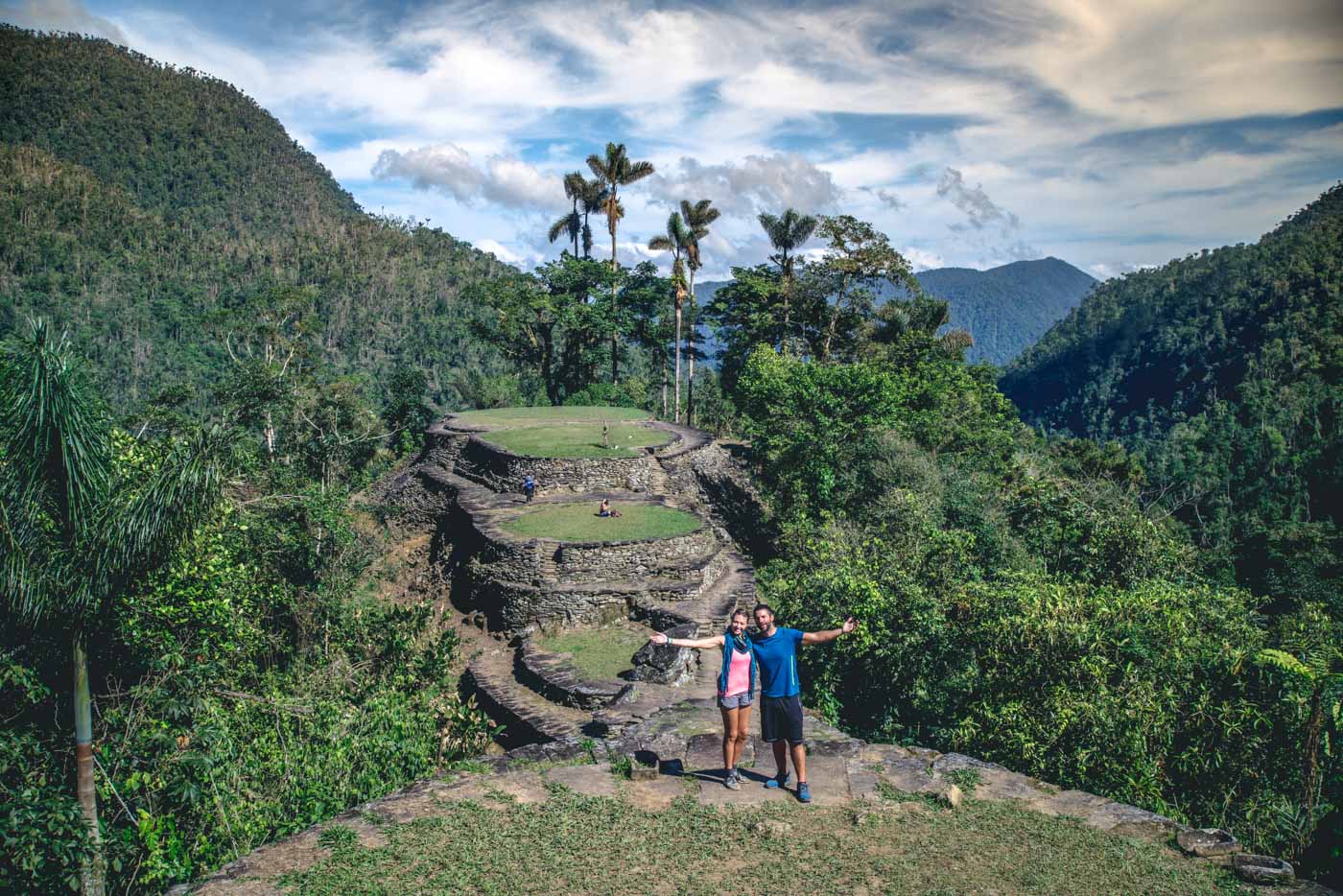 The journey back will take you back down the 1200 flights of stairs, along the river bend and back to Paraiso Teyuna Camp for lunch. From there, you'll head all the way back to Mumake Camp, where you stopped for lunch on Day 2. It's another exhausting afternoon with an hour-long ascent, 1.5-hour long descent, and another 2-hour up and down walk.
Colombia's Lost City Trek: Day 4/5
Mumake Camp to El Mamey via Adan Camp
Official Distance: 7.3km (4.5 miles) Actual Distance: 7.8km/12.2km (4.8/7.5 miles)
Whether you are doing a 4-day or a 5-day trek, your 4th day on the trek will start exactly the same. After an early breakfast, you'll set off on a 4-5 hour trek towards Adan Camp where you stayed the very first night of the trek. It's a fairly easy morning with some ups and downs along the trail.
Once at Adam Camp, those on the 4-Day Trek, will take a quick fruit and water break and continue for another 4 hours all the way back to El Mamey where you'll have lunch and hop aboard a 4WD van that will take you back to Santa Marta.
Those on the 5 Day trek will say goodbye to fellow trekkers and spend the rest of their day relaxing at Adan Camp. You'll have lunch, enjoy the rock pools, and that evening, have a chance to share your tips and advice with the incoming group of trekkers who are just starting out on their Lost City trek.
The following morning, you'll take a leisurely 3-hour walk from Adan Camp to El Mamey where you'll have lunch and catch a 4WD ride back to Santa Marta.
Cost, Difficulty, & Lost City Trek Options
You might be asking yourself, 'Is the Lost City trek worth it?' and our answer is "YES!" It's a unique hike that allows you to experience the natural beauty of the region as well as immerse yourself in the history of the area.
Tours to the Lost City depart daily from the city of Santa Marta, located on the Caribbean Coast of Colombia. There are 5 tour companies that are certified to run tours to the Lost City, they include: Guías Y Baquianos (our recommendation), Magic Tour, ExpoTour, Wiwa Tours, Turcol Travel.
Every other tour agency/tour company that offers tours to the Lost City acts as a reseller for one of the certified companies, so be aware of that when researching online or making arrangements for the tours back home.
It's important to note that all 3 treks cost $1,100,000 COP (which at the time of writing equated to about $352 USD), regardless of how long of a trek you chose to embark on. The 4-Day option is by far the most strenuous, but if you are generally fit and experienced in multi-day hikes you'll be absolutely fine. The 5-Day option is a bit easier, and of course, the 6-Day option is the most relaxed.
While the Ciudad Perdita trek difficulty varies by how many days it lasts, let us be clear, this trek is not a walk in the park. It's definitely challenging and does require a certain level of fitness. However, the Lost City trek is not technical and does not require any equipment or any particular skills, although walking sticks definitely come in handy!
The terrain varies between flat ground, mud and rock, red clay mud, and limestone paths.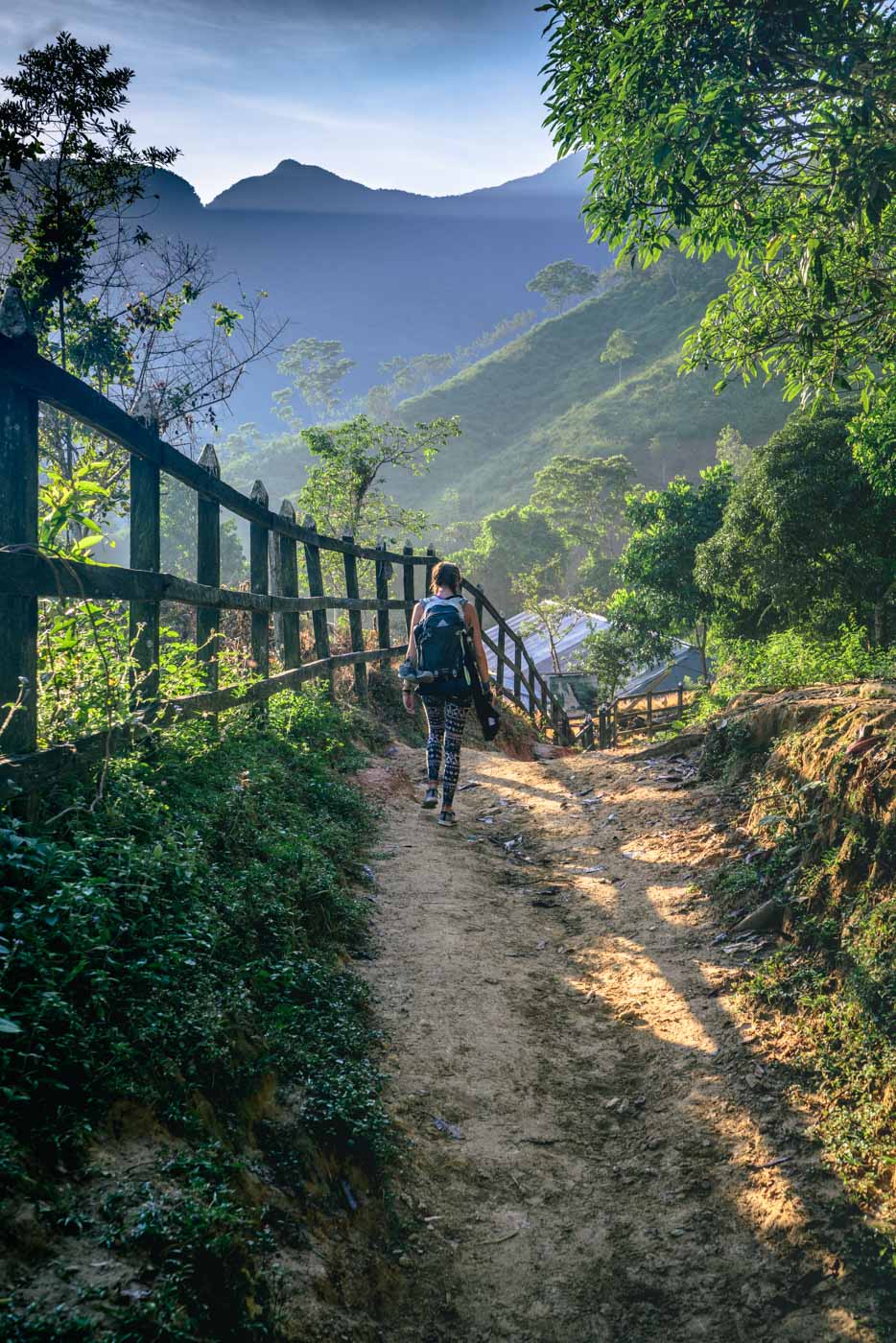 What makes the trek even tougher is the weather conditions. In the dry season, you'll be trekking in 30°C (86°F) heat, and in the rainy season, you'll be dealing with a slippery trail and torrential downpours. Either way, you'll be exhausted!
But if worse comes to worse, if you get injured (sprained ankles are a hit on the trail), fall ill, get too tired or just don't have it in you to finish the trek, you can hire a mule to either carry your bags or carry you and the bags back down to the start of the trail. The cost is around 100,000.
If you want a mule for your bag(s), we recommend asking for one at the start of the trek, but if you think you might want one for the way back, they will be available to hire from most villages along the way.
Food & Accommodation
Food on the Lost City trek Colombia is great! It's simple, local, but very filling. A staple meal usually consists of rice, a small salad, beans, and a serving of meat, alternating between fish, chicken, and pork. Coffee/tea/hot chocolate and a sweet snack (a chocolate bar) are usually served for dessert. We were always too full for dessert, so we ate our chocolate bars as a mid-trek snack the following day.
Breakfast consisted of eggs, bread, and some fruit along with coffee/hot chocolate/tea. Lunch was another service of rice/beans/meat or fish or a hearty soup.
Accommodation and facilities at each campsite were simple but offered a lot more than we expected. Each one of Guías Y Baquianos campsites was clean and offered actual bunk beds instead of just hammocks to sleep in for the night.
Beds were right next to each other, but each bed had its own mosquito net that provided a bit of privacy between you and the person in the bed next to you. Blankets and pillows were provided, although sheets were definitely not changed on a daily basis. A sleeping bag liner/travel sheet will definitely come in handy. Most campsites had electricity as well as shower and bathroom facilities.
Guías Y Baquianos shared the campgrounds with Magic Tours, but even with the 2 groups combined, there were only about 20 of us sharing the site. The guides and trekkers acted like one big family, happy to give each other a hand, share the dinner table, camp facilities, and look after each other along the way.
The only exception to our happy co-existence was the Paraiso Teyuna Camp at the base of the Lost City, where the campsite was shared with all the groups on the trail. With over 100 people staying at that campsite, it was a lot busier and a lot less clean than the other camps we had stayed at along the way.
Unfortunately, half of our group picked up a gastro bug at Paraiso Teyuna Camp which made our return journey that much more difficult. We later learned that we weren't the only group with the issue and that extra care of personal hygiene must be taken when staying at that campsite. Make hand sanitizer your best friend!
Best Time to Trek to The Lost City: Weather & Conditions
There are essentially 2 seasons in the region: Dry Season (which runs from December through to early March) and rainy season (March to November).
Treks to the Lost City are offered year round, but if you have a chance to choose when to trek, we highly recommend doing it in the dry season.
Dry Season
Those taking one of the Colombia hiking tours in the dry season (like we did) will enjoy clear days, beautiful views, dry trails, and low rivers. Over the course of the trek, you will cross Rio Buritaca at least 10 times. In the dry season, you'll be able to cross the river by hopping from one rock to another, with a few exceptions when the river levels will reach up to your ankles.
Wet Season
In the wet season, the rivers tend to be much deeper and flow at faster speeds making them more challenging to cross. The guides use ropes and on one occasion a little pulley cart to help you get over to the other side. But this, combined with torrential downpours and slippery trails, will undoubtedly add a level of complexity to the hike.
Beware of the Bugs
Mosquitoes during the Lost City trek Colombia are present all year round and while they can be annoying and cause some discomfort, they are not the worst bugs found in the Sierra Nevada jungle. Watch out for the tiny black bugs that bite like a mosquito, but leave big hot red welts in the area of the bite. These guys are vicious and their bites are unbearably itchy!
Mosquitoes and other bugs are present all throughout the Ciudad Perdida trek, but they are particularly bad on Day 2 as you get deeper into the jungle. Every-day bug spray WILL NOT be enough, so be sure to stock up on the strong stuff before you depart. Mosquito bands, bracelets, and clips will not work either (trust us, we tried).
Keep in mind that in the dry season, you will be sweating profusely, and in the rainy season, you'll likely be soaking from the rain, so either way, spray on bug spray will be quickly washed off your body.
We recommend using a splash and sweat resistant bug lotion or if you can't bring something good from home, a local brand called Nopikex (check local pharmacies) will do the trick as well. It's a spray, but it lathers on like a cream creating a layer of protection that won't be washed away with sweat and rain.
Lost City Trek Packing List
There's a lot to keep in mind when you're planning your Lost City trek packing list, but the rule of thumb is pack as little as possible. Every shirt, every pair of socks and every extra pound on your back will add unnecessary weight to your pack and make those long trekking days more challenging.
Clothing:
2 x sets of hiking clothes

. We recommend hiking in shorts and tank tops, ideally made out quick-dry fabrics with anti-odour protection. No matter what you wear you will be soaking wet by the end of every day and although clotheslines are available at every campsite, your clothes never dry overnight. Some people used the same pair of clothing every single day but enjoyed the luxury of putting on a dry set of clothing.

1 x hiking shoes/sandals.

We recommend Keen sandals (

his

and

hers

) which had the perfect grip for the terrain and made river crossings a breeze. Regular hiking shoes or trail runners will do just fine as well, although you will have to take them off and on for every river crossing.

1 x flip flops for shower/evening

because no matter how comfortable your hiking shoes are, you'll want to get out of them come evening time.

1 x set of evening clothes. Long pants and a

long sleeve shirt

will do the trick. These can be pyjamas, a light pair of sweatpants, or

leggings

for the girls. The temperature does go down at night, but it's never really all that cold. You'll wear the same set every night.

3-4 x pairs of socks

. Not necessary if you plan on trekking in

Keen sandals

, but bring 1-2 pairs just in case you need to rely on them to prevent blisters.

1 x bathing suit.

A must for the ladies, the gentlemen seemed to be just fine swimming in their boxers.

5 x pairs of underwear

. You can wash as you go, but you bring enough so you don't have to.

Rain jacket.

Surprisingly, it's not a must. In the dry season, you probably won't need the rain jacket at all (we didn't) and even in the rainy season the heat and humidity will make trekking in rain jackets incredibly hot and uncomfortable. We did use ours at night and in the mornings as an extra layer for warmth.
Toiletries & Medication
Soap/Shower gel.

There are showers at every campsite, but you might only use them 1-2 days at most, so don't haul a full-size bottle/bar

Toothbrush/toothpaste.

Again, the smaller the better. Every little bit adds to the weight of your pack.

Deodorant.

A definite must, you WILL sweat and smell!

Bug spray.

See above on why we recommend a sweat/splash resistant

Sunscreen.

Don't forget to apply it to your neck.

Hand sanitizer.

Use it and abuse it, especially at the Paraiso Teyuna Camp

Pepto Bismol/Immodium.

In case the hand sanitizer doesn't do a good enough job!

Pain Killers

and other meds are needed

Bandaids
Electronics and Other Supplies
Camera and spare batteries.

The views are spectacular so if you've got a camera, definitely bring it along on the walk. If you are looking for a well priced good quality digital camera, we recommend

Sony A6000

Phone.

There is no phone reception anywhere along the trail, but you might want to keep your phone on you to keep track of the trail (Use

Maps.Me

), track your progress (we use Apple Health, but

Nike + Move

is another option). It'll also come in handy if you want to make any notes along the way.

Portable Phone charger

If you keep your phone on airplane mode your battery will probably last the entire hike. But just in case it doesn't, bring a small portable charger.

Hydration Bladder.

Forget water bottles, a hydration bladder will make it 10 x easier for you to drink as you walk.

Microfiber Travel Towel

. You'll need it for the showers and river swims

Headlamp/flashlight. You'll need it to get around the campsite at night.
Is Lost City Trek, Colombia on your bucket list? Do you have any other questions about our experience? Leave a comment below and we'll be happy to share more info!
Disclaimer: Big thanks to Guías Y Baquianos for hosting us on this trip! Despite the fact that we received a discount on our trek, all of the opinions expressed in this article are our own!