*This post may contain affiliate links, as a result, we may receive a small commission (at no extra cost to you) on any bookings/purchases you make through the links in this post. As an Amazon Associate, I earn from qualifying purchases. Read our full disclosure.
Christmas in New York City is a magical time for both tourists and locals alike. It is the one time of year when the hustle and bustle of the city seem to fade away or at least falls into the backdrop of a special kind of winter wonderland.
Planning a Trip in the time of COVID?

Keep in mind that information found in this article may have been impacted by travel restrictions and other closures. Double check opening hours, tour providers and hotel status before you go. And don't leave your home without travel insurance! If you are looking for an insurance provider that covers COVID-19, we recommend SafetyWing. Get Medical and Travel Insurance starting at just $40/month and you can sign up even if your trip has already started!
Even if the city's sidewalks aren't covered in a blanket of fresh snow during your time in NYC, the city is still a magical place. With holiday shoppers taking in the Christmas window displays on 5th Avenue; people ice skating beneath the Rockefeller tree, or perhaps just enjoying some much-needed rest and relaxation. Which is why finding the perfect place to stay in NYC so important.
While location, affordability and hotel amenities play a role in determining your choice of accommodations, more and more travelers are placing a focus on sustainability while they travel.
A study conducted in 2016 by Sustainable Travel International found that 60% of Americans have taken a "sustainable" trip in the past 3 years. These people who travel for leisure spend more, stay longer and bring more value to the communities they visit than their counterparts who lack a focus on sustainable travel.
Last year, seventeen notable New York City hotels committed to going greener. Hotels including Waldorf Astoria New York, Loews Regency New York, and the Peninsula New York joined the NYC Carbon Challenge, a program that began in 2007 with Universities committing to reduce their greenhouse gas emissions. Since then, the program has expanded to include commercial buildings, hospitals, multi-family residences and eventually hotels.
So whether you are planning to spend your winter getaway in New York City or if you are hosting Christmas and know that your 600 square foot apartment can't accommodate your family, the roundup below of sustainable hotels is here to help you make the best choice possible.
With several options in Manhattan and some eco-friendly hotels in Brooklyn and Queens too, there is a place to stay this holiday season for every type of traveler looking to reduce their carbon footprint – or those looking for a staycation away from their Craigslist roommates.
Manhattan
The Benjamin Hotel, located in the heart of Midtown East, was one of New York City's first environmentally-friendly hotels. The hotel strives to be socially responsible and to minimize its carbon footprint. Its eco-friendly programs include:
Energy-efficient lighting

Remote control thermostats

Recycling program

Eco-friendly bath amenity dispensers
The Benjamin Hotel also promotes a sustainable lifestyle with its unique Rest & Renew program. Led by sleep medicine expert Dr. Rebecca Roberts, the program offers tools and solutions to ensure the best possible night's sleep. The program's offerings include:
Top ten curated pillow menu

On-demand meditation

In-room pampering and spa treatments

Rest & Renew menu for best sleep solutions

24/7 Sleep team
Check availability at The Benjamin Hotel and book your stay HERE.
The Hudson New York is a friendly and casual hotel that is located steps from Central Park, Lincoln Center, Time Warner Center and the theater district. The Hudson is part of the NYC Carbon Challenge and the property's green action includes energy/water saving measures, waste avoidance and resource efficiency, eco-friendly bath amenities, and cruelty-free bath products.
Guests can dine in at the Umami Burger's flagship location with a menu that focuses on gourmet burgers and fries, all prepared with the highest quality ingredients, some of which are organic and locally sourced.
Check availability at Hudson Hotel and book your stay HERE.
Discover New York City during your stay at Ink 48, a Kimpton Hotel. Located in a former printing house in Hell's Kitchen, your stay at this luxurious boutique hotel will be as memorable as the city itself.
As with all Kimpton Boutique Hotels which are certified by the Green Key Eco-Rating Program, Ink 48 focuses on a number of green practices such as energy-efficient lighting, low-flow water toilets and faucets, eco-friendly bath products and limited paper products.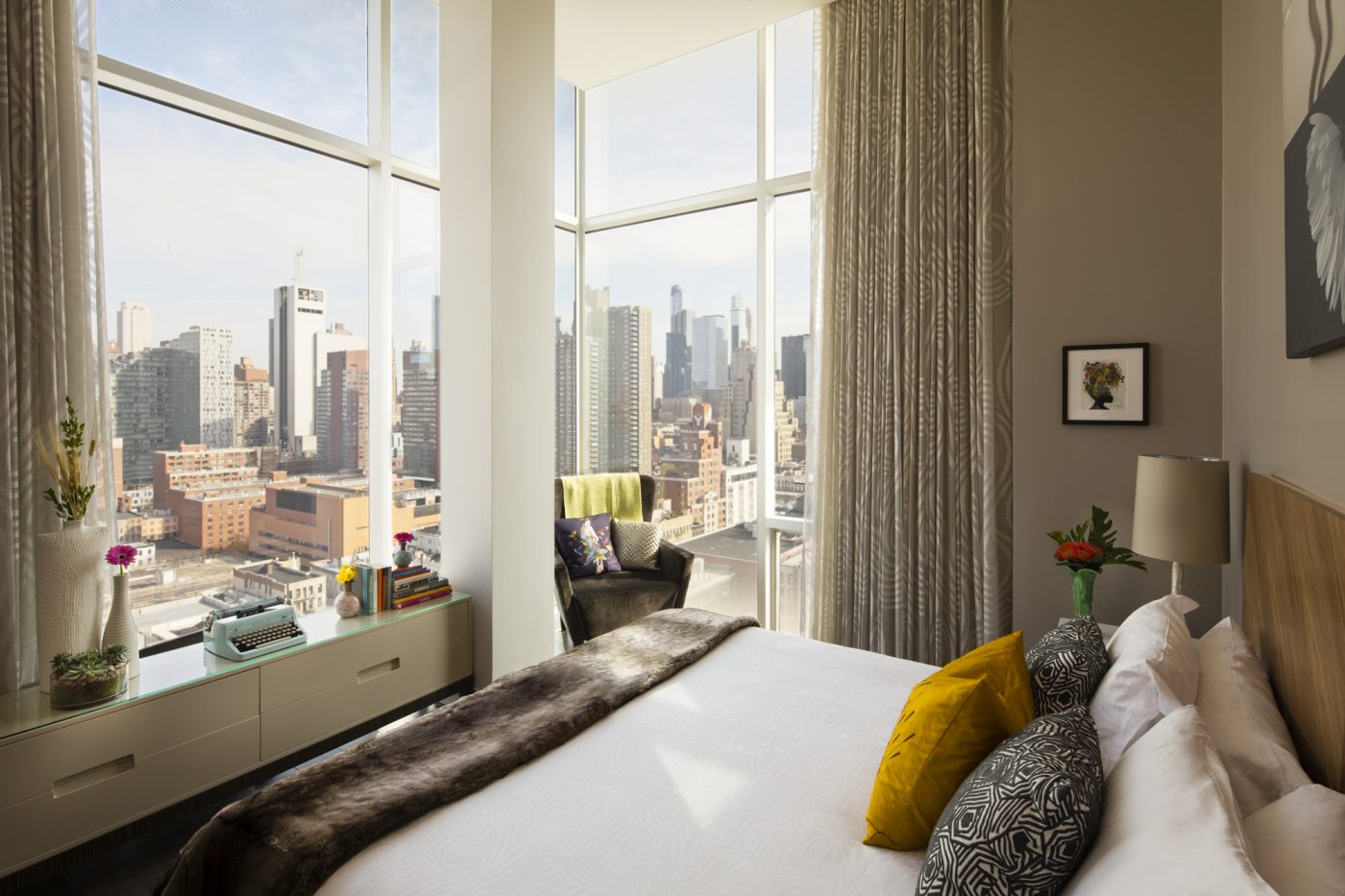 Ink 48's commitment to sustainability can also be found at its restaurant PRINT. Driven by style and inspired by the season, PRINT is one of the country's leading restaurants dedicated to seasonal, sustainable cuisine. Methods of sustainability at PRINT include:
Quality protocols are established with each selected farmer

Products purchased from outside of the region are prioritized by traceability and organic

PRINT's rooftop garden provides herbs and edible plants to supplement the menus during spring, summer, and fall

Water is filtered

All food refuse is composted
Check availability at Ink 48 and book your stay HERE.
The Element New York located in the heart of Times Square strives to reduce its impact on the environment. The hotel was constructed and designed with recycled materials – in fact, the carpet is made of 100% recycled content. Art on the walls is mounted on a base made from recycled tires. The hotel also reduces waste by using silverware and glassware instead of plastic utensils and paper cups.
The Element commits to eco-friendly practices including water-efficient faucets and fixtures, Energy Star rated appliances and green cleaning products.
Guests have the option of participating in the hotel's towel reuse program. Guests who decline housekeeping altogether are rewarded with either a $5 voucher to Restore, Element's 24/7, self-serve gourmet pantry or 250 Starwood Preferred Guest Starpoints awarded at checkout.
Check availability at Element Hotel Times Square West and book your stay HERE.
Brooklyn
1 Hotel Brooklyn Bridge is an eco-luxe hotel that opened earlier this year and was created with an incredible amount of attention and care to sustainable practices. The hotel is 100% wind powered and 54% of the materials are regional and reclaimed.
1 Hotel Brooklyn Bridge offers 194 guest rooms including 29 suites, some of which offer stunning views that expand from midtown Manhattan to the Statue of Liberty. While the amazing views are a draw to guests, comfort is also five-star.
Eco-friendliness is also present in the rooms with a shower head that has a five-minute hour-glass timer to remind guests of the importance of water sustainability. Hotel amenities include a signature restaurant, a spa, a yoga studio, and fitness center.
Check availability at 1 Hotel Brooklyn Bridge and book your stay HERE.
Queens
Located in an industrial area of Astoria, Queens, The Paper Factory Hotel is just 2 short subway stops away from Manhattan. This budget-friendly boutique hotel offers Manhattan's charm without Manhattan's prices.
The Paper Factory Hotel was recycled out of a 100-year-old paper factory, with concrete floors, enormous windows and original machinery repurposed as decor. The hotel has 122 rooms and suites and features luxury amenities by William Roam, a company that was inspired by the knowledge that companies do their best when they give back to their communities, their country, and the planet.
William Roam's entire collection of personal care products are vegan and cruelty-free and all products are designed and produced in America.
Check availability at The Paper Factory Hotel and book your stay HERE.
Would you recommend any other eco-friendly hotels in New York City? Let us know in the comment section below!