New York City is one of the top bucket list destinations in the world. Whether you are visiting the big sights and attractions or coming in search of great food and excellent shopping, finding the perfect accommodation in NYC is a critical part of any holiday!
*This post may contain affiliate links, as a result, we may receive a small commission (at no extra cost to you) on any bookings/purchases you make through the links in this post. As an Amazon Associate, we earn from qualifying purchases. Read our full disclosure
Every neighbourhood in NYC offers its own pros and cons, but there is no shortage of options no matter what part of the city you want to visit. While location, budget and hotel amenities all play an important role in determining your choice of accommodation, we know that many travelers are also focusing on making more eco-conscious choices in their travels.
New York is an easy place to visit for any sustainably-minded traveler. More and more New York hotels are going green recognizing the importance of reducing their carbon footprint.
Traveling Soon?

Here is a list of our favourite travel providers and accessories to help get you ready for your upcoming trip!
---
We visit New York on a regular basis and every year, we scour the web for new eco-hotels in New York to add to our personal list.
---
Here are a few of our personal favourites!
Best Eco-Hotels in NYC: Manhattan
Located just steps away from Central Park, 1 Hotel Central Park has recently become our top choice for a sustainable hotel in New York. The stunningly designed hotel incorporates sustainability into every part of its operations, from room decor to food in their on-site restaurant, Jams.
The design of 1 Hotel Central Park is an urban retreat inspired by nature, an effort we noticed in the hotel's green facade and in the reclaimed wood used throughout the hotel.
The unique design of our City Lounge King Room at 1 Hotel Central Park featured an all-glass en suite bathroom with a rainfall shower and a window reading nook offering views of Central Park. The little eco-conscious details were icing on the cake!
organic cotton mattress and sustainably sourced linens
biodegradable Bamford bath products

used

wine bottles upcycled into drinking glasses

provided in the room

reclaimer NYC water tanks wood

used for the accent wall and furniture in the rooms

wooden room key cards

instead of plastic key cards

recycling

bins for glass, paper, and cans

sustainably sourced materials

used to make hangers in the closet

energy-efficient state of the art heating

and

cooling

systems

an hourglass in the bathroom to help you

use water more mindfully
The rustic onsite Jams Restaurant is another highlight at 1 Hotel Central Park. The favourite NYC brunch spot features farm-to-table cuisine as well as organic plant-based dishes. Their salmon everything bagel was an NYC perfection we didn't know we needed!
If you weren't already sold on a stay at this incredible New York eco-hotel, 1 Hotel Central Park is also pet friendly. This unusual feature for a city stay means that you can bring along your furry friend for the holiday.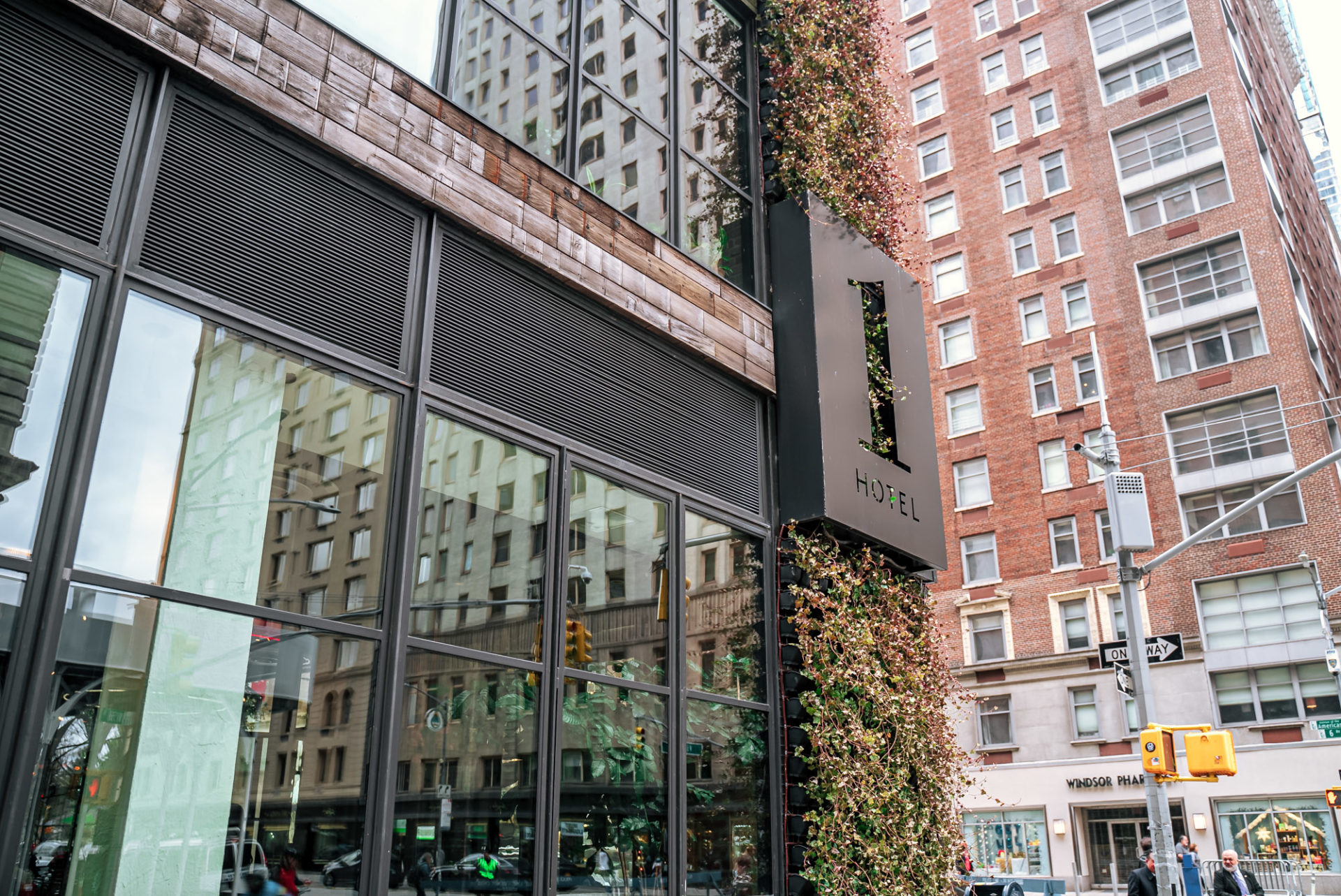 Address: 125 East 50th Street, Midtown East, New York
Rates: starting at $299
The Benjamin Hotel, located in the heart of Midtown East, was one of New York City's first environmentally-friendly hotels. The hotel strives to be socially responsible and to minimize its carbon footprint. Its eco-friendly programs include:
Energy-efficient lighting

Remote control thermostats

Recycling program

Eco-friendly bath amenity dispensers
The Benjamin Hotel also promotes a sustainable lifestyle with its unique Rest & Renew program. Led by sleep medicine expert Dr. Rebecca Roberts, the program offers tools and solutions to ensure the best possible night's sleep. The program's offerings include:
Top ten curated pillow menu

On-demand meditation

In-room pampering and spa treatments

Rest & Renew menu for best sleep solutions

24/7 Sleep team
Address: 653 11th Avenue at 48th, Hell's Kitchen
Rates: starting at $149/night
Located in a former printing house in Hell's Kitchen, Ink 48 is a luxurious boutique hotel certified by the Green Key Eco-Rating Program.
Ink 48 focuses on a number of green practices such as:
energy-efficient lighting,
low-flow water toilets and faucets,
and eco-friendly bath products and limited paper products.
Ink 48's commitment to sustainability can also be found in its restaurant PRINT. Driven by style and inspired by the season, PRINT is one of New York's leading restaurants dedicated to seasonal, sustainable cuisine. Methods of sustainability at PRINT include:
Quality protocols with each selected farmer

Products purchased from outside of the region are prioritized by traceability and organic

Rooftop garden with herbs and edible plants to supplement the menus during spring, summer, and fall

filtered water and

a recycling/composting process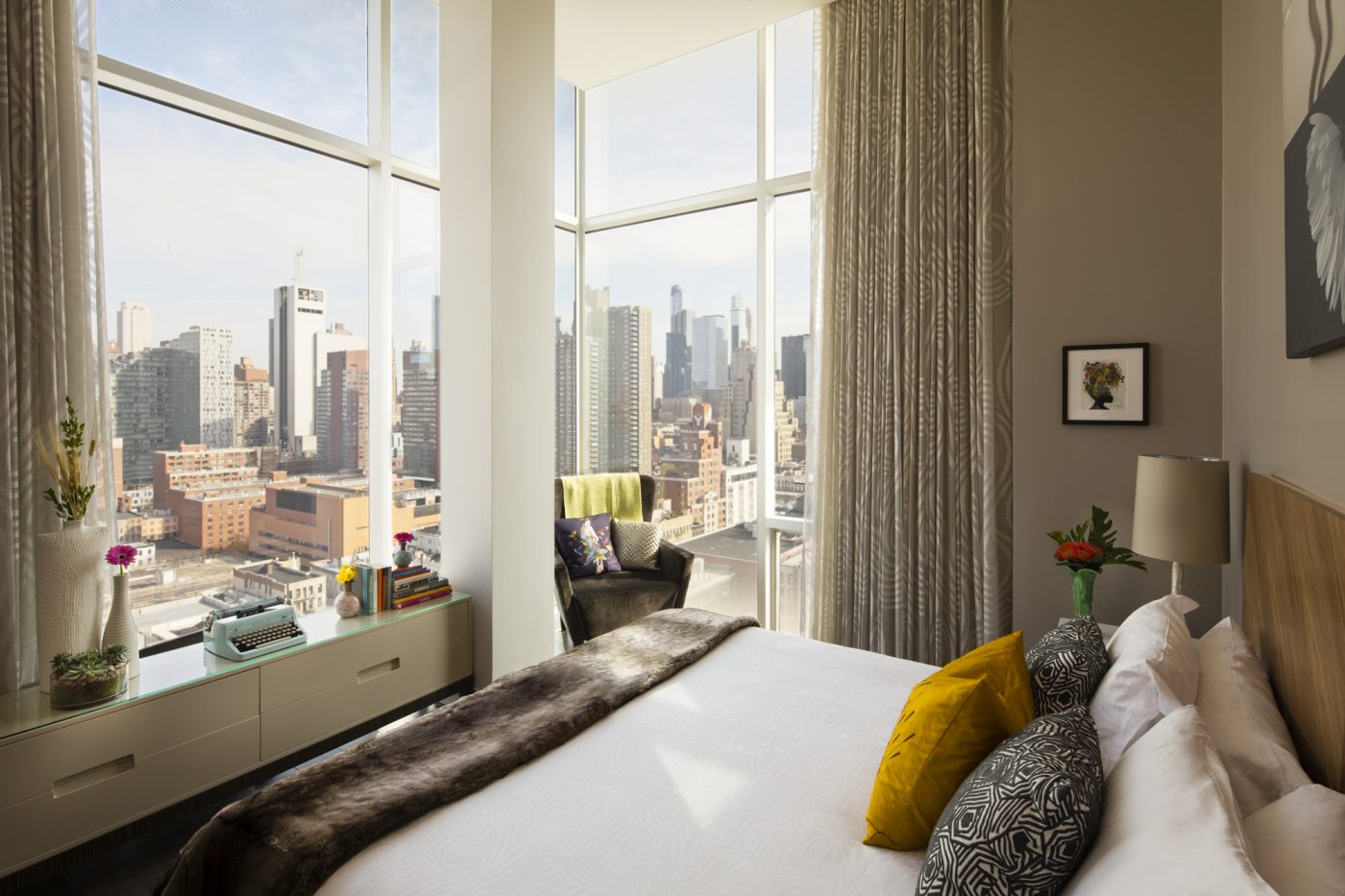 Address: 311 West 39th Street, Hell's Kitchen, New York
Rates: starting at $179/night
The Element New York located in the heart of Times Square strives to reduce its impact on the environment. The hotel was constructed and designed with recycled materials – in fact, the carpet is made of 100% recycled content. Art on the walls is mounted on a base made from recycled tires. The hotel also reduces waste by using silverware and glassware instead of plastic utensils and paper cups.
The Element commits to eco-friendly practices including water-efficient faucets and fixtures, Energy Star rated appliances and green cleaning products.
Guests have the option of participating in the hotel's towel reuse program. Guests who decline housekeeping altogether are rewarded with either a $5 voucher to Restore, Element's 24/7, self-serve gourmet pantry or 250 Starwood Preferred Guest Starpoints awarded at checkout.
Brooklyn
Address: 60 Furman Street, Brooklyn
Rates: Starting at $350/night
1 Hotel Brooklyn Bridge is an eco-luxe hotel and a sister hotel of 1 Hotel Central Park and offers many of the same features and amenities. The hotel is 100% wind-powered and with an incredible amount of attention and care to sustainable practices. More than 50% of the materials used in the design of the hotel are regional and reclaimed.
1 Hotel Brooklyn Bridge offers 194 guest rooms including 29 suites, some of which offer stunning views that expand from midtown Manhattan to the Statue of Liberty. While the amazing views are a draw to guests, comfort is also five-star.
Eco-friendliness is also present in the rooms with a shower head that has a five-minute hourglass timer to remind guests of the importance of water sustainability. Hotel amenities include a signature restaurant, a spa, a yoga studio, and a fitness center.
Queens
Address: 37-06 36th Street, Long Island City, Queens, NY 11101
Rates: starting from $149/night
Located in an industrial area of Astoria, Queens, The Paper Factory Hotel is just 2 short subway stops away from Manhattan. This budget-friendly boutique hotel offers Manhattan's charm without Manhattan's prices.
The Paper Factory Hotel was recycled out of a 100-year-old paper factory, with concrete floors, enormous windows and original machinery repurposed as decor. The hotel has 122 rooms and suites and features luxury amenities by William Roam, a company that was inspired by the knowledge that companies do their best when they give back to their communities, their country, and the planet.
William Roam's entire collection of personal care products are vegan and cruelty-free and all products are designed and produced in America.
Would you recommend any other eco-friendly hotels in New York City? Let us know in the comment section below!
About the Author:

Diana Rosario is originally from Canada but has been living in NYC for the past 5 years. She is passionate about non-profit and event planning, animal rescue, travel and yoga. Diana has traveled to over 30 countries and completed her 200-Hr Yoga Teacher Training in Costa Rica. These days she spends most of her time exploring the US.