This post was originally published in 2015 but has since been updated in 2018 with more great ideas for weekend getaways from Sydney.
*This post may contain affiliate links, as a result, we may receive a small commission (at no extra cost to you) on any bookings/purchases you make through the links in this post. As an Amazon Associate, I earn from qualifying purchases. Read our full disclosure.
Sydney is undoubtedly one of the most exciting destinations in Australia. Between the beautiful beaches, vibrant nightlife, and great culinary experiences, Sydney offers plenty to do to every visitor to Australia.
While almost every visitor makes it a point to stop in Sydney, many don't give themselves extra time to explore beyond the city borders.
If you ask us, we would definitely recommend extending your stay by a few extra days to get out of the busy city and explore beyond Australia's biggest metropolis. After all, it's not the cities themselves that make Australia the incredible destination that it is, it's the outdoor experiences that lie just outside.
Here are just a few of our favourite weekend getaways from Sydney!
Blue Mountains Tour
In 2000, the Blue Mountains region was named a World Heritage Area by UNESCO leading to an increase in local and international tourists to the area. The entrance to the Blue Mountains is located in Glenbrook/Lapstone, just 50 minutes away from Sydney's city centre, however, the most popular tourist destinations is actually Leura/Katoomba, located 30 minutes further.
Katoomba is the largest and most visited town known for its artsy/hippie population, and its smaller neighbour, Leura is a picturesque village known as the shopping destination of the region.
Blue Mountain Activities
There are hundreds of walks to do on a Blue Mountains tour ranging from short 1 kilometer trails to multi-day hikes. Blue Mountain day tours are also popular. You can explore the area through mountain biking adventures, fantastic canyoning, 4-wheel driving, horse riding, caving, abseiling, and more.
Or, sign up to a Blue Mountain all-inclusive tour which includes a visit to Jamison Valley, Scenic World, a guided rainforest boardwalk, lunch, and a visit to the Featherdale Wildlife Park to hand-feed the kangaroos!
A Blue Mountain day tour is also a great option for families looking for Sydney getaways.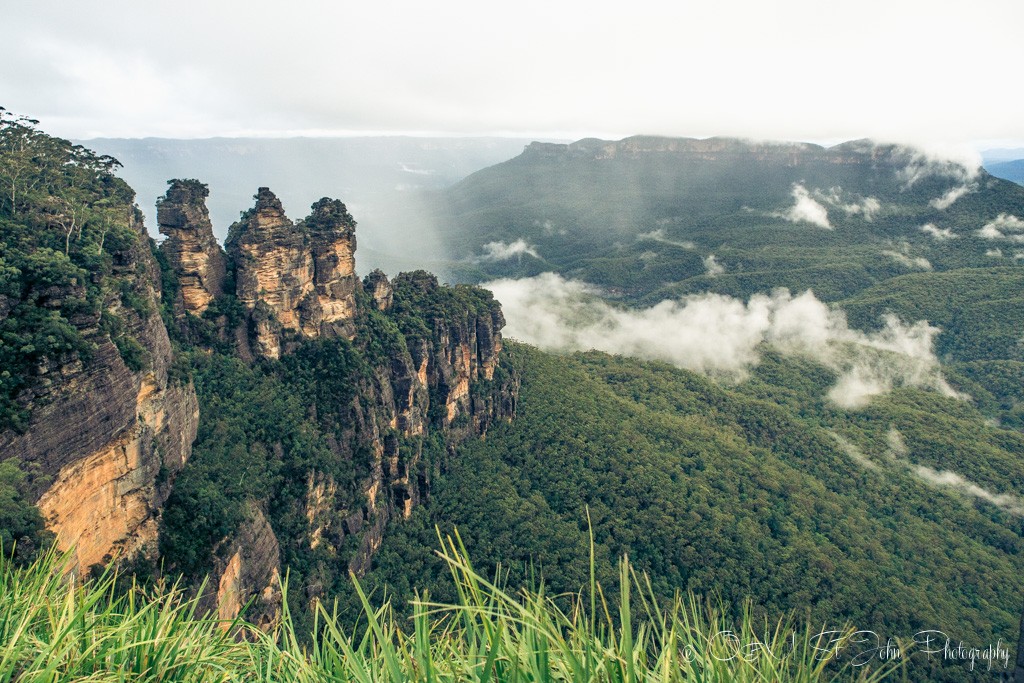 There is no shortage of accommodation options in the Blue Mountains. You can find anything from basic camping to high-end resorts. There are options to fit any budget and any type of traveler.
Hunter Valley Tour
Hunter Valley is renowned for being one of Australia's best wine regions and Sydney wine tours to the area are popular for locals and visitors alike. Its rolling green hills and beautiful vineyard views create the perfect backdrop for a romantic getaway from Sydney. There are over 150 cellar doors in the region and plenty of new wines to be discovered!
You can spend days exploring the wineries, taking in beautiful views, and enjoying local restaurants that serve up great local produce. Hunter Valley Wine Lovers Adventure Tour & Gourmet Lunch will be the perfect introduction to all that Hunter Valley offers.
If the Hunter Valley wine tours from Sydney wasn't reason enough, Hunter Valley also frequently hosts food, wine, music, and entertainment festivals. Don't be surprised to see artists like Sting, The Eagles, Rod Stewart, or Billy Idol on the list of upcoming gigs and performances in the Valley.
Weekend trips from Sydney to the town of Pokolbin, the heart of the Hunter Valley, are easy to organize and offer an ideal way to experience the Hunter Valley region.
Newcastle Visit
Located two hours north of Sydney, Newcastle is another destination that offers a perfect weekend getaway from Sydney. Leave behind the busy and touristy life of Australia's largest city in favour of pristine coastline and great surfing beaches, spectacular high rock walls, and a calm harbour area.
As is the case with a lot of beaches in New South Wales, the surf in Newcastle is perfect for beginners to intermediates. But the bonus is that Newcastle's Nobby's Beach is not nearly as busy as some of the beaches in Sydney. This laid back vibe makes it the top choice for those looking for a relaxing Sydney getaway.
Surfing isn't the only thing that Newcastle has to offer. There is no shortage of things to do in Newcastle making it the perfect choice of weekend trips from Sydney. Darby Street and Beaumont Street offer great shopping and dining options, while the Queens Wharf area is a great place to enjoy a few drinks with a lovely view of the Hunter River.
No visit to Newcastle would be complete without a stop at the Fort Scratchley Historic Site. The site pays homage to one of the great naval bases for the Australian Navy during WWI and WWII and offers great aerial views of the city.
What's your favourite weekend getaway from Sydney? Share your tips for the best weekend trips from Sydney!