Sydney is undoubtedly one of the most exciting destinations in Australia. Between the incredible beaches, vibrant nightlife, and great culinary experiences, Sydney offers plenty to do to every visitor to Australia.
*This post may contain affiliate links, as a result, we may receive a small commission (at no extra cost to you) on any bookings/purchases you make through the links in this post. As an Amazon Associate, we earn from qualifying purchases. Read our full disclosure
While almost every visitor makes it a point to stop in Sydney, many don't give themselves extra time to explore beyond the city borders.
The area around Sydney offers plenty of really fantastic weekend away opportunities. Whether you're looking for adventure, a romantic getaway, or a relaxing beach holiday, there are limitless options for the perfect Sydney weekend getaway.
If you ask us, we would definitely recommend extending your stay by a few extra days to get out and explore the area beyond the city. After all, it's not the cities themselves that make Australia the incredible destination that it is, it's the outdoor experiences that lie just a short distance from Sydney.
Here are just a few of our favourite weekend getaways from Sydney!
Best Weekend Trips from Sydney
Blue Mountains
In 2000, the Blue Mountains region was named a World Heritage Area by UNESCO, leading to an increase in local and international tourists to the area. The entrance to the Blue Mountains is located in Glenbrook/Lapstone, just 50 minutes away from Sydney's city centre, however, the most popular tourist destination is actually Leura/Katoomba, located 30 minutes further.
Katoomba is the largest and most visited town known for its artsy/hippie population, and its smaller neighbour, Leura, is a picturesque village known as the shopping destination of the region.
Traveling Soon?

Here is a list of our favourite travel providers and accessories to help get you ready for your upcoming trip!
Blue Mountain Activities
There are hundreds of walks to do on a Blue Mountains day trip ranging from short 1 kilometre trails to multi-day hikes. Blue Mountain day tours are also popular. You can explore the area through mountain biking adventures, fantastic canyoning, 4-wheel driving, horse riding, caving, abseiling, and more.
Or, sign up for a Blue Mountain all-inclusive tour, which includes a visit to Jamison Valley, Scenic World, a guided rainforest boardwalk, lunch, and a visit to the Featherdale Wildlife Park to hand-feed the kangaroos!
A Blue Mountain day tour is a great option for families looking for Sydney weekend getaways.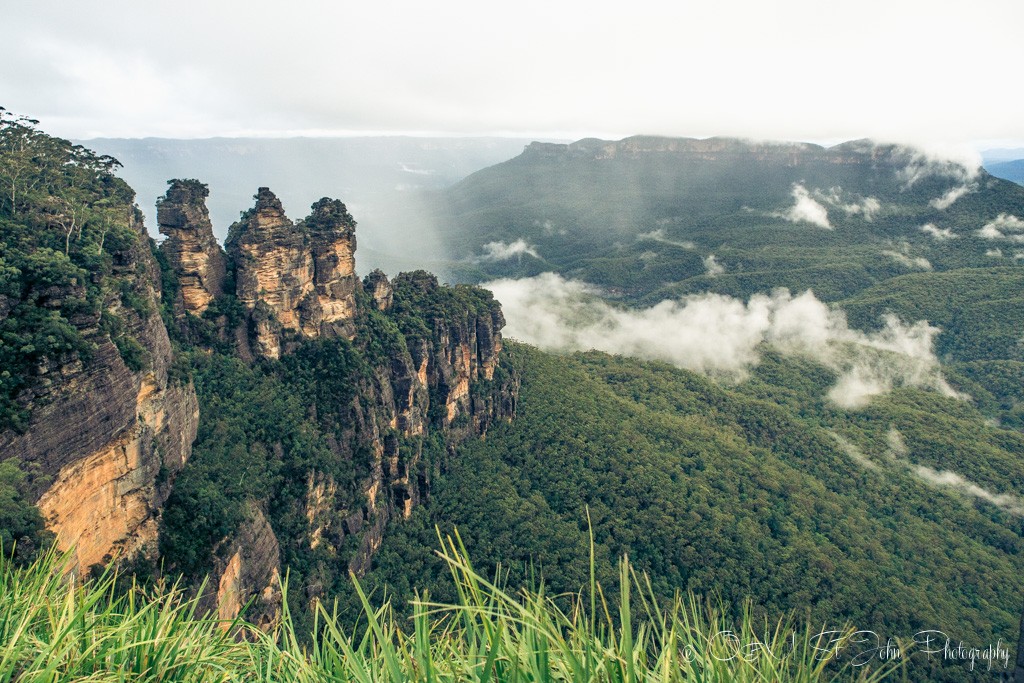 Have a weekend getaway to visit the Three Sisters rock formation in the heart of Blue Mountains National Park, New South Wales.
Where to Stay in Blue Mountains
There is no shortage of accommodation options in the Blue Mountains. You can find anything from basic camping to high-end resorts. There are options to fit any budget and any type of traveler.
Falls Mountain Retreat
Falls Mountain Retreat provides upscale self-catered studios and apartments in the Blue Mountains. This is perfect for visitors who prefer a very quiet environment with plenty of wildlife. Bring binoculars with you, and you can spot black cockatoos and kookaburras straight from your balcony.
Each room also includes a spacious balcony, AC, and a 2-person hydrotherapy massage hot tub, ensuring a luxurious stay. They're committed to reducing water use, protecting biodiversity, recycling, and local and sustainable purchases.
Fairmont Resort & Spa Blue Mountains MGallery
Perfectly located, Fairmont Resort Blue Mountains prioritises environmental sustainability. It also emphasises enhanced waste recycling.
Suitable for families, it offers a wide range of free leisure activities that kids can participate in. All rooms feature a modern en-suite, a mini-bar, and a flat-screen TV.
Hunter Valley
Hunter Valley is renowned for being one of Australia's best wine regions, and Sydney wine tasting tours to the area are popular for locals and visitors alike.
Its rolling green hills and beautiful vineyard views create the perfect backdrop for a romantic getaway from Sydney. There are over 150 cellar doors in the region and plenty of new wines to be discovered!
You can spend days exploring the wineries, taking in beautiful views, and enjoying local restaurants that serve up great local produce. A Hunter Valley Tasting Tour will be the perfect introduction to all that Hunter Valley offers.
Hunter Valley also frequently hosts food, wine, music, and entertainment festivals. Don't be surprised to see artists like Sting, The Eagles, Rod Stewart, or Billy Idol on the list of upcoming gigs and performances in the Valley.
Weekend trips from Sydney to the town of Pokolbin, the heart of the Hunter Valley, are easy to organise and offer one of the best weekend getaways from Sydney.
Hunter Valley Activities
The Hunter Valley offers an outdoor adventure you won't want to miss. The Hunter Valley is a fantastic place with a chill vibe, wine tasting, and a gourmet food scene that makes it one of our top getaways close to Sydney.
Explore World-Class Hunter Valley Wineries to sample the award-winning wine creations through wine tasting tours. Or join their fun wine-making classes, all while taking in the stunning Hunter Valley views.
To explore this wine region from a new angle, go for a quick 30-minute sunset stroll to Milhams Farmhouse. Alternatively, embark on the one-hour early morning walk at Hunter Lookout along the Glen Road Loop Track. If you're feeling adventurous, consider horseback riding. And, of course, don't miss the distinctive experience of visiting the Hunter Valley Gardens.
Beyond its vineyards, the Hunter Valley is known for its beautiful rolling hills.
Consider hopping on an early morning hot air balloon ride to witness a stunning view of the landscape of the Hunter Valley.
If you're craving spine-tingling history, visit the Marthaville Arts and Cultural Centre. For a cultural fix, explore the Cessnock Regional Art Gallery.
Where To Stay in Hunter Valley
Spicers Retreats
Spicers Retreats provides an environmentally conscious stay with 34 family-friendly suites. Each suite features a private bathroom, Wi-Fi, air conditioning, and a TV.
For eco-conscious travellers with electric vehicles, Spicers Retreats offer the convenience of Tesla car chargers on-site.
Tiny House 888
Nature-loving couples can enjoy a romantic weekend getaway at Tiny House 888. Nestled in native bushland, this air-conditioned one-bedroom suite boasts a bluestone fireplace, an ensuite bathroom with an eco-toilet, and the choice of a private courtyard or vineyard view balcony. Enjoy a memorable and charming escape from New South Wales in this serene setting.
Newcastle
Located two hours north of the city, Newcastle is another destination that offers a perfect weekend getaway from Sydney.
Leave behind the busy and touristy life of Australia's largest city in favour of the pristine coastline and beautiful beaches, national parks, spectacular high rock walls, and a calm harbour area.
As is the case with a lot of South Coast beaches in New South Wales, the surf in Newcastle is perfect for beginners to intermediates.
If you are looking to escape the crowds, head to Newcastle's Nobby's Beach – it is not nearly as busy as some of the beaches in Sydney. The laid-back vibe makes it the top choice for beach lovers.
Newcastle Activities
Surfing isn't the only thing that Newcastle has to offer. There is no shortage of things to do in Newcastle, making it the perfect choice for a weekend road trip from Sydney.
Darby Street and Beaumont Street offer great shopping and dining options, while the Queens Wharf area is a great place to enjoy a few drinks with a lovely view of the Hunter River.
We also enjoyed a leisurely sunset walk along the Esplanade, eventually reaching Memorial Drive. The ocean views from the cliff's edge are beautiful.
Consider adding a visit to Lake Macquarie to your Newcastle itinerary. This saltwater lake, situated south of Newcastle, is linked to the Tasman Sea via a channel. If you're in Newcastle during August, don't miss out on the Newcastle Music Festival.
No visit to Newcastle would be complete without a stop at the Australian war memorial, Fort Scratchley Historic Site. The site pays homage to one of the defence points for the Australian Navy during WWI and WWII and offers great aerial views of the city.
Where To Stay in Newcastle
For convenient access to Newcastle's top attractions like Nobby Beach, consider staying in the city's CBD.
Hunter Street offers proximity to major sights and vibrant nightlife. Alternatively, opt for lodging near Darby or Hamilton Street, the city's trendy hubs, for easy access to excellent dining and culinary choices.
Ibis Newcastle
Ibis is located centrally in Honeysuckle Precinct, a beach area that hosts a range of entertainment and dining options. Each room is air-conditioned and includes an en-suite bathroom with shower, toilet, and hairdryer.
Novotel Newcastle
Novotel offers spacious rooms with contemporary furnishings, cable TV, and a minibar in every room. From here, it's an easy stroll to the beach and many restaurants Newcastle has to offer.
Novotel and Ibis are part of the Accor Planet 21 program. This program aids in environmental preservation, combating sexual exploitation, eco-design, and promoting healthy and sustainable food practices in their dining establishments.
Woy Woy
Located on the Central Coast of New South Wales, Australia, Woy Woy is a delightful coastal town boasting three gorgeous beaches: Ettalong Beach, Umina Beach, and Pearl Beach.
Woy Woy is located just over an hour's train ride or 1.5 hours south by driving, making it one of the best weekend trips from Sydney.
You can spend the day leisurely exploring the town, wandering along its rugged coastlines, and admiring the masses of pelican colonies that call the shores home.
Woy Woy Activities
Brisbane Water National Park is a good starting point for any Central Coast journey. You can gaze across the vast park and catch a glimpse of Woy Woy Bay in the distance.
Turning the other way, the park's highest point, Mount Wondabyne, was visible. A quick drive over Mount Ettalong will lead you to Pearl Beach. Along the National Park, you can spot wild wallabies. Also, stop over at Patonga beach town to try their oysters. Known for its oyster farming, Patonga takes its name from the Guringai people's word for 'oyster.'
Explore Ettalong Beach, located just a 5-minute drive from the Woy Woy town centre.
Slightly further away from the town of Woy Woy, you'll find Umina Beach, a popular destination on the Central Coast. This expansive coastline is perfect for both surfing enthusiasts and family picnics.
There are so many activities around Woy Woy for weekend getaways. One great option is the Bouddi Coastal Walk, which is just a 20-minute drive from Woy Woy. This easy 8 km hike is a perfect opportunity for whale watching, taking in sweeping views of the coastline, birdwatching, and picnicking among the wildflowers.
Where To Stay in the Woy Woy Area
Copacabana Beach House
Copacabana Beach House is perfect for a Sydney weekend trip or a romantic getaway. Nestled atop the cliffs of Copacabana, the Copacabana Beach House is a dreamy Airbnb retreat. It has an open fireplace and ocean views.
From above, the house forms a captivating 'T' shape, offering breathtaking panoramic views. The owner is committed to reducing water use, protecting biodiversity, recycling, and local and sustainable purchases.
Ibis Styles The Entrance
Ibis Styles The Entrance overlooks the Tuggerah Lakes and offers modern accommodation with private bathrooms and free WiFi. Located just 300 metres from Tuggerah Lakes Park, this hotel offers convenient proximity to nature. Shelly Beach is a short 7-minute drive away, while Picnic Point Reserve is just an 8-minute drive.
We recommend hiring a boat from the Boat Shed for scuba diving and fun. There are nice bush trails near Magenta in the Wyrrabalong National Park nearby.
They contribute to environmental preservation, with eco-design, and advocate for the adoption of healthy and sustainable food practices in their dining establishments.
Explore Royal National Park
The Royal National Park stands as one of Australia's most stunning natural reserves and is conveniently accessible from Sydney. Despite its closeness to Sydney, the park maintains an untamed ambiance along its diverse walking trails.
Royal National Park is Australia's oldest national park and the second oldest in the world. It covers a huge coastal area full of bushwalks, swimming holes, and waterfalls.
Royal National Park Activities
Wattamolla is one of the most popular attractions in the Royal National Park. With a stunning waterfall cascading into a picturesque swimming lagoon, Wattamolla is the perfect escape from the busy tourist spots. The unique feature here is the white sand strip that divides the lagoon and ocean, allowing you to access both bushland and beach simultaneously.
Another great activity is thethe cliff walk around Wattamolla Lagoon, which winds all the way to Eagle Rock. During humpback whale migration, you can easily spot these magnificent creatures playing off the Royal National Park coast. The entire Coast Track offers great whale-watching opportunities.
One of the top attractions in the Royal National Park is its collection of beaches. If you love surfing, go to Garie Beach. Always be cautious of rips and currents, as swimming here can be dangerous.
The Instagram-famous Wedding Cake Rock can be found to the south of Bundeena. This popular attraction is part of the Coast Track, and is about an hour's hike from Bundeena. Walking along the cliffs is a must-do when visiting the Royal National Park, and the path of the Coastal Track was very easy to follow.
Located just a bit further on from Wedding Cake Rock, Marley Beach is a favourite on the list of things to do in the Royal National Park. Explore the gorgeous Deer Pool and make your way to the beach via the Little Marley Trail.
Where To Stay in Royal National Park
Quest Cronulla Beach
Quest is suitable for couples. All units feature a laundry, balcony, flat-screen TV with cable channels, and reverse cycle air-conditioning. They are committed to reducing water use, protecting biodiversity, upscaling, recycling, and local and sustainable purchases.
Miracle Miranda Sydney Apartment
Miracle Miranda Sydney Apartment in Miranda offers city views and is located 18 km from Royal National Park. This family-friendly 2-bedroom apartment includes a kitchen with an oven, a flat-screen TV, a seating area, and a bathroom with a hot tub. All of their rooms use energy-saving light bulbs.
After enjoying activities like windsurfing, cycling, or fishing, you can unwind in the shared lounge area.
Royal National Park Camping
Pre-bookings and permits are essential for Royal National Park camping. Camping in Royal National Park is available at three campgrounds. Bonnie Vale campground is in the north, accessible by car or ferry. North Era campground is in the east, accessible by foot, and Uloola Falls campground is in the northwest, also accessible by foot.
Canberra
A weekend getaway to Canberra allows you to explore the best of the often overlooked Australian capital while indulging in its vibrant culinary scene.
Canberra Activities
If you have a car, a road trip around Canberra would be the best option.
The Canberra District is home to numerous wineries, while the National Arboretum and Mount Ainslie Summit provide great hiking opportunities. Along the shoreline, the bustling Southern Highlands and Old Bus Depot Markets are great Sunday morning activities.
On the Acton Peninsula, you'll be able to visit the National Museum of Australia that sits by the lake's edge. Designed by acclaimed architect Howard Raggett, this museum features art exhibits and artifact collections that offer insights into Aboriginal history.
Moving on to the Canberra Centre on the north shore, you can enjoy lakeside walks near the National Museum.
While in Canberra, visit the National Gallery, Old Parliament Buildings, and Questacon located on the south side of the lake. This gallery is a true national gem and a definite must-see in Canberra. Take a stroll along the spacious tree-lined streets to the Old Parliament House, which offers a glimpse into colonial Australia, spanning from royal visits to beekeeping.
Where To Stay in Canberra
Little National Hotel
For an exceptional night's sleep, stay at Little National Hotel. The standout feature here is their custom super king beds. While the rooms are on the smaller side, the presence of a library and lounge with a self-serve bar provides nice space to work or relax. They're committed to reducing water use, and source supplies from local and sustainable businesses.
Canberra YHA
For a more budget-friendly choice near the CBD, I suggest checking out Canberra YHA. YHA offers a convenient location just a brief stroll away from the bustling Canberra Centre.
Kangaroo Valley
Escape the city's hustle and bustle with a retreat in Kangaroo Valley, where you'll feel transported away from urban life. Nestled between the Jervis Bay and Southern Highlands, it's conveniently close for a quick weekend getaway from Sydney.
KANGAROO VALLEY ACTIVITIES
If your idea of a perfect weekend getaway in New South Wales involves walking trails and waterfalls, look no further than Kangaroo Valley.
Located just a few hours south of Sydney, this area is home to stunning landscapes and local wildlife that creates a beautiful setting.
See Hampden Bridge
At the heart of the town is the historic Hampden Bridge. This sandstone masterpiece, built in 1898, spans the Kangaroo River and is Australia's last surviving wooden suspension bridge. The serene river below is perfect for relaxing and rock-skipping.
Visit Morton National Park
Nature enthusiasts will find a perfect weekend getaway at Morton National Park. Located in the NSW Southern Highlands, this is a paradise for both nature lovers and photography enthusiasts. The cascading Fitzroy Falls amidst the Eucalyptus forest and the elevated lookout are a must-see.
Check Out The Town Of Kiama
Between Sydney and Morton National Park, you'll find the coastal town of Kiama, which is renowned for its iconic Blowhole. This geological formation shoots a water plume 30 metres into the air during high tide, and is one of many attractions along the Kiama Coastal Walk. The Kiama Central Coast Walk showcases this natural wonder along with Cathedral Rocks, the basalt columns of Bombo headland, and many more geologic wonders.
You can also take a road trip to Merribee Botanic Gardens and Corramy Regional Park, where protected wetlands offer lush native surroundings and outdoor adventure.
Whether you're camping amidst wombats or exploring waterfalls, Kangaroo Valley and its neighbouring attractions promise an enriching experience for nature enthusiasts and adventure seekers alike.
Where To Stay in Kangaroo Valley
Berry Village Boutique Hotel
Berry Village Boutique is located in the historic village of Berry on the South Coast, just a 10-minute drive from Seven Mile Beach. This elegant accommodation features a seasonal outdoor pool, an on-site restaurant, WiFi, and free parking.
This boutique hotel is focused on environmentally conscious products and practices. The toiletries provided are in line with a policy of being socially responsible and provide guests with an explanation of their sustainability policies and details of the credentials of their local suppliers.
Kangaroo Valley Golf and Country Retreat
Kangaroo Valley Golf & Country Resort features an 18-hole golf course, outdoor swimming pool and tennis court. Each cottage and villa includes lounge and dining areas, kitchenettes, and outdoor seating areas with mountain views.
This hotel is dedicated to conserving water, preserving biodiversity, recycling, and prioritising local and sustainable purchases.
What's Your Favourite Weekend Getaway From Sydney? Share Your Tips For The Best Weekend Trips From Sydney!