Located in north central Florida, Ocala and surrounding Marion County is a region known for its natural beauty. Internationally renowned, this hidden gem of a destination attracts equestrians, geologists, and outdoor adventurists with its natural wonders and state-of-the-art sporting facilities.
*This post may contain affiliate links, as a result, we may receive a small commission (at no extra cost to you) on any bookings/purchases you make through the links in this post. As an Amazon Associate, we earn from qualifying purchases. Read our full disclosure
While many visitors are drawn to Ocala for its equestrian heritage as the Horse Capital of the World, for us, the region's biggest draw card was its nature. We spent a few days visiting Ocala's best springs on our recent visit to the region, and as it turned out – it was well worth it!
Read on to find out more about the unique geology of Florida Springs and learn about the best springs in Ocala, Florida.
Traveling Soon?

Here is a list of our favourite travel providers and accessories to help get you ready for your upcoming trip!
About Florida Springs
There are over 700 natural springs scattered around Florida. This unique geology is due to the high porosity of the underlying limestone bedrock, which allows water to seep up from the underground aquifer.
Fed by the underlying aquifer, these Florida springs stay at around a cool 22℃ (72℉) year-round. As you would expect, these cool, crystal-clear springs are a popular attraction during the hot, humid summer months. If you visit Ocala during the summer, it's a good idea to have a backup plan just in case you get to your destination and it's packed!
About Ocala Springs
The Ocala region is home to hundreds of lakes, rivers, and natural springs. There are four springs in Ocala National Forest alone and even more in the surrounding area, including famous spots like Silver Glen Springs, Juniper Springs, Salt Springs, Alexander Springs, Rainbow Springs, Scott Springs, and many other springs.
Each spring in Ocala is unique in its own way. Some are more suitable for swimming, kayaking, snorkeling, diving, or other water activities. Some are best suited for a family, while others are best for adventure seekers.
Best Springs in Ocala
1. Silver Springs State Park
Silver Springs is one of the most popular natural springs in Ocala, and for a good reason. Located just a 15-minute drive from downtown Ocala, Silver Springs State Park is home to the biggest spring in the U.S., a historic site with 19th-century pioneer buildings, walking trails, an adventures center, and lots of opportunities for outdoor activities like bicycling, hiking, geo-seeking, and paddling.
The park is famous for its glass-bottom boat tours, operating at Silver Springs since the 1870s. These tours offer a unique perspective by allowing you to get close to the underwater life and admire the springs, including the famous Mammoth Spring, from up close, without actually getting in the water.
There are 2 different tour options available with tickets starting at $13 just USD
30-minute Boat Tour runs every 15-20 minutes 365 days a year. The tour follows a standard route along about 1 km down Silver River.
Extended Boat Tour is a 90-minute tour available only on Friday, Saturday, Sunday, and Monday at 9:30am, 11:30am and 1:30pm. This route continues further down the river, offering a better chance to spot wildlife like crocs, turtles, and birds.
There is also an adventure center on-site at Silver Springs, where you can rent kayaks, canoes, and SUP to explore further. Plus, there are a couple of great nature trails throughout the park where you can get closer to wildlife.
Note that swimming is, unfortunately, not permitted at Silver Springs.
If you want to make a visit to Silver Springs into a full-day adventure, you'll be happy to know that concessions are available in the park, as well as several shops and interpretive exhibits in the Discovery Center and Silver River Museum.
Admission:
$8 USD per vehicle, $2 USD for pedestrians or cyclists. Digital passes can be purchased here.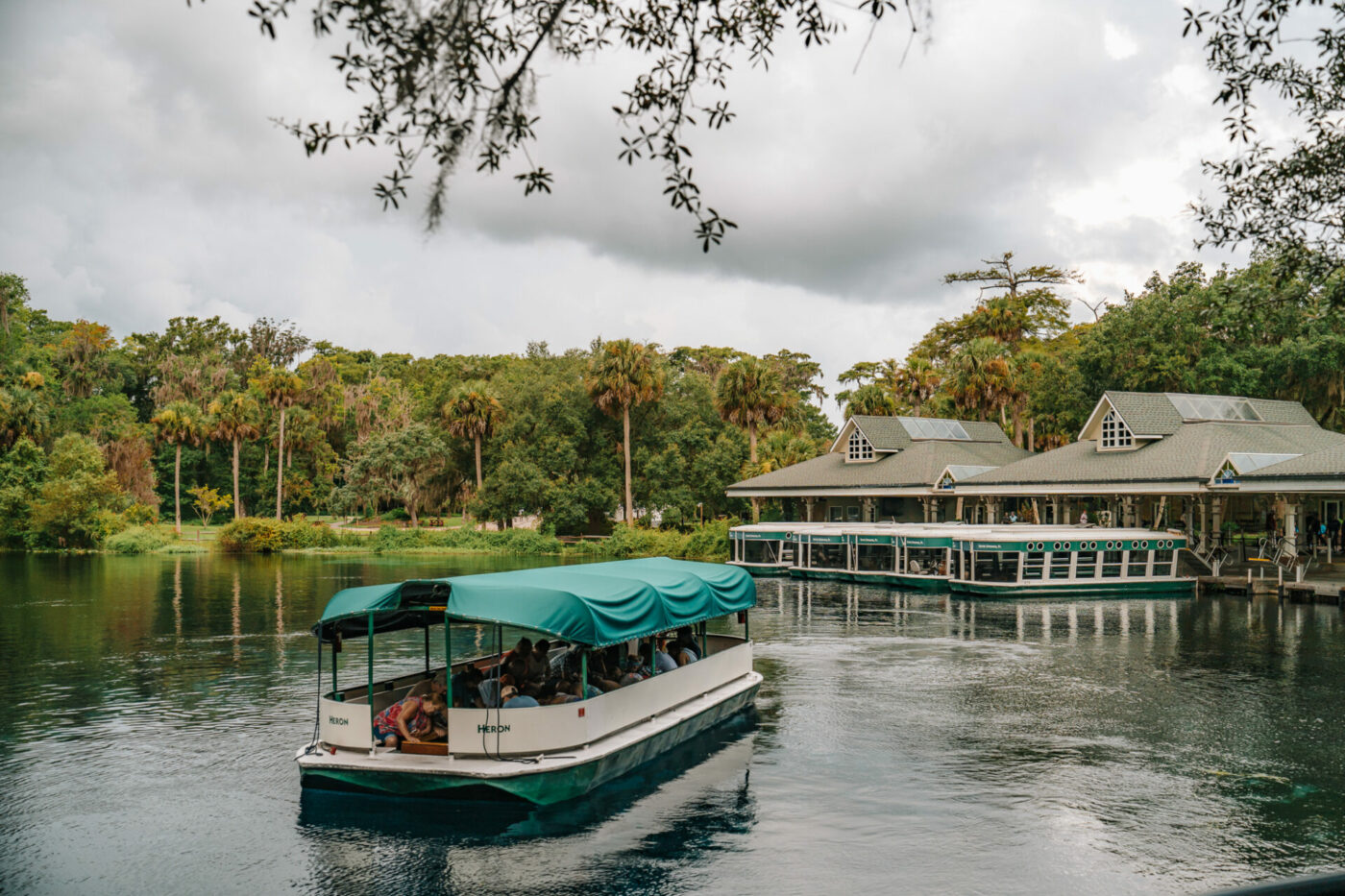 2. Rainbow Springs State Park
Located about 40 minutes outside of downtown Ocala, Rainbow Springs State Park encompasses 1,472 acres and the headsprings of the Rainbow River. The park is famous for its beautiful swimming area, snorkeling opportunities, and water adventures like tubbing, kayaking, and canoeing down the Rainbow River.
There are also a number of nature trails throughout the park and a campground where you can park for a few days.
The swimming area is one of the best of all the springs in Ocala. It's roped off and crystal clear with turquoise water and an average depth that can go down to 5 meters (18 ft). Kids and non-swimmers need to have floaties, as there is no shallow section of the springs, meaning that you have to treat water the entire time.
To access the river, visitors need to go to the onsite campground on the other side of the river.
Tubes, canoes, and kayaks are available for rent from the nearby KP Hole Park. This is another access point to the river that does not require you to go to the campground. Note that the KP Hole Park is private and not a part of the State Park, so there are separate entrance fees of $7 per person not included in rental rates.
For a tour that's a bit more unique, consider joining a guided kayaking tour with Get Up and Go Kayaking, one of our personal favorite experiences in Ocala!
This unique clear kayak adventure lasts about 2 hours and costs $62 per person. The tour includes a gentle paddle up and down Rainbow River and a stop at Rainbow Springs Canal, one of the most picturesque hidden parts of the river.
We spotted many birds along the river during our paddle, plenty of fish, and even a few turtles.
Food concessions are available, as well as picnic facilities, restrooms, and a shower station. This park can get very busy on weekends and holiday breaks. When the park reaches capacity, the gates to the headsprings will close to all visitors.
Admission:
$2 USD per person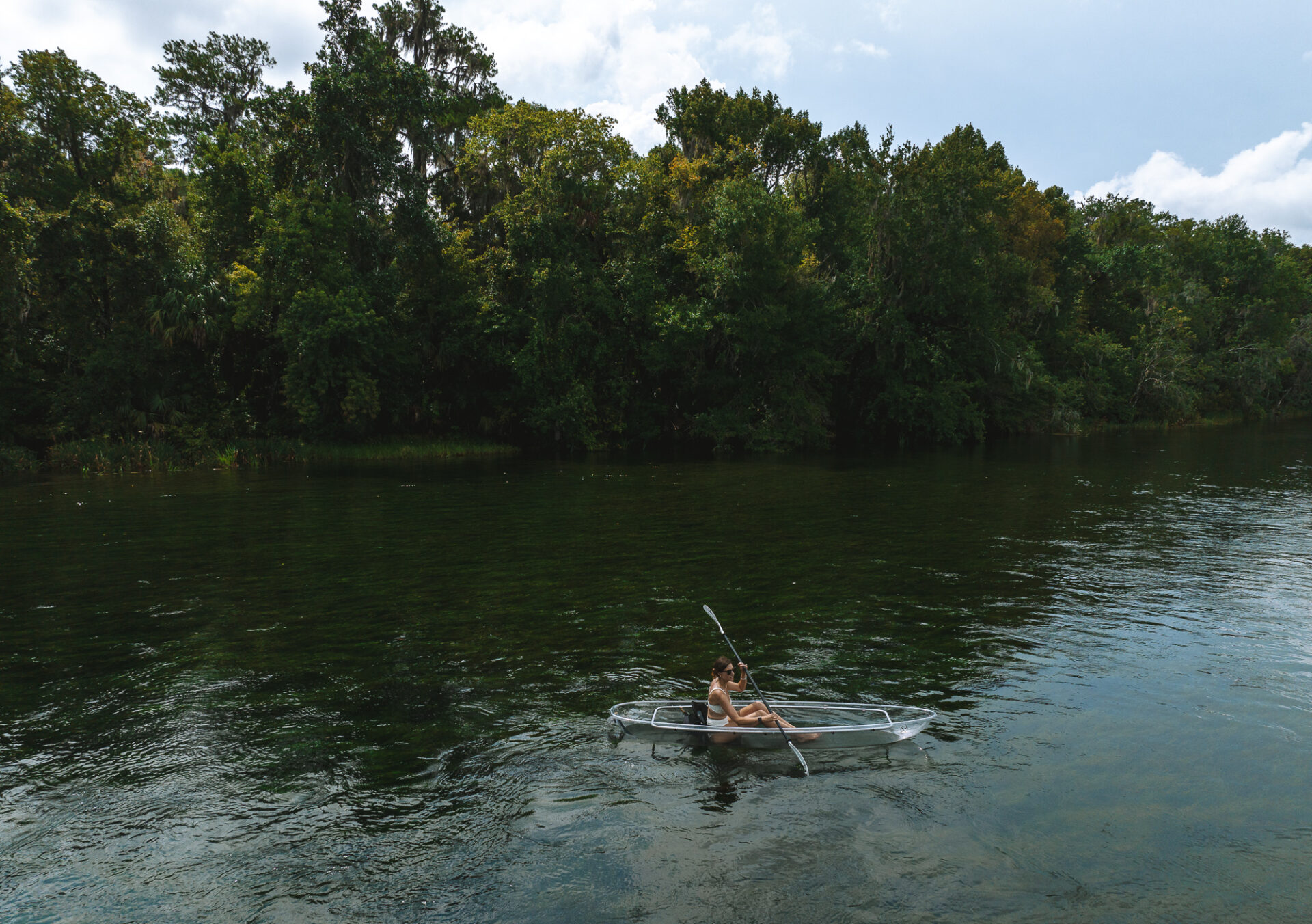 3. Silver Glen Springs
Another beautiful spring located in Ocala National Forest is Silver Glen Springs. It's a popular recreation area and a great swimming and snorkeling spot, with the swimming area clearly marked to avoid damage to sensitive underwater habitats.
As Silver Glen Springs Recreation Area is in Ocala National Forest, there is plenty more to do in the area. The nearby Lake George Trail is an easy day hike to viewpoints of Lake George, or you can rent a kayak to explore Silver Glen Springs Run.
This recreation area is about 45 minutes outside of Ocala, but there are many activities to turn this into a day trip. Just remember that this recreation area gets very busy in the summer, and reservations are now required to visit the springs during this time of the year. Admission is $12 USD per person.
The capacity is limited to just 95 cars, so if you plan on visiting during the summer, plan ahead! During our visit in July, the area was fully booked for 2 weeks out. Our best advice is to plan your visit during the week or outside of the summer months.
Admission:
$12 USD per person and entry for all the springs in Ocala National Forest can be paid through this app.
4. Juniper Springs
One of the oldest recreation areas in this part of the country, Juniper Springs is a complex of hundreds of tiny bubbling springs surrounded by a lush natural area full of live oaks and palm trees.
Located about 35 minutes from downtown Ocala, this recreation area includes Juniper Spring and Fern Hammock Spring, but swimming is only permitted in the Juniper Springs area.
There is a developed swimming area in the springs, with one shallow end and one deep end, covered in natural tape grass. An old mill that once generated energy has been converted into an interpretive center.
To see and learn more about the subtropical habitat surrounding the spring, take the short walk down the Juniper Springs Run Nature Trail. Keep an eye out on the water. You just might spot an otter or an American eel!
Admission:
$12 USD per person and payment can be completed through an app.
5. Salt Springs Recreation Area
Located about 40 minutes from Ocala, Salt Springs Recreation Area is another gem in Ocala National Forest. The springs here are unique in that the waters have a slight salinity due to the potassium, magnesium, and sodium minerals in the water.
The large swimming area is pretty shallow, with a barrier to block boats and paddlers, and the crystal clear water provides opportunities for snorkeling.
There is plenty of wildlife that thrives in the springs, so don't be surprised if you see various fish species and even some blue crabs. The area surrounding the spring is developed, with easy entry/exit points and a huge picnic area under beautiful live oaks.
Restrooms and showers are available for visitors, and the nearby community of Salt Springs has several restaurants and convenience stores for snacks and drinks. Canoe and kayak rentals are available at Salt Springs Marina, located at the beginning of the Salt Springs Run.
Other Ocala Springs You Can Visit
The above 5 Florida springs are the biggest and most developed recreation areas around Ocala, but there are plenty more springs to explore in the area. Here are a few that we didn't get to visit personally but found interesting enough to include on this list.
Alexander Springs
Located in Ocala National Forest, Alexander Springs is the only spring in the park that allows scuba diving. Certified scuba divers with their own equipment can dive in the springs on their own or join a tour with a certified local Dive Master.
Alexander Springs is also one of the most family-friendly swimming holes in the forest preserve, with a beach that gently slopes into the spring basin. Picnic tables are available for visitors to use, as are toilets and a bathhouse with hot showers.
From the spring, there is access to a boardwalk portion of a 1.5 km nature trail that loops through the palm hammock to observation decks along the spring run.
Admission:
$12 USD per person. Payment can be completed through an app.
Blue Springs State Park
While swimming is only permitted in the spring run, Blue Springs State Park is a great place to scuba dive. There are designated areas for diving in the springs, and the location is a perfect spot for introductory scuba dive for those who are not already certified.
Manatees are often seen in this area, and all water activities are prohibited during the manatee migration season, which usually runs from late Fall to early Spring.
Note that this park gets busy during the summer, so to guarantee entry, we recommend making a boat tour or canoe/kayak reservation.
Admission:
$6 USD per vehicle
Paradise Springs
For thrill-seekers with experience in cave diving, Paradise Springs is a great spot to explore.
Located just 20 minutes from downtown Ocala, this natural spring features a huge cavern area full of prehistoric fossils that are visible to divers.
This privately owned site has restrooms, showers, and changing rooms available to visitors. Operating hours vary, so it's a good idea to check the website before heading out.
Admission:
$30 USD, cash only. Check the Paradise Springs website for rules and recommendations for scuba diving.
Disclaimer: Our visit to Ocala Marion County was organized as a part of a partnership with Visit Florida, but as always, all opinions expressed in this article are our own.