The beautiful region of Ocala, Florida, has many great attractions and adventurous activities. But the region's natural springs are definitely one of the top attractions.
*This post may contain affiliate links, as a result, we may receive a small commission (at no extra cost to you) on any bookings/purchases you make through the links in this post. As an Amazon Associate, we earn from qualifying purchases. Read our full disclosure
There are many ways to experience the springs in Ocala, but one of the most popular experiences is to go kayaking. But not just any kayaking, crystal clear kayaking!
But what does that mean, and what does it entail? Read on to find out more about this unique Ocala activity and to hear more about our experience.
Is it worth experiencing Rainbow River kayaking on a crystal clear tour? We hope this article helps you make this decision.
Traveling Soon?

Here is a list of our favourite travel providers and accessories to help get you ready for your upcoming trip!
About Ocala Springs
Ocala, Florida, is renowned for its beautiful natural springs, offering recreational and ecological significance. The springs are a unique phenomenon resulting from the underground aquifer system, which pumps crystal-clear water to the surface, creating picturesque bodies of water that attract locals and tourists alike.
Ocala springs are characterized by their transparency, vibrant blue hues, and constant temperature, making them ideal for various activities such as swimming, snorkeling, kayaking, and enjoying the natural surroundings.
There are many natural springs in Ocala, and many offer a chance to get out on a kayak, but only a few offer a chance to experience the springs in a crystal clear kayak.
Rainbow Springs is one of these locations.
About Rainbow Springs
Located in Dunnellon, Florida, within the Rainbow Springs State Park, Rainbow Springs is one of Ocala's top natural springs destinations.
With its strikingly clear and vibrant blue waters, Rainbow Springs is a favourite playground for locals and visitors alike.
The main spring, also referred to as the first magnitude spring, gushes forth millions of gallons of pristine water each day. The springs themselves, along with the surrounding park, offer a multitude of activities and opportunities to connect with nature. The translucent waters create a stunning backdrop for activities such as swimming, snorkeling, and tubing.
Beyond the water, Rainbow Springs State Park features walking trails that wind through lush landscapes, showcasing the native flora and fauna of the region. It's a haven for wildlife enthusiasts and a serene escape for those seeking tranquillity amidst the natural beauty of Florida.
The best part about visiting Rainbow Springs is that you can bring your own kayak, tube, or canoe and experience the springs and the Rainbow River in your own time. But if you don't have your own water toys – we certainly didn't – some providers offer rentals for Rainbow River Kayaking.
One of them is a popular outfitter, Get Up and Go Kayaking.
About Get Up and Go Kayaking
Get Up And Go Kayaking is a kayaking outfitter renowned for its unique and immersive clear kayak tours.
The company originated in Florida in 2016 (but now has offices and launch points in Florida, Texas, and Tennessee) from the innovative idea of offering visitors the chance to experience natural springs and waterways from the unique vantage point of transparent kayaks.
Today, their crystal clear kayak tour is considered one of this region's most popular water activities. So much so that other Ocala springs and operators have also introduced clear kayaks to their roster of rentals. Imitation is the best form of flattery, right?
We'll admit, we were hooked on the idea of Rainbow River kayaking with clear kayaks – it looked like the perfect vessel to explore the river (and an Insta-worthy one, too!) We couldn't resist the chance to experience this tour firsthand.
Our Crystal Clear Kayak Tour Experience
Our Rainbow River kayaking adventure began at KP Hole Park, a private park with a launching point for kayaks, tubes, and other water toys along the Rainbow River.
Upon arrival, we checked in at the KP Hole Park administration office and paid our $7/person park fee (it's not included in the rate of the tour).
Ou clear kayaks awaited us by the water along with our guide and other tour participants. Only 4 of us were on the tour that day, which made for a nice and intimate experience.
It wasn't long before we loaded the kayaks with our gear (dry bags, life jackets, water bottles, and cameras) and set off on our tour. We opted to ride together, as the kayaks (actually, they were more similar to a canoe) were fully equipped for tandem operation and designed for two paddlers.
Our tour began at 9am – early, by Rainbow River's standards, so the river was still relatively quiet and calm. It was a hot summer day, and a beautiful fog hovered over the river.
The tour began upriver and called for a bit of a paddle, perfect for our early enthusiasm and energy. Carefully chosen stops punctuated our route, inviting us to take in the surroundings and slow down for wildlife sightings. We spotted a number of birds, a few crocs, and some turtles lazying on the branches of the fallen trees or swimming in the water right under our kayaks.
About 15 minutes into the paddle, we pulled into a tiny canal where we jumped out of our kayaks for a little stroll. The area was lush, overgrown, and felt like a magical hidden gem tucked away from the masses. The palm trees dipped into the water as we waddled in knee-deep water. At the end of the canal was a beautiful leaning palm, a popular photo op on the tour. The mosquitoes were ruthless in that part of the river, but that didn't stop us from taking a few pretty snaps.
From there, it was another 30-40 minutes of paddling upstream before we turned around and let the gentle current take us back to KP Hole Park.
Our guide elevated the tour from a mere adventure. He shared stories about the Rainbow River and its inhabitants and helped us spot plenty of wildlife along the way.
Our 3 hours kayaking on Rainbow River flew by, and before we knew it, we were back at the launch site. We had a fantastic time on the tour, but in the spirit of transparency, we wanted to take a moment to highlight all the pros and cons of the experience.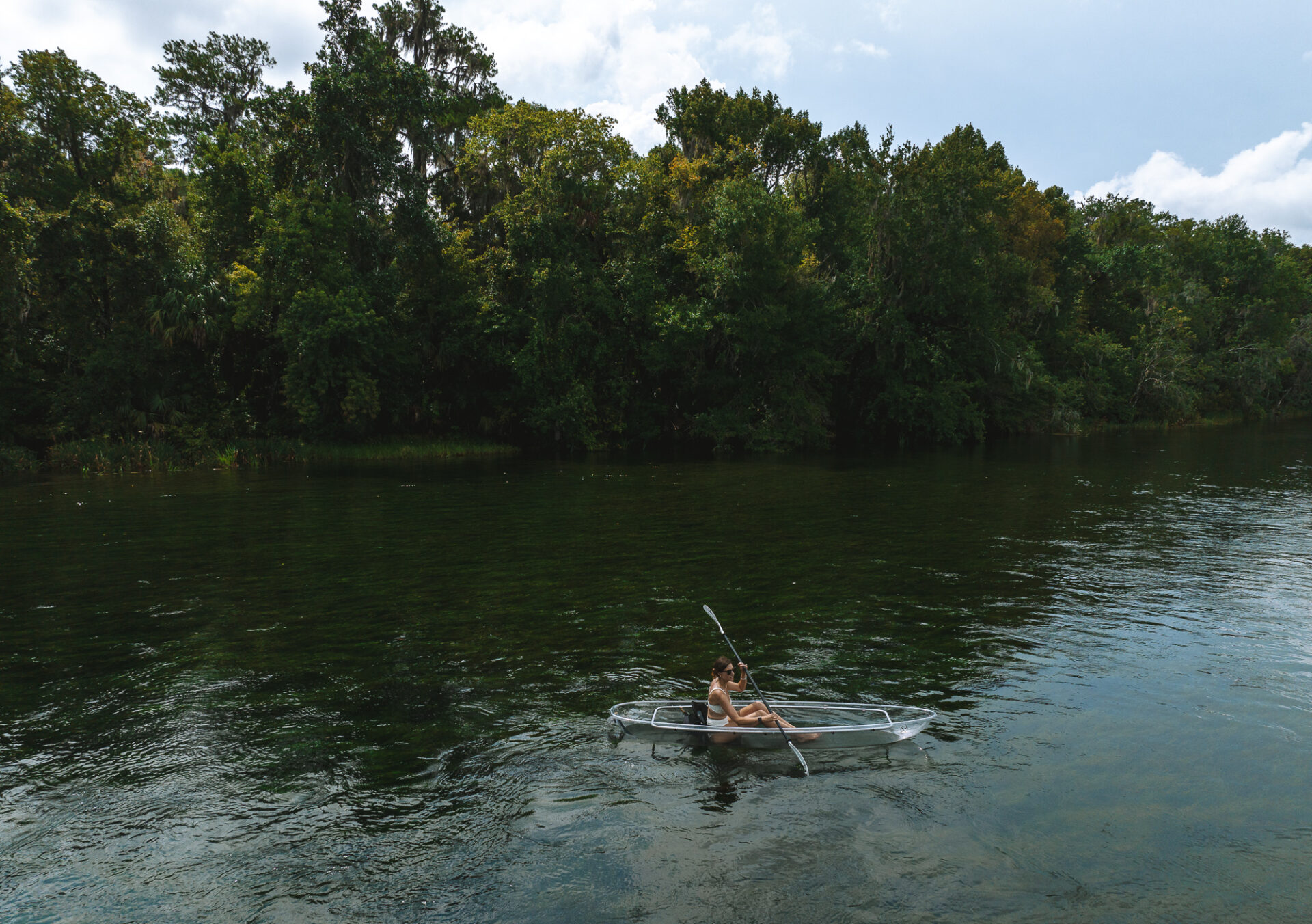 The Pros and Cons of the Experience
Pros:
Unveiling Aquatic Life: The crystal clear kayaks offered a fantastic way to admire the wildlife of Rainbow River up close. It was really cool to spot birds, come really close to crocs and see turtles swimming right underneath our kayaks.
Educational Component: The tour guide shared valuable insights into the local ecosystem, making the experience both adventurous and informative.
Scenic Stops: Regular stops along the route allowed us to stretch our legs, take a quick dip, and savour the beauty of nature. Not many other kayakers on the river knew about the secret canal passage, and that really felt like a unique experience.
Cons
Mosquitoes and Bugs: The serene waters came with a trade-off—mosquitoes and bugs. While they didn't bother us too much on the main part of the river, we were simply not prepared for the onslaught of mosquitos in the canal. The lush greenery is definitely their favorite environment, and juicy tourists with little or no bug spray – are their prey.
Wildlife Variability: Our guide tried his best to lead us to active wildlife areas, but our sightings were not fantastic. We did spot a few birds and a number of turtles, but we only saw one croc, which scurried away way too quickly for a photo. Sightings on these tours are, of course, not guaranteed, but it's we did expect a bit more. Perpahs, it was the time of the year (we were there in the summer) or the heat of the day, or maybe we just got a bit unlucky. After all, nature is unpredictable.
Kayaks: We found the clear kayaks to be a bit, well… not so clear. Due to the hot temperatures outside, the inside of the kayak stayed at around 30°C, while the bottom of the kayak, the part submersed into Rainbow River, was closer to 22°C. (Remember that Rainbow River is fed by Rainbow Spring, which remains at 22°C all year around). This temperature difference caused the kayaks to fog up inside, making it hard to see into the water underneath us.
Pricing Considerations: The clear kayak tour costs $60/person, compared to just $20-30 for a kayak rental without a tour. Those with budget constraints may find the price to be a bit high. Although we thought the experience was well worth it.
FAQs: Tips & Recommendations for Rainbow River Kayaking
What to Bring: Essential items include swimwear, a reusable water bottle, sunscreen, bug spray (please use a non-DEET variety), sunglasses, a hat, water-friendly footwear, and a towel. If you want to bring a camera, phone, or a GoPro, ask the guide for a dry bag to keep your electronics safe while in the kayak.
Child-Friendly: The tour accommodates children aged 3 and above, with specific guidelines to ensure their safety. So the activity is well suited for the whole family.
Cancellations and Safety: The company's cancellation policy reflects its commitment to safety, with full refunds for cancellations made 48 hours before the tour. The tour does take place rain or shine, but trips may be cancelled or postponed in the event of lightning in the area.
Weight Limits: To ensure safety and comfort for all participants, kayaks have specific weight limits (250 pounds per person and 425 pounds for two).
The Bottom Line
Rainbow Springs kayaking tour with Get Up and Go Kayaking offers a great immersive experience in the heart of Rainbow River. The scenery along the river is beautiful, and mornings offer an ideal time to get on the kayak to explore.
While a few considerations, like bugs and fluctuating wildlife, may sway your decision to join this clear kayak tour, we highly recommend it. It's lots of fun and a unique experience that has become one of the highlights of our time in Ocala!
Disclaimer: Our visit to Ocala was organized as a part of a partnership with Visit Florida, but as always, all opinions expressed in this article are our own.