Home to natural wonders, world-class sporting facilities, and a vibrant arts culture, Ocala, Florida, is a hidden gem of a destination that offers something for everyone.
*This post may contain affiliate links, as a result, we may receive a small commission (at no extra cost to you) on any bookings/purchases you make through the links in this post. As an Amazon Associate, we earn from qualifying purchases. Read our full disclosure
Known as the Horse Capital of the World, Ocala and surrounding Marion County attract equestrians from around the world, but horseback riding isn't the only thing that makes this region famous.
As sustainable travelers, we are always on the lookout for hidden gems and off-the-beaten-path destinations and are especially attracted to areas with lots of outdoor adventures.
Ocala hit the mark! The unique environment of this area means that the area is rich in crystal clear natural springs, lush forests, and native wildlife. It's an outdoor lovers' playground!
Located in north central Florida, Ocala Marion County is located just 1.5 hrs (128 km/80 miles) northwest of Orlando and about an hour's drive from the Gulf Coast, but it truly feels like another world.
Traveling Soon?

Here is a list of our favourite travel providers and accessories to help get you ready for your upcoming trip!
History of Ocala
Established in 1846, Ocala has a complex cultural history that involves many peoples and influences. The name, Ocala, comes from the Native American Timucuan tribe, who called their village Ocali.
Today, several streets in Ocala have Native American names, and others have Spanish names carried over from Florida's colonial history. While visiting Ocala, you can see the town's earliest homes and municipal buildings in the Ocala and Tuscawilla Park Historic Districts.
Why Visit Ocala, Fl
People from all over the world flock to this Horse Country, but there are so many other things to do in Ocala, Florida.
Water sports like canoeing and kayaking, hiking, and horseback riding are just a few outdoor adventures to be had. For us, the biggest appeal was the opportunity to visit Ocala's natural springs!
Best Time to Visit Ocala
Winter (December – February)
The winter months are mild here, with temperatures getting up to around 22°C (73°F) during the day and down to 7°C (45°F) in the evenings. Typically, it doesn't rain much during the winter, so you can expect sunny days for outdoor activities.
There are fewer tourists in Ocala during the winter, and the daytime temperatures are perfect for outdoor adventures. The crystal-clear natural springs maintain a relatively constant temperature of 72°F (22°C) throughout the year, offering a pleasant option for swimming and kayaking.
If you visit Ocala during the holiday season, there are lots of holiday festivals. In the second week of December, you'll be able to enjoy the Ocala Christmas Parade, the Ocala Holiday Grinch Fest, and holiday concerts.
Spring (March – May)
In the spring months, temperatures warm up, with average temperatures ranging from approximately 55-80°F (13-27°C).
This is a great time to visit the parks and springs in the area, and there are lots of cultural events going on. There's the annual Florida Springs Fest held in Silver Springs Park, the Brick City Beer and Wine Festival, and several more events that celebrate nature, arts, and culture.
Summer (June – August)
As in the rest of Florida, the summer months in Ocala are hot and humid. Daytime temperatures get up to around 34°C (94°F), but it can feel warmer with the humidity. This is also Florida's rainiest season, so be prepared for rain showers during the day.
The natural springs get pretty busy during the summer months, so it's best to plan ahead and have a backup just in case your favorite springs fill up. Don't worry, there is plenty more to see and do!
Fall (September – November)
This is the season for layers, as you're likely to see some warm and cold spikes in the temperature. Overall, it's a great time to visit the Ocala area, as it's the driest season, and the average temperatures are lovely. During the day, it can get up to around 30°C (86°F), dropping to about 12°C (55°F) at night.
Held annually in October, the Ocala Arts Festival has been going on for over 30 years and is one of the most popular art shows in the region. Also held in October is the Two Rivers Music Festival, a free event that features a food truck rally, local beer and wine, and lots of live music.
How to Get to Ocala, Florida
By plane
Most visitors to Ocala Marion County fly into Orlando International Airport (MCO), located about a 1.5-hour drive from Ocala. From there, the easiest way to reach Ocala is to rent a car and drive yourself to your final destination in Ocala.
By car
A number of car rental agencies are available at Orlando International Airport, making it easy and convenient to pick up a car upon arrival. We always recommend reserving your vehicle ahead of time to avoid last-minute price spikes and issues with availability.
To save on your car rental, consider using an aggregator like Discover Cars, to find the best deals on cars across all rental agencies.
If you want to keep the environmental impact of your trip low and save on gas while cruising around Ocala, we highly recommend renting an electric car. We rented a Tesla Model 3 for just $35/day for our trip to Ocala this past July, an amazing price even in the low season. The additional savings on gas made this the most economical choice, plus, with the added bonus of lower impact on the environment!
By train
If you do not feel comfortable driving in Ocala, consider taking a train. The closest train station to Ocala is in Palatka, Florida, which is about an hour's drive from Ocala. There is no regular bus service from Palatka to Ocala. However, you can get a taxi transfer into the city center.
Getting Around Ocala
Be aware, though, getting around Ocala without a car is not easy! Although downtown Ocala is compact and easy to get around on foot, most of the outdoor attractions, like the natural springs, horse farms, Ocala National Forest, and even some great restaurants, are not accessible via public transport.
Unfortunately, as is the case with most places in Florida (and much of the US), having your own wheels is almost mandatory!
10 Best Things to Do in Ocala Marion County
Now that we've covered the basics, let's get into the juicy details of visiting Ocala. Here is a rundown of what we think are the best things to do in Ocala, Florida. Have your pick!
1. Visit Silver Springs State Park
A 15-minute drive on Silver Springs Blvd will bring you to one of the most popular natural springs in the area. Home to the biggest spring in the U.S., Silver Springs State Park has lots to explore, from paddling to trails and the Silver River Museum & Environmental Education Center. Entry fees are $8 USD per vehicle, and digital passes can be purchased ahead of time.
Swimming is not permitted at Silver Springs, but you can still experience the springs up close either on a glass bottom boat tour or by renting a kayak or SUP.
The glass bottom boat is an iconic fixture at Silver Springs. This tour allows you to get the full view of Mammoth Spring, the river's main spring, along with many other beautiful feeder springs, and hear stories and facts about the springs from a dedicated guide.
There are 2 different tour options available.
30 min Boat Tour

runs every 15-20 minutes 365 days a year. The tour follows a standard route along the springs about 1 km down Silver River.

Extended Boat Tour

is a 90 min tour and is only available on Friday, Saturday, Sunday and Monday at 9:30am, 11:30am and 1:30pm. This route continues further down the river, allowing for a better chance to spot wildlife like crocs, turtles and birds.
Either boat trip offers an opportunity to see the springs up close and admire their beauty through the glass, something you just can't do any other way. We highly recommend it!
Rent a Kayak or SUP
Once you've had a chance to experience the glass-bottom boat, head to Paddling Adventures Center and rent a kayak, canoe, or SUP to explore the springs at your own pace. The Silver River stretches for five miles from its source spring to where it meets the Ocklawaha River, all within the boundaries of Silver Springs State Park. This river is expansive and very picturesque, so it's a great spot to spend a few hours paddling.
Rentals begin at $30/hour, and trips along the river can be self-guided or guided. Some even offer an opportunity to paddle one way and get a shuttle back, so you don't have to paddle upstream.
Follow Nature Trails
There are a couple of great nature trails throughout the park, winding along the river. Some trails allow you to get close to spots where alligators can be seen resting during the day, while others give you a chance to spot monkeys. That's right! Monkeys!
The rhesus macaques are not native to Florida but were brought to the area in the 1930s for a jungle-themed attraction. Over the years, some of these monkeys have established a population in the Silver Springs and Silver River area and can still be spotted along the riverbanks.
We didn't see any during our visit, but that's likely because the summer heat makes them more likely to hide in the canopy.
2. Spend the Day at Rainbow Springs State Park
Located about 40 minutes outside of downtown Ocala, Rainbow Springs State Park is another popular park to visit in Ocala. Swimming and snorkeling are popular activities here, as well as canoeing and kayaking. It's a great spot to spend a day exploring the river's scenic beauty and its diverse flora and fauna.
Rainbow Springs State Park is also famous for its azalea blooms in the spring, so if you happen to visit during that time, definitely take the time to check out the restored waterfall gardens and nature trails throughout the park.
Go for a Swim
Rainbow Springs is one of the few spots in the region where swimming in natural springs is allowed. The roped-off swimming area is quite deep and has incredibly clear water! The water temperature stays a pleasant 72°F (22°C) all year round. It's a great spot to cool off on a hot summer day!
Just keep in mind that there is nowhere to stand or lean on while swimming, so kids and even some adults may need a floatation device to help them enjoy the springs.
This park can get busy during weekends and holidays in the summer, so have a backup plan or play it safe by visiting on a weekday.
Go for a Paddle
Swimming in Rainbow Springs is fun and refreshing, but an even more popular activity in this area is paddling or floating down the Rainbow River. You can bring your own kayak, canoe, SUP, or tube and float down the river.
Don't have your own equipment? Head to KP Hole Park, and you can rent paddling equipment or tubes from the concession stand there. Note that you'll have to pay a $7 fee to enter the park. Equipment rental fees are $30 per person and include an entry fee, tube rental, & return shuttle service.
Join a Kayaking Tour
If you don't want to worry about all the logistics, consider joining a guided kayaking tour with Get Up and Go Kayaking, one of our personal favorite experiences in Ocala!
This unique clear kayak adventure lasts about 2 hours and costs $62 per person. The tour includes a gentle paddle up and down Rainbow River and includes a stop at Rainbow Springs Canal, a hidden gem of the area and one of the most picturesque spots on the river.
We spotted lots of birds along the river during our paddle, plenty of fish, and even a few turtles.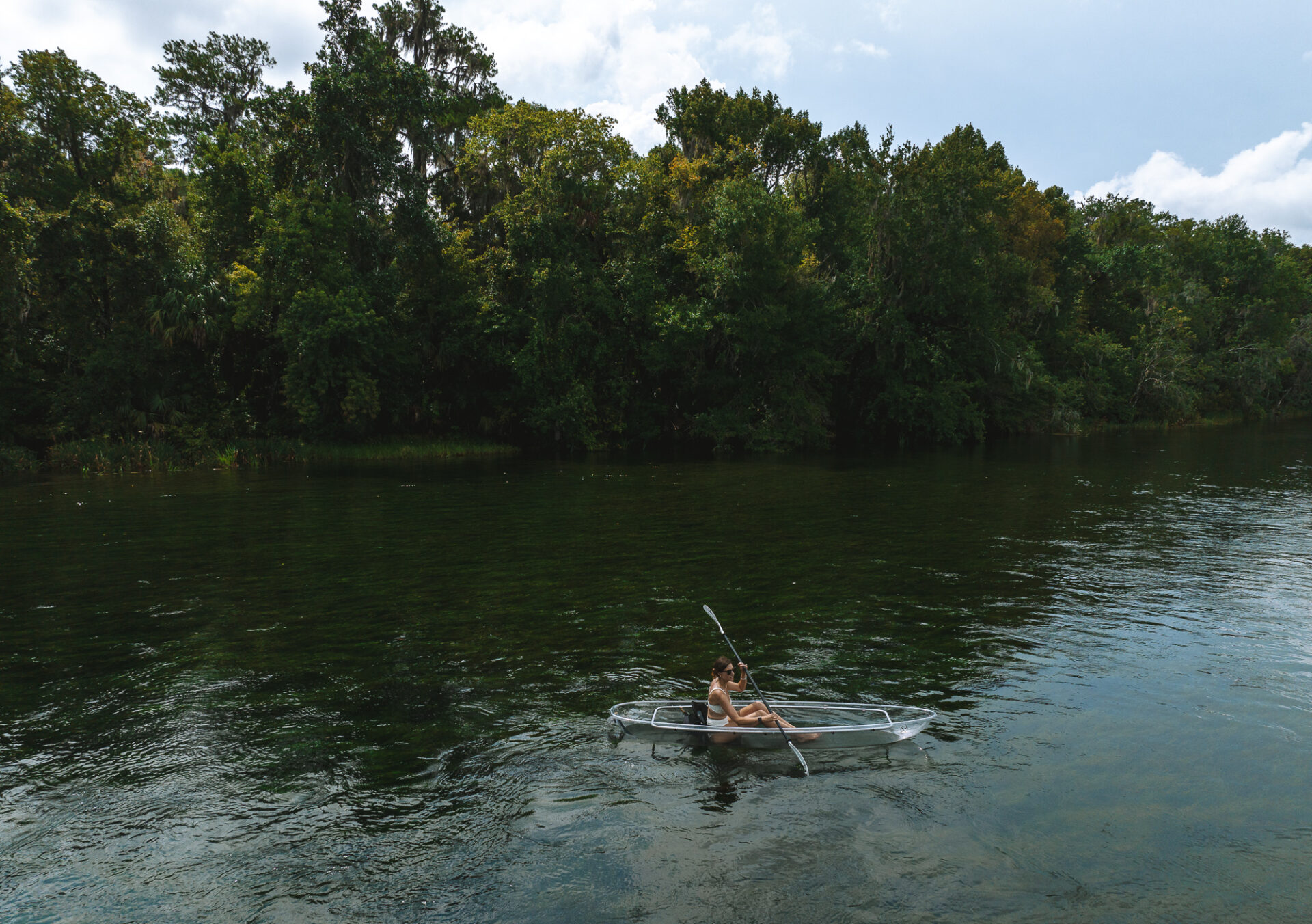 READ NEXT: Rainbow Springs Clear Kayak Tour: Is it Worth It?
3. Visit Silver Glen Springs Recreation Area
Set in Ocala National Forest, Silver Glen Springs is another beautiful natural spring in Ocala known for its crystal-clear, cool waters. It's a popular spot for swimming, snorkeling, and wildlife spotting. Portable toilets are available to visitors, and there are changing facilities near the parking area.
Silver Glen Springs is located around 45 minutes outside of Ocala, but trust us, it's worth the drive. Just keep in mind that this recreation area gets very busy in the summer, and reservations are now required to visit the springs during this time of the year. Admission is $12 USD per person.
The capacity is limited to just 95 cars, so if you plan on visiting during the summer, plan ahead! During our visit in July, the area was fully booked for 2 weeks out. Our best advice is to plan your visit during the week or outside of the summer months.
The swimming area is large and perfect even for inexperienced swimmers, although we still recommend bringing a floaty. Kayak and SUP rentals are available, but the area can be crowded with bigger boats, which makes it less fun to navigate in a kayak.
4. Go Ziplining at Canyons Zip Line
Thrill seekers will love the canopy tours offered by Canyons Zip Line and Adventure Park. Located just 13 minutes north of downtown Ocala, this park features two canyons, four lakes, and adventures by air, land, and water.
There are four different zip line tours, horseback & kayaking tours, and a chance to sift for gems at the historic Zuber Mine. Zip line tours are the star attraction here, with lines cutting through canyons and over lakes, offering stunning views of the landscape. The line and canopy tours start at $56 USD per person and can be booked online.
5. Visit Ocala National Forest
With about 387,000 acres of varied terrain, the Ocala National Forest is home to natural springs, lakes, rivers, and a wide range of native vegetation and wildlife. This national forest is Florida's top destination for backpacking.
There are multiple trail systems inside the park, with the Florida National Scenic Trail cutting through three different parts of the forest. There are long and short interpretive trails to choose from, with opportunities to see alligators, river otters, and lots of other wildlife.
If you prefer water activities to hiking trails, Ocala National Forest is also home to four natural springs, including Juniper Springs, located just 35 minutes from Ocala, and Silver Glen Springs, which we talked about above.
This is one of the oldest recreation areas in this part of the country and the most vast. Another option is Alexander Springs Recreation Area, the only spring in the park where you can scuba dive.
6. Check out Ocala Wetland Recharge Park
Located just 10 minutes from downtown, the Ocala Wetland Recharge Park was one of the biggest surprises during our time in Ocala. This new park offers 4 km (2.5 miles) of paved walking trails and scenic boardwalks and features educational kiosks that explain the significance of the ecosystem of Ocala Recharge Park.
This engineered ecological system was created to filter some three million gallons of treated wastewater and stormwater daily, returning the clean water directly back to the aquifer.
We spotted lots of birds in the park and saw signs for alligators and otters (although we didn't see any). The trails were perfect for an afternoon stroll or an early morning run.
7. Explore Ocala Farmers Market
We are big fans of Farmers' Markets and try to visit one in every new destination. There is just no better way to chat with locals, to try local produce, grab a bite to eat and pick up some locally-made goodies. The Ocala Downtown Market offers just that!
Located just a few blocks south of the downtown square, this is the spot where local farmers, artisans, and food trucks come together every Saturday from 9am to 2pm, rain or shine.
Set in an open-air pavilion with a permanent roof cover and overhead fans, this farmers market was designed to allow visitors to peruse the booths without worrying about the summer rain showers or hot sun.
8. Hang out in Ocala Downtown
We found Downtown Ocala to be quite charming, with a number of great restaurants, galleries, and a few shops to explore. At the heart of it is the Ocala Downtown Square, which serves as a hub for music performances, cultural events, and social gatherings.
While in the area, you can also head to the Brick City Center for the Arts, a gallery that features a new exhibit from Ocala artists every 30 days. Visit the Reilly Arts Center, Ocala's home for the arts and live entertainment. This venue hosts an eclectic range of concerts and events. Or explore the surrounding area of Tuscawilla Park Historic District, with lakes and several historic buildings dating to Ocala's days as a center for transportation and commerce in the central Florida area.
9. Enjoy a Delicious Meal in Ocala
We were pleasantly surprised to find a number of really great restaurants in Downtown Ocala.
Our favorite spot was the Cantina Tex Mex Tequila Bar, a Tex-Mex restaurant and tequila bar. This popular spot serves up killer tacos, amazing guacamole made right at your table, and great drinks. Go on Tuesday for $3 Tacos and Margaritas or on the weekend to catch some of their live entertainment.
Another great restaurant is La Cuisine, a French bistro with red walls and a cozy, intimate atmosphere. The menu features classic French dishes like frog legs, foie gras, bouillabaisse, and cassoulet. Their brunch is particularly popular, so reservations are highly recommended.
10. Other Things to do in Ocala, Florida
Want more things to do in Ocala? Here are a few other spots that we didn't get a chance to visit firsthand.
Visit World Equestrian Center
The largest equestrian complex in the United States, this indoor and outdoor arena facility host horse shows, dog shows, and other events like concerts
Appleton Cultural Center
Located east of downtown Ocala, the Appleton Cultural Center is a complex that includes the Appleton Museum of Art and the Ocala Civic Theatre. The Appleton Museum of Art has over 18,000 pieces in its permanent collection, plus an outdoor sculpture walk and garden.
Sholom Park
A privately owned park that is open to the public, this botanical garden features native plants combined with cultivated ornamentals that require little or no supplemental watering. There are over 100 species of flora that thrive here, 4 km of trails, and plenty of benches to relax and take in the scenery.
Don Garlits Museum of Drag Racing
Car enthusiasts will love Don Garlits Museum of Drag Racing. With about 300 cars between two buildings, it will take at least a couple of hours to see them all. Home to the International Drag Racing Hall of Fame, this museum houses around 90 racing cars, plus dozens of rare antique cars.
We hope you find some of our recommendations helpful and consider adding them to your Ocala itinerary. For us, this is a great destination to add to your itinerary if you are driving along I75 en route to another part of Florida or as a destination to visit after a trip to Orlando.
You can see many of the attractions and get the feel of the area in just 2-3 nights.
Enjoy your visit, and if you happen to find any other activities to add to this list, leave a comment below!
Disclaimer: Our visit to Ocala Marion County was organized as a part of a partnership with Visit Florida, but as always, all opinions expressed in this article are our own.