Alright, let's be honest – when someone says "Canada," wine probably isn't the first thing that pops into your mind. But Canada's got more going on in the wine department than you might think. The wine scene here has been quietly growing, with winemakers getting creative about making great wine while being kind to the planet.
*This post may contain affiliate links, as a result, we may receive a small commission (at no extra cost to you) on any bookings/purchases you make through the links in this post. As an Amazon Associate, we earn from qualifying purchases. Read our full disclosure
As a sommelier with a passion for the world of wine, I have always been drawn to the enchanting stories that each bottle of wine holds. These stories are not only about the grape varietals, the winemaking techniques, or the aging process but also about the places where these wines originate.
And Canada's wine regions, spread across the country's vast expanse, have been quietly and steadily making their mark on the global wine stage. From the cool-climate vineyards of British Columbia's Okanagan Valley to the pristine beauty of Nova Scotia's Annapolis Valley, Canada offers a diverse and captivating range of wine experiences.
So, I've compiled a list of the coolest Canada wine regions worth checking out. From breezy shores to sunny valleys, we're bringing you the scoop on Canada's best wine spots that might surprise you.
Traveling Soon?

Here is a list of our favourite travel providers and accessories to help get you ready for your upcoming trip!
The Best Canada Wine Regions
Niagara Peninsula, Ontario
Situated along the northern shores of Lake Ontario, the Niagara Peninsula stands as a cornerstone of Canadian viticulture. The moderating influence of the lake creates a unique mesoclimate, fostering a lengthy growing season that benefits a multitude of grape varieties.
The region is celebrated for being the world's leading producer of Icewine, known as the "cold liquid gold", harvested during the winter freeze. It's also known for producing elegant Chardonnays, aromatic Rieslings, and expressive Pinot Noirs.
The Niagara Peninsula accounts for approximately 80% of Canada's total grape production, making it an important region in the country's wine industry.
The Niagara Peninsula boasts not only world-class Ice wines but also the awe-inspiring Niagara Falls. This region is a year-round destination, with winter Icewine festivals and summer vineyard tours. Visitors can explore historic towns like Niagara-on-the-Lake, known for its charming architecture and theaters.
The proximity to Lake Ontario also provides opportunities for sailing and other water-based activities.
Notable Grape Varieties in the Niagara Peninsula, Ontario
A diverse tapestry of grape varieties thrives in the lush vineyards of Ontario's Niagara Peninsula in Canada. Here are some of the notable grape varieties you'll encounter:
Chardonnay
Riesling
Cabernet Franc
Merlot
Pinot Noir
Gewürztraminer
Icewine Varietals (Vidal and Riesling)
Okanagan Valley, British Columbia
Situated at the heart of British Columbia's vineyards, the Okanagan Valley is celebrated for its mastery in winemaking. Its climate, marked by warm days and cool nights, offers an optimal environment for cultivating a wide range of grape varieties.
Notable for its diverse terroir, the valley's varied soil types and microclimates contribute to the production of both aromatic whites, such as Riesling and Gewürztraminer, and bold reds, including Merlot and Cabernet Sauvignon.
There are more than 120 wineries and more than 8,000 acres of vineyards in the Okanagan Valley, producing around 30 grape varieties annually.
The Okanagan Valley is not only famous for its wines but also for its stunning landscapes. The valley offers a picturesque setting for vineyards, surrounded by lakes and mountains.
Beyond its wine offerings, visitors can enjoy outdoor activities like hiking, biking, and water sports. The region's wineries often feature tasting rooms with panoramic views, making the wine-tasting experience even more memorable.
Notable Grape Varieties in the Okanagan Valley, British Columbia
In the sunny vineyards of British Columbia's Okanagan Valley, you'll find a variety of grapes. Here are some of the notable ones you can expect to come across:
Chardonnay
Riesling
Merlot
Cabernet Sauvignon
Syrah (Shiraz)
Pinot Gris
Pinot Noir
Auxerrois blanc
Prince Edward County, Ontario
Prince Edward County, an island oasis within Lake Ontario, has gained prominence for its boutique wineries and distinctive limestone-rich terroir. This terroir imparts a mineral complexity to its wines, making it an ideal setting for Chardonnay and Pinot Noir.
The region's cooler climate cultivates grapes with balanced acidity, producing wines that reflect elegance and vibrancy. The County's commitment to sustainability further enhances its appeal.
Prince Edward County's wine tourism has grown by over 70% in the past decade, attracting both local and international visitors seeking unique tasting experiences.
Prince Edward County is not just about wine; it's also the perfect place for artists, foodies, and nature enthusiasts. The region's cultural scene includes art galleries, craft shops, and culinary experiences.
The county's shoreline offers opportunities for bird-watching, kayaking, and relaxation on sandy beaches. This combination of culture, natural beauty, and wine makes it a well-rounded destination.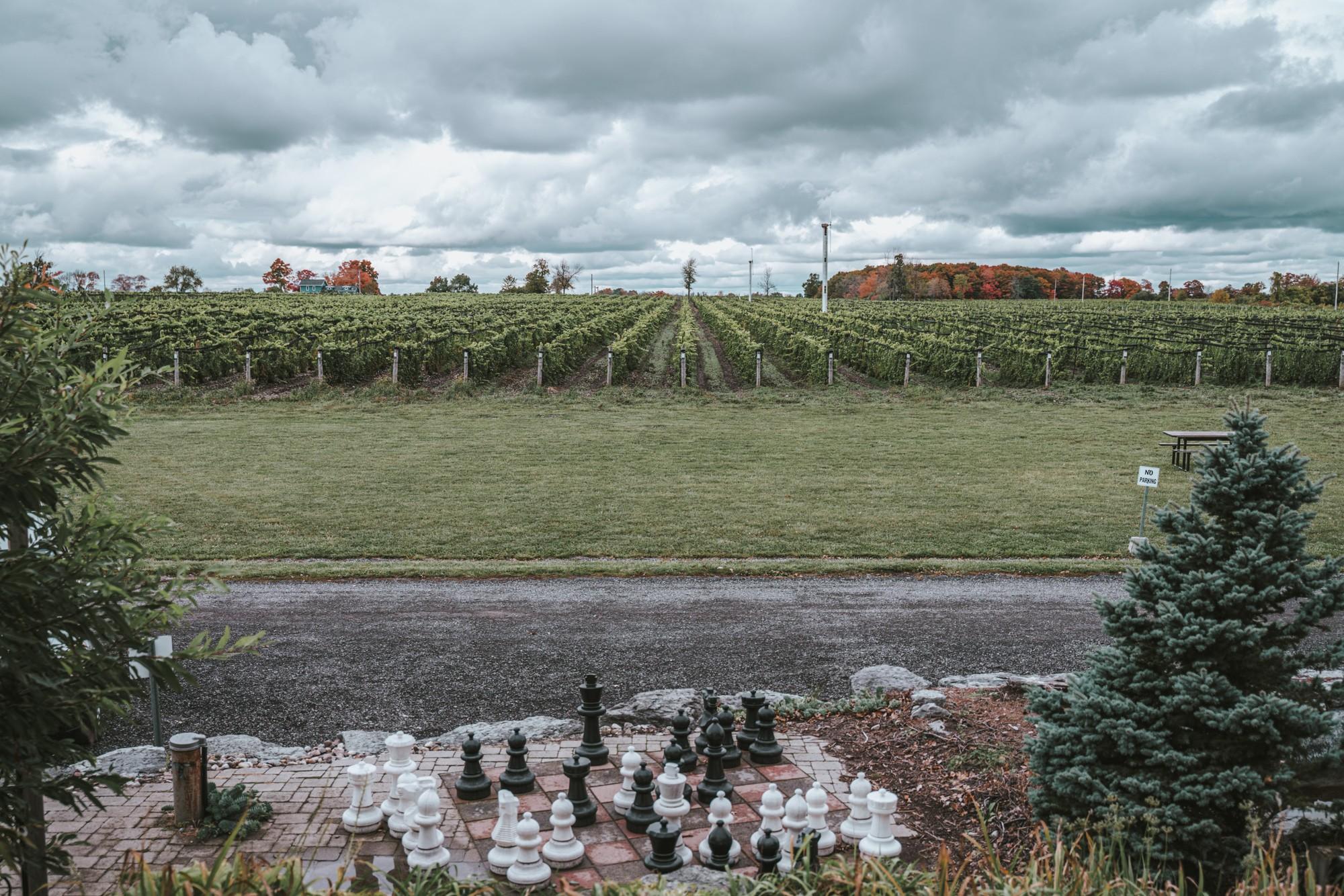 Notable Grape Varieties in Prince Edward County, Ontario
In the welcoming vineyards of Prince Edward County, Ontario, you'll find a delightful assortment of grape varieties ready to be explored:
Chardonnay
Pinot Noir
Pinot Gris
Cabernet Franc
Riesling
Gamay Noir
Gewürztraminer
Merlot
Similkameen Valley, British Columbia
The Similkameen Valley resides in the interior of British Columbia. This emerging wine region is distinguished by its warm, dry climate and an emphasis on organic and biodynamic winemaking.
The valley's alluvial soils and gravelly deposits create an environment perfect for cultivating Bordeaux-style reds, like Merlot and Cabernet Sauvignon. Wines from this region are characterized by their depth and expressive character.
The Similkameen Valley's rustic charm and commitment to sustainable practices make it a unique destination. This region's landscapes are perfect for those seeking a quieter, more authentic experience. Visitors can explore local farmers' markets, enjoy outdoor concerts, and take in the tranquil ambiance of the valley.
Notable Grape Varieties in Similkameen Valley, British Columbia
In the scenic vineyards of Similkameen Valley, British Columbia, there's a captivating selection of grape varieties perfectly suited to the region's unique terroir:
Merlot
Cabernet Sauvignon
Syrah (Shiraz)
Cabernet Franc
Riesling
Pinot Gris
Pinot Noir
Annapolis Valley, Nova Scotia
Traveling to the eastern coast of Canada, we encounter the Annapolis Valley in Nova Scotia. Known for its unique microclimate, influenced by the Bay of Fundy, the region is celebrated for producing crisp, aromatic whites like L'Acadie Blanc, Seyval Blanc, and delicate sparkling wines. The moderating effects of the bay's tides contribute to longer ripening periods and grape acidity.
Tidal Bay is a distinctive white wine style from Nova Scotia. It is known for being crisp, aromatic, and light-bodied, often compared to European white wines like Muscadet or Vinho Verde. The name "Tidal Bay" reflects the influence of the Bay of Fundy's dramatic tides on the region's terroir, particularly in the Annapolis Valley.
Tidal Bay wines are crafted from a blend of grape varieties that feel right at home in Nova Scotia's cool climate, resulting in a wine that is well-suited for pairing with seafood and other light dishes. This style of wine was officially established as a Nova Scotia appellation in 2012, with specific guidelines and regulations to preserve its unique characteristics.
The Annapolis Valley's appeal extends beyond wine, encompassing history and maritime charm. The region is dotted with historic sites, lighthouses, and coastal trails.
The Bay of Fundy's dramatic tides provide an opportunity for tidal bore rafting, a thrilling adventure. The fusion of wine, history, and natural wonders makes this region a must-visit.
Notable Grape Varieties in Annapolis Valley, Nova Scotia
In Annapolis Valley's vineyards, you can find a variety of grape types, creating wines that truly capture the essence of this charming region.
L'Acadie Blanc
Seyval Blanc
Chardonnay
Geisenheim 318 (Gewürztraminer)
Marechal Foch
Lucie Kuhlmann
Baco Noir
Lake Erie North Shore, Ontario
As we explore Ontario further, the Lake Erie North Shore emerges as a notable wine destination. The area draws advantages from the moderate impact of Lake Erie, creating an ideal setting for nurturing grape varieties such as Riesling, Cabernet Franc, and Baco Noir. The extraordinary interplay between sandy soils and the lake-influenced climate imparts a unique personality to the wines produced there.
Baco Noir, a grape variety originating from France, has discovered a hospitable environment in Ontario's wine regions. Thriving particularly well in areas like Prince Edward County and the Niagara Peninsula, Baco Noir has become a staple of Ontario's viticultural landscape.
This grape variety has proven its mettle in Canada's cooler climate, producing wines with deep color and robust character. Its cultivation in Ontario is a testament to its adaptability to the region's shorter growing seasons.
Baco Noir's story traces back to the late 19th century when it emerged as a hybrid, resulting from the crossing of Folle Blanche and Noah varieties. Its resilience and capacity to yield wines brimming with character have firmly established Baco Noir as a quintessential element of Ontario's winemaking heritage.
Lake Erie North Shore offers a laid-back atmosphere, making it an ideal escape for relaxation. The region's wineries often prioritize hospitality, offering cozy bed and breakfast accommodations alongside wine tastings for wine lovers. With warm summers and sandy shores, visitors can unwind on Lake Erie's beaches while savoring local wines.
Notable Grape Varieties in Lake Erie North Shore, Ontario
Within the picturesque vineyards of Lake Erie North Shore, Baco Noir takes center stage among a diverse range of grape varieties, collectively crafting wines that authentically reflect the essence of this enchanting region.
Baco Noir
Riesling
Chardonnay
Cabernet Franc
Merlot
Pinot Noir
Gamay Noir
Cabernet Sauvignon
Sustainable Practices in Canada's Wine Regions
In Canada's renowned wine regions, a strong commitment to sustainability is evident in every aspect of winemaking. From farming methods to environmental conservation initiatives, industry organizations, and responsible land management, these regions prioritize a harmonious relationship between winemaking and environmental care.
Sustainable Farming Methods
Winemakers have embraced practices that unite winemaking with environmental care. Organic and biodynamic farming methods thrive, curbing chemical usage and improving soil health. Cover cropping and composting boost soil vitality and water retention.
Environmental Conservation Initiatives
Numerous wineries utilize renewable energy, lessening their carbon footprint. Rainwater harvesting, habitat preservation, and collaboration with local conservation efforts further highlight these regions' dedication to protecting their ecosystems.
Industry Organizations and Certifications
Industry organizations and certifications guide the commitment to sustainability in Canadian wine regions. Sustainable Winegrowing Canada and counterparts like Sustainable Winegrowing British Columbia play pivotal roles in advocating and overseeing eco-friendly viticulture practices.
They offer guidance, resources, and training, fostering a community of environmentally conscious winemakers. Rigorous audits lead to certifications like the Certified Sustainable label, ensuring adherence to environmental norms.
Fostering Responsible Land Management and Preservation
Winemakers' collaborative endeavors, alongside these overseeing bodies, foster a culture of responsible land management and preservation, showcasing the profound link between the Canadian wine industry and nature.

So, every time you take a sip of Canadian wines, you're enjoying a mix of winemakers' skill and nature's touch. These main Canadian wine regions invite you to explore their beautiful vineyards and savor the results of hard work. Whether you're a wine aficionado or just looking for an adventure, these regions promise a journey that combines great wine and the beauty of Canada's landscapes.
Feeling inspired? It's time to embark on your very own Canadian wine adventure. Plan a trip to one (or more) of our featured wine regions, book those wine tastings and wine tours, and embrace the chance to support sustainable travel and wine.
About The Author:

Helen Ruiz, the co-founder of Wine Rooster from San Diego, is a wine enthusiast with a background in Agronomy. She gained expertise at California wineries and now manages a wine bar while exploring wine online.