Corfu is an island where history comes to life. Corfu Old Town, a UNESCO World Heritage Site, showcases a remarkable fusion of Venetian, French, and British architectural influences, a testament to its storied past.
*This post may contain affiliate links, as a result, we may receive a small commission (at no extra cost to you) on any bookings/purchases you make through the links in this post. As an Amazon Associate, we earn from qualifying purchases. Read our full disclosure
Meandering through its cobblestone streets, you'll encounter charming squares, ancient fortresses, and inviting tavernas serving the finest Greek cuisine.
And while the town of Corfu is an attraction in and of itself, the true gems of this island are the beautiful sandy beaches that dot its coastline. The crystal clear sea and its turquoise waters make for an incredible backdrop for adventures in Corfu.
If you are looking for the best beaches in Corfu, Greece, we've got a round-up for you!
How to Get to Corfu
There are two main ways to get to Corfu island, either by plane, arriving at Ioannis Kapodistrias International Airport (CFU) or on a ferry from mainland Greece. Let us quickly recap each option.
By Plane
The island's primary gateway is the Ioannis Kapodistrias International Airport (CFU), located on the east coast of Corfu. This modern airport is strategically located just 10-15 min drive from Corfu Town, the island's capital and cultural heart.
Corfu's Ioannis Kapodistrias International Airport is well-connected with direct flights from major cities, including Athens and Thessaloniki in Greece, London, Manchester, and Birmingham in the UK, as well as European destinations like Rome, Milan, Vienna, Frankfurt, and Brussels. Keep in mind that flight availability can vary seasonally, with most flight routes available in the summer months.
By Ferry
Ferries are quintessential to the Greek island-hopping experience, and Corfu is no exception. Multiple ferry routes connect Corfu with various mainland ports and neighboring islands. The main ferry port on Corfu is located in the island's capital, Corfu Town (Kerkyra).
Travellers from Igoumenitsa, on the mainland, can choose between conventional and high-speed ferries, with the latter providing a quicker journey to Corfu. Additionally, ferry connections from other Greek islands, such as Paxos and Lefkada, make Corfu Island a natural stop for those exploring the Ionian archipelago.
How to Get to the Best Beaches in Corfu
By Car
One of the most popular ways to explore Corfu Island is by renting a car. Rental agencies are readily available at the airport and in major towns. The road network on the island is generally well-maintained, and driving allows you to discover hidden gems and reach small beaches.
By Bus
Corfu Town serves as the central hub for the island's bus network. From here, you can catch buses to various destinations and beaches across the island. The main bus station in Corfu Town, known as "San Rocco Square" or "Plateia San Rocco," is the primary starting point for many routes.
Buses to popular tourist areas like Paleokastritsa, Kassiopi, Ipsos, and Benitses are readily available from Corfu Town. Tickets can usually be purchased directly from the bus driver or at ticket kiosks at major bus stops.
Best Time to Visit Corfu Beaches
The truth is, there is no bad time to visit Corfu's beautiful beaches. But the best time depends on your preferences and the kind of beach experience you seek.
Spring (March to May)
Corfu's beaches in spring offer blooming landscapes and fewer crowds. With mild weather and daytime temperatures around 18-23°C (64-73°F), it's a perfect time to enjoy seeing some of Corfu's most popular beaches without the crowds. The water temperature in Spring may be a bit chilly for swimming, but you can enjoy quiet beach time and the surrounding lush greenery.
Summer (June to August)
Corfu's beaches are at their prime during the summer months. The warm, crystal-clear blue waters and white sandy shores create an inviting setting for swimming, snorkeling, and water sports. All the beaches are busy during this time of the year, but particularly the most touristy beaches.
Fall (September to November)
Corfu's beaches in the Fall offer a peaceful retreat with pleasant weather and fewer crowds. The beaches become quieter as summer tourism wanes. In early Fall, water temperatures are perfect, the crowds have died down, and every beautiful beach can be yours to explore. This is our favourite time to visit Corfu beaches!
Winter (December to February)
Corfu's beaches in winter provide a unique and peaceful escape. The weather is mild, with temperatures ranging from 10-15°C (50-60°F), and the water is quite chilly, so it's not the best time to enjoy a swim but a great time of the year to enjoy beautiful beaches in their tranquillity.
No matter what time of the year you visit, Corfu's beaches have something for everyone. So, without further ado, let's jump into the list of our favourite and best beaches in Corfu.
Best Beaches in Corfu
Paralia Sidari
Nestled within the picturesque village of Sidari, Paralia Sidari is a sandy beach known for its stunning natural beauty, crystal-clear waters, and unique geological formations.
At the heart of Paralia Sidari lies a geological masterpiece known as the "Canal d'Amour" or the "Love Canal." This extraordinary creation of nature consists of sculpted rocks and fine sand on a sandy shore that has been expertly carved by centuries of wind and water erosion. The result is a mesmerizing labyrinth of passageways, arches, and secluded nooks that beckon explorers and romantics alike.
While Sidari Beach attracts its fair share of visitors, it's known for its relaxed and friendly atmosphere. You can enjoy a sun-soaked day lounging on this small beach, viewing the impressive rock formations, or cooling off in the sea. The area surrounding Sidari Beach also provides various restaurants, cafes, and bars, offering a range of dining and refreshment options.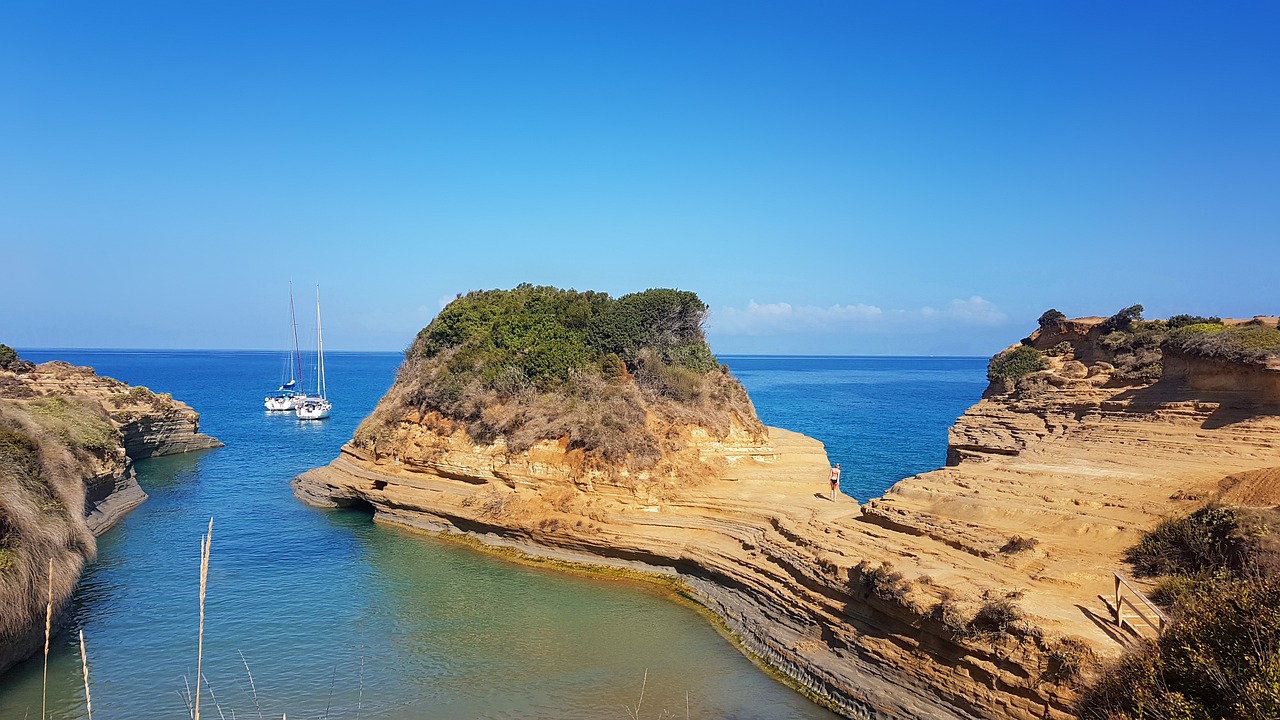 Loggas Beach
Perched beneath towering cliffs on Corfu's northwestern coast, Loggas Beach is a hidden gem that offers a sense of serenity and seclusion. Its dramatic backdrop provides stunning panoramic views of the Ionian Sea, making it a favourite spot for couples and nature enthusiasts.
The intimacy of this coastal spot makes it the perfect backdrop for couples to share quiet moments, whether it's a gentle stroll along the shore, a picnic on the beach, or simply sitting hand in hand while watching the sunset from one of the best beaches in Corfu island.
What sets Loggas Beach apart is its dramatic landscape. The beach is nestled beneath towering sandstone cliffs that create a striking backdrop. Visitors can relax on the soft, golden sands and take in the beauty of these unique geological formations.
Loggas Beach offers a more tranquil and less crowded alternative to some of the island's more famous beaches. However, accessing Loggas Beach may require a bit of effort, as it involves descending a staircase down the cliffside. But once you arrive, it's a place where you can escape the hustle and bustle, enjoy the natural beauty, and unwind.
Agios Georgios
This long, sandy beach on Corfu's northwest coast is a favourite with families and water sports enthusiasts. The calm and shallow waters make it ideal for swimming and various water activities, including windsurfing and paddleboarding.
The beach is known for its soft golden sand, crystal-clear waters, and family-friendly atmosphere, making it an ideal destination for those traveling with children. The shallow waters and gradual slope into the sea ensure that even the youngest beachgoers can safely enjoy the water.
Numerous beachside tavernas offer options for lunch and dinner. Since the beach's western location allows for beautiful sunsets over the Ionian Sea, it's a great spot to linger at for the whole day.
Rovinia Beach
Tucked away on Corfu's western coast, Rovinia Beach, is another hidden gem celebrated for its tranquillity and natural beauty. Accessible by a scenic hike or boat trip, this secluded haven offers crystal clear waters for snorkelling and a dramatic backdrop of lush cliffs.
Unlike the island's more common soft sand shores, Rovinia Beach is a pebble beach. While it may not be the softest surface for sunbathing, these pebbles contribute to the crystal-clear waters and the beach's pristine allure.
One of the defining features of Rovinia Beach is its limited amenities. While this may deter some travellers, it only adds to the pristine allure of the place. You won't find bustling beachfront bars or crowded souvenir shops here. Instead, Rovinia invites you to embrace the simplicity of nature, a chance to reconnect with the earth and sea and find luxury in the unspoiled beauty surrounding you.
Agios Spiridon Beach
Located on Corfu's northern coast, Agios Spiridon Beach is a tranquil escape with its shallow and crystal-clear waters. This Blue Flag-awarded beach offers a mix of natural beauty and convenience, making it a popular choice for both locals and tourists.
Olive groves provide a charming backdrop, and the beach is a prime spot for birdwatching, particularly during migratory seasons. The lagoon and the surrounding wetlands provide crucial resting points for these migratory species, creating an exceptional birdwatching experience.
This is another lovely beach with calm waters – an ideal spot for families with young children. This gentle slope also makes it an excellent spot for various water sports like paddleboarding and kayaking, which can be rented from local vendors.
Along the beach, you'll find several tavernas and beachfront restaurants where you can savour fresh seafood, traditional Greek dishes, and refreshing drinks while enjoying the picturesque sea views.
Glyfada Beach
Renowned for its golden sands and clear waters, Glyfada Beach is one of Corfu's most popular destinations on the west coast. It's an ideal swimming spot and a hub for water sports activities.
Glyfada Beach's diverse offerings make it suitable for visitors of all ages. Families with children appreciate the shallow waters and the range of water sports activities suitable for kids. Lifeguards are on duty during the summer season, ensuring the safety of swimmers. You'll also find sunbeds and umbrellas for rent, making this one of the more equipped beaches in Corfu.
Beach bars and restaurants provide a vibrant and social atmosphere, making Glyfada an energetic and happening spot even after the sun sets. The beach is also located close to Corfu Town, making it a popular spot for a day trip from town.
Kontogialos Beach
Located on the East Coast, right next to Canal d'Amour, Kontogialos Beach, also known as Pelekas Beach, offers a more laid-back ambiance than the beary Glyfada Beach. It's perfect for sunbathing, swimming, and simply unwinding in a peaceful setting.
The beach is surrounded by lush green hills and cliffs, adding to its charm.
One of the unique aspects of Kontogialos Beach is its proximity to Glyfada Beach. While Kontogialos offers a more laid-back atmosphere, those seeking a change of pace can easily wander over to Glyfada to partake in the vibrant water sports, beachside bars, and social scene. Kontogialos allows you the best of both worlds – peaceful seclusion and the option for more dynamic experiences steps away.
While Glyfada Beach garners much attention, Kontogialos Beach remains a hidden gem in the area. It's understated beauty and tranquil ambiance make it a favoured spot for those who appreciate the simple pleasures of beach life.
Issos Beach
Located on the southern coast, Issos Beach boasts vast sand dunes and impressive sandbanks, which create a distinctive landscape rarely found on other Corfu beaches. These sand dunes give the area a more remote and exotic feel. The beach is backed by a lush forest of olive trees, which adds to the natural beauty of the surroundings.
One of the defining characteristics of Issos Beach is its consistent winds. These winds make the beach a windsurfing paradise, attracting enthusiasts worldwide. Steady breezes and flat, shallow waters create ideal conditions for windsurfers of all skill levels. Beginners can take lessons, while experienced riders can ride the waves and enjoy the thrill of windsurfing in a breathtaking setting.
Issos Beach is known for its pristine and unspoiled nature, part of a protected natural reserve. The beach is also home to an extensive network of walking and cycling paths, making it a great destination for nature enthusiasts and those who enjoy exploring the outdoors. A unique feature of Issos Beach is Lake Korission, a nearby lagoon, attracting various bird species, particularly during the migratory seasons.
You'll find a variety of amenities at Issos Beach, including sunbeds, umbrellas, and watersport facilities available for rent. There are also beach bars and beachside tavernas serving local dishes and refreshing beverages.
Benitses Beach
Proximity to Corfu Town makes Benitses Beach a convenient choice for travelers. The beach features a mixture of pebbles and sand and offers a pleasant promenade lined with traditional tavernas serving delectable local cuisine.
One of the defining features of Benitses Beach is its pebbly shore, which gives it a distinctive and unique character compared to the sandy beaches prevalent in Corfu. However, the clear and calm waters make it an excellent place for swimming and snorkelling.
Benitses Beach offers a range of amenities, including sunbeds and umbrellas available for rent. Several beachside tavernas and restaurants provide a selection of local dishes, seafood, and refreshments. The beach is also well-equipped for various water sports and activities, such as jet skiing, parasailing, and paddleboarding. A diving center in the area allows visitors to explore the underwater world and discover the rich marine life and shipwrecks around Corfu.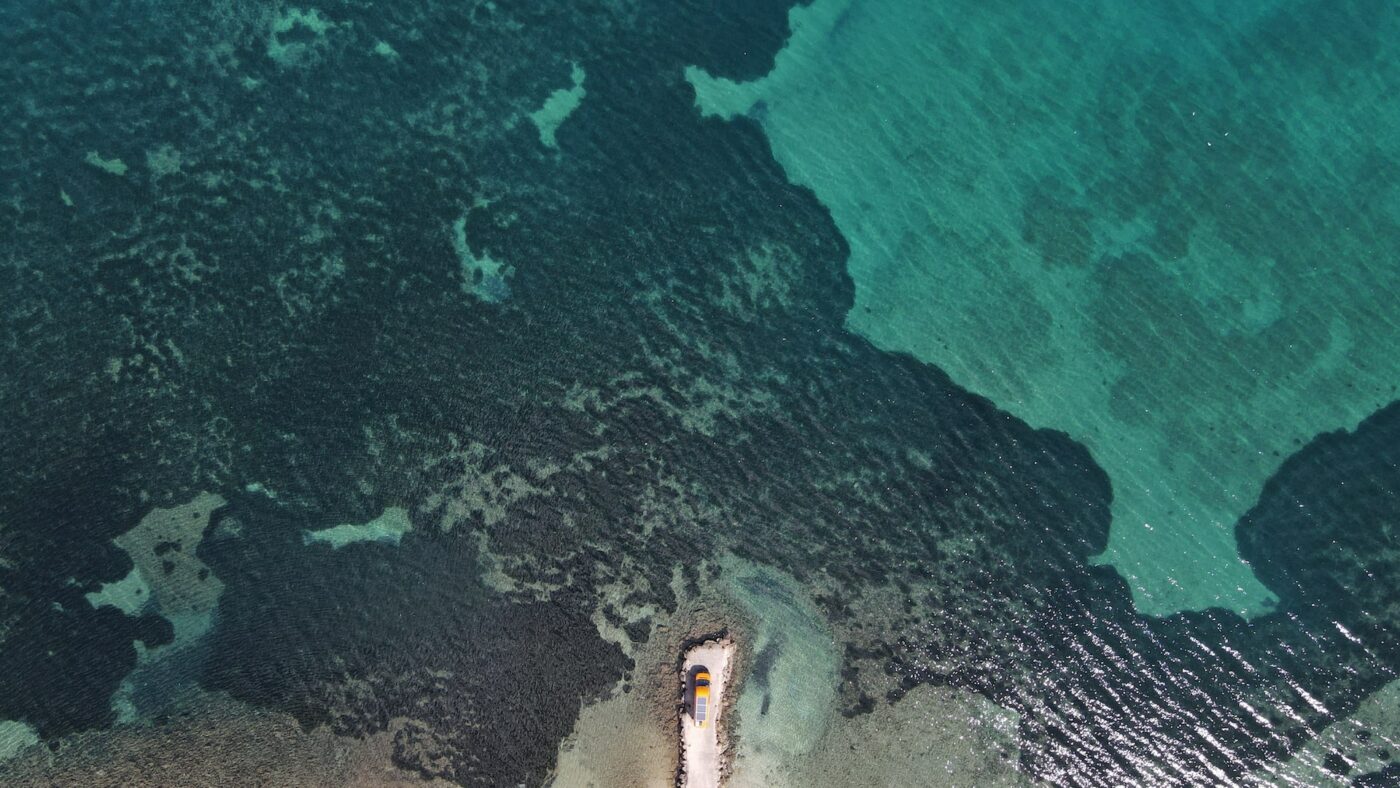 Barbati Beach
Situated on the northeastern coast, Barbati Beach is celebrated for its breathtaking views of the Albanian coastline. With Corfu Town approximately 20 kilometres to the south, it's easily accessible for visitors from the island's capital.
The beach at Barbati features a combination of pebbles and shingles, giving it a distinctive character compared to Corfu's sandy counterparts. However, the waters here are calm and sparkling, making it an excellent spot for swimming and snorkelling. The gentle slope of the seabed provides a gradual depth, ideal for families with children.
Water sports facilities are readily available for those seeking excitement, providing jet skiing, paddleboarding, and banana boat ride opportunities.
The beach offers a range of amenities, including sunbeds and umbrellas available for rent. Several tavernas and beachfront restaurants provide an array of dining options, serving local dishes, fresh seafood, and refreshing beverages.
Notable Mention
Porto Timoni Beach
Famous for its twin bays separated by a strip of greenery, Porto Timoni Beach provides a unique coastal experience. The beach is accessible via a scenic hike from the town of Afionas and offers crystal-clear waters for swimming and snorkelling while maintaining a relatively secluded ambiance.
What sets Porto Timoni apart is the presence of two beaches separated by a narrow strip of land. The first beach, often called Porto Timoni, is a pebble beach with inviting waters for swimming and snorkeling. The waters here are calm and ideal for a refreshing dip. With its rugged and natural surroundings, this beach offers a peaceful atmosphere and is perfect for those seeking a quiet and unspoiled escape.
A short walk across the narrow strip of land brings you to the second beach, Limni. This is a sandy beach with a lagoon-like feel. The gentle waves and shallow waters create a serene and idyllic setting. It's an excellent spot to relax, bask in the sun, and unwind in a more secluded environment.
It's worth noting that there are no facilities at Porto Timoni, so bringing your supplies, such as water, snacks, and any beach equipment you may need, is a good idea. The absence of commercialization adds to the pristine beauty of this location, making it a favourite among nature enthusiasts and adventurers.
The Bottom Line
Corfu, Greece, is a captivating destination with many popular and secluded beaches offering unique charm and natural beauty. From the dramatic rock formations of Paralia Sidari to the tranquil seclusion of Rovinia Beach and the unique double beach experience of Porto Timoni Beach, Corfu offers a variety of beaches suitable for every taste.