*This post may contain affiliate links, as a result, we may receive a small commission (at no extra cost to you) on any bookings/purchases you make through the links in this post. As an Amazon Associate, I earn from qualifying purchases. Read our full disclosure.
We have to be honest with you. In the last 5 years of roaming around the world, travel insurance has never been high on our list of priorities. It wasn't because we believed that nothing bad was ever going to happen to us, we just always felt like the investment wasn't worth it. For me, this was most likely passed down from my mother who always preached that travel insurance was a waste of money.

But last year when our incident on the way to Brazil almost cost us $4,000 in unexpected flights, it served as a wake-up call and challenged our thinking. As we prepared to depart on our long-term journey this past August, we found ourselves wondering whether it was time to stop relying on our luck. After all, we were about to spend the rest of 2015 in full-time travel mode, passing through 15 countries, catching numerous flights, staying at dozens of hotels, and most importantly, carrying all of our possessions, electronics, and photography equipment on our backs.
After careful consideration and some serious shopping around we ended up getting comprehensive travel insurance with Budget Direct. Today, we wanted to share just a few of the reasons why we are very happy that we did! 
1. We Lost Our Luggage En Route to U.S.
Back in August, before our trip officially began in Singapore, I had to travel back to the US to attend a conference and transport three huge bags of our possessions which we wanted to store with family while we traveled. My trip would see me leave Brisbane, connect in Los Angeles and Atlanta, and finally arrive into Washington where I would be meeting up with my mother and sister.
After 30+ hours of travel, when I finally arrived into Washington Dulles airport, I realized that one of our bags didn't make it all the way back. And it just so happens that it was the suitcase crammed with all of our expensive items and valuables that weren't travel-friendly.
A similar situation in the past would have lead to a lot of stress, panic, and fear of losing thousands of dollars worth of stuff. But this time was different. I felt calm and collected. I politely assisted the customer service rep with filling out my details and went on to attend the conference with my family. Even when the suitcase did not arrive the day before I was flying back to Singapore, I was not stressed by the situation. I kept reminding myself that the loss would be covered by our Budget Direct travel insurance.
(Our coverage included $7,500 of luggage and personal effects, well above the value of our possessions in the bag with zero dollar deductible)
The bag was eventually found 2 weeks later and delivered to our family vacation home in Florida. Despite the fact that we didn't end up filing a claim for the lost bag, that peace of mind was absolutely priceless.

2. I Missed My Flight En Route to Jakarta
During the same trip to the U.S., I ran into another issue with my travel plans. My return flight from Washington that was connecting through New York and Tokyo was delayed by 30 minutes. This small delay set off a cascade of missed flights and would see me miss my hotel reservation in Singapore, and my ongoing flight to Jakarta that was scheduled to depart 16 hours after landing in Singapore.

Delta Airlines, who I used for my Washington-Singapore booking, refused to rebook me on another flight to Jakarta or cover the loss of my hotel room in Singapore, but I didn't kick up a fuss. We knew that trip interruption was also included in our travel insurance coverage.
3. We Saved Hundreds on Scuba Diving Insurance
In August/September, we were fortunate enough to have the opportunity to dive in Komodo National Park in Indonesia and on Sipadan Island in Malaysia – 2 of the best diving destinations in all of Asia. But diving, like any another other recreational sport, carries an element of risk.
We were really happy to find out that unlike some other insurance plans, our travel insurance with Budget Direct covered us for scuba diving, saving us hundreds of dollars in mandatory insurance required in those particular destinations. (Luckily, no accidents occurred during our dives in either location)
4. We Were Able to Explore Indonesia and Myanmar on a Scooter
As you all know, Oksana and I love traveling on a budget. When it comes to getting around without breaking the bank, a scooter is often the best choice. While you are legally not required to purchase travel insurance when renting a scooter, making sure you are covered in case of an accident is an absolute must!
Unfortunately, scooter rental coverage is another item frequently excluded from the coverage list of many insurance plans. But it was included in ours! (Woohoo!) Knowing that we are covered allowed us to be that little bit more adventurous and rent scooters on every possible occasion in Indonesia and Myanmar.
5. We Didn't Get Stuck With a Huge Bill After Losing Our Car Keys
If there was one time we were stocked to have travel insurance, it was in Morocco after paying a nasty $250 bill for losing our keys in the Sahara desert. Unfortunately, our travel insurance didn't take away all the stress associated with that little scuffle (I guess travel insurance doesn't reduce stress when getting around Sahara in a sand storm), but knowing that when it was all set and done we wouldn't be left with a huge bill to pay was definitely comforting.
6. We Were Not Worried About Our Equipment 

Probably the single most important benefit of our travel insurance was knowing that if something gets lost or stolen during our trip, be it our bags, our laptops, or our cameras, we were covered for the full value of the items with zero excess.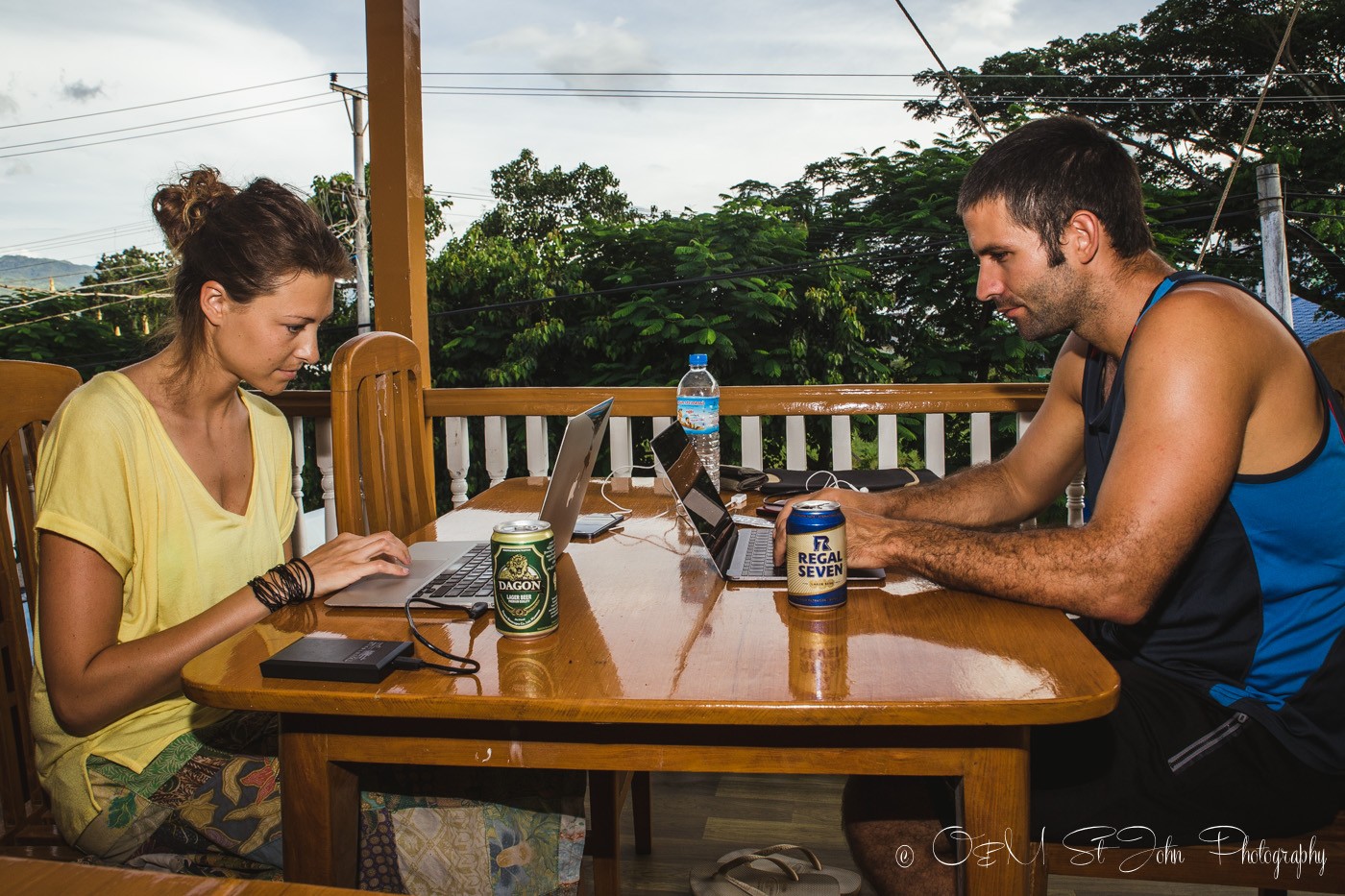 Kind of a big deal since we travel with two expensive cameras with a variety of lenses, two MacBook computers, a GoPro, a drone, two iPhones, along with a bunch of other odds and ends. Knowing that our gear was protected meant that we could leave our bags in our hotel rooms while wandering around town and not worry that something might go missing! We were still careful, but we weren't worried sick every time we stayed in a hotel room without a safe. 

Going from no insurance to fully covered was incredibly liberating! Every time a worry would creep up, we would brush it off with a simple "that's ok, travel insurance will cover that". It gave us a peace of mind and a license to do more, explore further, and stress way less!
Our comprehensive travel insurance cost us around $700 each for 5 months of coverage and included travel to 15 countries all around the world, coverage of all of our gear and personal possessions, trip interruptions, medical expenses, and even participation in adventurous activities like scuba diving, and hiking. But that's not where the story ends!
7. We Landed a Partnership With Budget Direct Travel Insurance
Upon hearing about our upcoming adventures, the team at Budget Direct jumped on the opportunity to partner up with us for the duration of our trip! The negotiations started back in August, but the fruits of our partnership are just starting to hit the web now! We are so excited to finally be able to share them with you!
Over the last 4 months, we've been working with Budget Direct to create a video series called "Round the World Bucket List" that would highlight our travels through 15 different countries across 5 continents and show our followers all the cool activities/experiences you can do while traveling that Budget Direct Insurance will cover you for! The first episode, that went live earlier this week, sees us Eating Hawker Food in Singapore.
Check it out here: Episode 1: Eating Hawker Food in Singapore
We are still on the road and still shooting as we go (Costa Rica is up next!), so we'd LOVE to hear what you think! A new video will be released every 2 weeks and we'll continue to share them with you on our Facebook Page. So follow us to make sure you don't miss the next episode!