This post was originally written in 2016 but has since been updated with more detail on why Sabah, Malaysia should be on your travel list this year.
*This post may contain affiliate links, as a result, we may receive a small commission (at no extra cost to you) on any bookings/purchases you make through the links in this post. As an Amazon Associate, we earn from qualifying purchases. Read our full disclosure
You're not alone if you have never before heard of Sabah. This Malaysian state is located on the island of Borneo and welcomes just 3 million visitors per year. Sabah occupies an area of 73,631 km² (28,429m²) and shares Borneo with Indonesian Kalimantan, Malaysian Sarawak, and the Kingdom of Brunei. Despite its small area, the state is chock full of attractions and experiences that make it by far the most interesting part of Borneo, and you'll find no shortage of things to do in Sabah, Malaysia.
Traveling Soon?

Here is a list of our favourite travel providers and accessories to help get you ready for your upcoming trip!
In September 2015 we spent 2 weeks working our way from one Sabah attraction to another, seeing the sights off the beaten track. Here are just a few reasons why we think you should consider adding a Sabah trip to your next vacation plans.
Best Time to Plan your Sabah Trip
Before planning a trip to Sabah, it's best to decide what attractions or experiences you're most interested in, as the weather in the area can vary dramatically by region at any time of the year.
We think the best time to visit would be between July and September, as many of the main attractions in Sabah overlap during this time. The diving is perfect and visibility is at its max of 40 metres, you can see orangutans in the wild, and turtle-viewing is easy on Lanakan island.
6 Things to do in Sabah, Malaysia

1. Feel the Pulse of Modern Malaysia in Kota Kinabalu
When we arrived in Kota Kinabalu, the main city of the Sabah region, it was obvious: this isn't just another chaotic and impoverished SEA city. Kota Kinabalu's modern, hip vibe, great nightlife, luxurious hotel scene, beautiful harbour, and well-developed infrastructure make it one of the most orderly and enjoyable cities we have ever visited in SEA and a must-see Sabah attraction. Kota Kinabalu, or KK as the locals refer to it, is more like a younger cousin of Singapore than a Kuala Lumpur wannabe.
There are enough things to do in Sabah, Malaysia surrounding KK to warrant a week long stay. You can spend your days hiking, snorkelling, or diving on the nearby islands of the Tunku Abdul Rahman Park (TARP), or spend your evenings dining at the seafood restaurants by the waterfront.
Shop 'til you drop at one of KK's many shopping centres or, if you are like us, you might opt for a more local shopping experience by visiting the Handicraft market, the Sunday market, or the night market.
2. Experience World Class Diving at Sipadan
A highly regarded Sabah attraction is Sipadan Island. After visiting, we now understand why it almost always occupies a spot on the list of top 10 dive sites in the world. Sipadan Island, located in the South east of Sabah, is teeming with marine life. The marine diversity alone makes it one of the top things to do in Sabah, Malaysia.
Here schools of jackfish don't just swim by you, they completely surround you, and schools of humphead parrotfish get so close you struggle to not run into them. Barracuda, giant trevally, Napoleon wrasse, and pretty much every other kind of fish you could expect to find in the waters in SEA will likely make an appearance at Sipadan.
Even though diving in Sipadan is one of the pricier things to do in Sabah, Malaysia and Sipadan permits can be tough to come by, this is an absolute must for any avid diver!
But even aside from Sipadan, the waters along Sabah's coastline offer a number of different regions where divers can enjoy the beauty of Sabah from below.
3. Get Up Close and Personal With the Elusive Orangutans
Due to the large scale deforestation that has taken place in Borneo over the last 30-40 years, the population of orangutans has been put at risk of extinction. Sabah remains one of the few places left in the world where you can come face-to-face (or back-to-face, in Max's case) with wild orangutans.
They are incredible creatures, smart, funny, and absolutely worth learning about, and Sepilok Orangutan Rehabilitation Centre, established in 1964 as the first official orangutan rehabilitation project for rescued orphaned baby orangutans, is the perfect place to admire them on your Sabah trip!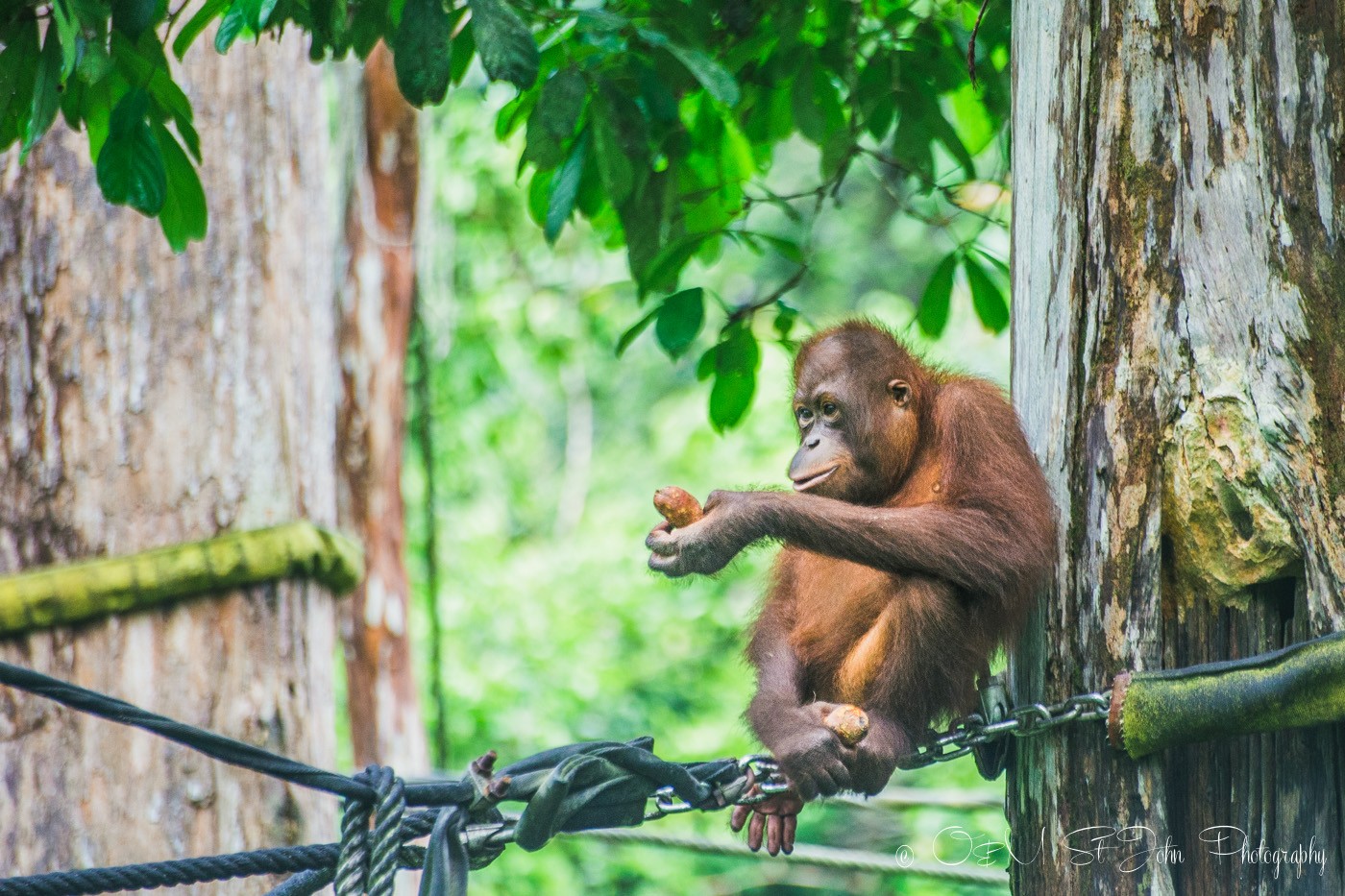 4. Spot Wildlife in Their Natural Habitat Near the Kinabatangan River
It's not just the orangutans that make Sabah a great destination for wildlife lovers. The region of the Lower Kota Kinabatangan is home to Sabah's second most popular monkey: the Proboscis.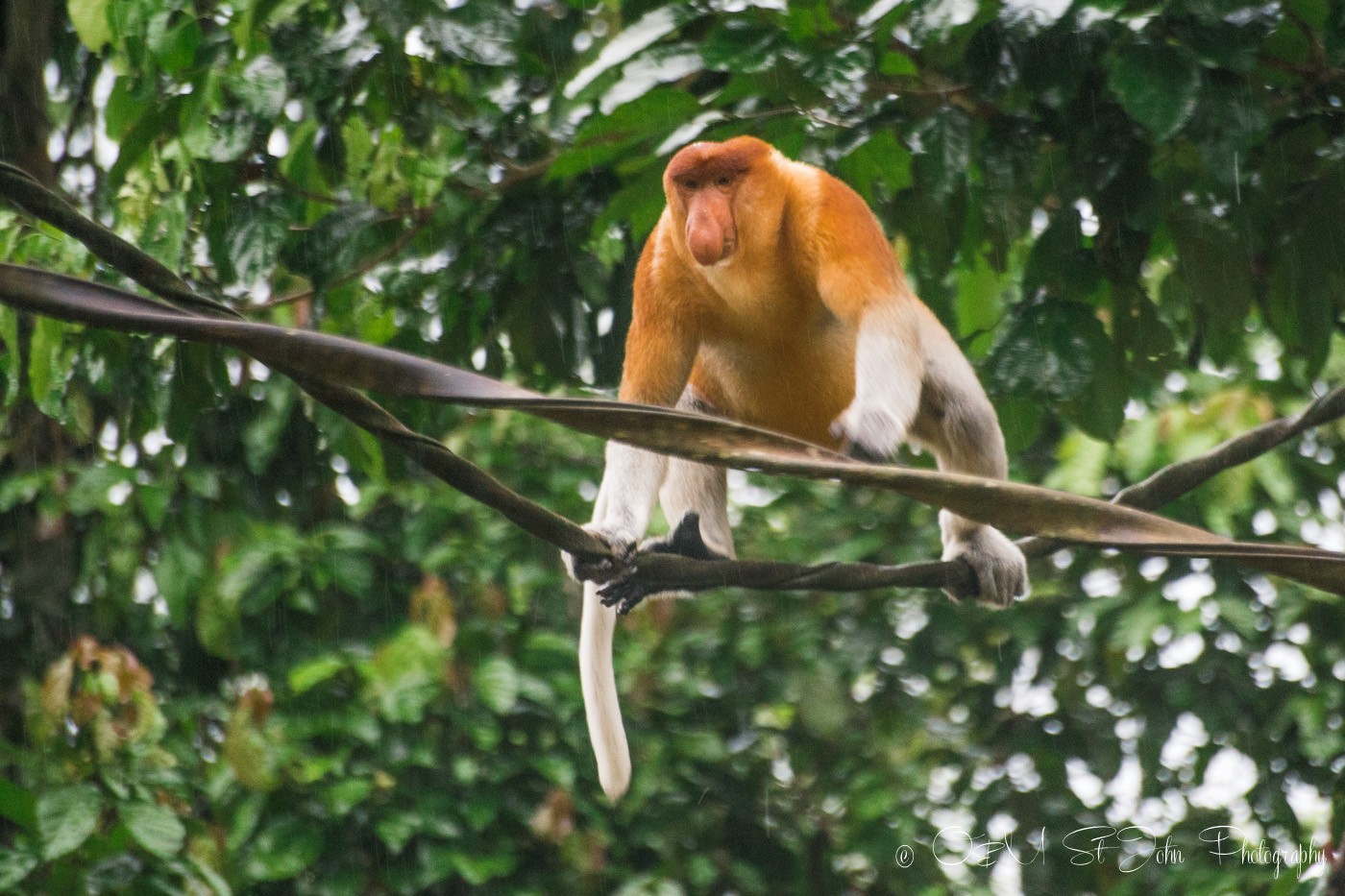 You can spot tons of them crossing the Kinabatangan River or munching on fruit from the trees lining the shores. The sheer variety of wildlife you'll spot on the river–crocodiles, kingfisher birds, eagles, and long- and short-tailed macaques–makes taking a boat ride one of the most mesmerizing things to do in Sabah, Malaysia.
But visiting the Kinabatangan River region is just as much about enjoying a stay in a natural environment in the heart of the rainforest as it is about animal encounters.
5. Relax and Disconnect on Beautiful Beaches
Hitting the beach is a must on your Saban trip, and it offers plenty of great options for a beach holiday. Those who don't want to travel far can enjoy the crystal clear waters of the TARP islands, located just a 15 min boat ride away from KK, or spend a few days relaxing on Mantanani Island.
Although based on our experience, we'd recommend venturing out just a bit farther to get away from the flocks of tourists that frequently take over the islands.
A true off-the-beaten-path beach escape can be found in Mañana Borneo Resort, an off-the-grid simple resort with a few huts, hammocks, good food, and a great place to meet like-minded travelers on your Sabah trip. Here the beach is completely unspoilt and the marine life below the surface is a colourful paradise.
6. Experience Malaysian Hospitality Firsthand
In our opinion, there is no better way to learn about Malaysian culture and its people than by spending a few days living with locals and experiencing their lifestyle firsthand. There are close to 20 homestays scattered across the Sabah state, each one offering not just a bed to crash in at night, but a whole range of local Sabah attractions, activities, festivals, sights, and experiences one can take part in during their Sabah travel
Not to mention that the homemade meals you'll be served at your homestay will probably be some of the most authentic you'll have on your Sabah travel. If you are lucky, you might even be invited to share a cup of tea with the host family, and that is the experience we treasured the most!
How to Get to Sabah Malaysia
All visitors to Sabah will arrive in Kota Kinabalu by plane. AirAsia, Malaysia Airlines, and a few other small airlines connect KK to hundreds of cities in SEA, Korea, and China.
In Sabah, travel is made possible by good infrastructure across the state. It's possible to explore the county in a hired car, giving you the flexibility to get around on your own schedule. Long-distance buses also connect major cities of KK, Sandakan, and Tawau. Domestic flights with AirAsia are cheap and are by far the most hassle-free way to hop from one end of the country to another.
Where to Stay in Sabah Malaysia
In Kota Kinabalu accommodation options vary from 5-star resorts like the Sutera Harbour Resort or the Shangri-La's Tanjung Aru Resort and Spa to more affordable hotels like Hotel Grandis. Respectable 5-star hostels like the Faloe Hostel and cheap hotels like the Mandarin Hotel abound, starting at just USD $10 for a bed in a hostel to a hotel room.
When staying along the Kinabatangan River, your options will be limited to 5-6 nature lodges, with the alternative being a range of accommodation options in Sandakan. We recommend considering the Borneo Nature Lodge as an eco-friendly option that isn't short on the essential comforts.
There is no accommodation on Sipadan Island, so all visitors stay in Semporna (a rather dirty and uninspiring port town) or in a beach resort on Mabul. The closest is the Sipadan Kapalai Dive Resort, which sits on stilts on the Kapalai sandbar.
How Long do you Need to Stay in Sabah, Malaysia
Two weeks in Sabah will give you lots of time to explore the best the region has to offer, although it is also possible to see the main attractions in just 1 week
Have you ever visited Sabah before? Does it sound like a part of the world you'd like to visit? Let us know in the comments below!
Diclaimer: Bigthanks to Sabah Tourism Board for hosting us during our time in Sabah. Opinions are always our own, no matter who's footing the bill.