When you think of Brazil, you probably think of Rio de Janeiro with its glamorous Copacabana Beach, vibrant Lapa, and the bohemian quarters of Santa Teresa. We loved our time in Rio, but it wasn't until we traveled north visiting destinations in Northeast Brazil that we discovered a thriving beach scene, unspoiled nature, deep colonial heritage, and unique cuisine of this fascinating region.
*This post may contain affiliate links, as a result, we may receive a small commission (at no extra cost to you) on any bookings/purchases you make through the links in this post. As an Amazon Associate, we earn from qualifying purchases. Read our full disclosure
If you are thinking of visitng Brazil and are looking to explore beyond Rio and Iguazu Falls, these are the destinations we recommend you visit the vibrant region of Northeast Brazil.
1. Salvador
If you are coming to Salvador from Rio de Janeiro (like we did), you'll find the city to be a shock to the system (but in a good way). For us, its appeal was far beyond the cobblestone streets and colourful buildings of the UNESCO Heritage Listed Old Town and the beautiful views of the sun setting over the ocean from the Santo Antônio da Barra Fort.
Traveling Soon?

Here is a list of our favourite travel providers and accessories to help get you ready for your upcoming trip!
It was here that we got a chance to sample some amazing Bahian cuisine (aracaje and moqueca are the best ), learned a bit about the history of the slave trade in Brazil, and got our first introduction to the capoeira dance. If you are looking for a city to delve into Brazilian culture, Salvador is one of the must-see places to visit in Brazil.
Here's our video exploring Salvador, Olinda and Fernando de Noronha
2. Recife
At first glance, Recife didn't strike us as anything special. Its gritty commercial center, full of highrise apartments and business buildings didn't inspire us to stick around for too long.
But the second we set our foot on Recife's long sandy drag known as Praia Boa Viagem, we knew we hit a real hot spot. The beautiful stretch of the beach was full of locals and visitors enjoying sun, sand, fresh coconuts, and the fried fish.
In our opinion, Recife is one of the most underrated places to visit in Brazil. If you come here, make sure to spend some time at the beach, catching some sun and taking in the views.
3. Olinda
Just half an hour north of Recife sits a pretty little town of Olinda, that in our opinion had more charm and appeal than most other cities in the Northeast of Brazil.
We fell in love with Olinda's pastel-coloured buildings, winding streets, and beautiful views that emerged once we climbed to Alto da Se, the cathedral square at the top of the town.
Street food and souvenir stalls filled the square with buzz and excitement, making it that much harder to say goodbye to this bohemian town. We recommend adding Olinda in your itinerary of Northeast of Brazil, because it is yet another place that is under mass tourism' radar (for now). Use the opportunity to visit this gem of Northeast Brazil before it gets affected by mass tourism.
4. Fernando de Noronha
The island of Fernando de Noronha is Northeast Brazil's best kept secret. It's exclusive (only 400 people are allowed to visit the island at a time) and it's expensive (flights to the island, island fees, food, activities, and accommodation added up to be well over our budget). However, there is a good reason why this island located northeast of Brazil is so pricey.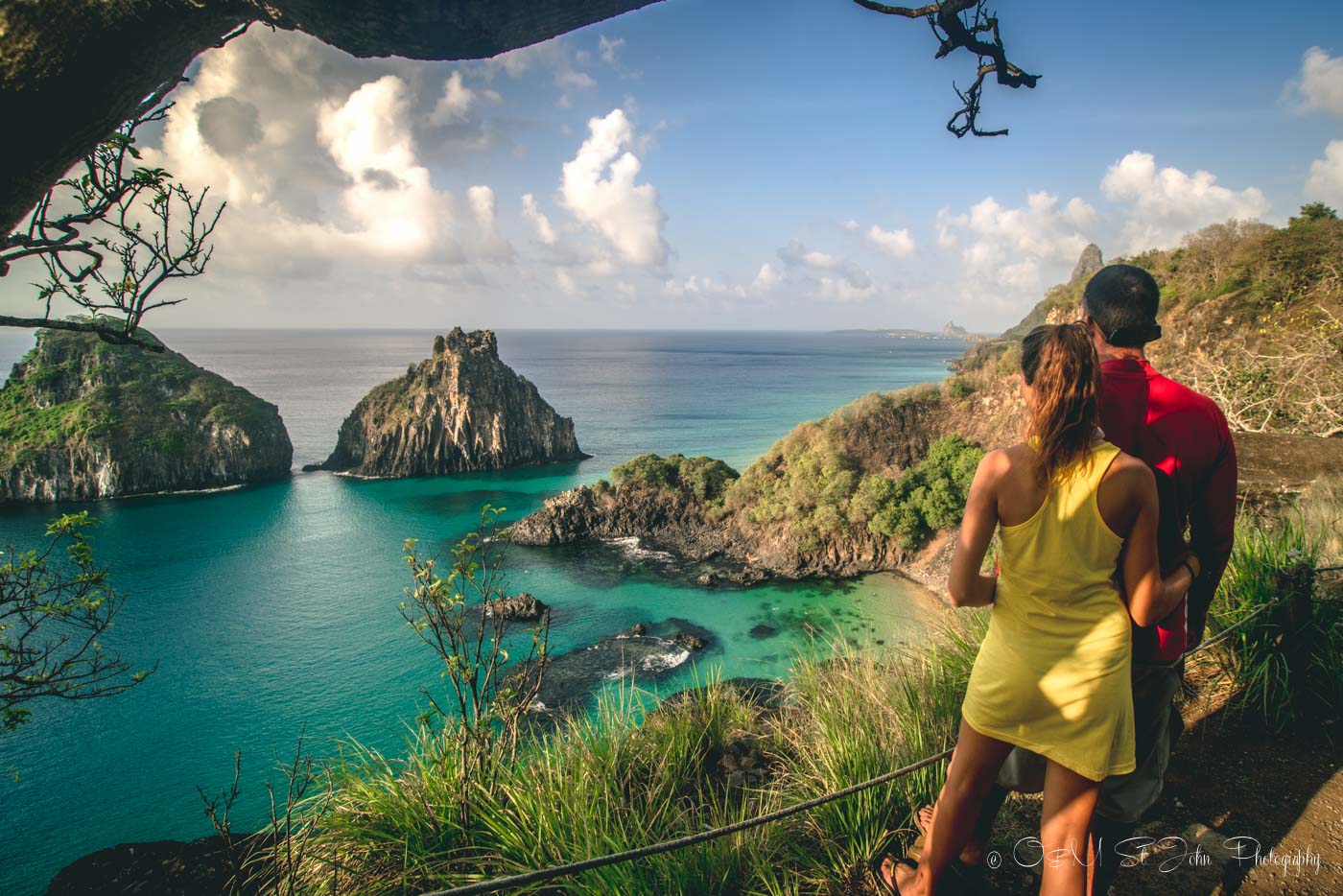 The untouched nature of the island and its surrounding shores is unlike anything else we have seen in Brazil. Fernando is a haven for active travelers offering a multitude of hikes, snorkeling and diving opportunities, and some of the most beautiful beaches in the country. It's easily one of the best Brazil vacation spots.
5. Morro Branco
Similar to a number of other destinations in Northeast Brazil, the small inconspicuous beach of Morro Branco remains untouched by mass tourism. We say that because, during our visit, we were the only foreigners in the sea of local visitors. We knew that we hit a local hot spot when a tour guide taking a group of locals around the area laughed in our face when we asked if his tour was available in English. Still, another of the best Brazil locations to add to your list!

Heres our video exploring Morro Branco, Jericoacoara and Lençóis
Luckily, the topography of Morro Branco's sandy cliffs radiating a variety of yellow, orange, and red shades told us everything we cared to know. We walked around the small canyon, running through the heart of the cliffs, completely mesmerised by the views, thrilled to have discovered a spot as unique as this. It's definitely one of the top places to visit in Brazil.
6. Jericoacoara
The further we traveled in Northeast Brazil, the more sand we encountered. Luckily, Jericoacoara, a small town in the heart of the sandy National Park by the same name, offered more than sand. The town was built completely on the sand, but walking down its Main Street lined with boutique shops, kite surfing schools, and amazing restaurants, it was easy to forget exactly how remote this place was.
Jericoacoara sucked us in hard. A fishing village turned hippy backpacker town, Jeri had it all. Activities (kite-boarding, surfing, jeep tours, etc), beach, shopping, dining, and a happening nightlife make Jeri an easy place to get stuck in. We almost did.
7. Lençóis Maranhenses
If there was a place worth leaving Jeri for, it was the sprawling sand dune park of Lençóis Maranhenses. Lencois is an incredible natural phenomenon, a place where sand dominates all, where the horizon is filled with dunes and more dunes, where sheep and goats farm on the tiniest patches of grass, and where beautiful green freshwater lagoons create an incredible landscape. But besides the pristine landscapes, this place in Northeast Brazil offers a much-needed refreshing swim after a long hike up and down the dunes.
WHY NORTHEAST BRAZIL TOPS OUR LIST OF PLACES TO VISIT IN THE COUNTRY
Brazil boasts unparalleled nature and biodiversity, vibrant cities and friendly locals. And while many destinations in Brazil were interesting to visit, it was Northeast Brazil that really got us.
This part of the country has a serene nature and environment and so many undiscovered places. If you are wondering what places to visit in Brazil, we definitely recommend adding some Northern Brazil destinations to your list.
Have you ever been to the Northeastern part of Brazil? What did you think? Did we miss anything?