Yosemite National Park is one of the most recognizable and iconic destinations in the US, covering around 1,200 square miles (over 3,100 square kilometres) of mountain peaks in California's Sierra Nevada Mountains.
*This post may contain affiliate links, as a result, we may receive a small commission (at no extra cost to you) on any bookings/purchases you make through the links in this post. As an Amazon Associate, we earn from qualifying purchases. Read our full disclosure
The park is recognized as a UNESCO World Heritage Site for its natural importance and beauty, but even aside from the park itself, there are plenty of things to do in Yosemite. From challenging hikes and picturesque valleys to charming gold-rush towns, wine routes, and scenic drives, the region offers something for every traveler.
Visiting Yosemite National Park and its broader region is a must-do for any nature lover, photographer and outdoor enthusiast and a great excuse to travel to California.
For us, a visit to the Yosemite region was a bucket list experience, and it definitely surpassed all of our expectations. We were lucky enough to spend 10 days exploring the area, visiting many corners of Yosemite National Park, but also exploring the small communities nearby.
We hiked, biked, paddled, ate, drank and were certainly merry! So now it's time for us to share everything we learned on this fun trip with you – to help plan your own Yosemite adventure.
In this comprehensive Yosemite guide, we'll cover everything you need to know about visiting the region. This includes all the best things to do in Yosemite National Park, essential travel info, along with ideas on where to eat, where to stay and how to make the most of your trip.
Traveling Soon?

Here is a list of our favourite travel providers and accessories to help get you ready for your upcoming trip!
So let's get into it!
About Yosemite Area
It's important to remember that the Yosemite area covers more than just the national park. It also includes the Merced River Canyon and the quaint towns of the Sierra Nevada foothills, including popular spots like Mariposa, Oakhurst, and Sonora. Together, the Yosemite region is one of the most stunning places in California. It has plenty to offer for outdoor adventure seekers and sustainable travelers.
Best Time to Visit Yosemite
We can't stress enough that every season in the Yosemite region is unique and special in its own way.
Spring (March – May)
Early spring can be quite cool, but temperatures start to warm up by mid-spring. During the day, you can expect temperatures around 18-20℃ (64-68℉), with nights dropping to 3℃ (37℉) on average.
Visit Yosemite National Park in spring if you want to see the waterfalls at their fullest and most impressive. This is also a great time for wildflowers, which begin to bloom in spring, especially in the lower elevations.
However, keep in mind that sections of the park often remain closed until summer; this includes Tioga Road, Glacier Point Road, and Mariposa Grove Road. The latter usually opens sometime in April, but the Tioga Pass and Glacier Point often stay closed well into the summer months.
Summer (June – August)
Summer is the most popular season to visit the Yosemite area and the National Park. It's the warmest time of the year, with daytime temperatures going up to 32℃ (90℉) or higher in July, while the nighttime levels drop to 12℃ (54℉).
It can get very busy inside the park, especially in Yosemite Valley. This means that viewpoints and parking lots can be crowded, and accommodation needs to be booked well in advance.
The plus side is that by early June, most sections of the park are typically open, allowing for more areas to explore. Early summer is best if you want to see waterfalls, as they tend to dry up by August. Wildflowers can sometimes still be found in the Summer, particularly in high-elevation areas.
Fall (September – November)
Fall is a great time of the year to visit if you want to avoid the crowds. Most of the park remains open until October, and sometimes even November, depending on the snowfall. Unfortunately, you'll likely find waterfalls, including Yosemite Falls, dried up at this time of the year.
Fall foliage covers the region in beautiful colours, making this a popular season for photographers to visit Yosemite. Fall is also a great time to hit the hiking trails. The temperatures go back down to 18-20℃ (64-68℉), with nights dropping to 5℃ (41℉) in the middle of fall.
Winter (December – February)
Snow blankets the region, making it a particularly magical time to visit. However, expect temperatures between 12°C (53°F) and -2°C (28°F). Snow and rain revive waterfalls that typically begin to flow by late winter.
It's important to note that only Yosemite Valley, Wawona, Tuolumne Grove of Giant Sequoias, and Hetch Hetchy remain accessible in the national park throughout these months, with most remote parts closed from October onwards.
Badger Pass Ski Area off Glacier Point Road is open from mid-December through mid-March. It offers a range of winter sports, including cross-country skiing, backcountry ski tours, snowboarding and snow tubing of all levels. With All Day Lift tickets for around $62 per adult, it's one of the most affordable snow resorts in the state.
How to Get to Yosemite
Yosemite National Park is located in Central California's Sierra Nevada mountains, and there are several ways to get to the region:
By Plane:

The closest airports to Yosemite are Fresno Yosemite International Airport and Merced Regional Airport. You can rent a car or take a bus to the park from there.

By Car:

Yosemite is approximately a 3.5-hour drive from San Francisco and a 6-hour drive from Los Angeles.

By Bus:

There are long-distance bus services from many cities around California and the rest of the country, with Amtrak and Greyhound to Merced. From Merced, the

Yosemite Area Regional Transportation System

(YARTS bus service) provides buses to the towns around Yosemite and the Yosemite Valley itself.

By Train:

A combined train and bus ticket with Amtrak allows you to take the

Amtrak San Joaquins train

from Los Angeles, San Francisco or Sacramento to Merced and then the YARTS bus to the valley.
Tips for Sustainable Travel in Yosemite
Stay longer in the region.

This allows you to appreciate the beauty a bit more, immerse yourself in the towns, and support more small businesses across the region.

Try to avoid the busy and congested summer months

, when many towns in the region and the facilities in the national park are pushed to their limits. Visit during the shoulder season to help support the region.

Don't limit your trip to the national park

. Visit the small towns outside of the park to contribute to different communities that rely on tourism.

Refrain from driving as much as possible

and utilize the amazing free shuttle service and YARTS transport system. This way you can get around to the main sights by public transport.

If you are going to rent a car,

opt for an electric vehicle

. This will help reduce your carbon emission on the trip, even if you need to drive long distances.

Leave nothing but footprints

and carry all your trash out with you. Don't litter and use the bins provided by the national parks system.

Stay on the marked hiking trails.

Going off trail can damage and kill certain plant and animal species and hurt ecosystems surrounding the trail.
Best Things to Do in Yosemite (inside the Park)
Yosemite is a big region, and as we mentioned before, no trip to the region should be limited to just visiting Yosemite National Park. The park itself is the region's biggest attraction. So, first, we'll share our recommended things to do in Yosemite National Park.
About Yosemite National Park
Founded in 1864 and a designated World Heritage Site, Yosemite National Park is best known for its waterfalls, deep valleys, grand meadows, ancient giant sequoias, and sheer granite peaks.
Covering around 1,200 square miles (over 3,100 square kilometres) of the Yosemite map, it's a vast wilderness area within the Sierra Nevada mountains. While most first-time visitors confine themselves to Yosemite Valley, the park is divided into several sections.
Yosemite Valley is the most popular section of the park. It's a glacial valley about 7.5 mi (12 km) long and 3,000–3,500 ft (914 – 1,060 m) deep, surrounded by high granite summits such as Half Dome and El Capitan.
Glacier Point is another scenic spot inside the park, just south of Yosemite Valley. It offers views of Yosemite Valley, Half Dome, Yosemite Falls, and Yosemite's high country.
Tuolumne Meadows is a large, open subalpine meadow where the meandering Tuolumne River and scenic Tioga Pass offer plenty of scenic spots, lots of hiking, camping, fishing, and picnicking opportunities, particularly in Summer and Fall.
Tuolumne Grove of Giant Sequoias has scenic views you can enjoy whenever Tioga Pass road is open. Hiking on Tuolumne Grove trail is easy over a short, smooth trail. Also, it's not as crowded as Mariposa Grove.
Mariposa Grove – the southern section of Yosemite National Park, home to the largest sequoia grove in Yosemite with over 500 mature giant sequoias.
Hetch Hetchy is a lesser-known section of the park located in the northwest corner. It's a stunning area open year-round with towering waterfalls and dramatic domes often compared to the more famous Yosemite Valley.
Visit Yosemite Valley
The most popular part of the national park, Yosemite Valley, is where you'll find most of the famous attractions and iconic landmarks.
Take the Yosemite Valley Floor Tour
A great way to see the famous landmarks in a short amount of time is on the 2-hour Yosemite Valley Floor Tour. In the warm months, the tour is done in an open-air tram, while in the cooler times – on a heated bus. The tour is led by a park ranger and naturalists. So, you'll get to see all of the highlights at Yosemite, including Yosemite Falls, Half Dome, El Capitan Meadow, Tunnel View, and Bridalveil Fall, while learning about the history, flora, and fauna throughout the park. Tours depart daily from the Yosemite Valley Lodge, with tickets costing about $40 per adult.
For us, this was the perfect introduction to the park and a great way to learn more about the history of the region.
Visit the Ansel Adams Gallery
Located near Yosemite Museum in Yosemite Village, the gallery celebrates the life and work of Ansel Adams, an American landscape photographer and environmentalist known for his black-and-white images of the American West. The gallery is a great spot to get some inspiration for your visit. Not to mention, his striking images of the park have inspired photographers for decades. The gallery is open seven days per week, from 9 AM to 5 PM, with extended hours in the summer.
Go Hiking in Yosemite Park
There is no shortage of hiking trails in the park. In fact, the region of Yosemite Wilderness has over 750 miles of trails to explore, with trails ranging in elevation, landscapes, and ecological zones.
If this is your first time visiting Yosemite National Park, we recommend starting the trip with the following popular hikes in the park.
Yosemite Lower Falls
Distance: 1 mile (1.6 km) loop

Elevation gain: 50 ft (15 m)

Difficulty: Easy
A quick walk up along Lower Yosemite Falls trail will allow you to get closer to the lower part of North America's tallest waterfall. Take the Yosemite Valley Shuttle Bus to Bus Stop #6 or drive to the Lower Yosemite Falls Trailhead.
The trail leads to the bottom of Yosemite Falls, which drops 2,425 feet (739 m) from the top. It's one of the easiest hikes to do in the park, being just a 1 mile (1.6 km) loop that follows a flat and paved trail. In spring and early summer, you can expect to get sprayed with water when standing on the footbridge near its base. Be prepared to share the trail with lots of others. Even in the Spring, when we visited the park, this was the busiest trail in the valley.
Yosemite Upper Falls (to Columbia Rock)
Distance: 2 miles (3.2 km) return

Elevation gain: 1,050 ft (320 m)

Difficulty: Moderate
For a more challenging hike, head to the Upper Yosemite Falls trail. The full hike on this trail is 7.5 miles and takes a full day. However, we recommend opting for the shorter option to Columbia Rock, which provides stunning views and a much easier ascend that takes just 2-3 hours to complete.
This trail starts near Camp 4 and immediately begins its climb with many switchbacks through oak woodland. After a mile, you'll reach Columbia Rock, a viewing platform where you can enjoy the expansive view of the valley with steep drop-offs on either side, including Merced River, Half Dome, Sentinel Rock and Eagle Peak (which looks similar to El Capitan).
Continue for another kilometre, and you'll come face to face with the powerful Upper Yosemite Falls.
Mirror Lake
Distance: 2.4 miles (3.8 km) return

Elevation gain: 100 ft (30 m)

Difficulty: Easy
This seasonal lake at the foot of Half Dome is easily reached on a mostly paved walking trail from Yosemite Valley Shuttle stop #17. Named for its stillness that reflects Half Dome above, this lake is only viewable in Spring before it dries up and becomes Mirror Meadow.
The trail also offers views of Tenaya Canyon and the massive cliff of Mount Watkins (8,500 feet/2,600 meters), which rises above the far north end of Tenaya Canyon.
Mist Trail
Distance: 3 miles (4.8 km) return

Elevation gain: 1,000 ft (304 m)

Difficulty: Moderate
Another popular trail is known as the Mist Trail, because when hiking in spring you'll undoubtedly get sprayed by Vernal Fall (not Vernal Falls). The 3-mile return trail is a bit steep but offers incredible views all along the trail.
It begins at the trailhead near Happy Isles Nature Center (also the start of the John Muir Trail), There's also the option to continue to Nevada Fall (not Nevada Falls), which is another 2 miles along.
Northern Section
Visit Tuolumne Meadows
As one of the largest high-elevation meadows in the Sierra Nevada, Tuolumne Meadows is one of the highlights of the northern part of the park. Situated at 8,600 ft (2,621 m), the subalpine meadow sits alongside the Tuolumne River and is surrounded by granite peaks.
Keep in mind that this section of the park is accessed via Tioga Road, which is only open in the summer. Unfortunately, it was closed during our visit in the Spring.
The area has a few good hikes, including the 1.5-mile return walk to Soda Springs or the 2-mile return moderate hike to Gaylor Lakes. You could also stop at Tenaya Lake on the way and complete the 2.5-mile loop around the lake.
Hetch Hetchy Valley
Hidden in the northwest corner of Yosemite National Park, this valley is located 38 miles (61 km) from Yosemite Valley. It's one of the few sections of the park that can be accessed year-round and one of our personal favourites!
It's home to a vast wilderness of high lakes, mountain streams, and towering waterfalls, including Wapama Falls and Rancheria Falls. Some great day hikes for the warmer months include our favourite half-day hike to Wapama Falls. In the winter, this section offers the chance to explore on skis or snowshoes.
Southern Section
Mariposa Grove of Giant Sequoias
Located in the southern part of Yosemite, the Mariposa Grove is the largest sequoia grove in Yosemite. It is home to over 500 mature and stunning giant trees. The best way to explore this section of the park is on foot.
Head off on the Grizzly Giant Loop Trail, the short 2-mile hike to the Grizzly Giant, the world's oldest sequoia, as well as the Bachelor and California Tunnel Tree.
Take a Scenic Drive
Glacier Point Road
Depending on conditions, Glacier Point Road is open from approximately late May through October or November. It is around 16 miles (26 km) long, leading to Glacier Point, one of the most impressive viewpoints in the park.
The overlook offers an incredible vista of Yosemite Valley, Half Dome, and Yosemite Falls. Along the road are numerous trailheads for great hikes, including Taft Point and Sentinel Dome.
Tioga Road
Tioga Road offers a 47-mile (76 km) scenic drive between Crane Flat and Tioga Pass through forests, past meadows, alpine lakes, and granite domes. It climbs above the valley, sweeping across the Tuolumne Meadows, and cuts through the mountains at Tioga Pass.
Popular scenic stops on the way include Tenaya Lake, Tuolumne Meadows and Olmsted Point. The road is only open in the summer months, from late May until October.
Best Things to do in Yosemite Area (outside the Park)
You'll need between a few days to a few weeks to explore all the main areas and lesser knowns nooks and crannies inside Yosemite National Park, but we promise you, there is lots more to see and do outside of the park as well.
So be sure to leave a few days or more to explore the region! Here are just a few spots we recommend you check out.
Go Hiking
While there are many hikes inside the national park, there are many more outside as well. Here are our top recommendations.
Stockton Creek Preserve
Located just minutes from the town of Mariposa, Stockton Creek Preserve is a rolling 3.2 miles (5.1 kilometres) hike through the Sierra Nevada foothills that is a favourite with locals and a great spot for wildflower viewing in Spring. The area has a small lake, the Stockton Creek Preserve, and a waterfall. It is also open for hiking as well as mountain biking.
Hite Cove
Likely one of California's most underrated wildflower hikes, Hite Cove is located in the beautiful Merced River Canyon. The 9 miles (14.4 kilometres) trail meanders along the canyon, eventually descending to the river, offering beautiful views.
During our visit in April, the trail was covered in wildflowers and was relatively quiet. We thought it was the perfect spot to enjoy wildflowers in the Yosemite region.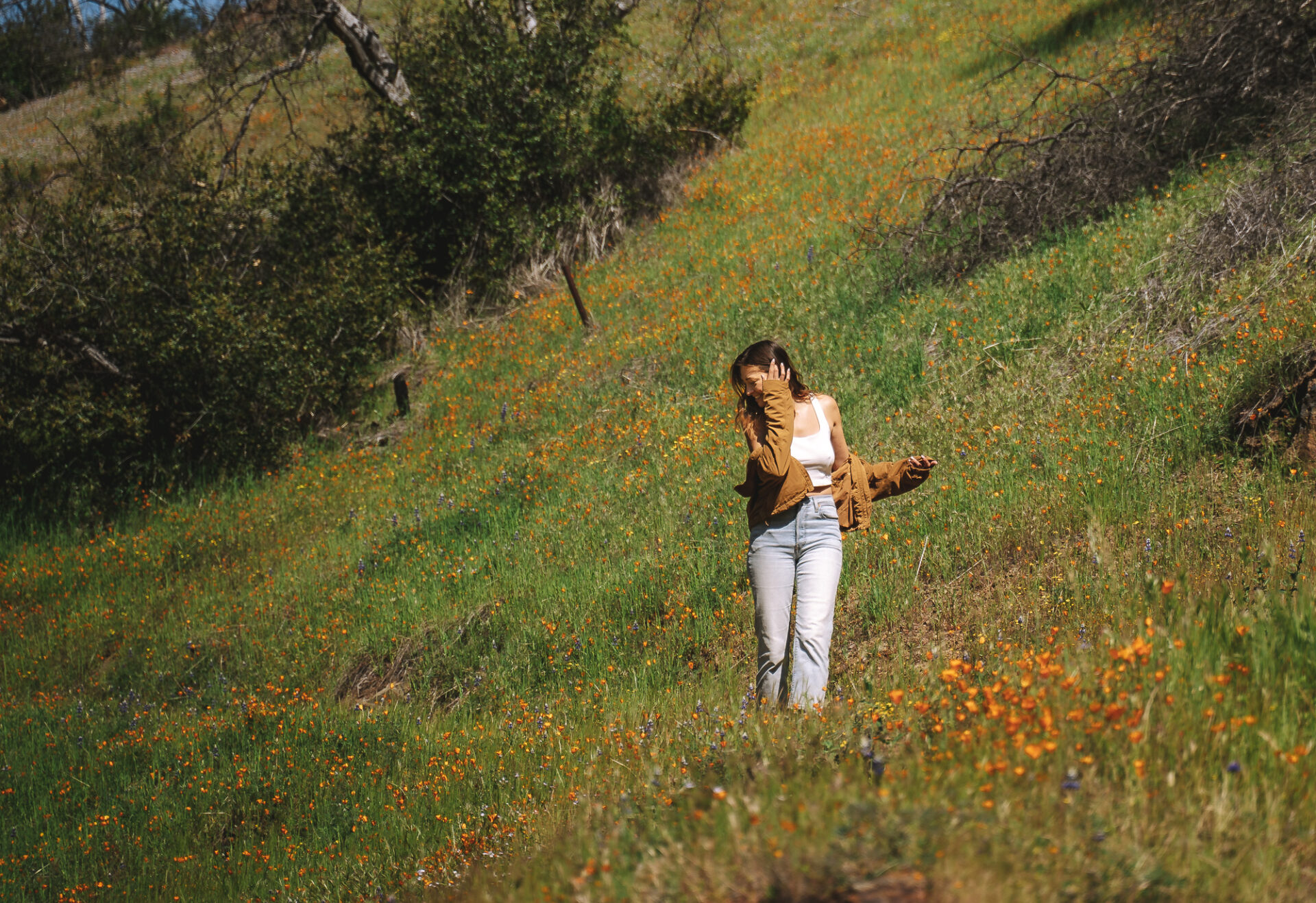 Eastman Lake
Eastman Lake is located about an hour away from Oakhurst. This recreation area is a popular spot for camping and hiking, particularly in the Spring and Summer months. The Monument Ridge Trail is an easy 3.6 miles (5.8 km) out-and-back trail that runs along the lake's Eastern Shore. The longer Raymond Bridge to Lakeview Trail runs for 7.9 miles (12.7 km) return on the opposite side of the lake.
The beauty of this trail is that it is flexible based on how much time you want to spend on the hike. We found the first few kilometres on the trail to be the most picturesque and opted to turn back around after 2 kilometres.
Westside Trail
Located 12 miles from Sonora, the Westside Trail is a 4.2-mile (6 kilometres) hike starting off Buchanan Road and taking 2-3 hours to complete.
The trail is flat, easy and enjoyable. It's more of a walk in a park than a hike with incredible views of the Middle Fork Tuolumne River. The trail also features remnants of the Sierra Railway and, in the Spring, is another great spot for wildflowers.
Take a Scenic Train Ride
The Yosemite Mountain Sugar Pine Railroad is a vintage steam-powered train that chugs through the woods of Sierra National Forest in Madera County and offers amazing views of the picturesque landscape of the surrounding mountains and forest.
The railroad operates seasonally from mid-March through Thanksgiving weekend (although it was sadly still closed during our visit in April). The journey is guided, so the ride offers interesting facts and insight into the region's history along the way. You can choose from a range of rides ranging from 40 mins to 3 hours.
Go Whitewater Rafting
The Merced River offers world-class white water rafting right at the boundary of Yosemite National Park. With class 3-4 whitewater rapids, this is a great activity for adventure lovers and one of the most fun things to do in the Yosemite region.
Zephyr Rafting is the local operator offering half and full-day trips on adrenaline-pumping rapids. They're based just outside of the town of Mariposa and proudly note that they raft more guests each season than all other outfitters combined.
We didn't get a chance to go rafting during our time in Yosemite. But, having done other rafting trips on our travel, we can attest that it's a great way to spend a morning!
Go Horseback Riding
If you want to explore the beauty of Yosemite beyond the typical trails, consider joining a trip with Yosemite Trails Horseback Adventures. This family-owned mountain ranch offers traditional riding that will let you get a taste of the life of early pioneers who roamed this area on horseback. The company offers two-hour rides through thick pine forest and across clear mountain streams.
Visit Bass Lake
Bass Lake is the best destination in Yosemite Madera County during summer. The lake is situated just a short drive from Oakhurst and sits at an elevation of 3,400 feet (1,036 m).
With an area of about 1,200 acres, Bass Lake offers plenty of activities around the lake. This includes swimming, boating, kayaking, fishing, water skiing, and other water sports. There are also some nice walking trails and campgrounds to extend your stay and enjoy the stunning night sky.
You'll find lots of locals enjoying the lake with their families, particularly in the summer months. Also, there are plenty of visitors pop by the lake during their visit to spend some time on the water.
Go Wine Tasting
Believe it or not, there are 11 different wineries in Oakhurst and the surrounding area that comprise the Madera Wine Trail. Hopping from one cellar door to the next is a great way to explore one of the oldest grape-growing regions in California. We spent some time at the Idle Hour Winery during our visit, and it was a lovely spot to spend a few hours in the afternoon.
Tuolumne County is also home to a handful of wineries within driving distance of downtown Sonora, including Inner Sanctum Cellars and Gianelli Vineyards.
Have a Picnic
With all the stunning parks and beautiful vistas, a picnic is a must in Yosemite. You can pack or own or, for an extra special occasion, try ​​Yosemite Gourmet Picnics. We brought their picnic-on-the-go to enjoy on our hike to Eastman Lake, and it was an absolute treat. The picnic bag was filled with a 3-course meal, a bottle of bubbly, a blanket and all the plates and cutlery for set up. Our picnic set up on the trail was the source of envy for many other hikers that day.
Go E-biking
For a unique way of seeing the foothills around Yosemite, a private e-biking tour with Yosemite E-Biking is a must when it comes to things to do in Yosemite for active travelers. The founder, Chris, is a 30-year-old rock climber, a lifetime biker, and an award-winning journalist, and he's a whole lot of fun. During the pandemic, he started taking visitors out on bike rides to show them his favourite spots in the area. Since then, his fun outings have grown into a full-time business. Prepare for a fun afternoon on quiet backroads and fire roads and a chance to experience the outskirts of Yosemite from a completely different perspective.
Visit a Wildlife Sanctuary
Traveling with kids or looking for a more relaxed way to spend a morning? We've got an idea for you! Check out Nature of Wildworks, located 20 minutes from Oakhurst in Coarsegold. This fantastic nonprofit organization is run by Mollie Hogan and her dedicated team of volunteers that provides lifetime care for wild animals that can't be released back into the wild. They care for the animals 24/7 and educate the public about wildlife and environmental issues. Mollie and her team offer guided tours of the facility and an opportunity to meet some of their animals, including eagles, foxes, raccoons and even a mountain lion and a bobcat.
We had such a great time with Mollie and her team and loved our experience meeting Bob the Bobcat and the other residents. It's a perfect activity for curious kids or wildlife-loving adults!
To visit Nature of Wildworks, you'll need to call ahead to set up a tour. Call Mollie at (559) 692-9980 or visit their website to learn more about the organization and to support them via their Amazon Wishlist.
Best Restaurants in Yosemite
For us, good food plays a big role in any destination, and luckily, Yosemite did not disappoint. Food options in the region were plentiful and surprisingly diverse. From traditional ramen to healthy and vegan options, these are some of our recommended restaurants in the Yosemite area.
Yosemite Valley
Degnan's Kitchen. Located in Yosemite Village and within walking distance from the Visitor Center, this diner focuses on fresh sandwiches, artisan pizzas, coffee, as well as baked goods. They also offer vegan and vegetarian options.
The Ahwahnee Hotel. This upmarket and grand hotel in Yosemite Village serves old-school American fine dining throughout the day. Their meals are sustainably and locally sourced, including free-range chicken and sea bass. While the restaurant at the hotel is quite pricey and does require a reservation, the Bar is a lot more casual and is the perfect place for a sunset drink and meal.
The Mountain Room Lounge. This restaurant is located in Yosemite Valley Lodge and boasts striking views of the 2,424-foot-high Yosemite Falls. A cozy Swedish-style fireplace features classic furnishings with an outdoor patio for the warmer months. They focus on local, organic and seasonal produce, including sustainable fish and seafood. This is one of the best spots for dinner in the Valley.
Curry Village Pizza Deck. With great views of Glacier Point and Royal Arches, this is the best place for a wood-fired pizza in the valley. This casual eatery has a great outside deck if the weather is nice or a spacious dining room. Their pepperoni and vegetarian pizzas are definitely highlights.
Oakhurst
South Gate Brewing Company. Located right in town, this is a great brewery with a fun vibe and plenty of craft beers to try. Be prepared to wait a bit if visiting on the weekend or in summer, but it's worth it. If you're looking to get the most bang for your buck, order a beer sampler and a bunch of appetizers – as the portion sizes do not disappoint.
Glow Cafe. Tucked away just off Highway 41, this little cafe is perfect for a caffeine fix or healthy treats like cold-pressed juices, smoothies, and smoothie bowls. Grab something to go for a picnic or on your way to a hike.
Wild Fig Kitchen. This cozy restaurant is just out of Oakhurst in Coarsegold. It has an appealing rustic charm and was one of your favourites in the area. The menu features a great selection of breakfast items, like burritos, sandwiches and a Sunday brunch. Try the house-made wild fig tacos or the wild fig and bacon burger for something different. Tea lovers will find plenty of options here, including matcha!
Town of Mariposa
Little Shop of Ramen. Located on the main street in town, this casual place offers delicious homemade Japanese cuisine. Their ramen noodles are made by hand using a traditional recipe passed down from the owner's grandmother. The menu has gluten-free and vegan options, although we particularly loved their Shoyu Ramen.
1850 Restaurant and Brewery. Another popular place in town is this classic mountain brewery. The restaurant focuses on fresh, local, and affordable cuisine. Menu favourites include "twisted burgers," salads, and signature "mountain food" like trout and venison. Don't forget to grab a drink. There are plenty of locally brewed craft beers and good Californian wines offered by the bottle.
High Country Health Foods and Cafe. This is a great little stop in the town of Mariposa if you want to pick up some organic and local produce. The store also has a small cafe that serves gluten-free, vegetarian, and vegan options from breakfast until lunch. Great place for packed lunches on the way to Yosemite NP. It's a favourite for those looking for healthier options in the region.
Sonora
Sonora Armory. This lively restaurant was our favourite spot in town. It has a spacious outdoor area with comfy couches or an industrial interior with exposed brick. With an assortment of beers on tap and a great twist on casual pub grub, their burgers and wings are popular choices. They also offer live music on weekends.
Emberz Wood-Fired Foodz. Another of our favourites in Sonora, which is also popular with locals, Emberz, is famous for its wood-fired pizzas. The restaurant also offers a good menu with other options, including fun appetizers, sandwiches, and entrees. Don't miss their oven-baked cheese and stuffed jalapenos.
The Standard Pour. Located just outside of Sonora Township, this trendy gastropub is a great place to have a beer and meal with your friends. Our list of must-tries includes their fried brussel sprouts, loaded fries, and salads.
Where to Stay in Yosemite
Choosing where to stay while exploring the Yosemite area can be tough. There are four main accommodation hubs in the area, including Yosemite Valley – ideal for first-time visitors who want to be in the heart of the action, Oakhurst – the closest town to the Southern entrance of the park, the town of Mariposa – the closest to the El Portal entrance of the park, and Sonora – the largest town. Meanwhile, Groveland is your gateway to the Northern entrance and Hetch Hetchy.
If you are going to be spending more than a few days exploring the region (and you should), we recommend staying in 2-3 different spots to give yourself the opportunity to easily explore all sections of the park.
During our visit, we spent a few days in Sonora, a few days in Oakhurst, and finished our visit with a stay in Mariposa. Here are some of the best hotels in the area.
Yosemite Valley
The Ahwahnee Hotel Located in Yosemite Village, this classy, 4-star hotel is one of the standout lodgings in the park. Specifically designed to highlight its natural surroundings, featuring Yosemite Falls, Half Dome and Glacier Point, the hotel is a National Historic Landmark. It features a range of hotel rooms, suites and cottages on the upper end of the price range. There is a sophisticated dining room and bar on site with incredible views of the Valley. The lodge also has a gift shop highlighting local artisans' works. There's also a heated outdoor swimming pool ideal to cool off on a hot summer day and escape from the crowds in the park.
Yosemite Valley Lodge Located directly across from Yosemite Falls, this mountain-style lodge is centrally located in the Valley and is ideal for those that want to be at the heart of it all while exploring the national park. There are over 240 rooms available at the lodge, ranging from traditional double rooms to larger family-sized rooms. It also offers multiple dining options for every meal and an outdoor swimming pool for the warmer months.
Mariposa
Autocamp Yosemite is Located a 10-minute drive away from Mariposa town; this peaceful retreat is close to the national park entrance. There's a cozy place to rest your head for every taste. Autocamp features trendy airstream suites, cabins, luxury glamping, and canvas tents. The onsite dining is The Kitchen, which serves up locally sourced meals from breakfast until dinner.
Tenaya at Yosemite. This popular lodge, located just outside of the South Park entrance, offers three different experiences with the main Tenaya Lodge, the Cottages, and their Explorer Cabins. During our visit, we stayed in the Explorer Cabin – a two-bedroom cabin tucked away in the wilderness, located 10 min walk from the main lodge. The cottage rooms offer a more secluded mountain getaway experience with 335-square-foot rooms just a short walk from the Lodge. These studio-style rooms are part of a duplex or triplex cottage. The lodge rooms are a bit more upscale, offering upgraded design and decor. They are located in the mean building, which means they are just steps away from the on-site restaurant "Jackalope's Bar & Grill" as well as the Spa and fitness centre.
Oakhurst
Sierra Meadows. This cute glamping resort is just 20 miles from the South Entrance to Yosemite National Park and a 7-mile drive from Oakhurst. They offer a range of two-bedroom cabins, tiny cabins, and cute micro cabins. While not all accommodation options have an ensuite, facilities are just a short walk away. We absolutely loved our stay in their tiny cabin. It had an en suite kitchen and living room area. This is the ideal space for a couple and the perfect sustainable base to explore the foothills of the Sierras.
Sonora
Sonora Eco-Friendly Straw Bale House. Located a few minutes from Sonora, this charming house was built using sustainable materials like straw bales, clay plaster, and reclaimed wood. With three bedrooms and a bathroom, the house is ideal for a family or group of friends traveling together. The property is set in a beautiful quiet area that immerses you in nature. It was a perfect retreat in nature during our stay, with frogs singing outside of our bedroom window and river otters playing in the water—a few deer stopped by for a visit as well. There is an outdoor patio and grill on-site. So, there is plenty of space to enjoy nature over a glass of wine or a meal after exploring the park.
Evergreen Lodge. Located just 30 mins from Yosemite National Park, Evergreen Lodge prides itself in offering a classic Yosemite experience where you can escape to your very own comfy cabin in the woods. The lodge consists of 88 cabins scattered throughout 20 acres of forest. Each cabin has its own balcony and offers privacy and connectivity to the facilities on site, like the central plaza, tavern and recreation areas. The lodge is ideal for families, friends, and couples, particularly those looking to enjoy time in nature.
Rush Creek Lodge. A sister lodge to Evergreen, Rush Creek Lodge has more of a mountain chalet resort vibe. It has the perfect blend of comfort and rustic charm. There are also plenty of facilities catering primarily to families with lots of outdoor activities, a kids' playground, a game room, and a beautiful pool that serves as a central gathering spot for all guests. The lodge offers over 140 rooms and suites, modern amenities, AC, Wi-Fi, and en-suite bathrooms. The lodge also has a spa on site, a restaurant, and a bar.
We hope our suggestions and recommendations will help you plan an ideal holiday to Yosemite National Park and the surrounding region. With so many things to do in Yosemite, we highly recommend that you plan to spend at least 5+ nights in the region. Explore not just the National Park but also its surroundings.
Have questions about our visit? Want input on your itinerary? Leave us a comment below, and we'll be happy to give you our suggestions.