Our adventures in Yosemite began in the quiet town of Oakhurst, California, located in the Southern Yosemite region of Madera County. The town is home to only 3,000 residents but serves as a major hub for thousands of visitors to Yosemite National Park, the nearby Bass Lake, and the Sierra National Forest.
*This post may contain affiliate links, as a result, we may receive a small commission (at no extra cost to you) on any bookings/purchases you make through the links in this post. As an Amazon Associate, we earn from qualifying purchases. Read our full disclosure
Nestled in Yosemite Madera County, just a short 14-mile drive from the South Gate of Yosemite National Park, Oakhurst is often referred to as the "Gateway to Yosemite". And it's easy to see why!
With lots of accommodation in town and in the surrounding areas, some great restaurants and shops, the town offers a great base to discover Yosemite and the rest of Madera County.
Before we get into the nitty-gritty of all the fun things to do in Oakhurst itself, it's worth adding a few comments on Madera County. Given how small Oakhurst, California, is, it's likely that you won't spend much time in the town itself.
We hope you'll take the time to explore the broader area of Madera County to fully appreciate this region beyond the town of Oakhurst and its biggest attraction – Yosemite National Park.
Traveling Soon?

Here is a list of our favourite travel providers and accessories to help get you ready for your upcoming trip!
About Madera County
Madera County is located in the Central Valley of California and is one of the three counties offering access to Yosemite National Park. The county is home to around 157,000 people and spans East to West, from the communities of Chowchilla and Madera, CA and Madera Ranchos all the way along Highway 41 to Sierra Nevada Mountain Range and Yosemite Park.
With the Sierra Nevada mountain range to the east and the Sierra National Forest to the north, there are plenty of outdoor activities to enjoy in Madera County. You can go on hikes in Yosemite, take scenic drives along the Sierra Vista Scenic Byway, explore historic mining villages, go on a wilderness adventure in Sierra National Forest, or take a trip to Mariposa Grove to see the giant sequoias.
Frequently Asked Questions
Is Oakhurst a good base for Yosemite?
Yes, Oakhurst is an excellent base for any visit to Yosemite! It's conveniently located along Hwy 41 and offers a number of good accommodation options as well as some restaurants, shops and other things to do.
How far is Oakhurst from the entrance to Yosemite National Park?
The town is located about 14 miles from the park's South Gate entrance, which is the most convenient entrance for visitors coming from the south or west. Do note that it is another 25 miles to reach Yosemite Valley Floor, where many of the park's attractions can be found. So if you are planning to stay in Oakhurst, California, be prepared to drive for 1 hour to reach the National Park's main attractions.
Does Oakhurst, CA get snow?
Yes, Oakhurst does get snow in the winter months. The town is situated in the foothills of the Sierra Nevada, an area renowned for its rugged environment and snowy winters. Even though Yosemite Park sits at a higher elevation than Oakhurst, the town can still experience several inches of snowfall throughout the winter.
What Mountain Range is Oakhurst in?
Oakhurst is located in the Sierra Nevada mountain range, which is a major mountain range in California and Nevada. The Sierra Nevada range is around 400 miles (640 km) long and stretches from north to south.
Oakhurst is situated in the Sierra Nevada foothills, which are the lower elevations of the range that transition to the Central Valley of California. The town is situated at a height of around 2,200 feet (670 meters) above sea level, while Mount Whitney, the highest peak in the range, rises to a height of more than 14,000 feet (4,267 meters).
Best Time to Visit Oakhurst
Oakhurst is an all-year-round destination, offering something to do regardless of the season.
Spring (March to May): Spring is a great time to visit Oakhurst and the nearby area. During our visit in April, we enjoyed pleasant weather and a stunning wildflower bloom. We were also lucky to catch waterfalls at their fullest, gushing with force throughout the park. Outdoor adventures like hiking and biking are very popular this time of the year, as the mild temperatures and sunny days make for ideal weather. The park is also less busy and much more pleasant to explore!
Summer (June to August): Oakhurst experiences its busiest travel season in the summer when the weather is nice and the days are long. Accommodation may be a bit harder to find, and the park tends to be much more crowded.
With that said, Summer is the best time to enjoy parts of Madera County outside of the National Park, particularly Bass Lake, with its beaches and water sports. There are also a number of festivals taking place in the summer, including the annual Bluegrass Festival and the Bass Lake Fireworks Show.
Fall (September to November): For those who prefer comfortable temperatures and vibrant foliage, fall is a fantastic season to visit Oakhurst. This is when the trees start to change colour in town and in the National Park, offering a breathtaking backdrop for outdoor adventures like hiking, biking, or fishing. Fall is a great time to discover the local wine culture because it is also harvest time for many vineyards in the area.
Winter (December to February): With its snow-covered mountains and enjoyable winter activities, Oakhurst has a wonderful winter season. Snowmobiling, skiing, and snowshoeing have become popular activities in the area during this time of the year. Festivals and seasonal activities, such as the yearly tree-lighting ceremony and holiday markets, add extra sparkle to the region during the holiday season.
How to Get to Oakhurst
There are several ways to get to Oakhurst, California, depending on your starting point and preferred method of transportation. Here are some options:
By Air: Fresno Yosemite International Airport (FAT), located about an hour's drive from Oakhurst, is the closest major airport in the area. From the airport, you can either rent a car or use a shuttle to get to Oakhurst.
By Bus: Greyhound and Yosemite Area Regional Transportation System (YARTS) are just two of the bus companies that provide service to Oakhurst. One of the best and most practical ways to go around the region is the YARTS. An excellent way to avoid the hassle of looking for parking in Yosemite Valley is to take the bus service that travels to and from Yosemite National Park and stops in Oakhurst.
By Train: Merced, about an hour and a half drive from Oakhurst, is the closest Amtrak station. You can rent a car there or use a shuttle to Oakhurst.
By car: California State Route 41, which connects Oakhurst to major thoroughfares like US Route 99, Interstate 5, and California State Route.
While the most convenient, driving is actually the least sustainable way to get to Yosemite, unless, of course, you are driving an electric vehicle. We are big fans of using EVs, particularly Teslas in California and would highly recommend renting a Tesla if you are looking to rent a car for your time in Yosemite. The Tesla charging network throughout California makes it very easy to charge up, and the power behind this EV makes it particularly fun to cruise along the winding roads in the Yosemite region.
Now that we got the essentials travel planning questions out of the way, let's get to the juicy stuff! We spent a few days hanging out in Madera County and found no shortage of fun things to do in Oakhurst, CA.
So let's get into the details of our stay and our top recommendations!
15 Fun Things to Do in Oakhurst, CA
1. Explore Downtown Oakhurst
We found the town of Oakhurst to be a relatively modern town compared to some other more historical towns in the area. The town was founded in the late 1800s as a logging and sawmill center. It saw its biggest growth in the early 1900s with the construction of the Yosemite Valley Railroad, which brought tourists and an economic boom to the area.
Today, Oakhurst acts as a hub of civilization for visitors to the area, with hotels, shops, and restaurants found along the main drag. There are a few fun spots to visit in the downtown area, including a winery, a brewery, a distillery, and a fun Axe Throwing Centre (yeah, you heard that right!). More on all of that below.
2. Go Wine Tasting at Idle Hour Winery & Kitchen
Idle Hour Winery & Kitchen is just one of the 9 different wineries in Oakhurst and the surrounding area. The wineries comprise the Madera Wine Trail, a fun way to explore one of the oldest grape-growing regions in the State of California.
The Idle Hour Winery dates back to 2011 and was founded by Anna Marie dos Remedios, a passionate wine enthusiast eager to bring her favourite wine varietals to Madera County.
Tempranillo and Cabernet Franc are the flagship varietals of the winery, with varietals and blends changing on an annual basis. Try Alicante Bouschet, a unique Portuguese variety rarely found in the region or Cuvée Rouge, the blend of Tannat, Malbec, and Petite Syrah.
The tasting flight includes 6 varieties and pairs really well with a number of dishes on their lunch menu. The chorizo made with a red wine sauce was perfectly matched with some of the reds in the flight, along with the Baked Brie, another crowd-pleaser.
Idle Hour Winery & Kitchen is open for wine tastings daily, with food served until 5pm. There is a special brunch menu on Sundays from 10am-2pm, featuring a rotating menu of seasonal chef's specials and some local's favourites. Every Sunday, the place livens up with live music on the patio.
3. Sample Local Brews at South Gate Brewing Company
South Gate Brewing Company is probably the most well-known brewery in town, offering a wide selection of craft beers ranging from IPAs and lagers to stouts and ales. The brewery has been brewing craft beer since 2013, using locally sourced ingredients to showcase the best of the region.
We came to South Gate for a taste of their beer samplers ($11 for 3), but ended up staying for dinner. The dimly lit dining area and buzzing atmosphere made this brewery feel like the hottest spot in town.
The food did not disappoint. In fact, it was a lot more creative and flavourful than one would expect from a brewery. Try brussels sprouts, sweet and zingy, full of Asian flavours. We also really enjoyed their chicken, and fish and chips, best paired with refreshing coleslaw.
As for the beer, try the Honey Badger (Oksana's favourite), or the Oak Town Pecan Brown Ale – their multi-award winning brew. The Hazy Commet IPA and the Midnight Bougie Oatmeal Stout, their nitrogen-infused stout, are also worth it. The stout was particularly surprising, smooth easy drinking with low carbonation with strong caramel coffee notes.
Note: The Brewery doesn't take reservations, so come early and be prepared for a little wait. We came on a Wednesday at 6pm and waited for only 15 mins. It's a popular spot, and it shows!
4. Visit Oakhurst Spirits Distillery
If you're a fan of craft spirits, visiting Oakhurst Spirits is a must-do on a list of local attractions in town. The family-run distillery, founded in 2017, is a bit of a hidden gem offering guests a unique experience in Oakhurst, CA.
Here, small-batch, handcrafted spirits are made with locally sourced ingredients, using conventional distillation techniques, with an emphasis on flavour and quality. The distillery also has a uniquely symbiotic relationship with local wineries and breweries. Wines from the region can be distilled into brandy, and beers can be distilled into whiskey. Barrels, as wines can be distilled into brandy, and beers can be distilled into whiskey, and any of the three products' flavours can be improved by using different kinds of barrels.
Tours of the distillery are free, and whiskey tastings are on offer, comprising of 3 half-oz pours or 4 quarter-oz pours of their craft products
5. Try Axe Throwing
Yosemite Axe Throwing is, in our opinion, one of the most unique things to do in Oakhurst and a great way to have fun and blow off steam in Oakhurst, California. Located right along Highway 41 in the heart of Oakhurst, the Axe Throwing experience offers fun entertainment for all ages.
We popped into the rec center for their 1-Hour Yosemite Axe Throwing Experience, which includes instruction and safety tips, as well as an hour of axe throwing. We hesitated at first, with no previous axe-throwing experience, we weren't sure if the activity was going to be fun. But all it took was a few tips and tricks from the staff, and we got quite into it. Max was a natural, but I definitely needed a few more tries to get the hang of the perfect throw. Luckily, the centre wasn't busy that afternoon, so we had the entire place to ourselves and plenty of support from the staff. The hour flew by!
Yosemite Axe Throwing is open daily and offers indoor and outdoor lanes for individuals and groups. Bookings are not needed but are recommended, particularly for bigger groups.
6. Visit Yosemite Gateway Art Center
Founded in 2016 by a group of local artists, the Yosemite Gateway Art Center is a really cool art space that has it all – pottery, jewelry, paintings, and photography – and an absolute must-visit for art enthusiasts in Oakhurst.
One of the best parts of the Art Centre is that rather than just viewing the artwork as you would in a museum, you can also buy pieces produced by local artists.
There are also a variety of events and courses on offer throughout the year, including painting and drawing classes.
7. Check Out Fresno Flats Historical Village & Park
Fresno Flats Historic Village and Park is an outdoor museum complex that takes you back in time to the 19th century. It's a great spot to learn a bit of history about the area, and see some historical buildings from Oakhurst's past. The complex has a number of restored homes, as well as a school, a jail & more and gives you an opportunity to learn about the settlers who came to the area in search of gold and farming opportunities.
8. Go on a Hike at Eastman Lake
For a little adventure outdoors, head to Eastman Lake, located about an hour's drive from Oakhurst, CA. The Eastman Lake Recreation Area is a popular spot for weekend getaways for locals from the area. There are a couple of campgrounds on-site with campground facilities and plenty of stunning vistas to enjoy.
Day visitors are also welcome. The lake is home to 2 beautiful hiking trails with rolling hills, wildflower patches (in season) and expansive landscapes.
Monument Ridge Trail is an easy, 3.6 miles out & back trail that runs along the Eastern Shore of the lake. The trail takes roughly 1 hour and 20 minutes to complete. Even though this is a well-liked trail for horseback riding, hiking, and birding, you can still find some peace and quiet at more sedate times of the day. The route is lovely to explore at any time of the year, although it's particularly beautiful in the Spring during the wildflower bloom.
Raymond Bridge to Lakeview Trail is a moderate 7.9 miles (12.7 kilometres) out & back trail that winds along the Western Shore of the lake. The full trail takes about 3-4 hours to complete, but you can also shorten it to adapt to your own schedule and energy levels.
You can start the trail from Raymond Bridge or from Eastman Lake Rec Area, just past the campgrounds. We opted for the latter and found tons of beautiful wildflowers covered the trail for the first 2 miles into the hike. We spotted bush lupines, popcorn flowers, fiddlenecks and bird's eye gilia. There are lots of big rocks just off the trail, so it's easy to take a break and enjoy a lovely picnic with a view of the lake.
9. Set up a Picnic with Yosemite Gourmet Picnics
Speaking of picnics, if you want to make yours a bit more special, check outYosemite Gourmet Picnics. We brought their picnic-on-the-go to enjoy on our hike to Eastman Lake and had the best afternoon!
The picnic arrived at our hotel the night before our hike in a cute little picnic backpack filled with a 3-course meal, a bottle of bubbly, a blanket and all the plates and cutlery for set up. We simply grabbed the backpack with us the following morning and enjoyed a perfect lunch set up among the wildflowers right on the trail.
If the idea of setting up your own picnic doesn't excite you, you can also get Yosemite Gourmet Picnics to set up the spread for you. As locals from the area, they know all the best spots, so they'll be able to suggest the time and place and do all the hard work of set up for you.
11. Take a Scenic Drive along the Sierra Vista Scenic Byway
The Sierra Vista Scenic Byway is a scenic drive winding through the Sierra National Forest near Oakhurst, CA. The 100-mile loop offers stunning views and plenty of scenic stops along the way, including ancient cabins, stands of huge sequoias, and well-known monuments.
The Sierra Vista Scenic Byway begins just north of Oakhurst, off Hwy 41, passes through Sierra National Forest and along the edge of Ansel Adams Wilderness and ends on Minnarets Rd, just south of the town of North Folk. The byway sees some serious elevation changes, starting from 2,600 feet above sea level and ascending to over 7308 feet.
Here are just a few of the many attractions found on the byway:
Fresno Dome Vista:

A panoramic view of the granite dome and the surrounding forest and mountains.

Nelder Grove,

home to some of the largest and oldest sequoia trees in the Sierra Nevada, with several hiking trails to explore the grove. (closed until 2024)

Mile High Vista

, a panoramic viewpoint at 5300 feet above sea level that offers an iconic image of the Byway.

Mammoth Pool Viewpoint,

located about a half-mile prior to the main viewing spot for Mile High Vista, offers amazing views of the Mammoth Pool Reservoir.

Minarets Vista

, a viewpoint that offers a panoramic view of the majestic Minarets, a group of jagged peaks that rise over 12,000 feet above sea level.

Globe Rock

– a giant rock that happens to be one of the most photographed spots along the byway.

and many others!
Due to the high elevation and mountainous landscapes along the scenic route highway, the drive is unfortunately only accessible in the summer months. We didn't get a chance to experience it firsthand but we heard so many amazing things about this unique drive that we just had to include it in our list of recommended things to do near Oakhurst.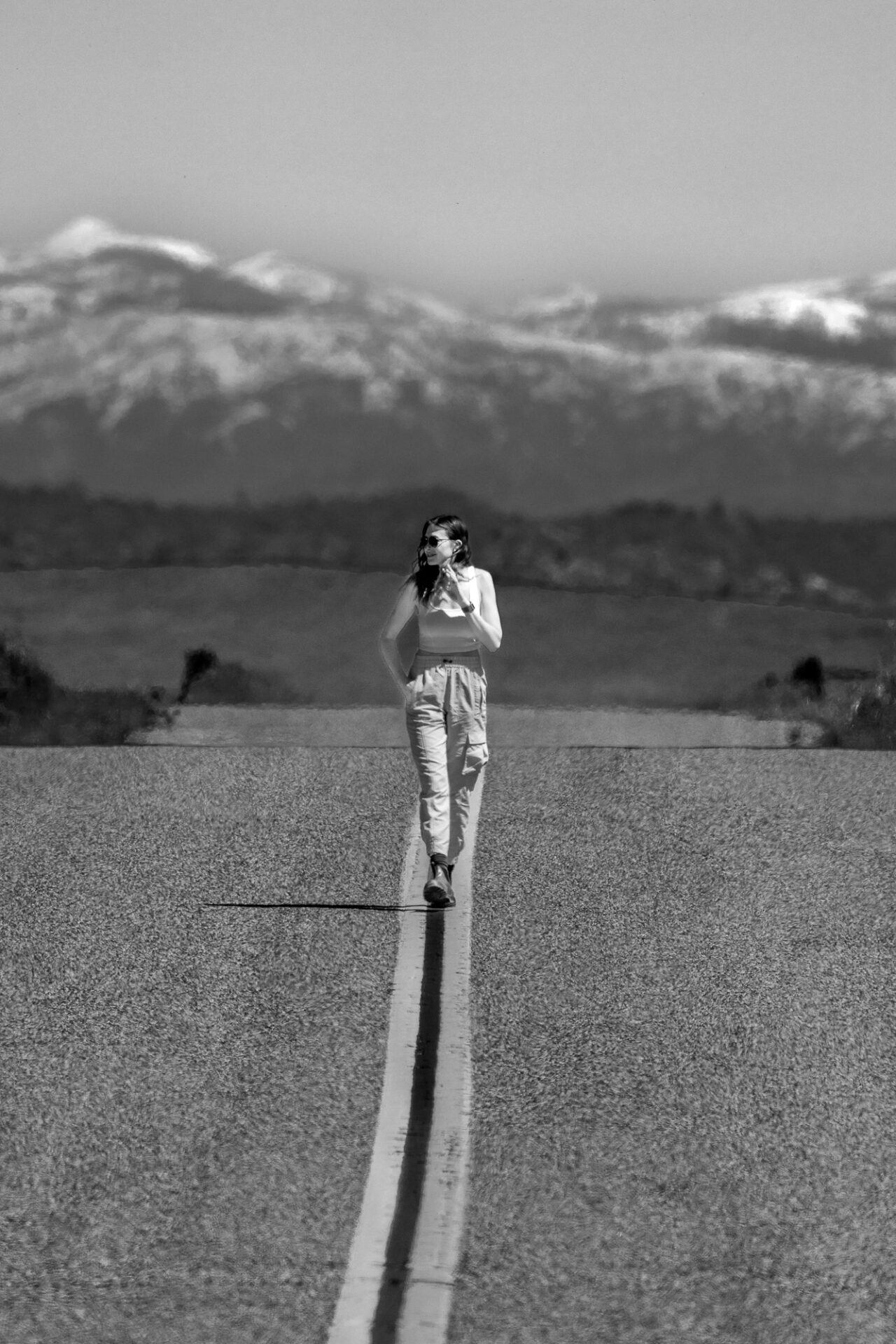 12. Spend a day at Bass Lake
Ask any local for their favourite summer destination in Madera County, and Bass Lake will come out on top as one of their favourites. The lake is the perfect summer destination offering plenty of outdoor activities, from boating to fishing and hiking.
We visited in early Spring, and while the lake was still pretty quiet, we could absolutely see the appeal. The lake is situated at an elevation of 3,400 feet and covers an area of about 1,200 acres. We were surprised to learn that the lake is actually man-made, created by the construction of a dam on Willow Creek in the early 1900s, but that doesn't make it any less appealing.
In fact, the area is beautiful and is a top destination in the summer for swimming, boating, fishing, water skiing, and other water sports. The trails along the lake, like the Willow Creek Trail and the Way-of-the-Mono Interpretive Trail, offer beautiful views of the surrounding area and offer insights into the lives of Native American tribes that once lived in the area.
Miller's Landing Resort is the hub of action on the lake. In the summer, the resort is packed with its shoreline offering boat, SUP or kayak rentals. Inside there is a shop and an eatery, so you can easily refuel after a few hours on the lake. There are a couple of great beaches nearby, perfect for swimming in the summer.
13. Ride the Yosemite Mountain Sugar Pine Railroad
The Yosemite Mountain Sugar Pine Railroad is definitely one of the coolest and most unique experiences to have in Madera County. The sugar pine railroad is an awesome vintage steam train that chugs through the woods of Sierra National Forest.
The railroad was originally constructed in the mid-1900s and operated by the Stauffer family to transport lumber from the Sierra Nevada mountains to the nearby town of Madera. You can learn all about the history of the railroad and the region from the guides during the train ride.
The railroad operates seasonally from mid-March through Thanksgiving weekend, although adverse weather can affect its opening schedule (it was sadly closed during our visit).
The railroad offers a number of rides ranging from 40 mins to 3 hours, with some rides offering dinner, live music and even performances on board.
14. Tour Nature of Wildworks
The Nature of Wildworks is a fantastic nonprofit organization located in Coarsegold, CA about 20 mins south of Oakhurst. The organization, run by Mollie Hogan and her dedicated team of volunteers, provides lifetime quality care for wild animals that can't be released back into the wild. With the goal of educating the public about wildlife and environmental issues, Mollie and her team offer guided tours of the facility and an opportunity to meet some of their animals.
We found the experience to be fascinating and very educating. The chance to see some of the wild creatures up close was an added bonus.
Max got really close and personal with one of the eagles who decided to mate with his shoulder, and we both got a chance to pet Bob, the bobcat, the sweetest ambassador for the facility.
To visit Nature of Wildworks, you'll need to call ahead to set up a tour. Call Mollie at (559) 692-9980 or visit their website to learn more about the organization and to support them via their Amazon Wishlist.
15. Discover Yosemite National Park
No list of best things to do in Oakhurst would be complete without a mention of the main attraction of the area – Yosemite National Park.
As mentioned before, the town of Oakhurst is located just 14 miles outside the South Entrance to the park and about an hour's drive from Yosemite Valley Floor, so it's easy to visit the park, even if it's just for a day. (Although we highly recommend visiting for longer)
If it's your first time visiting the park, don't miss the following:
Tour the Yosemite Valley Floor
Make sure you stop to admire the following:
Yosemite Falls,

the most famous attraction in the park and the tallest waterfall in North America, a must-see for any park visitor.

Half Dome,

a beautiful feature of the Valley Floor which can be seen from many viewpoints along the Valley Loop. For experienced hikers, this granite summit also presents an opportunity for some challenging Yosemite hikes.

El Capitan

is a huge granite monolith and another famous feature of the park, particularly popular with rock climbers and photographers alike.

Tunnel View

and

Yosemite Valley View

are two well-liked vantage points that provide spectacular panoramic views of Yosemite Valley and its well-known features.
See Giant Sequoias in Mariposa Grove
Mariposa Grove is the closest attraction for a Yosemite trip from Oakhurst. This majestic grove of giant sequoias is home to some of the oldest and tallest trees in the world, making it an awe-inspiring sight to behold.
To get to Mariposa Grove, you'll drive just 16 miles from Oakhurst, park at Mariposa Grove Welcome Plaza and take the free park shuttle or hike in on the Washburn Trail.
Once there, explore the Big Trees Loop, the Grizzly Giant, the Guardians Loop, and the Mariposa Grove trails. The Grizzly Giant is especially impressive, as it's a 3,000-year-old Sequoia.
Best Restaurants in Oakhurst
For such a small town, Oakhurst boasts a great selection of over 20 different restaurants. There is something here for everyone, with spots ranging from pizza joints to fancy, 3-course meal establishments.
Here are a few that we can recommend.
South Gate Brewing Company
South Gate Brewing Company is a top-notch brewery right in Oakhurst with a great vibe, delicious food and plenty of craft beer. As mentioned earlier in the article, South Gate Brewery does not take reservations, so be sure to plan your visit accordingly. Be prepared to wait a bit, especially if you are coming on the weekend or summer evening.
If you're looking to get the most bang for your buck, ordering a beer sampler and a bunch of appetizers – you'll get a chance to sample the most variety of brews and eats, and the portion sizes will not disappoint.
Restaurant & Cellar Bar at Château du Sureau
The dining options at Château du Sureau are prime for a special celebration. The hotel, a Relais & Châteaux property, offers upscale accommodation in Oakhurst, with gorgeous rooms and suites, a spa and lovely gardens. The on-site restaurant, Elderberry House, serves gourmet French cuisine with a seasonal 3-course and 6-course set menu, while the Cellar Bar serves cocktails, wines, and light fare in a more relaxed setting.
We dined at the Cellar Bar and were pleasantly surprised by the quality of food (spoiler alert: it's not your typical bar bites) and the creativity of cocktails on the menu. Plan to visit on Thursday to take advantage of the happy hour between 5:00pm-9:00pm, when signature cocktails and house wines are on offer for just $10.
Glow Cafe
Glow Cafe is a simple little coffee shop in town, and the perfect spot to get your caffeine fix in Oakhurst, CA. Tucked right off of Highway 41, this charming cafe has coffee, tea, and lots of delicious treats like cold-pressed juices, smoothies, and smoothie bowls.
The cafe is open daily from 8am-4pm, so you can get your fix any time between those hours! It's also a great spot to grab a picnic if you are heading out on a hike. The cafe has a convenient online order system.
Wild Fig Kitchen
Wild Fig Kitchen is located about 10 mins drive from Oakhurst, in a small town of Coarsegold, CA. This cozy restaurant with rustic charm was our favourite spot for breakfast and tea in the area.
The menu features a great selection of breakfast items, like burritos and scrambles, soups, salads, sandwiches and a great Sunday brunch. For something a little bit different, try the house-made wild fig tacos or the wild fig and bacon burger.
Where to Stay: Best Hotels in Oakhurst
There are lots of accommodation options in Oakhurst, with selections ranging from regular hotel rooms to glamping resorts, cabins and 5-star luxury properties.
We only spent a few nights in Oakhurst, and although we didn't get a chance to stay at all of the below properties firsthand, we visited them and felt like they deserved a spot on our shortlist.
Sierra Meadows
Sierra Meadows started out as a golf course and RV resort but has recently been converted into a cute glamping resort. Parts of the former golf course are being replanted with a drought-tolerant mix of native wildflowers and the new solar power array is just a few of the many eco-friendly initiatives on site.
The resort, located a short 7-mile drive from Oakhurst, offers a mix of regular 2-bedroom cabins, tiny cabins, and cute micro cabins, all equipped with everything you need for a comfortable stay. For units without a private shower, shared shower facilities are just a few steps away.
Cute hanging lights and an outdoor seating area make for a really fun and social environment, especially in the summer. Add to that hammocks, free bikes for hire, and hiking trails, and you've got yourself the perfect accommodation option in the Yosemite region.
Miller's Landing Resort
Miller's Landing Resort is a cozy family-owned cabin resort and campground situated on Bass Lake, with a stunning view of the lake and Sierra National Forest. It's just 10 miles away from Oakhurst and is open all year round.
The resort offers a variety of accommodations, including cabins, RV and tent campsites, as well as boat and watercraft rentals. There are plenty of activities happening at the resort, particularly in the summer, such as fishing, water skiing, wakeboarding, kayaking, and paddleboarding. There are also plenty of events and live music throughout the summer months.
While the property seemed quiet during our visit in April, it's undoubtedly a great spot to base yourself while enjoying Bass Lake or exploring the nearby Yosemite Park.
Château du Sureau
Château du Sureau is probably the most luxurious accommodation in Oakhurst that's worth booking if you are looking to celebrate a special event during your time in the region. This Relais & Chateau property offers upscale accommodation, a spa, and, as previously mentioned, a fine dining restaurant and a bar on site.
The property is stunning, surrounded by lush gardens, and its architecture is inspired by the French Renaissance. The chateau is known for its exceptional service and attention to detail and has won numerous awards and accolades over the years.
No matter where you decide to stay, book early to avoid disappointment, especially in the summer.
So there you have it! Everything you need to know about planning a great trip to Oakhurst, California!
Did we miss anything? Leave us a comment below!
Disclaimer: Big thanks to Madera County and Visit California for hosting us during our time in Oakhurst. As always, all opinions expressed in this article are our own.