There is so much more to Japan than the buzzing city of Tokyo and popular tourist destinations like Kyoto and Osaka.
*This post may contain affiliate links, as a result, we may receive a small commission (at no extra cost to you) on any bookings/purchases you make through the links in this post. As an Amazon Associate, we earn from qualifying purchases. Read our full disclosure
Lying to the north of Japan, the island of Hokkaido is a vast expanse of wild volcanic landscapes, lush national parks, abundant wildlife, and world-class ski destinations.
Hokkaido is a dream destination for nature lovers and adventure seekers looking to escape the hustle and bustle of the cities and immerse in nature.
Hokkaido's six national parks are full of breathtaking scenery, protected wildlife, and endless opportunities for outdoor adventures. Its volcanoes stand to teach many lessons about living in harmony with nature's powerful forces, and its indigenous Ainu people, deeply rooted in the island's history, offer plenty of unique cultural insights. This pristine island is a true sanctuary for those seeking an authentic, sustainable travel experience in Japan.
We were lucky to have spent more than 3 weeks exploring Hokkaido on our recent visit to Japan. We drove all around the island in search of unique cultural experiences, wildlife interactions, and opportunities to immerse in nature. This part of Japan quickly became one of our top experiences.
There is no shortage of things to do in Hokkaido. And contrary to popular belief, it's not just a winter destination. So buckle up and get ready to be mind-blown!
Here are the highlights of our trip, the best things to do in Hokkaido, plus some tips and tricks we picked up along the way.
Best Time to Visit Hokkaido
Winter
Hokkaido turns into a true winter wonderland during the winter months and is renowned as a winter destination. Regular snow falls make it the perfect time to ski or snowboard at one of Hokkaido's famous ski resorts. But aside from the ski resorts, Hokkaido is filled with fantastic winter experiences, from rare wildlife spotting opportunities to guided drift ice walks or drift ice cruises in east Hokkaido. You can also check out the hundreds of snow and ice sculptures at the annual Sapporo Snow Festival, held annually in February.
With temperatures getting down to -3℃ (26℉) this time of year, you'll need to bundle up when traveling to Hokkaido in the winter, but the unique winter experiences will be worth it.
Spring
Late Spring is cherry blossom season in Hokkaido, with blooms appearing in mid to late May. The best cherry blossom viewing spots include Nijukken Road, the Seiruju Temple, and Matsumae Park. Spring is also a great time to visit the island's many national parks, with snowmelt transforming the landscape and flora returning to life.
Spring in Hokkaido tends to be dry, but it's best to pack layers as the temperatures can get down to 2℃ (35℉) at night, with brisk sunny days warming up to around 13℃ (55℉)
Summer
Summer in Hokkaido is wonderfully warm without the humidity seen in mainland Japan. Temperatures rarely get above 30℃ (86℉) or below 10℃ (50℉). Summer is lavender season in Hokkaido, with fields in full bloom during the month of July. The Furano and Biei Flower Farms are world-renowned, and several lavender farms are open to tourists.
The Otaru Tide Festival is held every summer in the port city of Otaru, located about an hour outside Sapporo. Held every year since 1966, this festival celebrates the Sea of Japan and its importance to the community. The Sapporo Summer Festival, taking place in July/August in Odori Park, is another local event, with multiple beer gardens opening up in the city – enough to host 13,000!
Fall
Fall in Hokkaido can be cool and rainy, although that's not always the case. During our visit in early September, we enjoyed hot weather, no rain, no crowds and incredible wildlife sightings. By late September, the colours started changing, making Hokkaido even more picturesque.
The annual Sapporo Autumn Fest, taking place in September in Odori Park, is another great reason to visit Hokkaido in the Fall. This harvest and culinary festival is a great opportunity to sample dishes from around 300 vendors and to meet local wine, sake, and craft gin distillers.
There is plenty to see and do in the Fall in Hokkaido, so don't let the weather deter you. Pack layers, rain gear, and waterproof footwear if you plan to visit Hokkaido during this season.
How To Get To Hokkaido
By Plane
Hokkaido's main airfield is the New Chitose International Airport (CTS), located about an hour's drive from downtown Sapporo. Depending on where you are flying from, you will likely have a connecting flight from Tokyo to New Chitose Airport.
By Train
Japan's extensive rail network makes getting to Hokkaido by train easy. The scenic journey takes about 7-8 hours to reach Sapporo from Tokyo.
Take a Shinkansen (bullet train) from Tokyo to Hakodate, the southernmost city on Hokkaido. Take the Tohoku Shinkansen line from Tokyo to Shin-Aomori. Transfer to the Hokkaido Shinkansen at Shin-Aomori, which will take you under the seabed via the Seikan Tunnel to Hakodate, Hokkaido.
In Hakodate, you can transfer to a local train to Sapporo or continue to other destinations within Hokkaido. If you plan to travel extensively within Japan, consider purchasing a Japan Rail Pass (JR Pass) before your trip. This pass allows unlimited travel on JR trains, including the Shinkansen.
How to Get Around Hokkaido
By Car
Getting around by car is the most recommended transportation method in Hokkaido. A car gives you the flexibility to move to your own place and the ability to visit more remote areas in the area.
There are several car rental agencies at the New Chitose Airport, with rates ranging from $50-100 per day depending on the season. These include a collision damage waiver, personal accident insurance, and third-party liability. We always recommend booking car rental ahead of time to save on rental fees and get the best vehicles.
By Train or Public Transportation
If you would rather not rent a car, you can still get to many popular tourist destinations by train. The JR Hokkaido Rail Pass is available in 5,7, and 10-day options and services to Sapporo, Otaru, Furano, Kushiro, and a few other destinations.
However, it's worth noting that public transportation is a bit limited on the island. While it's easy to access in Sapporo, getting to tourist attractions by bus is a bit harder.
Guided Tour
Another alternative is to explore Hokkaido on a guided tour. Hokkaido Treasure Island is a reputable tour operator offering several private and group tours in Hokkaido. We traveled with them through parts of our itinerary in Hokkaido and can definitely recommend them to others.
Now that we've gotten logistical questions out of the way, it's time to get into the nitty-gritty details! Let's dive straight into our list of the best things to do in Hokkaido!
Things To Do In Hokkaido
Visit Sapporo City
As the prefecture's capital, Sapporo is Hokkaido's economic hub and cultural centre. With a population of over 2.6 million, Sapporo is Japan's fifth largest city, so you're spoilt for choice when it comes to arts, culture, and culinary attractions in the city.
Sapporo is probably known best for its namesake beer. There are now several breweries in the city, and the culinary scene has done well to keep up the pace. Great restaurants are plentiful in Sapporo, as well as more authentic experiences, like a visit to the Nijo Market. This fish market is located in the city centre and is the best spot to try a traditional fresh seafood breakfast.
Sapporo is known for its glowing cityscape at night. The Sapporo TV Tower, Odori Park, JR Tower, and Mt. Moiwa Observation Deck all offer amazing city views at night. Spend a few days in Sapporo to eat good food, check out some attractions, do some shopping, and get ready for your adventure into the wild!
See the Wildlife and Nature of the Shiretoko Peninsula
Located on the easternmost part of Hokkaido, the Shiretoko Peninsula is home to one of the country's most beautiful and unspoiled national parks. Traffic is strictly controlled, protecting the area's ecosystem and biodiversity.
Explore Shiretoko National Park
Covering nearly 390 square km of volcanic landscape and wild coastline, this UNESCO World Natural Heritage Site is characterized by steep, forested mountains, dramatic cliffs, and pristine coastlines. The park is home to numerous rivers, waterfalls, and hot springs. The Shiretoko Peninsula juts into the Sea of Okhotsk, creating a stunning juxtaposition of mountains and sea.
Shiretoko is famous for its diverse wildlife, including brown bears, red foxes, deer, and various bird species. The park is particularly known for its brown bear population. The waters surrounding Shiretoko are also teeming with marine life. You can find various fish species, including salmon and trout, and go on whale-watching adventures.
Go Hiking
Shiretoko offers numerous hiking trails that cater to different levels of hikers.
The most famous trek is the Shiretoko Five Lakes trail, which provides stunning views of the surrounding landscapes and wildlife. You can follow the boardwalk trail, accessible to all, or the forest trail, where bear spotting is more common, especially in the summer months.
Another popular 6 km hiking trail starts at Rausu Visitor Centre and offers a chance to venture into wildlife habitat.
The 2 km trail to the Furepe-no-Taki Falls is a great short trek option. This loop trail starts at the Shiretoko National Park Nature Centre.
For those up for a bigger challenge, the Iwaobetsu Trail offers just that. This 12 km out-and-back hike leads to the summit of Mt. Rausu and offers plenty of opportunities to spot wildlife and admire the park's scenery.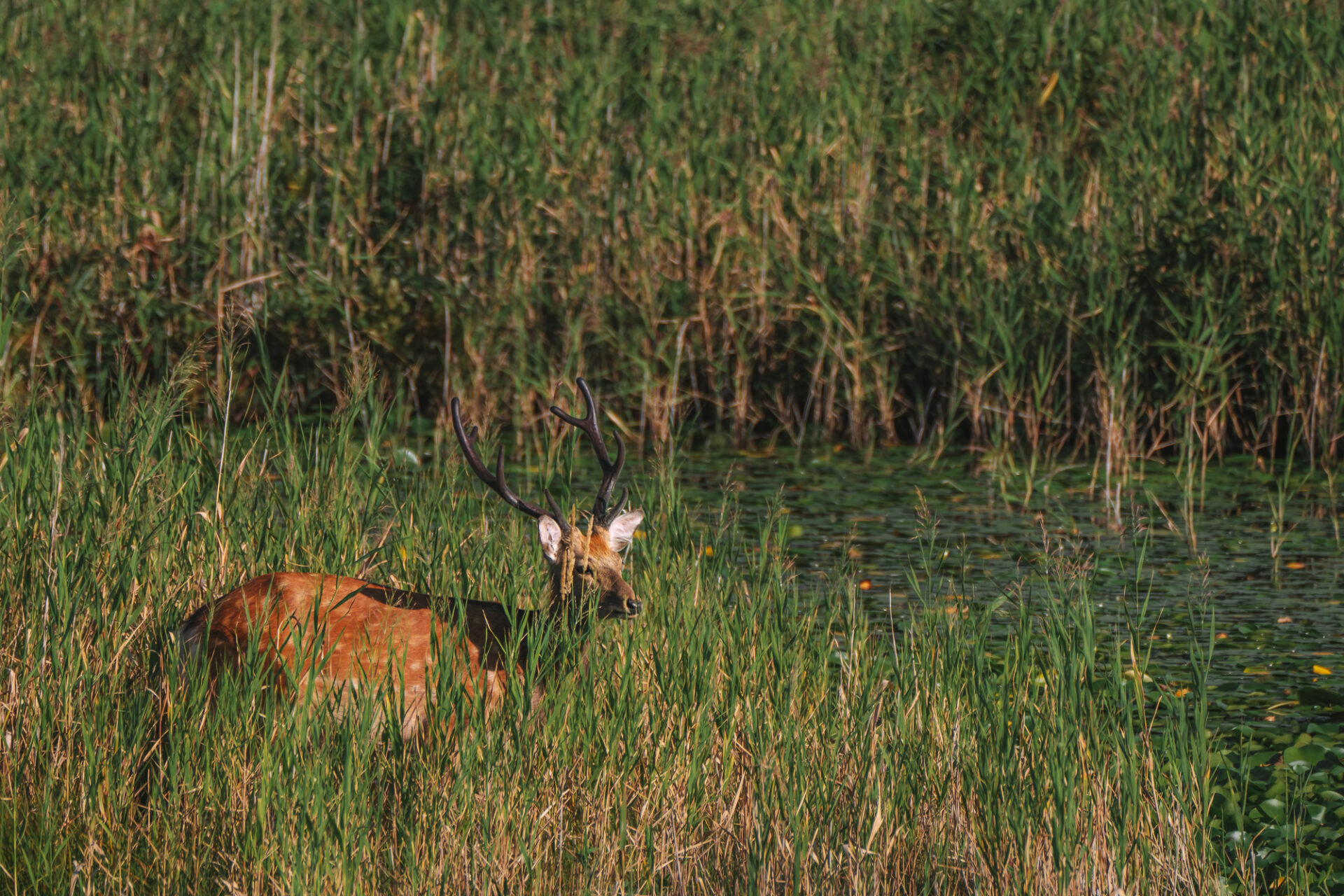 Join a Bear-Watching Cruise
One of the best ways to see the wild coastline of the Shiretoko Peninsula is to join a bear-watching cruise. This tour operates from late April through last October by the Shiretoko Sightseeing Ship, MS Aurora, and offers 3 routes starting from Utoro.
The tours range from 1 to 3 hours, with the longest route being the Secret Ground Shiretoko Route. This cruise goes all the way to the tip of the peninsula, offering a chance to see bears, seals, and dramatic waterfalls. Bring binoculars, as the ship travels far from the coastline, making it harder to spot wildlife on shore.
Drive Down Shiretoko Pass
Shiretoko Pass connects Utoro, on the west coast of the peninsula, with Rausu, a fishing village on the east coast on the east coast of the peninsula. This 30 km scenic road is open from late April to early November.
Explore Rausu
Once you get to Rausu, take some time to explore the town. Stroll through the village, grab lunch at one of the restaurants, and check out the shops. You'll find a variety of local produce, dried fish, kelp, and other cool and unique items on offer.
Join a Whale Watching Tour
After the drift ice melts in the early summer, the waters surrounding the Shiretoko Peninsula become abundant with dolphins, whales, including minke and sperm whales, and orcas. Whale tours depart from Rausu and run along the Nemuro Strait, known to have one of the highest populations of orcas in the world.
You can also take a private boat tour with a local guide for an up-close look at the brown bears roaming along the coastline. These tours leave from Rausu and last around three hours.
Go On a Drift Ice Cruise
If you visit Shiretoko National Park in the winter months, you'll find a few other activities here.
Wildlife Watching: You can see Steller's sea eagles, white-tailed eagles, and other birds of prey, as well as the famous Blakiston's fish owl. The park is also known for its red foxes, sika deer, and seals.
Ice Drift Sightseeing: Take a Winter Drift Icea Cruise to see the sea covered in ice floes. This unique experience offers the chance to spot seals and seabirds on the floating ice.
Winter Hiking and Snowshoeing: Some park trails are accessible during winter. Snowshoeing or winter hiking in the park can be a great way to explore its beauty. Be sure to check trail conditions and weather forecasts before heading out.
Hot Springs (Onsen): Warm up and relax in the park's hot springs, like Kamuiwakka Hot Falls. There's nothing quite like soaking in a hot bath while surrounded by snowy landscapes.
Visit Daisetsuzan National Park
Covering 2,267 square km, Diasetsuzan is Japan's largest national park. Located about a 3.5-hour drive from Sapporo, this park is home to Mt. Asahidake, the tallest mountain in Hokkaido.
If you're limited on time, make the most of it by taking in views from the summit of Mt. Asahidake. The Asahidake Ropeway offers cable car trips to Sugatami Station, from which you can hike the rest of the way to the summit.
There are plenty more hiking trails and guided walks offered by the park. The Momijidani Trail is popular and less strenuous than the mountain trails. The trail starts at the hot springs of Sounkyo Onsen and follows through an alpine forest to the Momiji Waterfall, offering scenic sights along the way. This hike only takes about 2.5 hours, so you'll have the rest of the day to explore more.
On the other side of the park, you'll find Kurodake Ropeway, which provides a scenic ride to Kurodake Mountain, offering breathtaking views of the surrounding landscape. The upper station serves as a starting point for hikers, granting access to various trails that lead to Kurodake's summit and nearby peaks. In the winter, it's used for skiing and snowboarding, while during the summer and fall, it caters to hikers and nature enthusiasts.
There is also a trail to the summit of Mount Kurodake, which is a bit more challenging and estimated to take about 5 hours. This hike is especially popular during the Fall when you can get sweeping views of the foliage through the valley.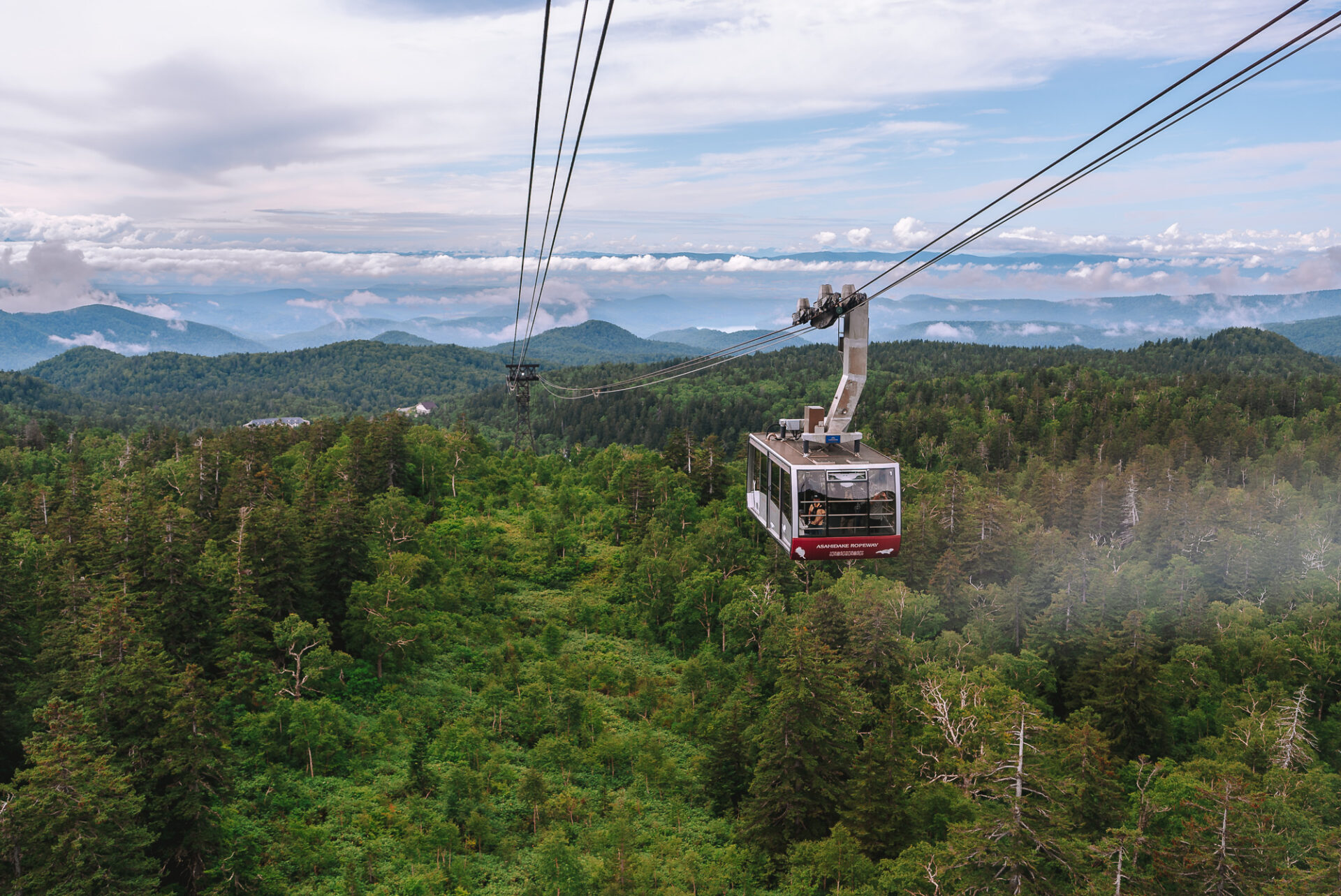 Explore the Furano-Biei Area
Located near the centre of the prefecture, the Furano-Biei area is famous for flower fields, the Shirogane Blue Pond, and winter sports. This area is one of the most popular tourist attractions on the island and a must-see while visiting Hokkaido.
Visit a Flower Field
Furano is famous for its lavender fields, which bloom in full splendour from late June to early August. In addition to lavender, Furano's flower fields showcase various colourful blooms, including poppies, sunflowers, tulips, and more. These fields are typically at their best from late June to early September.
The Shikisai-no-oka Panoramic Flower Gardens feature sweeping fields of flowers in bloom from early May to early October. Peak bloom season for the Shikisai-no-oka Gardens is in the height of summer, which is the perfect time to visit the Furano lavender farms to the south.
Farm Tomita pioneered lavender cultivation in the area, and this 120+-year-old farm has several flower fields, greenhouses, and gardens open to visitors. Farm Tomita is famous for their lavender soft-serve ice cream and the onsite perfume workshop where you can create your own scent.
Taste the Furano Melon
While you're visiting the lavender fields, treat yourself to a taste of the famous Furano melon. This is one of the most expensive melons in the world. Prices vary by season, but don't expect to pay less than USD $50 per melon in season! Tomita Melon House, located next to Farm Tomita, offers slices of Furano melon, along with ice creams and pastries made with the fruit.
Admire the Famous Blue Pond
Located in Biei town, Shirogane Blue Pond is another popular tourist destination in the region. This picturesque lake is famous for its bluish-white colour and surrounding white birch forest. The pool has been featured in many viral Instagram posts, drawing crowds from all over the world for that Insta-worthy snap.
While the Shirogane Blue Pond is beautiful, it gets very crowded with tour groups. If it's a must-see on your Hokkaido itinerary, try to get there bright and early, otherwise, consider giving this Instagram-famous attraction a miss.
Visit Lake Akan Area
Located in Akan National Park, Lake Akan is one of three crater lakes created by volcanic eruptions dating back over 150,000 years. It is renowned for its beautiful natural landscapes, outdoor activities, and the indigenous Ainu culture.
See the Famous Marimo
Lake Akan is particularly famous for Marino – rare, bright green spheres of algae that are only found in a few places in the world. The best way to see and learn about this natural phenomenon is to join an Akan Sightseeing Cruise.
This guided tour takes you to the Marimo Exhibition and Observation Centre on Churui Island, located on Lake Akan, and allows you to learn more about this natural phenomenon.
Visit an Ainu Village
There are many communities of indigenous Ainu people in Hokkaido. The village of Ainu Kotan, located in the Lake Akan area, is the largest Ainu community on the island and is well worth a visit. Stroll the street, pop into shops, meet the artisans, and grab lunch at Poronno, a coffee shop serving traditional Ainu cuisine. Try their lunch set, and don't forget to order sweet potato pancakes for dessert.
Explore the Other Crater Lakes
Aside from Lake Akan, two other lakes are worth visiting in the region.
Lake Mashu is considered to be one of the world's clearest lakes. There are three observation points perched on the rim of the caldera, and on clear days, you can get marvellous views of the lake. Lake Mashu is known for a thick fog that settles on the water's surface, a phenomenon known as the "sea of clouds."
Lake Kussharo is Japan's largest caldera lake and a popular spot for water sports like kayaking and canoeing. Geothermal activity keeps the lake waters warm, making this a migration destination for whooper swans during the winter.
There are also hot springs on the shore. Take a walk along the 2.5 km nature trail at Lake Kussharo, which crosses a sandbar, follows the shore of a peninsula, and between steaming volcanic vents.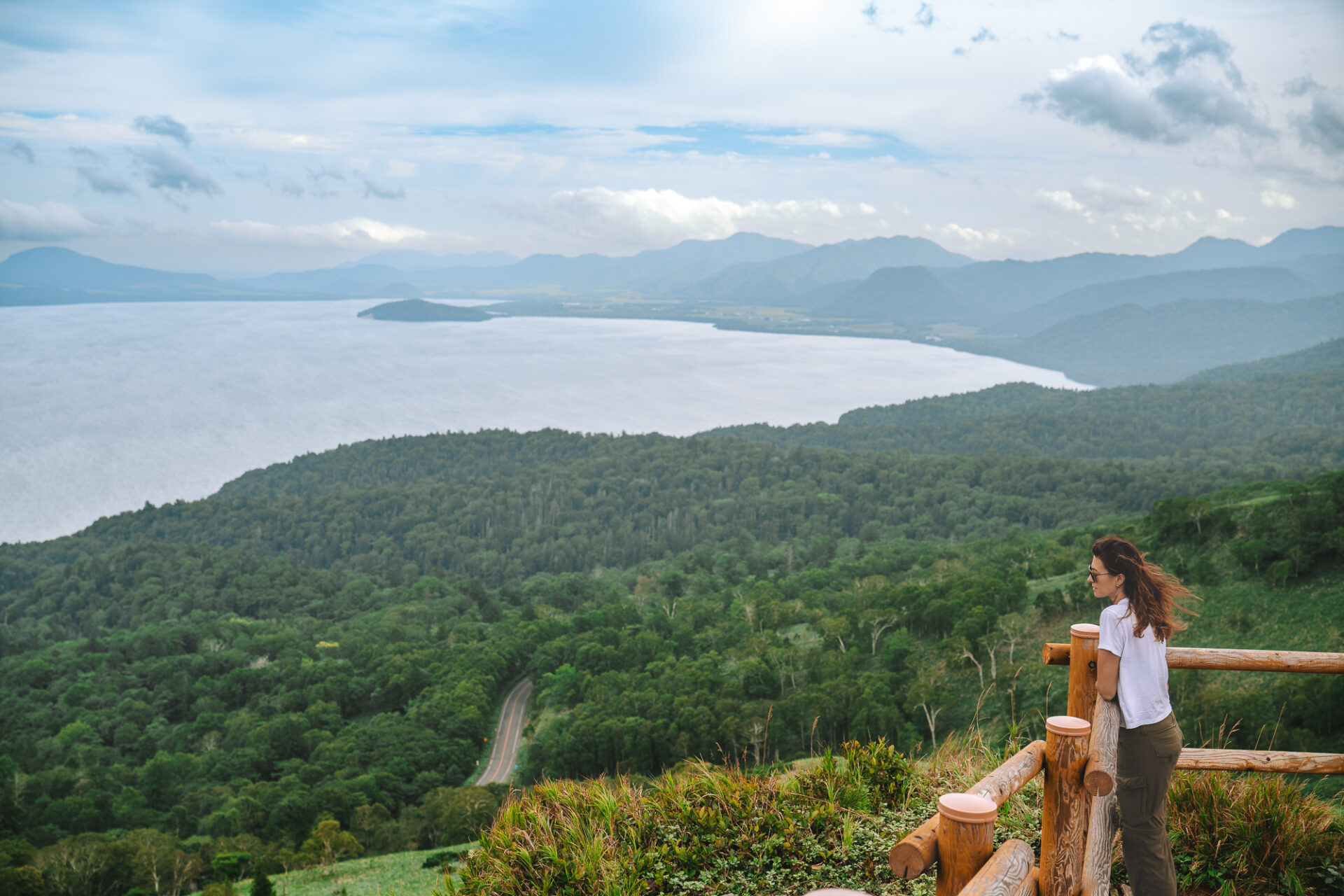 Visit Mt Io
Mount Io, located in the Lake Akan region, is the area's most active volcano, and a visit here is one of the most unique things to do in Hokkaido. Mount Io is an active stratovolcano, which means it has a conical shape and is composed of alternating layers of solidified lava, volcanic ash, and other volcanic materials. It is known for its frequent fumarolic activity, where steam and volcanic gases are released from fissures and vents on the mountain. The mountain's name, "Io," means "sulphur" in the Ainu language, which reflects the presence of sulphur deposits and the odour in the area.
While the summit of Mount Io is not easily accessible due to its ongoing volcanic activity and potential hazards, there are well-marked hiking trails around the base of the mountain that provide excellent views of the volcanic landscape. These trails take you through sulfuric terrain, and you can observe steam vents and bubbling mud pools. It's a unique opportunity to experience the geothermal features of an active volcano.
See the Japanese Cranes at Kushiro National Park
Located in eastern Hokkaido, the Kushiro Marshland is Japan's largest wetland habitat and home to the last endangered Japanese Cranes.
Less than 100 years ago, the Japanese Crane population had dwindled to about 20 birds due to overhunting and habitat destruction. Now, over 1,000 Japanese cranes can be found in the marshes around Kushiro, and they're pretty amazing to watch.
The park has feeding stations where you can watch the cranes mingle and dance.
Watch the Sea of Clouds from Unkai Terrace
Located about 2 hours from Sapporo, the Unkai Terrace is a famous observation spot from which you can view the seas of clouds that settle over mountains and lakes. At over 1,080 metres tall, the terrace soars over the valley below, and the observation decks are perfectly positioned to where you can see the clouds below.
To get to the terrace, you'll have to take a quick gondola ride up from Hoshino Resorts Tomamu. This is a great spot to watch the sunrise, as gondolas run super early in the morning. Bundle up for the cold, and grab a hot tea or coffee from Kumo Cafe when you get to the terrace.
Visit the National Ainu Museum and Park
Better known as Upopoy, this complex features interactive exhibits that offer an in-depth look at the indigenous Ainu people.
The onsite museum houses exhibits about Anui culture, spirituality, and customs. An open-air park has several walking paths to explore, stopping by experience centres where you can learn about Ainu craftworks, traditional cuisine, and music.
At the Cultural Exchange Hall, an amazing music and dance performance occurs a few times a day. It's a must-watch!
Located about 1.5 hours south of Sapporo, Upopoy is an excellent destination for a day trip, as there are plenty of other attractions nearby.
See Lake Toya and Mt Usu
If you plan to visit the National Ainu Museum and Park, consider adding Lake Toya to your day trip itinerary. Located slightly over an hour west of the museum, Lake Toya is part of the Shikotsu-Toya National Park.
In addition to this picturesque lake, this region features hot springs and the active volcano Mount Usu. The Usuzan Ropeway offers a cable car ride to the summit of Mount Usu, where there is an observation deck and path around the volcano rim.
To learn more about the 2000 eruption of Mount Usuzan and Mount Nishiyama, join a guided tour that starts at the Toyako Visitor Center and Volcano Science Museum.
The views from the summit of the mountain are pretty spectacular. There is also a popular rim trail at Mount Usu, known as the Usu-zan Ropeway Rim Trail. This trail offers visitors the opportunity to hike around the rim of the active volcano and provides stunning panoramic views of the volcanic landscape. The trail is well-maintained and relatively easy to walk, making it accessible to hikers of various skill levels.
Stop By Hell Valley
Located about an hour from Lake Toya, Noboribetsu Jigokutani is a volcanic landscape of bubbling hot springs, geysers, and fumaroles. Also known as Hell Valley, this stark and fascinating landscape is transected by elevated boardwalks, but be prepared for the strong sulphur smell.
Explore the Beautiful Village of Kuromatsunai
Located in southern Hokkaido, the charming town of Kuromatsunai is known for the Utasai Forest Park, a beautiful beech forest surrounding the village. This beech forest is beautiful no matter what time of year you visit, but the vivid yellow foliage during the fall season is what makes this village famous.
One of the best ways to explore this area is to rent a bike – the town is small, so you can easily see the beech forest, local farms, and the town in a day.
For an immersive experience where you get to experience rural Japan, consider joining a guided tour like we did. Our adventure to this area was organized by Hokkaido Island Treasure, a local tour operator that offers customized private tours throughout Hokkaido.
Go Hiking at Rishiri-Rebun-Sarobetsu National Park
Located on the northwestern tip of Hokkaido, Rishiri-Rebun-Sarobetsu National Park covers over 212 square km of volcanic mountains, islands, and alpine meadows famous for wildflower blooms.
During June and July, the wildflowers are in full bloom here. Hike the Momoiwa Trail, which weaves through fields of wildflowers and along the shoreline cliffs of Rebun Island, known locally as the Island of Flowers.
Two hiking trails lead to the summit of Mount Rishiri, both taking about 5 hours to reach the mountaintop. From here, you'll have sweeping views of Rishiri Island and the Sea of Okhotsk to the north.
Hit the Slopes in Niseko
This famous winter resort town is known for having the best ski slopes, with light powder snow and a spectacular backcountry.
There are three interconnected large resorts covering half of Mount Niseko-Annupuri, with smaller resorts along their perimeter. There are a whopping 800 skiable hectares to enjoy in Niseko.
Niseko is home to over 20 onsen, mineral-rich hot springs that are wonderful for soothing joints and muscles. Some are accessed through hotels or resorts, while others are independently operated. This guide will help you locate the perfect hot spring.
Fantastic ski slopes aren't the only attraction in Niseko. There are lots of outdoor activities for every season. You can hike the Mt. Annupuri trail, go river rafting, kayaking, or canyoning.
Climb Mount Yotei
Located in Shikotsu-Toya National Park, Mount Yotei is Hokkaido's answer to Mount Fuji. Mount Yotei's symmetrical shape is similar to that of Mount Fuji. Among Japan's 100 famous mountains, this 1,898-metre-high active volcano is a popular hiking destination during the summer months.
The hike to the summit ascends over 1,500 metres and can be completed during a day trip. The trails are pretty steep and challenging, so allow yourself between 6 to 8 hours for the hike, plus an extra hour or so for breaks and sightseeing.
Visit the Coastal City of Hakodate
Located on the southeastern coast of Hokkaido, this 19th-century port city has an important place in Japanese history. Hakodate was among the first Japanese ports to open to international trade after the country's era of isolation, and you can see western influence all around the small harbour city.
Explore Historic Hakodate
Visit Fort Goryokaku, a star-shaped western-style citadel built to defend Hakodate during the Edo Period. The fort was eventually turned into a public park, and the city planted over a thousand cherry blossom trees along the fort's moats.
This is one of the most popular spots in Hokkaido to view cherry blossoms, with the peak of the blooming season taking place around early May.
Wander Through the Morning Market
Don't miss the Hakodate Morning Market, located steps away from JR Hakodate Station. The market spans 4 city blocks and features dozens of stalls selling fresh, high-quality seafood and produce.
Take in Views of the City and Sea
For sweeping views of the city and sea, take a trip to the top of Mount Hakodate. Take the Mount Hakodate Ropeway up to the observation deck, which runs a gondola every 15 minutes during the day and every 5 minutes at night. This is a popular destination for night views of the cityscape.
As you can see, there is no shortage of things to do in Hokkaido. We managed to see 90% of destinations on this list in our 3 weeks on the island, but we feel like we can not wait to experience more.
From what we learned, Winter in Hokkaido is a whole other ball game and an opportunity to discover even more unique things to do in Hokkaido. It won't be long before we return for more!