Tokyo, Japan, is easily one of the most fascinating cities in the world and a bucket list destination for many travelers (us included). All things fast-paced, quirky, futuristic, traditional, and vibrant, Tokyo is the beating heart of Japan and the perfect introduction to the country. It's a vast metropolis, divided into various mini-cities and countless districts, altogether home to over 30 million people.
*This post may contain affiliate links, as a result, we may receive a small commission (at no extra cost to you) on any bookings/purchases you make through the links in this post. As an Amazon Associate, we earn from qualifying purchases. Read our full disclosure
Despite its popularity, Tokyo lives up to the hype with endless things to see and do to keep you busy for days. From shrines and temples to palaces and gardens, themed cafes, busy streets, and 24/7 nightlife, Tokyo is anything but boring. And it's a destination that keeps giving!
We don't claim to know everything there is to know about Tokyo. But having now visited the city twice and spent over two weeks exploring its popular attractions and hidden gems, we feel like we can share a few tips and advice with first-time travelers.
We loved everything about the city, from the chaotic Shibuya Crossing to the soothing Sensō-ji Temple. This is a city that combines ancient culture and modernity unlike anywhere else.
With so much to see and do, Tokyo is not a destination you want to visit without a plan. And while you can spend a week or more exploring the city, a 3 day Tokyo itinerary is just about right for first-time visitors.
3 days in Tokyo allow you to jam a good variety of activities and attractions, but only if you are organized and ready for a big day of exploring.
We've done the hard work of planning the days for you, so we hope this Tokyo itinerary helps you plan the perfect trip to Japan's ultimate city destination.
How to Get to Tokyo
Before we get into the best way to spend 3 days in Tokyo, let's talk about getting into the city (it's a bit tricky).
Tokyo has two international airports, Haneda Airport (HND) and Narita International Airport (NRT). The good news is that both have good transport options to get you into the city center relatively fast.
From Haneda Airport
The closest of the two airports to the city, Haneda, is just 18 km (11 miles) from the city center on Tokyo Bay. It's well-connected to the city with plenty of transport options including train, bus or taxi. The quickest option is by train, with the Airport Express leaving every 30 minutes to Shinagawa Station. There, you can change to another line to head into the center. The trip should cost US$4-6, or you can also purchase 24, 48 or 72-hour subway tickets.
The other public transport option is to take the Express Airport Bus (our preferred option), which will take around an hour to get to Shinjuku Station. Depending on where in Tokyo you want to go, there are other shuttles and buses available at Haneda. Check the different timetables here.
From Narita Airport
Narita Airport is located around 60 km (37 miles) from Tokyo, so it takes a bit longer to get to the city from there. However, you still have good options for transport, including bus, train and taxi. Considering the distance you'll have to cover, the train is the best way to get from Narita to the city.
The fastest train is the JR Narita Express, which takes under an hour. A regular ticket for this train will set you back about 3000 yen or US$20. The other option is the Keiser Skyliner Train, which also takes less than an hour and can be purchased with daily or multi-day subway tickets starting from 3000 yen or US$20.
Best Time to Visit Tokyo
The best time to visit Tokyo is Fall or Spring. However, each season can offer something different depending on what you want to see and do.
Spring
We've all seen those dreamy photos of the cherry blossoms on our social feeds. Well, spring is the peak cherry blossom season in Tokyo and elsewhere in Japan. For this reason, Tokyo can be extremely busy with tourists, especially between March and April.
In late April and early May, Tokyo celebrates Golden Week with events and festivals throughout the city. Temperatures also start to warm up into the 60s°F (between 15-20°C) by April, so it can be a nice time to wander around the city, but you'll have to battle against crowds and high prices.
Summer
Summer is considered the high season in Tokyo. You'll have to contend with both the crowds and the heat and humidity. Temperatures rise into the high 80s °F (high 30s °C), which can make it a little uncomfortable to be walking around during the day. Summer is also Japan's rainy season, so you can expect bursts of rain in between the sun.
Fall
Fall is the perfect season for visiting Tokyo. You might not get to see the cherry blossoms, but if you time you visit well, you can admire the fall foliage instead. As Fall sets in, temperatures tend to drop into the 70s F (low 20s °C) during the day, making walking around the city and exploring the sights more comfortable.
However, Fall weather can be a little finicky, particularly in September. It can still be a bit rainy, or very humid and hot. So we recommend planning a trip in October to ease some of that uncertainty and get the most of your 3 day Toky itinerary.
Winter
Winter is the lowest season for tourism in Tokyo, as the city can get quite cold. While days are bearable, with temperatures hovering around the low 50s° F (10-15 °C), the nights can get extremely cold, dropping to 35 °F (1 °C). Over the Christmas and New Year period, the city comes alive despite the cold, and you can enjoy beautiful lights around the city.
3 Days in Tokyo Itinerary
Planning to spend 3 days in Tokyo? You are not alone. You might be curious to learn that most first-time visitors to Japan will spend 3 days exploring Tokyo.
So, it's no surprise that we've compiled this guide to help you see the best districts, sights, and attractions in your short visit. This is a tried and true itinerary, one that we followed ourselves on our recent visit. Starting with the historical parts of the city and moving to the more bustling modern business and shopping districts, this 3-day itinerary will ensure you get to sample all the different parts of Tokyo. Ok, let's jump into it!
Day 1: Historical Tokyo
Your first day in Tokyo should be dedicated to exploring traditional Tokyo and the historical and cultural sights around the city center. With an early start, here's how to spend your first day on this Tokyo itinerary.
Morning: Explore the Imperial Palace
Explore the city's historical center by heading to the Tokyo Imperial Palace. Located on the former site of Edo Castle, originally built in 1457, the Imperial Palace is a beautiful garden and royal palace complex surrounded by old stone walls and a moat. It's just a 10-minute walk from Tokyo Station, so it's accessible by metro from most places in the city.
The palace is the current home of the Imperial Family, so the inner grounds are closed to the public for most of the year. But it's still worth visiting the parks and gardens, which are free to visit.
Don't miss:
Imperial Palace East Gardens: These beautiful gardens are located on what was once the innermost circles of Edo Castle. The gardens consist of a large lawn, manicured gardens with seasonal flowers and trees, and some remains of the former castle. The gardens are closed on Mondays, Fridays, and special occasions.
Nijubashi Bridge: The name "Nijubashi" translates to "Double Bridge" in English, and it refers to the pair of bridges that make up the structure, the stone bridge called "Meganebashi" (Eyeglass Bridge) from the Edo period and an iron bridge from the Meiji era. This entrance to the Imperial Palace has immense historical significance. Although access to this area is restricted, visitors can witness the Changing of the Guard ceremony on the bridge.
Guided tour: We highly recommend taking the free guided tour of the gardens, which takes just over an hour and is held twice a day in English and Japanese. The tour gives you an incredible insight into the history of the complex and makes for a much more meaningful visit. Spots are limited, so book in advance here.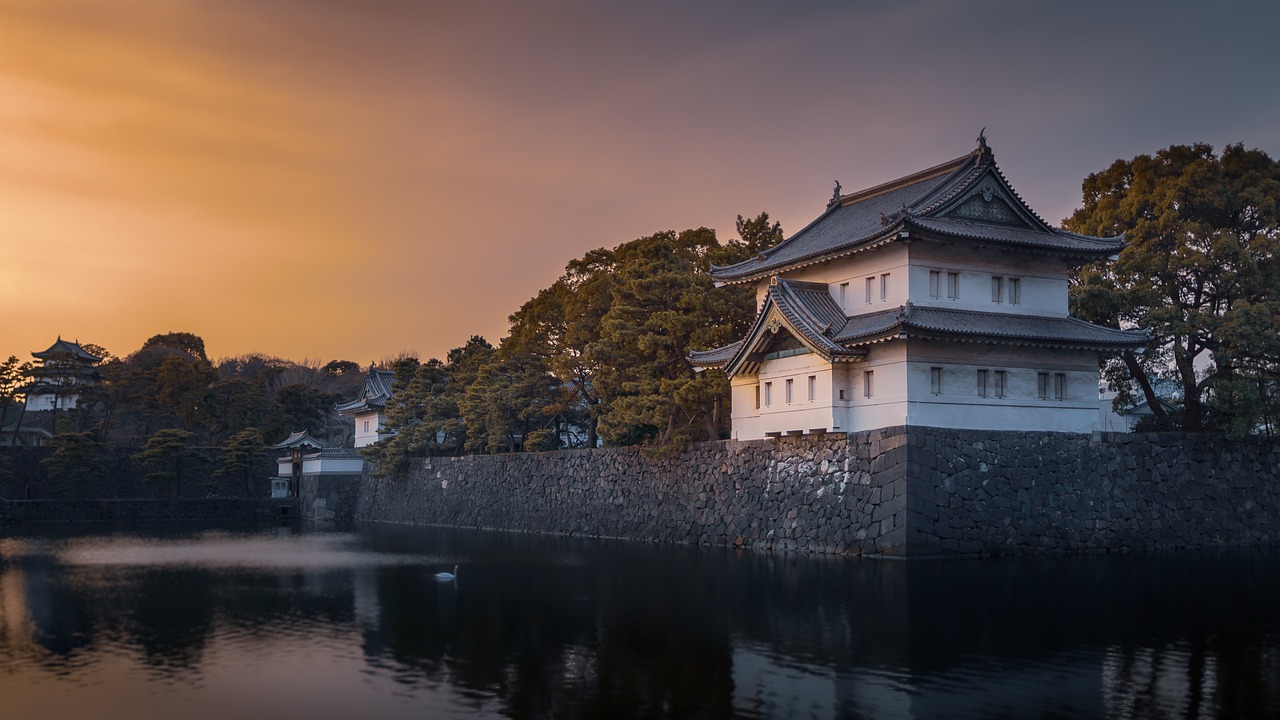 Lunch: Near Imperial Palace or Asakusa
Once the hunger hits, we suggest checking out one of the following places for lunch.
Marunouchi Area: Not far from the Imperial Palace around Tokyo Station, this central district is home to many places serving Japanese and international cuisine. We particularly love Tokyo Ramen Street, located in the basement of Tokyo Station. Here, you'll find the best ramen options in the city. However, prepare for long lines around lunchtime, as it's incredibly popular. If you need help selecting the shop, Rokurinsha Ramen is a good option, but there are lots of alternatives. You really can't go wrong with any spot here!
Asakusa: To get a head start on your afternoon, head to Asakusa, where you'll find several eateries offering traditional Japanese dishes like tempura, udon, or soba. Grab a bite before you get to Nakamise Shopping Area, as there is not much other than snacks and sweets as you get closer to Senso-ji Temple.
Afternoon: Visit Asakusa District
Head north of the city center and explore the Asakusa neighbourhood for the afternoon. Retaining the old Tokyo vibe, this area has plenty of sights and experiences to keep you busy for a few hours.
Don't miss:
Senso-ji Temple: Located in the heart of Asakusa, this ancient Buddhist temple is one of the most beautiful places in the city and Tokyo's oldest temple. Its main features include the Kaminarimon (the Thunder Gate), the main entry, a five-story pagoda, and the Asakusa Shrine.
Nakamise Shopping Street: Leading from the outer gate towards Senso-ji Temple, this bustling shopping street is over 200 meters long and is filled with souvenir stalls and snack shops selling traditional Japanese goods.
Time you visit to Asakusa with the golden light of the late afternoon, head across the Sumida River from Asakusa to the Tokyo Skytree. It's the world's tallest freestanding broadcasting tower at 634 meters (2000 ft). Similar to the Tokyo Tower or Tokyo Metropolitan Government Building, it has an observation deck boasting panoramic views of Tokyo. You can purchase tickets in advance to save 300 yen on the entry.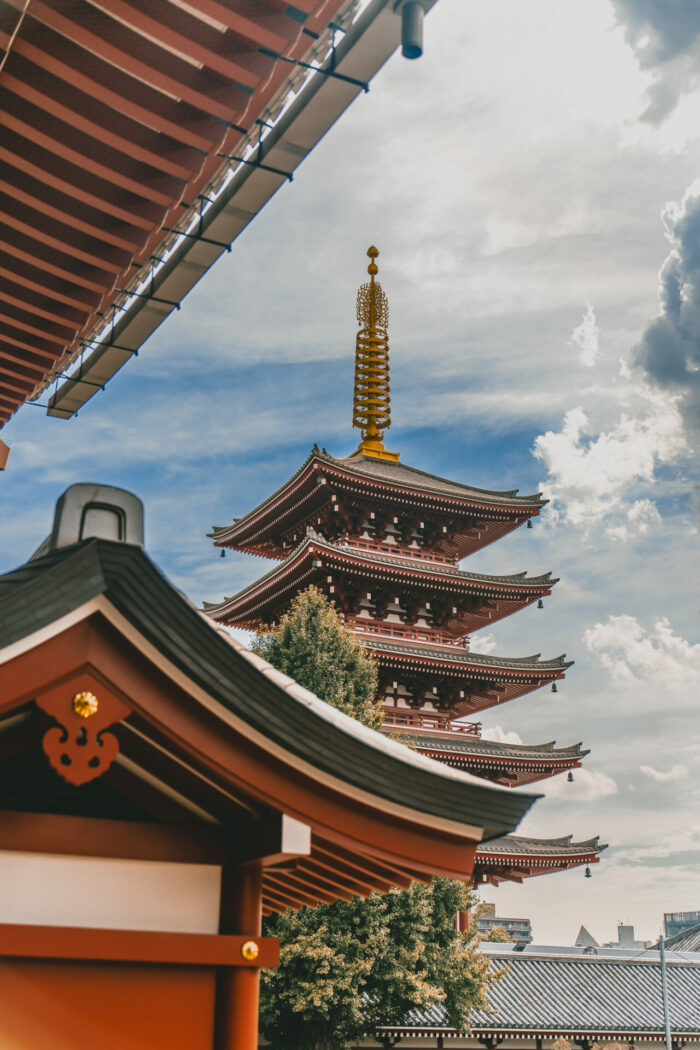 Evening: Romantic Dinner Cruise or Street Food in Yanaka
In the evening, you can choose between a couple of activities. Take a dinner cruise down the Sumida River for a romantic night out. Enjoy up to three hours on a traditional Yakatabune houseboat cruise with a very authentic Japanese dinner as you admire the city skyline by night.
Or, head over west and end your day in the historic Yanaka district for dinner. This old town district is home to quirky Japanese architecture and plenty of street food stalls, especially along Yanaka Ginza. There are plenty of shops to sample Sake, Manju (Japanese cake), dumplings, and more.
Day 2: Modern Tokyo
Switch gears and explore the more modern and cosmopolitan side of the city on day 2 of this Tokyo itinerary. You'll visit famous places like Shibuya and Harajuku and sample more amazing Japanese street food.
Morning: Explore the Bustling District of Shibuya
You can't say you've visited Tokyo without exploring the Shibuya district. The quintessential Tokyo experience, Shibuya is a business district with a busy atmosphere that Tokyo is known for.
Of course, its most famous attraction is the Shibuya Crossing, found just outside Shibuya Station. As one of the busiest crossings on the planet, Shibuya Crossing sees an estimated 3,000 people crossing it simultaneously. Walking across the road with a sea of other people is one of Tokyo's iconic experiences. Alternatively, head over to Starbucks at the crossing and grab a seat on the second level for incredible views of the chaos at play below.
For an even more unique way of exploring Shibuya, join one of the go-kart street tours. You can drive a kart across the famous Shibuya Crossing dressed in your favourite costumes from comics or anime. This was one of our favourite activities in Tokyo and one we highly recommend. Book ahead and be aware that you'll need an international driver's license to join in the fun.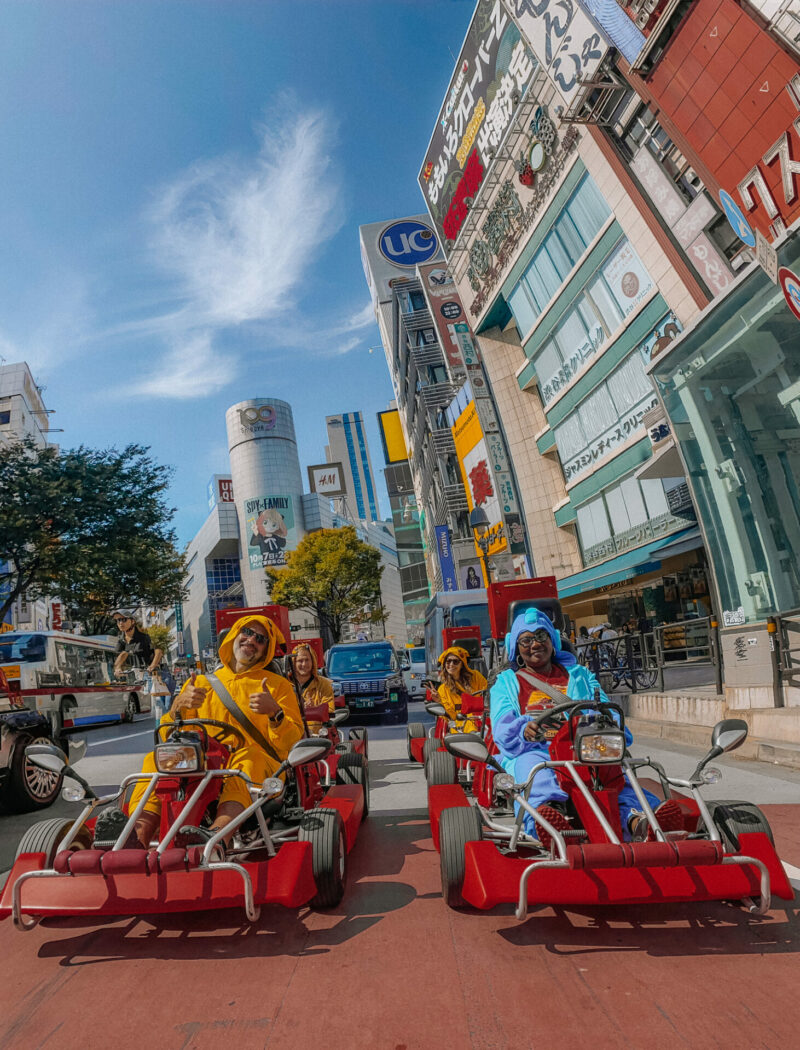 Lunch: Sample Some Ramen
Sample one of the most iconic meals in Japanese food: ramen. A Japanese noodle dish that consists of Chinese-style noodles, served in a broth with added flavours from soy sauce and miso, and usually added toppings such as vegetables or sliced pork.
Try the local Ichiran chain, just a short walk from Shibuya Crossing. This famous ramen chain is known for its specialty – tonkatsu ramen (pork bone base).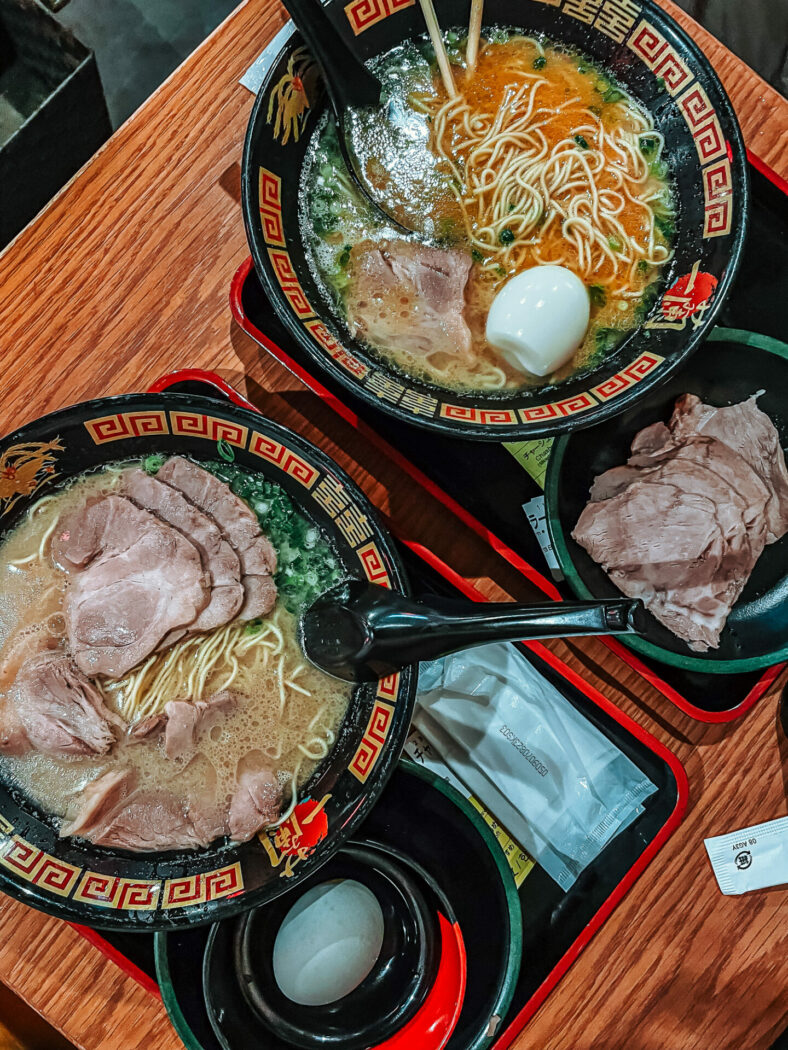 Afternoon: Visit Harajuku
Take the subway from Shibuya Station to Harajuku Station or simply walk 10-15 minutes on foot, and you can explore Tokyo's weird and wonderful Harajuku district. One of the best places to soak up Japanese culture, Harajuku is known for its vibrant fashion, shopping, and tasty sweets.
Best things to see in Harajuku:
Takeshita Street: The ultimate shopping and quirky food destination in Tokyo, wander along the chaotic and crazy Takeshita Dori to soak up the atmosphere and eat all the weird and wacky snacks and sweets along the way. Yes, they are touristy but still so fun!
Cat Street: For a more offbeat experience, head to Cat Street, hipster central for the younger generations. Lined with unique clothing stores and stylish cafes, it's the new "it" place worth exploring in the area. Give yourself enough time to pop into some shops and indulge in Tokyo retail therapy.
Meiji Shrine: If you're looking for calm and tranquillity amidst the chaos, wander over to Meiji Shrine and Yoyogi Park, which covers a beautiful forested area. You can reach the main complex of shrines in just a 10-minute walk from the entrance. It's free to visit.
Shinjuku Gyoen National Garden: For more green spaces, head a bit north to Shinjuku Gyoen, a former estate with a diverse garden and grassy expanse just next to the famous Shinjuku Station.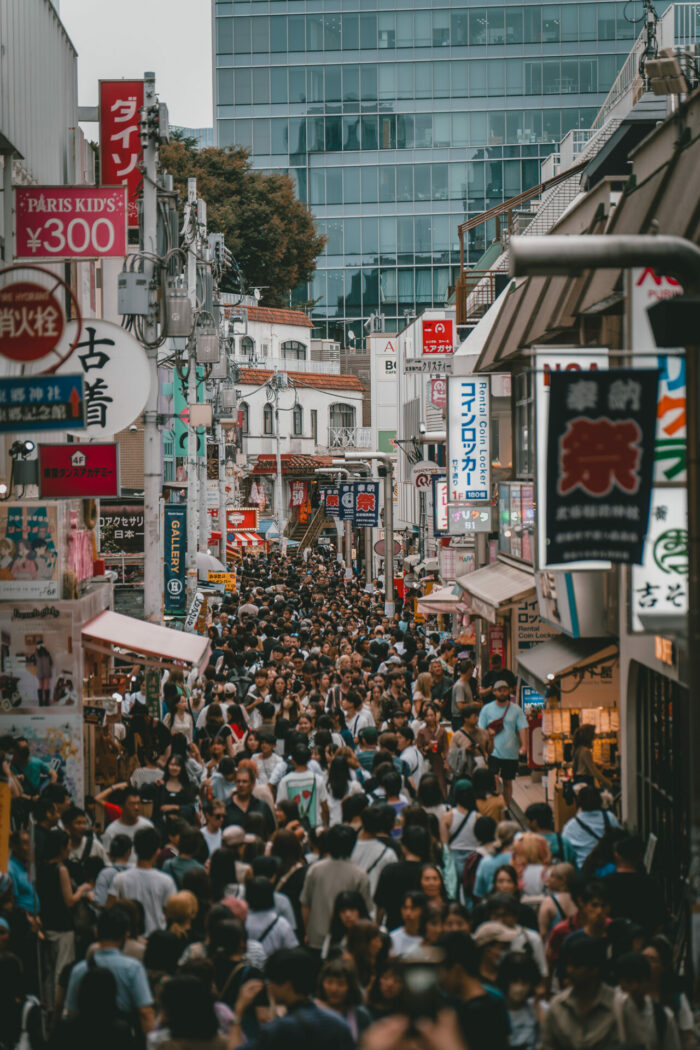 Dinner: Try Okonomiyaki in Omotesando
Just a short walk east of Meiji Shrine and Harajuku is the more upscale neighbourhood of Omotesando. Here, you'll find edgy architecture and trendy cafes contrasting with Harajuku.
It's an excellent area to try okonomiyaki, a savoury cabbage pancake served with various toppings. We recommend Harajuku Okonomiyaki Yai-yai, a stylish spot that often has a long queue, or Sakura-tei, a casual eatery with quirky Japanese art covering the walls.
Day 3: Tokyo's Modern and Cultural Blend
The final part of our 3 days in Tokyo itinerary offers a blend of modernity and tradition through the various markets, museums and galleries around the city.
Morning: Sumo Wrestling and Local Markets
If Sumo Wrestling is on your bucket list while in Tokyo, this is the morning to add it to your itinerary. Wake up early and head to early morning Sumo Wrestling practice at Arashio-beya Sumo Stable. Unless the sumo wrestlers are competing (in which case you can add a sumo wrestling match to your Tokyo itinerary), you'll be able to find them here every morning from 7:30am-9:30am.
You can either join a tour or watch through the window outside. Check the schedule of the practice here so you don't miss out.
Then, head to Tsukiji Outer Market in the Chou City district for an incredible foodie experience. Soak up the atmosphere of the local market as you wander through the narrow alleyways filled with restaurants and shops selling wholesale produce, fresh fish and plenty of other goodies. You can reach the market by taking the Oedo or Hibiya Tokyo Metro Subway lines.
The market runs until 2pm, but is at its best before noon. Grab brunch at one of the many little seafood restaurants or standing bars known as tachigui. With seafood delivered straight from Toyosu Fish Market every morning, you can expect to find the freshest seafood available in Tokyo. Try tamagoyaki (omelette on a stick), fresh tuna fish, or any of the sushi.
Once you've had your fill of delicious seafood, hop back on the subway and head to TeamLab Planets, Tokyo's immersive digital art museum. This is one of the coolest attractions in Tokyo, so don't miss it! The museum features a unique blend of art, technology, and nature, offering visitors an extraordinary sensory experience. Visitors can explore interactive digital exhibits and participate in experiences, from walking through a room filled with ever-changing flowers to wading in a knee-deep pond of digital koi fish that react to movements. teamLab Planets Tokyo encourages an active and participatory engagement with art – it's a multisensory art encounter like no other!
Be sure to book tickets in advance (at least 1-2 days ahead) and plan to spend 2 hours at TeamLabs.
Lunch: Indulge in Themed Cafes
Find time on your 3 days in Tokyo itinerary to visit a themed cafe or restaurant. Nothing says Tokyo more than an outrageously quirky cafe experience dedicated to characters from your favourite films, cartoons, or anime.
Some of the best-themed restaurants include:
Pokemon Cafe: This popular themed cafe opened in central Tokyo in 2018. You'll find Pokemon-themed meals, desserts, and souvenirs that delight every Pokemon fan. Book well in advance. Reservations open 1 month out and get snatched up in minutes.
Harry Potter Cafe: This is a must-do for all Harry Potter fans in Tokyo! Located near Akasaka metro station, the cafe has a menu inspired by the wizardry world, including meals representing each Hogwarts house. Booking in advance is essential; there is no walk-in entry.
Maidreamin Akihabara: To explore Otaku culture's unique pop culture in Tokyo, head to one of the maid cafes in Akihabara district. Maidreamin is a well-known franchise where you can enjoy delicious food served by waitresses dressed in maid costumes.
DAWN Avatar Robot Cafe: This pioneering cafe exemplifies the fusion of technology, accessibility, and social inclusion. Operated by OryLab Inc., this cafe offers a unique experience where disabled remote employees control avatar robots from their homes and hospitals to provide services to customers in the cafe. The concept is a testament to human-robot interaction, allowing individuals facing mobility challenges to participate in the workplace. The cafe wasn't busy during our visit, so reservation wasn't required. You can choose from full meal service (with a dedicated Robot avatar server), come in for a cup of tea/coffee with Robot service, or join the robots at the bar for a drink and a chat.
Afternoon: Galleries and Museums
Delve into the city's museums on this Tokyo itinerary by heading to Ueno Park, just north of the city center. Easily accessed by the Tokyo metro at stop Ueno, this expansive park area includes several museums, a zoo, and walking paths.
The Tokyo National Museum, the Tokyo Metropolitan Art Museum, and the National Museum of Nature and Science are in the park. You can quickly fill in the afternoon by picking one or more museums to explore. The Tokyo National Museum is a particularly important complex devoted to the art and antiquities of Japan, as well as other Asian countries.
If you prefer to focus more on Japanese art, head to the National Art Center, 21_21 DESIGN SIGHT, and Mori Art Museum. Located not far from each other, these museums allow you to immerse yourself in contemporary art, with these three galleries showcasing a range of Japanese and international modern art.
Where to Stay in Tokyo:
With a city as huge and diverse as Tokyo, accommodation options offer something for every budget and style. But deciding where to base yourself for your 3 days in Tokyo can be overwhelming.
Shibuya City offers the benefits of being close to many of the best attractions and with convenient transport connections around the city and the airports.
Asakusa retains a more old-world vibe and is more suited for those who want to immerse themselves in the culture of Japan, with plenty of food stalls, traditional shops, and old temples.
The other district we recommend staying in is near Tokyo Station/Ginza. This central region is perfect if you want to have everything at your doorstep, including some of the best markets, shopping malls, and restaurants.
Here are some of our hotel recommendations for your stay in Tokyo:
Budget Option
APA Hotels: A solid choice for budget travelers, APA Hotels is a good hotel chain with plenty of properties in every corner of the city. Their hotels are all well-equipped with restaurants, good Wi-Fi, and A/C. While the rooms are small, they are conveniently located and typically cost less than $100/night,
We recommend APA Hotel Asakusa Tawaramachi Ekimae in Asakusa or APA Hotel Ginza Kyobashi Tokyo for rooms in the heart of downtown Tokyo.
Mid Range Options
TRUNK HOTEL: Just a short walk from Shibuya Station, this wonderful oasis exemplifies what we love about sustainable hotels. Covered in greenery inside and out, this hotel and its architecture prioritize nature. Much of the interior is also made from recycled materials, yet the decor is beautifully edgy and modern. Double rooms start from US$350 per night.
MUJI Hotel: Located right in the heart of the city in Ginza, the MUJI hotel is exactly as it sounds – a hotel room outfitted fully with MUJI products. The interior combines repurposed and recycled wood and stone. The minimalist but functional double rooms come in different sizes to suit different budgets, starting from US$270 per night, and offer eco-friendly toiletries and smooth linen bed sheets.
Luxury Options
The Ritz-Carlton Tokyo: This elegant 5-star hotel is housed in one of the tallest buildings in the city. Admire breathtaking views of the Shinjuku area, Imperial Palace, or Mount Fuji from your room, starting from US$900 per night. Having banned single-use plastics in the hotel and running on renewable energy, this hotel ensures your stay for 3 days in Tokyo is environmentally friendly.
Mandarin Oriental: Right in the middle of the city in Nihonbashi, this 5-star hotel is one of the most outstanding places to stay in Tokyo. You can enjoy panoramic city views with a fine dining restaurant and spa service on the 37th floor. Dedicated to reducing plastic waste and water usage, the hotel publishes a sustainability report with its latest achievements. Rooms start from US$750 per night.