Set in the arid Australian Outback, Coober Pedy is a quirky town with a unique charm unlike anywhere else. The town earned its place on the map through years of opal mining and a bizarre moon-like appearance that feels otherworldly.
*This post may contain affiliate links, as a result, we may receive a small commission (at no extra cost to you) on any bookings/purchases you make through the links in this post. As an Amazon Associate, we earn from qualifying purchases. Read our full disclosure
Many of the most popular things to do in Coober Pedy revolve around—you guessed it, opals! But, there's more to this town than the noteworthy gemstone.
The harsh climate has driven nearly half of the population to live underground to escape the heat and pesky flies. Almost everywhere you go, life in here happens underground!
We had fun walking around the underground network of buildings and admiring the amazing opal shops along the way. Above ground, this town is just as spectacular.
Traveling Soon?

Here is a list of our favourite travel providers and accessories to help get you ready for your upcoming trip!
For an unforgettable trip, here are 13 of the best things to do in Coober Pedy.
About the Town
Coober Pedy is famous for being the opal capital of the world with a mining town industry built on opal fields. The opal fields have graced the screens of many movies with their unearthly moon plain appearance. And of course, the underground houses, shops, and hotels are some of the most popular things in Coober Pedy.
Due to extreme temperatures, the majority of the population of this town is living underground in modern-day dug-outs.
Where is Coober Pedy?
Coober Pedy is located in the rugged South Australian Outback in the northern part of South Australia. It's nearly halfway between Adelaide and Alice Springs on the Stuart Highway.
What is the best time to visit Coober Pedy?
With its dry desert climate, it goes without saying that Coober Pedy can get pretty hot in the summer months. To avoid the sizzling summer temperatures and potential dust storms, the best time to visit Coober Pedy is from March-November. The days are warm and comfortable and the evenings are cool.
During our visit in April, the daily highs were around 25°C but nights cooled down to a comfortable 5-10°C. It was perfect!
How to get to Coober Pedy, South Australia
The quickest way to get from Adelaide to Coober Pedy is a 9 hour (850 km) drive along the Stuart Highway. The road is sealed and easily travelled with any vehicle. The same goes if you're coming from Alice Springs to the north via the 7 hour (690 km) journey southbound.
That being said, we all know the quickest way isn't always the most fun! Thanks to our 4WD Troopy, we drove to Coober Pedy via the famous Oodnadatta track from Marree to Marla. This 617 km unsealed corrugated outback track doesn't necessarily require 4WD, but it can definitely cause a bit of havoc on caravans and 2WD vehicles.
If you're not planning to drive, you can fly into Coober Pedy on Rex's daily flights from Adelaide or take a Greyhound. It's a 2 hour flight from Adelaide or a much longer 11-hour bus journey.
READ NEXT: 15 Romantic Getaways In Australia For Every Couple
Things to do in Coober Pedy
Even if opals don't make your heart sing, there are lots of really cool things to do in Coober Pedy. It's a destination unlike anywhere else and the attractions are definitely unique!
Sleep Underground At Desert Cave Hotel
Staying at an underground hotel in Coober Pedy is an absolute must for any visit. The Desert Cave Hotel is exactly that—an underground oasis with no AC, no windows, and no disturbances. Who would have thought sleeping in a cave would make for such a peaceful sleep! Just be sure to set an alarm because it's way too easy to sleep in when you're underground.
This great hotel is located right in the town centre and offers both underground and aboveground accommodations. There's an underground bar and restaurant on-site, along with underground shops, a cafe, and an opal mine interpretive centre.
Visit Old Timers Mine
Journey back in time at this early 1900s opal mine that earned Coober Pedy its famous mining reputation. Take a self-guided walk around the Old Timers Mine and discover the inner workings of an old mine that brought so many folks to the area. This was definitely our favourite activity to do in Coober Pedy, we learned so much from spending a few hours in the mine!
The mine also has a section that shows off a typical underground dwelling from the 1920s and more modern times. You can explore the subterranean dwellings while learning about the extensive mining history the town was built on.
Check Out The Breakaways For Sunset
The Breakaways are a great example of the rugged Outback beauty that Australia is known for. Visiting the Kanku-Breakaways Conservation Park at sunset is one of our favourite things to do in Coober Pedy. If you arrive at golden hour, you'll watch the sandstone tablelands turn to a rich dark red colour lit up by the night sky.
The Breakaways are located 32 km north of town and make up an Aboriginal heritage site. Grab a permit from the visitors centre ($10) and enjoy a mini road trip in the surrounding area. There are two lookout points for spectacular views of the tablelands, including Panorama Hill which you might recognize from Mad Max.
The journey back to the town follows the infamous dog fence, a 2 metre high dingo fence that protects sheep from native dingos. You'll quickly find out why the dog fence area has been nicknamed moon plains with its mystic lunar landscape.


Josephine's Gallery and Kangaroo Orphanage
While there are lots of great things to do in Coober Pedy, admiring aboriginal art and baby kangaroos is pretty up there. Josephine's Gallery is an art gallery meets kangaroo sanctuary filled with local Aboriginal artwork and artifacts. Outside, you can mingle with baby kangaroos at the kangaroo orphanage and even watch bottle-feeding. You can find Josephine's on the main street of Coober Pedy across from the drive-in, but make sure to check their opening hours, as visitor hours are limited.
Umoona Opal Mine and Museum
Venture below the surface and explore this underground museum and opal mine that tells the story of Aboriginal and European mining history in Coober Pedy. Cruise for fossils from the now-extinct inland sea and get a feel for what life is like in a dug-out. The Umoona Opal Mine and Museum offers tours through the Aboriginal Interpretive Centre that explain how opals are formed and mined. The experience is quite different from the Old Timers Mine and is also well worth a go.
Be sure to stop by the souvenir shop where you can get a custom piece of opal jewellery to take home.
See a Movie at the Desert Drive-in
The Coober Pedy drive-in is one of the few remaining drive-in movie theatres in Australia. What better way to spend an evening in the desert than by watching a film under the stars. The drive-in has been around since 1965 and now features a digital projector that plays different movies each weekend. Tickets are $20 per car and often play blockbusters filmed in Coober Pedy like the movie Pitch Black and Priscilla Queen of the Desert.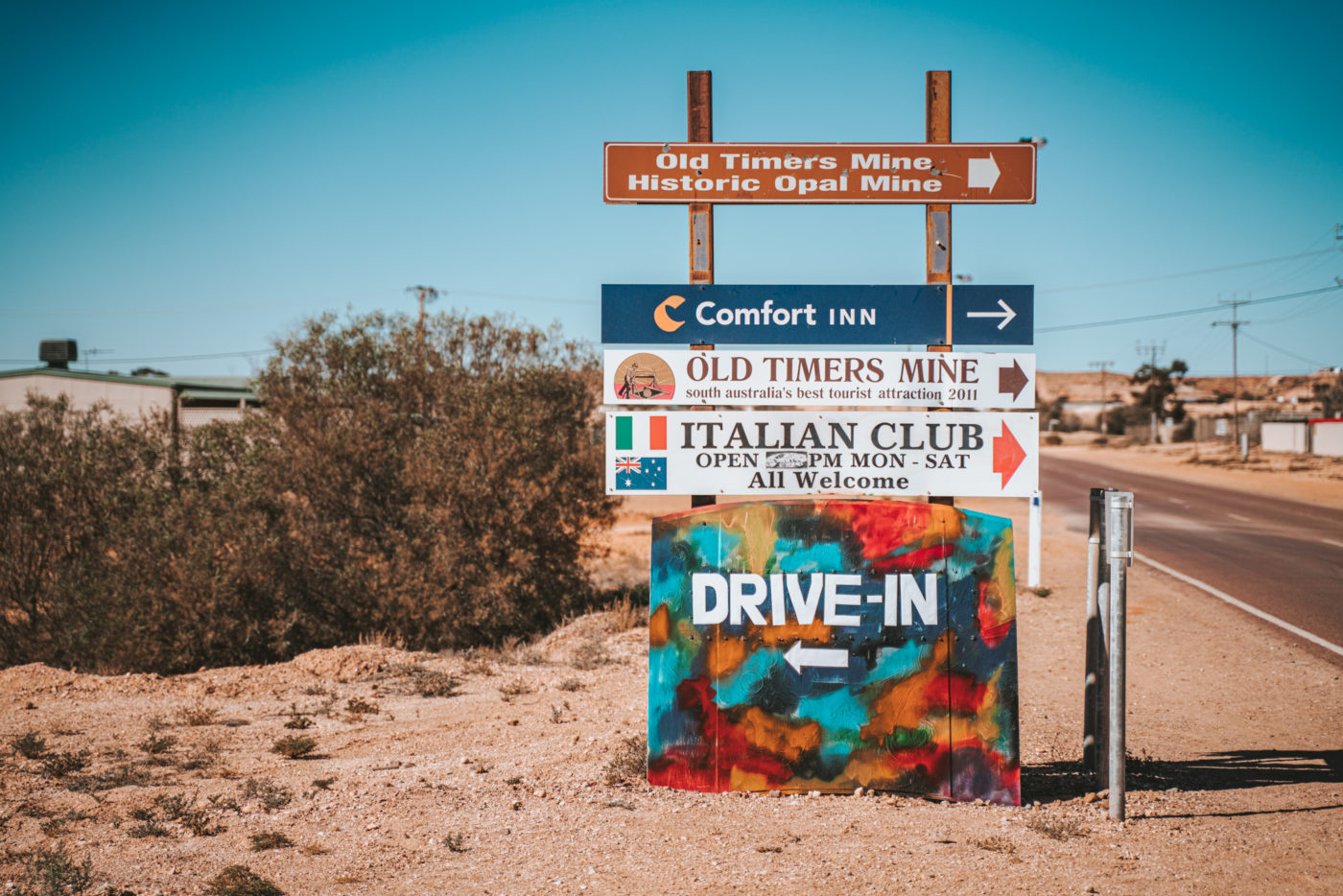 Shop For Opal
Naturally, there are many opal shops in Coober Pedy where you can get your own piece of the famed gemstone. The shops have all kinds of different cuts and colours on display, with some even offering opal cutting demonstrations. If you buy opals in Coober Pedy, you'll get an authenticity certificate as the whole town takes their opals very seriously.
Stop by Opalios or Gaea Gems to see amazing stones and beautiful handcrafted jewellery.
Drink Underground at the Underground Bar at Desert Cave Hotel
Sip on a refreshing cocktail in the world's only underground bar at the Desert Cave Hotel. This bar is pretty cool—and we mean that literally and figuratively. Step out of the hot desert air and cool down subterranean-style while relaxing with a beverage.
Enjoy a Sunset and a Show at the Big Winch
The Big Winch is a noteworthy spot in town, offering 360° views of Coober Pedy. The Big Winch restaurant is a great place for dinner/drinks at sunset while admiring the vibrant desert landscape painted with bright reds and oranges.
Eat Underground at Desert Cave Hotel's Crystal Cafe or Umbertos
Whether you're craving a fancy sit-down dinner or a quick lunch, the Desert Cave Hotel's two restaurants won't disappoint. Umbertos Restaurant features a top-notch menu of chef-crafted dishes and wine in a relaxed atmosphere. Meanwhile, the Crystal Cafe serves a light buffet or à la carte breakfast and lunch from its cool underground lair. You can also pop in throughout the day for refreshments and snacks.
Go Opal Noodling on a Down N' Dirty Tour
When you're in Coober Pedy, you'll hear the term "noodling" a lot. It's what the locals like to call the act of rummaging through the sand in search for opals left behind by miners. The Desert Cave offers a Down N' Dirty Tour where amateur prospectors can get a taste for treasure hunting in the Quest Mine. Throw on a hard hat and get to know what mining in Coober Pedy is all about!
Painted Desert Tour
Head into the picturesque Outback of Australia and explore the ancient fossils that dot the Painted Desert or Arckaringa Hills. The area, now commonly referred to as the moon plains, was once the bed of an ancient inland sea. Over millions of years, the rocks have eroded and left behind marine fossils and stunning desertscapes. The Painted Desert Tour, offered by the Desert Cave Hotel, is a day-long 4WD adventure full of history and incredible photography opportunities.
Outback Mail Run
Going on a mail run tour around Coober Pedy is an outback experience like none other. Join the mailman on a route through Oodnadatta and William Creek where you'll learn about early explorers and cattle stations. You'll hit the track in a 4WD vehicle and discover the extensive Lake Eyre basin while delivering mail to historic outback towns.
Visit the Interpretive Display At Desert Cave Hotel
Soak in the rich history of Coober Pedy through the colourful and informative interpretive display at the Desert Cave Hotel. Learn about how mining shaped the town, along with details on opal formation and cutting as you walk along sandstone passages. The display is free to visit and highlights some interesting facts about Coober Pedy.

How many days do you need for Coober Pedy?
We recommend spending 2-3 days in this unique tourist destination to soak in all of the unique tourist attractions. Plus, depending on the time of year you visit, the extreme heat might dictate how many outdoor activities you can do. Thankfully, the Coober Pedy underground is always nice and cool.
Is it safe in Coober Pedy?
Yes, visiting Coober Pedy is safe as long as you apply your good travel sense like you would anywhere else. Lock up your vehicle or camper, tuck away your valuables, and enjoy the opal capital!
Have you been to Coober Pedy? Do you think you could live underground in a dug-out?