If you like gorgeous swimming holes, beautiful waterfalls, rocky gorges and an adventure off the beaten track, then the Gibb River Road in Western Australia is your dream road trip. The 660 km road slices through the magnificent Kimberley Region offering a trip of a lifetime full of scenic lookouts, hikes, and hidden swimming holes.
*This post may contain affiliate links, as a result, we may receive a small commission (at no extra cost to you) on any bookings/purchases you make through the links in this post. As an Amazon Associate, we earn from qualifying purchases. Read our full disclosure
A road trip along this famous track used to be an extreme undertaking, suitable only for the most rugged outback adventurers and vehicles. But over the years, more facilities have become available along the Gibb, and thanks to ongoing road improvements, this road trip has become much more accessible to anyone with a 4WD vehicle.
We spent almost 2 weeks exploring the Gibb River Road with our 4WD Tilly, the Troopy in June 2021 and it was one of our favourite adventures on our half lap of Australia.
Traveling Soon?

Here is a list of our favourite travel providers and accessories to help get you ready for your upcoming trip!
Read on for our suggested Gibb River Road Itinerary, tips and everything else you need to know about planning a trip along the Gibb River Road.
About the Gibb River Road
The iconic Gibb River Road is a legendary track that connects Derby in the west to Kununurra or Wyndham in the east. The 660 km stretch was originally used to transport cattle through the Kimberley region but has since become a beloved travel destination.
When is Gibb River Road Accessible?
Due to its location in the heart of Kimberley Region in Western Australia, the Gibb sees a distinct dry and wet season and is only accessible during the dry season, typically from May – October. Road conditions on the Gibb can vary from year to year, so exact opening dates for each individual Gibb River Road attraction fluctuate by a few weeks each year.
The highlight of the Gibb River Road adventure is not the drive itself, but rather all the stops and detours to explore national parks, cattle stations, and ancient gorges. This road dissects the west Kimberley region and leads you to unique places you can't find anywhere else.
Gibb River Road at a Glance
All of your burning questions about driving and planning for the Gibb River Road, answered!
How long does it take to do Gibb River Road?
Travelling the Gibb River Road start to finish takes 5-7 days at minimum. The route is 660 km of largely unsealed road that's loaded with creek crossings and worthy stopovers. Most travellers set aside 1-2 weeks to make the journey. But some end up exploring the region for months!
How hard is it to drive Gibb River Road?
Road conditions on the Gibb River Road vary greatly depending on the time of the year, weather and traffic along the road. The Gibb gets graded at the start of every dry season, usually around May/June. The road conditions are best right after the grader and gradually roughen over time as more and more vehicles travel over the corrugations. There are water crossings, big dips, lots of loose sharp rocks, and the corrugations can be pretty deep.
But we found that the biggest indicator of the road conditions is not the road itself, but rather the vehicle that you are driving. The Gibb River Road road is fairly wide and made of packed gravel. It's a corrugated dirt track that some describe as the "roughest road in Australia" while others call – "a piece of cake". We traveled the Gibb in our 4WD Land Cruiser Troopy and while there were sections of the road that were uncomfortable, for us, it was a fairly easy drive.
We were lucky. We're glad we didn't have any flat tires or other mechanical issues along the way. Unfortunately, we know of too many other travelers that weren't so lucky!
So all of this is to say that the Gibb River Road can be a pretty easy and enjoyable journey, but it does require a reliable 4WD vehicle, as well as some planning and preparation. You can check on road closures and the Gibb River Road condition here.
Do you need a 4WD to do the Gibb River Road?
Technically a 4WD vehicle isn't required to do the Gibb River Road but it's HIGHLY recommended. Having high clearance is essential for all of the water crossings. Many people ask "Do I need a snorkel for Gibb River Road?" and the answer depends largely on the time of the year you plan on doing the Gibb and your car clearance.
During our trip in June, we did not encounter any water crossing over 500mm, but don't rely on past years data when planning your trip. Hop on the "Gibb River Road and Kimberley Region" Facebook Group for the most up to date info on water crossing and road conditions.
Is any of the Gibb River Road sealed?
Yes, the first 100 km of the western track from Derby is sealed to the turn off for the Ellendale Diamond Mine. Thanks to recent improvements, part of the eastern end are now also sealed. From the turn off to El Questro until the road intersects with the Great Northern Highway, the road is sealed.
Are There Provisions Along Gibb River Road?
Planning your journey is an important part of embarking on any 4WD adventure and the Gibb is no exception. Gibb River Road fuel stations are well spaced out but groceries are in short supply.
Diesel/Petrol
There are 4 fuel stations along Gibb River Road that are a couple hundred kms apart. They all supply diesel but note that if your vehicle uses petrol, Imintji Roadhouse does not have it. Even though the distances are reasonable, always carry a jerry can to be prepared.
Fuel on the Gibb River Road can be found at:
Derby

Imintji Roadhouse (diesel only)

Mt. Barnett Roadhouse

Wyndham or Kununurra
If you plan to detour to Mitchell Falls or spend a lot of time exploring El Questro (which you definitely should!), there are more options. There is fuel at Drysdale River Station and at El Questro Station.
Groceries
Groceries and supplies along Gibb River Rd are very limited and very expensive. We highly suggest coming fully stocked from Derby or Kununnara before setting out on your Gibb River Road road trip.
If you do need to restock supplies, you can find some basic grocery items at all of the fuel stations above. Note that you won't find staples like fresh bread (frozen bread is sold at Mt Barnett Roadhouse), eggs, or fresh vegetables on the Gibb. Be prepared to pay double or triple the price for pantry items, canned goods, chips, etc.
For fresh grub, there is a restaurant at El Questro (try their fish and chips!) and a cafe at Ellenbrae Station serving up mean scones.
Things to do Along the Gibb River Road
This Gibb River Road itinerary hits some of the best spots with scenic views and awesome Gibb River Road camping.
Windjana Gorge
The first stop on the Gibb is about 120 km in at Bandilngan (Windjana Gorge) National Park. The park is set in the Napiers Ranges and lined by the Lennard River, offering stunning views of the gorge visible from the campground. Entrance to Bandilngan (Windjana Gorge) National Park is $15 per car.
The mountains here are actually part of an ancient Devonian-era limestone reef that creates a spectacular gorge. There are a couple of walks to embark on in the park.
Gorge Walk:

3.5km walk is the best option to explore the gorge. The trail winds through the gorge and offers plenty of opportunities to search for freshwater crocodiles and fruit bats hanging in the trees.

Savannah Walk

ventures around the other side of the 100 m tall water-streaked walls. On this walk, keep your eyes peeled for ancient fossils and woodland animals in the trees.
Where to Stay Near Windjana Gorge
Spending a night at the Windjana Gorge Campground is a lovely way to kick off your Gibb River road trip. It's a great basecamp to explore Windjana Gorge and nearby Tunnel Creek. The campground offers 80 sites for tents and caravans with flushing toilets and shower facilities. Camping is $17 per person per night and reservations (which we recommend making) can be made here.
Tunnel Creek
A trip to Tunnel Creek is a popular day trip while staying at Windjana Gorge. Dimalurru (Tunnel Creek) located about 100kms from Windjana Gorge, is a neighbouring National Park that's home to the oldest cave system in Western Australia. The tunnel itself cuts through the limestone of the Napier Range, creating super cool caves and pools.
The highlight of Tunnel Creek is a 750 m underground trail through the heart of the cave. The trail runs inside the cave almost in complete darkness and features a couple of water crossings, some requiring you to swim in deep water for about 20m. The cave has a number of openings and eventually emerges into a forest on the other side of the tunnel. There is a resident freshwater croc in the creek inside the tunnel, you can usually spot him curled up under the hot springs along the right-hand side of the wall just before the deep crossing.
It's a very unique, beautiful and a bit of a scary experience, especially if you happen to start early in the day like we did, and find yourself in the dark cave without anyone else around. But it's well worth the adventure! Check park info and alerts before you go, bring a headlamp, waterproof bag and be prepared to get completely wet. The activity is suitable for kids, we saw plenty of families with floaties (for the deep crossing) and brave little ones exploring the caves.
Tunnel Creek is located about 1 hour 20 minutes away from Windjana Gorge but is a day-use only area. So your best bet is to camp at Windjana Gorge and take the day to explore. Toilets are available at the car park.
Bell Gorge
The next leg of the journey highlights the first of the stunning Gibb River Road gorges.
DETOUR: If you're feeling adventurous on your way to Bell Gorge, take a short detour onto Lennard Gorge Road. This 4WD track leads to a walking trail that opens up to dramatic views of beautiful Lennard Gorge. It's part of the King Leopold Ranges and is carved in sandstone cliffs with a spectacular waterfall.
Bell Gorge is arguably the most famous gorge along the Gibb. The stunning horseshoe-shaped cliffs with cascading waterfalls that plunge into a deep pool is the most scenic spot to spend the day on the Gibb River Road. It's an ideal place for a refreshing swim on hot days and is a photographer's dream.
The scenic Bell Gorge is easily reached via a short walk from the parking area. There are some steep rock scrambles en route and a shallow river crossing, so suitable footwear is highly recommended. Bring snacks, a beach towel and plan to spend a chill day hanging out in this beautiful spot.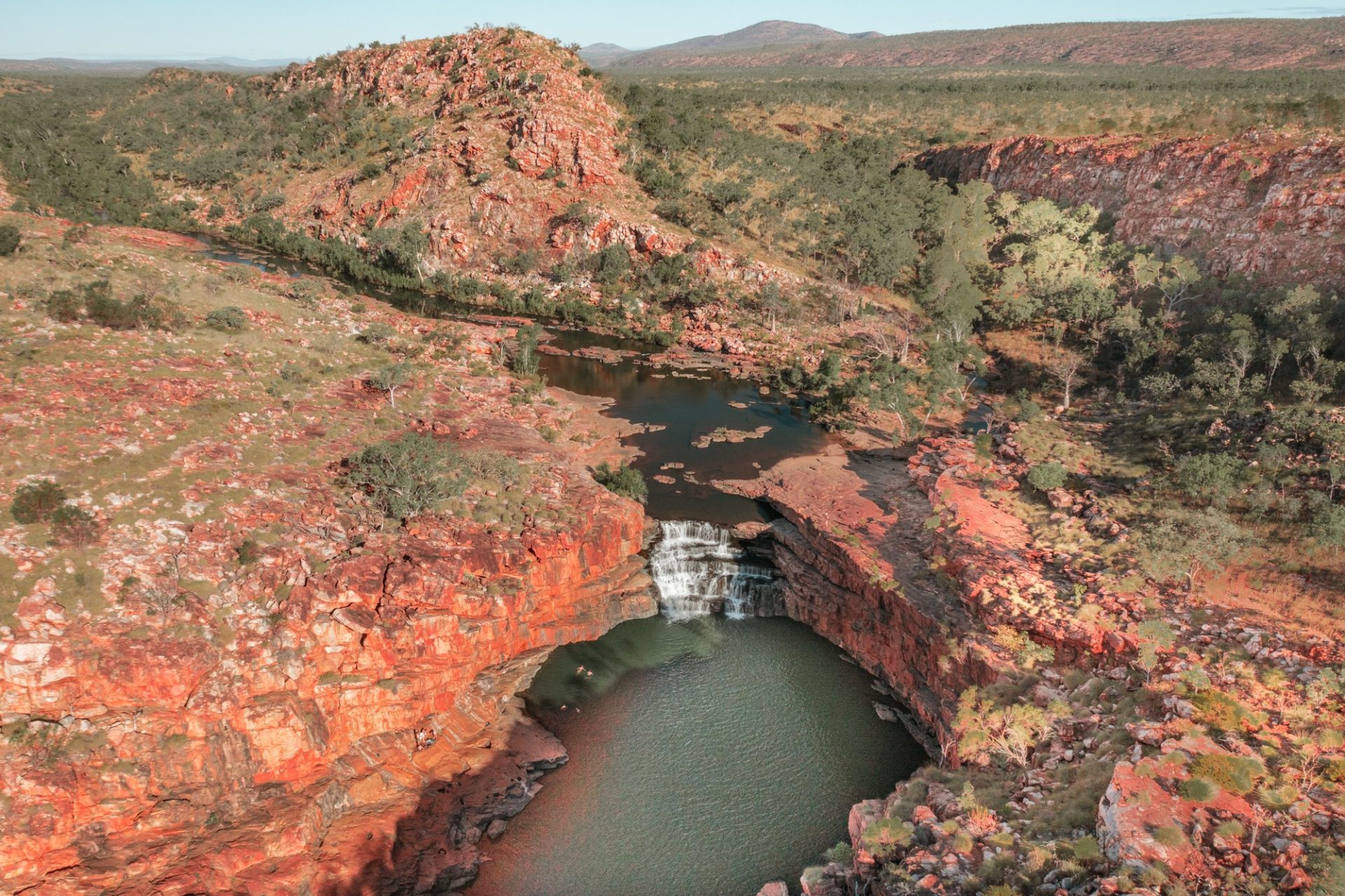 Where to Stay Near Bell Gorge
Spend the night camped under the stars at Silent Grove Campground. The campground is nestled in the Dulundi (Silent Grove) Valley and can get pretty busy during peak season. There are flush toilets and showers on-site and 55 sites for tents and caravans. It's the perfect spot for Bell Gorge camping. Camping is $17 per person per night and reservations (recommended) can be made here.
Mornington Wilderness (detour)
Mornington Wilderness is not a common stop along the Gibb River Road, but it's a detour worth making. Despite the fact that it took 2.5 hours to get to Mornington Wilderness from the Gibb, it ended up being one of our favourites stops on this road trip!
Mornington Wilderness Camp is a perfect stop for those looking for unspoiled nature and wildlife. The camp is located 90 km off the Gibb River Road on the expansive Mornington Wildlife Sanctuary. The area spans 312,000 hectares along the Fitzroy River and King Leopold Ranges.
The sanctuary is a project of the Australian Wildlife Conservancy, the biggest not-for-profit owner/manager of land for conservation in Australia with a mission of conservation of all Australian native animal species and their habitats. Mornington Wilderness Camp is one of the 9 AWC visitor sanctuaries across Australia and provides a comfortable base from which to explore this remarkable area.
Mornington Wilderness Camp is a hotspot for birdwatchers with 208 bird species recorded within the sanctuary and a hub of adventure activities. It's home to the Dimond Gorge and Sir John Gorge. Both of these gorges are amazing spots for swimming, sunbathing, kayaking or sunset picnics.
Where to Stay in the Mornington Wilderness
Mornington Wilderness Camp is a quiet escape into picturesque nature. The campground is limited to 25 spots only so reservations are essential. The camp offers creekside camping and safari tents with access to an on-site restaurant and bush bar. Campsites are $26.50 per person per night and safari tents start at $375 per night. There is a $25 fee per car to enter the sanctuary and wilderness camp. Bookings can be made here.
Didn't book ahead? Don't worry! There is a radio at the turn off to Mornington Wilderness just off the Gibb, where you can call the campground before embarking on the 2.5 hr drive to check for campsite cancellations. Last-minute bookings are possible!
Charnley River (detour)
Charnley River is another campground owned/managed by the Australian Wildlife Conservancy located about 45 mins off the Gibb River Road. This wildlife sanctuary is pristine and rugged and is happy to welcome tourists to celebrate the beauty and tranquility of the area. In fact, Charnley River Station was actually the first camping area along the Gibb, long before other sites were established.
At this stop, you can explore the gorges and enjoy a dip in the refreshing swimming hole. There are 3 gorges to visit at Charnley:
The pools at

Donkey Hole

are beautiful, surrounded by lush greenery and trees.

Grevillea Gorge

has multiple pools that are surrounded by rocky cliffs and wild bush. The first pool is a great spot for a swim and a picnic but the second is a bit of a slippery mission to reach.

Dillie Gorge

is one of the more accessible of the three, reached by a short walk from the carpark. The gorge opens up into a large pool with all kinds of cool coves and crevices.
Where to Stay Near Charnley River
Charnley River has a nice shaded wilderness camp that's open to tents and caravans. All sites are unpowered but there is access to flushing toilets, hot showers, and BBQs. Camping is $26.50 per person per night and reservations (recommended) can be made here. Note that all fees go toward the conservation of the Kimberley Region of Western Australia.
Adcock Gorge
Adcock Gorge is a 5 km detour off the Gibb along a rocky 4WD track. The gorge is easily accessible from the car park, although there are few boulders to climb over along the way. The gorge offers a nice quiet spot to escape the day's heat and enjoy a bit of peace and quiet, away from the crowds that often occupy the other gorges.
Galvans Gorge
Galvan's Gorge is probably the most accessible gorge on the Gibb. It's only 1 km off the Gibb River Road and is a picturesque rest stop surrounded by waterfalls and boab trees. Stop here for a quick swim, a quick snap, or opt to spend a few hours relaxing in the shade and cooling off in the crystal clear pool.
Manning Gorge/ Mount Barnett Roadhouse
Manning Gorge is another must-see stop along the Gibb River Road and a favourite among families and slow travelers. The Mt Barnett Roadhouse campground is set on a bank of the Manning River, a great spot for swimming and hanging out throughout the day.
From the campground, a 3km winding track through the savanna leads to the Manning Gorge. The trail starts with the Manning Creek crossing, so be prepared to load your belongings, shoes and dry clothes into a make-shift bucket boat and jump in for a refreshing swim to the other side of the creek. From there, the Grade 3-4 trail will have you scrambling over rocks but will soon open up to stunning Manning Gorge with its waterfalls and pools. Look out for Aboriginal rock art along the way!
Where to Stay Near Manning Gorge
Pay your camp fees at the Mt Barnett Roadhouse before settling into the Manning Gorge Campground. There are toilets and showers on site and camping is $20 per person per night. No need to make reservations ahead of time at this spot. It can get crowded, especially since there is only one ablution block, but there is plenty of space even during the busiest times.
Gibb River Station
Gibb River Station is the official halfway point on the Gibb. Owned by the Ngallagunda Aboriginal Corporation, the property is a working cattle station as well as a homestead, community store, fuel outlet, Aboriginal Art Centre and the Goondalee Camping Ground.​ It's the place to stock up and fuel up before continuing on with your Gibb River Road adventure.
Mitchell Falls & Mitchell Plateau (detour)
A trip to the Mitchell Falls is the longest and arguably, the most difficult detour on the Gibb, but it's a destination worth the trip. Mitchell Falls is the tallest waterfall in Western Australia and, easily, one of the most extraordinary waterfalls in the entire Kimberley Region. It cascades down 3 levels and provides incredible photo opps from every angle, including from above, with scenic flights on offer from Mitchell Plateau campground.
Aside from the main attraction, the Mitchell Plateau and Mitchell River National Park is also home to Big Mertens Falls, Little Mertens Falls, and a number of Aboriginal Art sites and rock paintings. There are swimming spots and plunge pools and spots to hang out in the sun or in the shade. The plateau is one of the most scenic and biologically important areas of the state, so there is no shortage of attractions here.
Mitchell Falls is located about 250km from the turn-off at Gibb River Road. It's a rough road that doesn't get nearly as much TLC as the rest of the track, so road conditions here are even more rugged and challenging. Those traveling to Mitchell Falls often leave their caravans at Drysdale Station, about 80kms into the journey and travel onwards with swags only to avoid damage to their vehicles.
It is possible to visit Mitchell Falls on an overnight trip from Drysdale via Kalumburu Road, if you are up for 2 long and busy days. Another popular way to visit Mitchell Falls is on a day trip from Kununurra with Kingfisher Tours.
Where to Stay Near Mitchell Falls
Spend a couple of nights under the stars at Mitchell Falls Campground. There are toilets on-site but you'll have to rely on the river as a shower. Camping is $11 per person per night and bookings can be made here.
READ NEXT: Visiting Mitchell Falls On A Day Trip With Kingfisher Tours
Ellenbrae Station
When you've connected back with the Gibb, make a stop at Ellenbrae Station for a well-deserved visit to the cafe for a fresh bite to eat (not a common occurrence on the Gibb). The scones here are legendary and definitely did not disappoint!
Where to Stay Near Ellenbrae Station
If you're keen to spend the night, Ellenbrae Station Camping offers a lovely bush garden experience. There are two swimming holes within walking distance to the campgrounds and options for camping, rooms, and safari tents. The latter two require reservations but camping is $17.50 per person per night and doesn't need a booking.
Home Valley Station
Set at the foot of the impressive Cockburn Range, Home Valley Station is a working cattle station and pastoral lease. There are mazes of walking trails, flowing waterfalls, and rocky gorges to explore at the station. You can spend the day swimming, fishing, or horseback riding or enjoy listening to stories of the local Aboriginal communities.
Where to Stay Near Home Valley
Home Valley Station offers a range of accommodation options with an on-site swimming pool, bar & grill. There is riverside camping starting at $22 per night, a powered caravan park, and large suites for groups and families. Reservations are recommended and can be made here.
Pentecost River Crossing
After departing Home Valley, gear up for an exciting moment—the Pentecost River Crossing. In early season during April/May, this can be a great Gibb River challenge with water levels benign quite high and river flow – strong.
As the season progressed, water levels slowly subside, making the river crossing a lot more manageable. But it's worth mentioning that water levels in the Pentecost River are tidal, meaning they rise and fall with the tide. Pentecost crossing at low tide could be comparable to crossing a big puddle. High tide at the same time of the year, on the same day can feel like a deep gushing river suitable only for the well equipped 4WD vehicles. In September/October, the water depth is usually much lower, making the crossing generally easy no matter the time of the day.
El Questro Wilderness Park & Emma Gorge
El Questro Wilderness Park is not just a stop along the Gibb River Road, but a destination in and of itself. It's a working cattle station filled with gorges, hikes, beautiful lookouts and fun 4WD tracks. It is also one of the most well-equipped stops along the Gibb River Road with fuel, supplies, and facilities.
We recommend staying for 4-5 nights to see it all—the park is huge, after all. Purchase a visitor permit for $22 per adult and have free range of the park for 7 days.
There is a ton to do at El Questro Wilderness Park, but these were our favourite El Questro activities
Spend a morning soaking in the

Zebedee Springs

where Livistona Palms open up to beautiful thermal pools. The springs are only open until 12pm as group tours from El Questro have private usage of the springs in the afternoon.

Hike the

El Questro Gorge Trail,

a challenging but fun trail through the towering palms and dense, balmy rainforest. There are 2 swimming holes along this trail. The first one is easily accessible at the end of a Grade 3 track. The second one sits at the base of a waterfall and is accessible via a more challenging Grade 5 track.

Hit the

4WD tracks

for self-guided adventures through El Questro's wilderness.

Pigeon Hole Track

is one of these drives that also offers a stunning lookout over the Cockburn Ranges and Chamberlain Gorge.

Emma Gorge

is located about 30kms outside of the main El Questro station but is a MUST see for anyone visiting this area. You can reach the gorge via a 3.5 km trail. With its 65 m cliffs and

sparkling blue water,

Emma Gorge is as pretty as it gets, especially if you can manage to see it without the crowds. Plan your visit early in the morning, as crowds, including tour busses, start arriving at the gorge as early as 9am.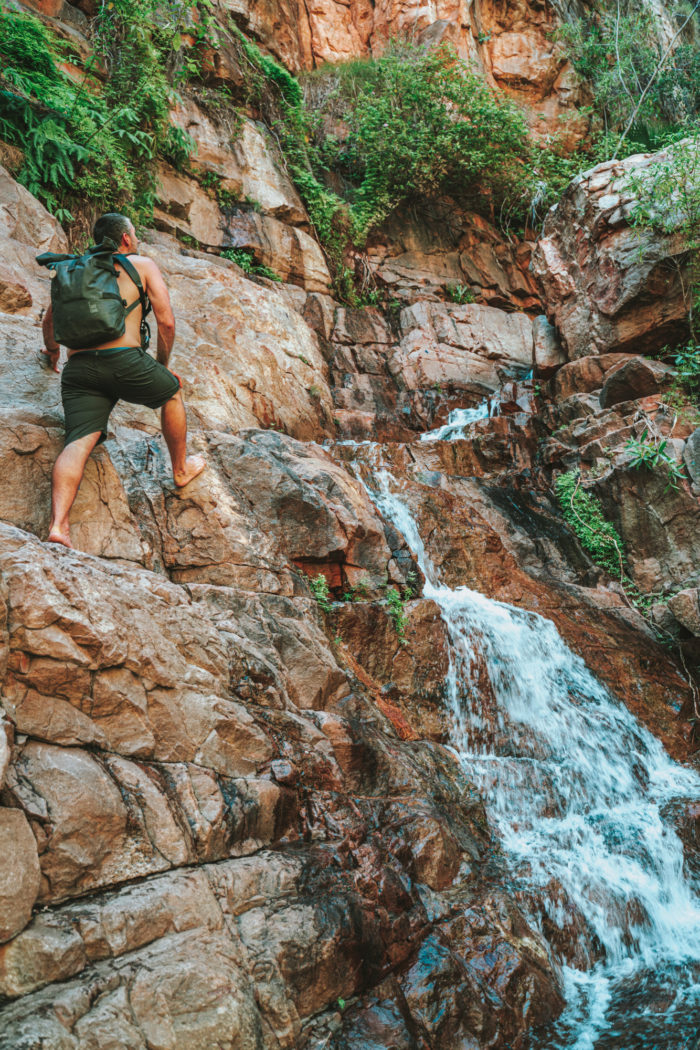 Where to Stay in El Questro Wilderness Park
El Questro has you covered for Gibb River Road accommodation from camping to luxe homesteading. Choose from riverside camping in station tents ($175 per night) or your own rig ($22 pp per night) with tons of activities and facilities nearby.
You can also book a room at El Questro Station, a luxe safari tent at Emma Gorge, or splash out on a gorgeous suite at El Questro Homestead. Reservations are available for all options. Aside from camping, all other accommodation at El Questro sells out months in advance.
Final Stop: Wyndham or Kununurra
Pat yourself on the back and give your vehicles some extra TLC for making it to the end of the Gibb. Most people spend a few nights in either Wyndham or Kununurra at the end of the trip to restock up and take care of the vehicle before heading across the border to Northern Territory.
If staying in Wyndham, check out Parry Creek Farm Tourist Resort in Wyndham. It's got all kinds of facilities and accommodation options with a more secluded atmosphere than El Questro. Bookings can be made here.
In Kununurra, we particularly enjoyed Hidden Valley Caravan Park – it offered a beautiful backdrop of Mirima National Park and was conveniently located close to town.
In Kununurra for a few days? Don't miss:
Ivanhoe Crossing

– watch cars drive across another famous river crossing – get there at sunset for the best light.

Mirima National Park

– we called it the mini Bungle Bungles – some hikes and beautiful scenery steps away from Hidden Valley Caravan park.

Sunset at

Kelly's Knob

– great views of the town
How Long to Stay on a Gibb River Road Trip
You need a minimum of 7 days en route for this Gibb River Road suggested itinerary. An even better time frame is 2 weeks and if you can swing it, 3 weeks is ideal. This way you can see all the spectacular gorges and more at a leisurely pace.
Have you travelled the Gibb River Road? What was your favourite stop on the journey?