Walking through Sighişoara's winding cobblestone streets feels like stepping back in time. For a town that dates back to the 12th century, when the King of Hungary invited German craftsmen and merchants to settle in Transylvania, Sighisoara looks incredibly well preserved.
*This post may contain affiliate links, as a result, we may receive a small commission (at no extra cost to you) on any bookings/purchases you make through the links in this post. As an Amazon Associate, we earn from qualifying purchases. Read our full disclosure
Traveling Soon?

Here is a list of our favourite travel providers and accessories to help get you ready for your upcoming trip!
We stopped in Sighişoara on our recent road trip through Romania's Transylvania and Maramures County and immediately fell in love with this town's medieval architecture. Stepping foot inside its citadel, we were charmed by its colourful houses, steep stairways, and its historic significance as the birthplace of Vlad the Impaler, who ruled the province of Walachia from 1456 to 1462 and was the inspiration behind the Bram Stoker's Dracula character.
The Clock Tower, built back in 1360, offered incredible views of the city and an interesting display of historical artifacts inside.
Not far from the Clock Tower, stood another beautiful sight, a 13th century Lutheran church built in late Gothic style.
The covered staircase lead up to the Church on the Hill, the cemetery, and the Joseph Haltrich High School.
But to be honest, the highlight of our visit to Sighisoara wasn't the Dracula home (we didn't even bother going in), and it wasn't the views from the famous Clock Tower, it was the time we spent getting lost in the charming streets of this medieval town…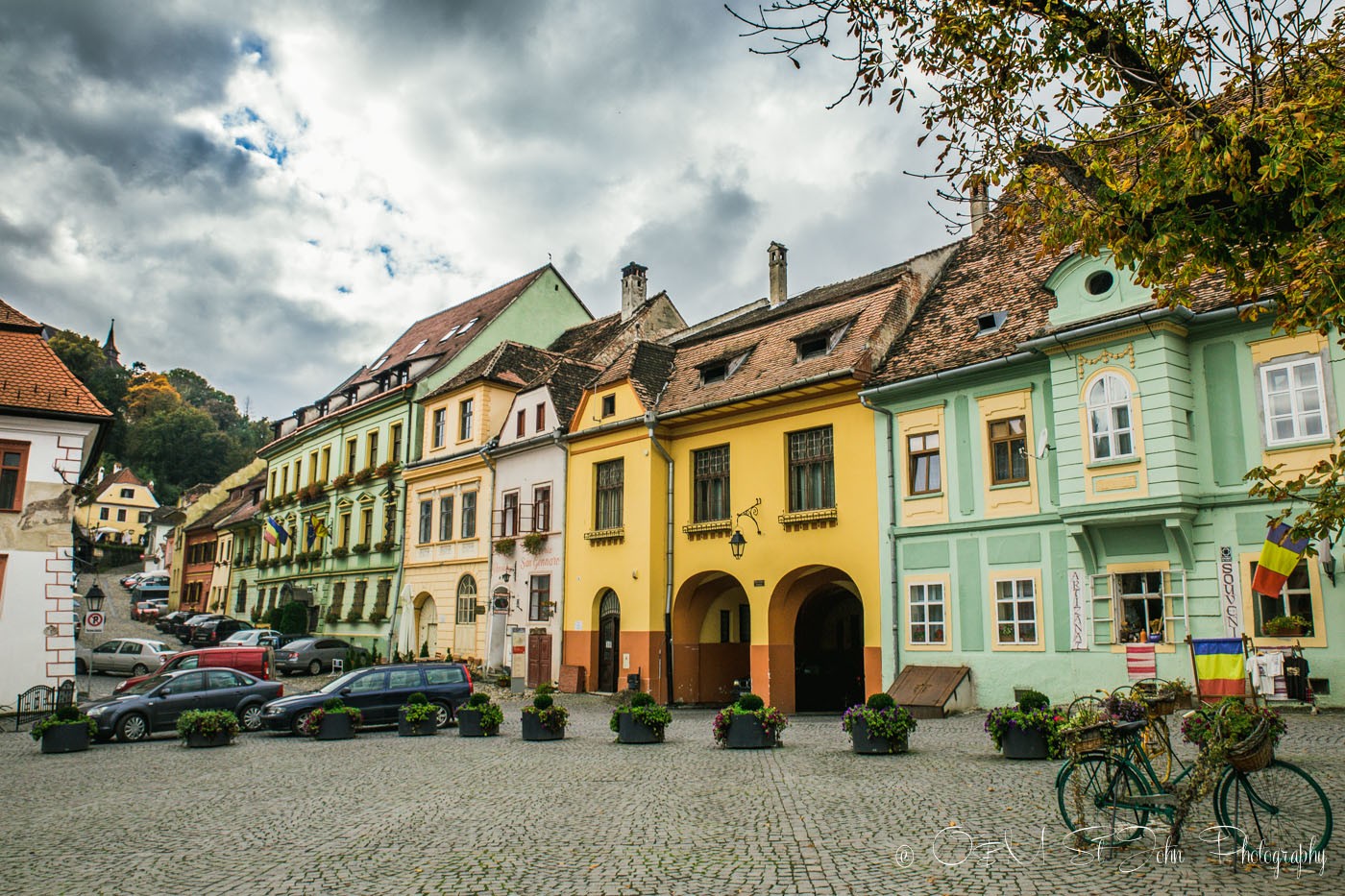 And the beauty is that you don't need much time to explore Sighisoara! Its compact size and close proximity to Bucharest (the town is just 4 hours away), make it a popular destination for visitors all year around.
Do you love medieval towns like Sighisoara? Have you visited any other charming citadels in Europe that can rival Sighisoara?
Essential Travel Info

Getting in: The easiest way to reach Sighisoara is by car. From Bucharest the drive woudl take about 4 hours. Alternatively, there are 4 direct train connections from Bucharest to Sighisoara and a bus that runs from Bucharest to Sighisoara and back once a day.

Getting around: Sighisoara's old town is best explored on foot! If you are driving up, park your car outside of the citadel and enjoy a few hours of walking!

Where to stay: You can easily visit Sighisoara on a day trip from Brasov or as a stopover en route further north. But those that want to take in Sighisoara's medieval charm will find lots of accommodation options to choose from. Budget travels should consider staying at Burg Hostel, located in the heart of the citadel or one of the guest houses (look for them on Agoda) in the main square.
Like this post? Pin it for later!