There is diving, and then there is scuba diving in Sipadan- an experience on a totally different level to any other dive spot we have experienced around the world.
*This post may contain affiliate links, as a result, we may receive a small commission (at no extra cost to you) on any bookings/purchases you make through the links in this post. As an Amazon Associate, we earn from qualifying purchases. Read our full disclosure
Sipadan Island, located off the east coast of Sabah in Malaysian Borneo, has long been touted as one of the top dive destination in the world! After experiencing some of the diving first hand this past September, we can confirm – Sipadan is every avid divers dream!
Traveling Soon?

Here is a list of our favourite travel providers and accessories to help get you ready for your upcoming trip!
Diving in Sipadan wasn't a cheap adventure. For budget travelers like us, it was a big hit on the wallet. 6 dives (3 on Sibuan Island and 3 on Sipadan Island), 2 nights of accommodation, 2 lunches, and equipment rental for Max and I set us back by RM 2,416 (USD $575), which is almost 4 x more than our modest budget of $USD 75 per day for both of us. And this was after a 15% discount generously offered to us by Sipadan Scuba.
Having just spent almost a week diving in Komodo Islands in Indonesia, we debated whether another 2 days of diving in Sipadan was going to be worth it. In the end, we splurged and were thrilled to find many reasons why the experience was worth every penny.
1. Sipadan Island's Ecosystem is Unlike Anywhere Else in the World
Made famous by the renowned explorer, Jacques Cousteau, Sipadan Island lies in one of the richest marine habitats in the world. The island was formed thousands of years ago when living corals started to grow on top of an extinct volcanic cone. Today, Sipadan Island is home to over 3,000 species of fish and coral that have been classified in this ecosystem.
2. Sipadan Offers a Unique Opportunity to Swim With HUGE Schools of Fish
Strong currents along the steep walls of Sipadan Island, particularly at the dive sites like Barracuda Point, bring a ton of food particles into the waters, attracting a large number of pelagic fish. And when we say "large number", we really mean "LARGE NUMBER"!
3. Sipadan is Teeming With Turtles
Remember the excitement you felt when you spotted or swam with your first turtle? Whether you've seen plenty or you have yet to see your first one, we promise you that giddy excited feeling will return when you dive at Sipadan. You are bound to see more Green and Hawksbill turtles at Sipadan than you have probably seen on all of your other dives combined.
4. Sipadan is Also Teeming With Sharks!
We are not talking about seeing 2-3 sharks, there are literally dozens of grey, white, and black tip sharks swimming around the dive sites in Sipadan.
5. It is One of the Only Places in the World Where You Can Swim With Giant Humphead Parrotfish
Imagine descending into the crystal clear blue waters and just as you equalize and get your barrings a school of giant humphead parrotfish appears right in front of you. These guys can grow to lengths of 1.3 m and can weigh up to 46 kg. They feed on coral and algae and poop out a sand like substance that adds murkiness to the waters that surround them.
6. But it's Not Just About the Big Fish…
It's not just the big fish that hang around Sipadan. During our dives at Sipadan we were lucky to spot a few adorable little nudibranchs and a shoal of squid.
7. Diving in Sipadan Feels Very Exclusive
In 2005, in order to minimize the tourism footprint, Sabah National Parks introduced a permit system for diving at Sipadan Island. Only 120 lucky divers are allowed to dive at Sipadan on a daily basis, and that includes the dive masters and instructors. (Pre-booking our Sipadan Island diving more than 2 months in advance was absolutely necessary to secure a permit). Diving on the island is only allowed between 8am and 3pm and it is rare to see more than 2 groups diving at each dive site at the same time.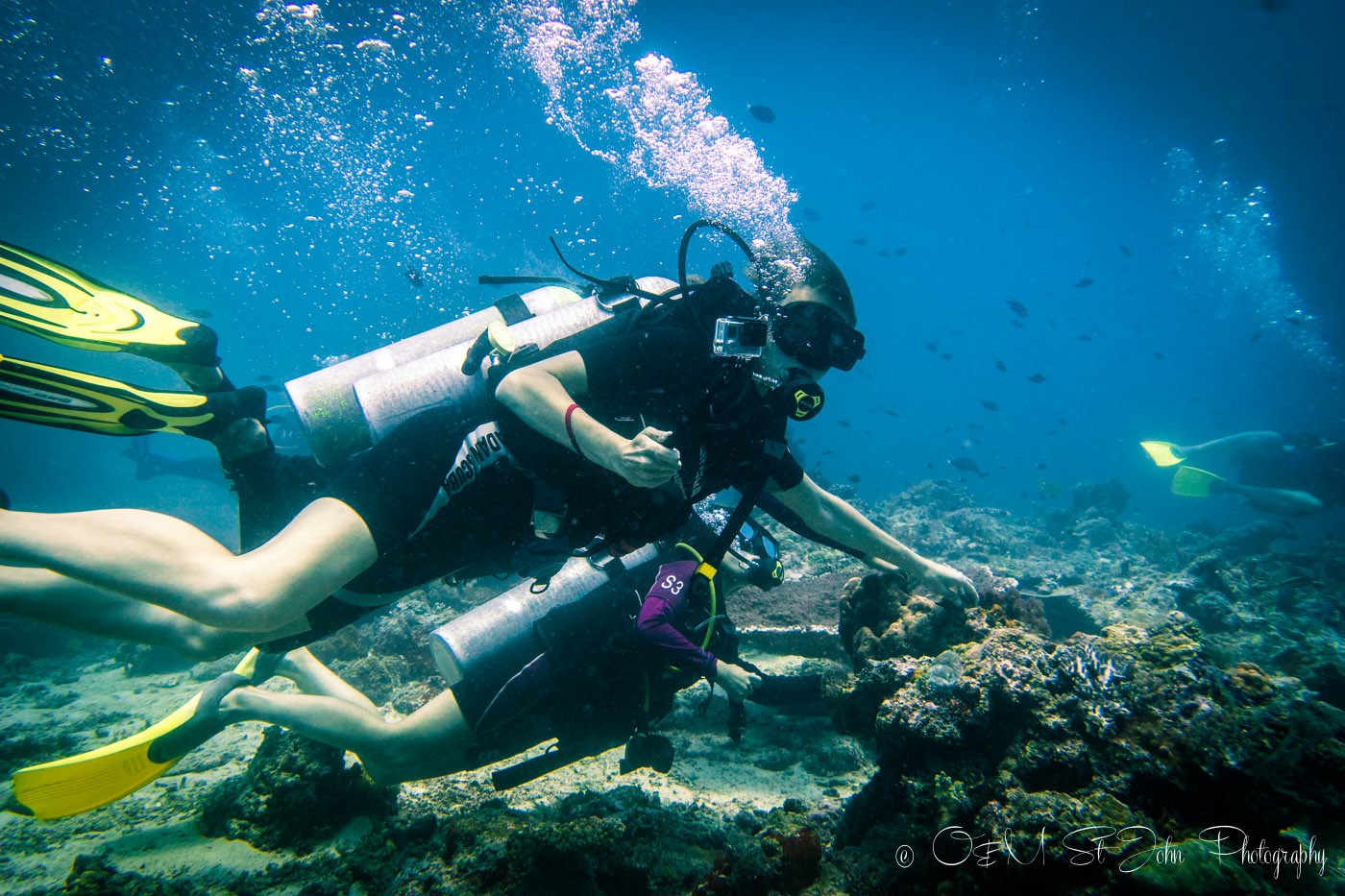 All in all, diving at Sipadan Island was an experience like no other. Visibility was fantastic and fish encounters were unbelievable. It's easy to see why Sipadan Island is often rated as one of the best dive destinations in the world!
Are you a diver? What's your favourite dive spot in the world?
Essential Travel Info

Getting in: To reach Sipadan Island travelers must travel to Semporna, a port town on the east coast of Sabah. Most visitors fly to Tawau from either Kuala Lumpur (3 hr) or Kota Kinabalu (50 min), and then continue the journey by minivan to Semporna.
Where to stay: Due to the protective status of Sipadan Island, staying on the island is no longer possible. Most visitors stay in Semporna or at one of the nearby islands of Mabul (25 min by boat) and Kapalai (15-20 min by boat). Your choice of accommodation will largely depend on who you choose to dive with as some dive companies depart only from mainland, while others operate primarily from Mabul. Our accommodation at Holiday Dive Inn, was included in our dive package with Sipadan Scuba.
Diving on Sipadan: We chose to dive with Sipadan Scuba, a reputable dive shop offering day trips to the island from Semporna. Sipadan Scuba guarantees a 1-day Sipadan permit to anyone that books their 3N/2D diving package which includes 3 dives at Sipadan and 3 dives at another island in the area.

Travel Insurance: We recommend that you take out travel insurance before arriving in Sipadan, as some dive shops, including Sipadan Scuba, mandate travel insurance for all divers. You can buy their coverage on the spot, but be prepared to pay a premium. Keep in mind that a lot of basic medical insurance plans won't cover diving as an activity, so be sure to read the fine print and inquire about all the details. Luckily, diving was included in our travel insurance plan with Budget Direct Travel Insurance, although unfortunately, it's an option available to Australian citizens/residents only.
Like this post? Pin it for later!