If you are a frequent traveler like us, hopping around countries, using wifi hotspots, and connecting to unsecured connections, then a VPN (Virtual Private Network) subscription is a must-have travel accessory.
*This post may contain affiliate links, as a result, we may receive a small commission (at no extra cost to you) on any bookings/purchases you make through the links in this post. As an Amazon Associate, we earn from qualifying purchases. Read our full disclosure
We've been using a VPN for years and could not imagine traveling without it. We've tested free VPN providers and paid ones and know exactly what to look for in a great service.
A few months ago, while on a hunt for a new VPN service (our previous subscription had expired), we discovered a new player in the market – Private Access Network and decided to give it a try.
Continue reading to find out what we thought of this new VPN service.
What is a VPN?
First, let's get some definitions out of the way. A VPN is like a shield or a safety corridor. It establishes a safe and secure connection between your device and the websites you visit and acts as a barrier to safeguard your internet connection. This makes it incredibly hard for anyone to access or steal your personal information since any information you send or receive is secured and jumbled.
But VPN offers so many more benefits than internet security, particularly while traveling
Traveling Soon?

Here is a list of our favourite travel providers and accessories to help get you ready for your upcoming trip!
Why You Should Use VPN While Traveling
Before we get into the nitty-gritty of Private Access VPN service, let's first step back and talk about the many benefits of a VPN.
Benefits of Using a VPN
Security: The most obvious benefit, and one we've already mentioned, is that a VPN encrypts your internet connection and keeps your data safe. This is particularly important while traveling and using an insecure connection in airports, cafés, hotels, and other public Wi-Fi networks.
Ability to access geo-restricted content: Many websites and streaming services are unavailable in some areas owing to copyright or licensing limitations. A VPN lets you connect to a server abroad and trick the server into thinking that you are actually browsing from another country. This allows you to gain access to your favourite shows, movies, and sports events even if they're unavailable in the country you're visiting. We can't tell you how often we use this feature, particularly when streaming on Netflix!
Avoiding censorship: Some countries filter websites, social media platforms, and even news channels, making them unavailable to you while visiting. Did you know that in China you can't access Facebook or Instagram without a VPN? VPN let's you past those restrictions and lets you surf the internet anonymously and without limitations.
Save money: Booking flights, hotels, and rental vehicles online can save money. Did you know that some travel websites advertise pricing based on your location? Sometimes a little VPN action can unlock those extra discounts and allow you to save on bookings.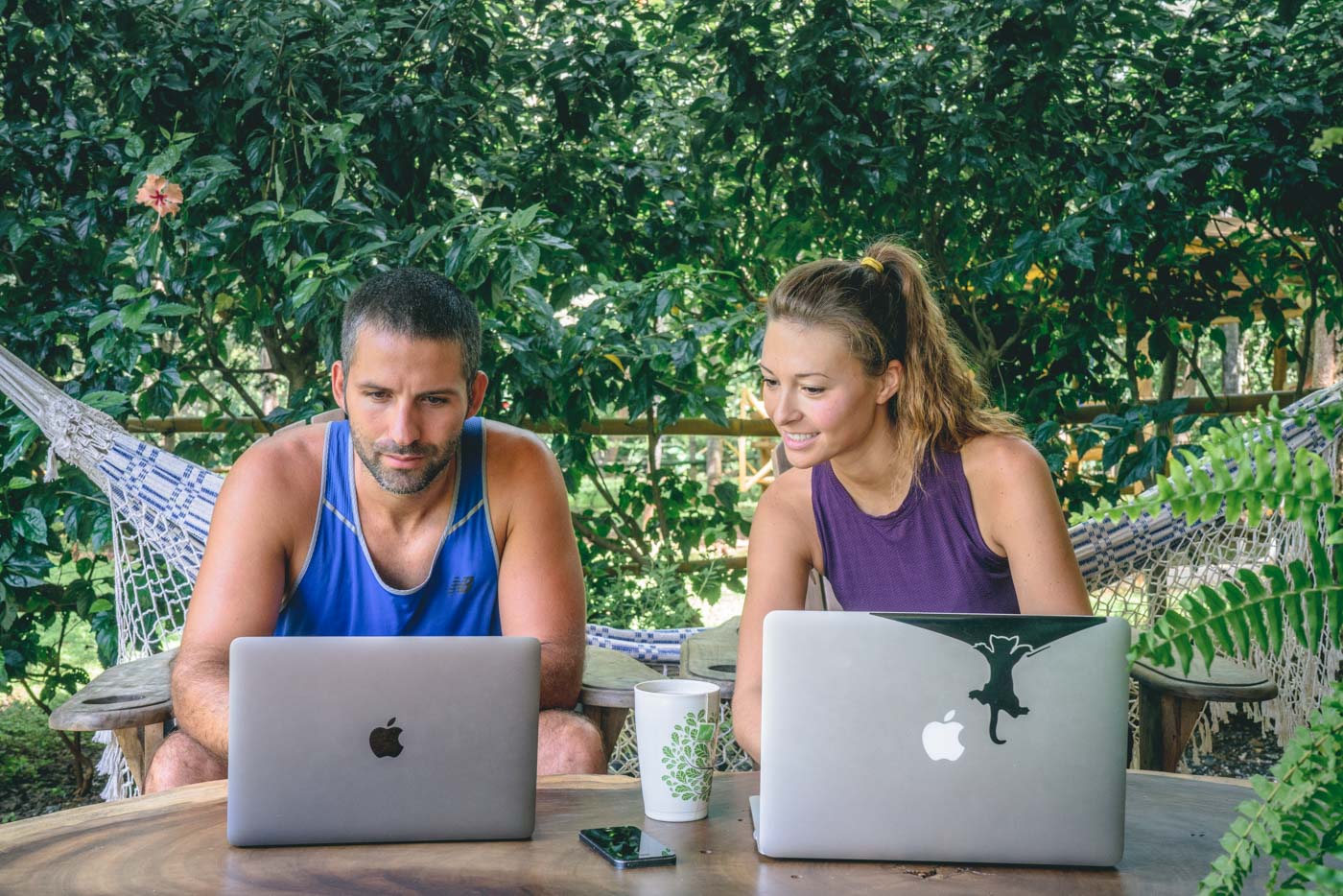 Common Myths about Using VPN
Any time we tell our friends or family about VPN, they always seem to have a number of preconceived opinions about the services. And many of these are common myths that are worth dispelling.
VPN is for the tech-savvy. Many wrongly assume that VPN is only used by techies, those that understand data encryption and network protocols. They seem intimidating to use and difficult to set up. But that couldn't be further from the truth. Most VPN companies provide easy-to-install and use applications. Our latest installation of Private Access Network VPN took less than 1 minute!
VPN reduces internet speeds: Ok, this one isn't a complete myth because VPN can and often does delay internet speeds, although, with a good VPN, the difference in speed is usually minimal. This is actually one of the biggest differentiating factors between a great VPN and a poor one because a great VPN provider's optimized server network may potentially boost speeds.
VPN is only used for illegal activities: No, VPN is not just for downloading illegal movies and bootlegged books. Of course, VPNs can be used illegally for a variety of reasons, but there are certainly plenty of legal reasons to use VPN as well.
VPN is only needed for region-locked material: Accessing region-locked material is certain a benefit of VPN, but as mentioned already, there are many other useful benefits of VPN that go beyond this.
Free VPN is just as good as a paid service: Free VPNs are appealing, but they frequently have data restrictions, slower speeds, and fewer server locations. Paid VPNs offer more features, security, and speed. Trust us, we've tested a few!
About Private Internet Access (PIA)
Private Internet Access is a leading VPN provider with over 10 years of experience and more than 30 million downloads.
They provide entirely open-source software and pride themself on being one of the most transparent VPN on the market.
Private Internet Access has world-class servers in 84 countries and offers flawless streaming capabilities in addition to privacy protection. That's because their apps are compatible with all major streaming providers. They also offer P2P file sharing, which is uncommon among VPNs, across all servers.
To provide the highest speed and security, Private Internet Access employs cutting-edge VPN protocols (OpenVPN and WireGuard) and encryption standards (128-bit and 256-bit AES). They have token-based dedicated IPs for people who desire a specific, individual IP address, as well as completely customisable applications that provide users total control over their connection and setup options.
If that all sounds a bit too technical to you, let us simplify it. Private Internet Access is a good VPN and it works better than the competition.
How to Set up Private Access VPN
PIA VPN has one of the fastest and easiest sign up processes.
Sign up for

Private Internet Access

and click on Buy PIA VPN

Select a plan and purchase a subscription.

Download the VPN software to your computer. You can also download their Chrome Plugin.

Follow the installation steps to complete the set up

Look for the lock symbol in your Menu Bar. Click on it to bring up the PIA VPN settings.

Select the server (select a specific country or let the system auto-select for you)

Click Connect, and Voila!
Manually configure the VPN if you don't like the screen instructions. Simply click Settings, Network and Internet, VPN, and "Add a VPN". For more extensive instructions, visit the PIA website's setup tutorials, knowledge base, and community forum.
Private Internet Access is available for all platforms, from Windows to macOS, Android, iOS, Linux, and many others. Plus, you can protect an unlimited amount of devices at the same time with one subscription.
Running Some Tests
Having had a VPN service in the past, we can easily compare PIA VPN to another provider.
Here is what we like about PIA:
Quick and easy set up.

Ability to see the latency of each country's connection in an easy drop down menu

Optimized streaming servers

No device limits. One PIA subscription can protect any and all of your devices.

Fast connection speed.
For us, the last point is a game changer. In the past, we have avoided using VPN for ongoing work and protection because our old VPN connection decreased our internet speeds significantly. PIA's connection performs so much better. Just look at these screen shots below, where we compare the speed of our current connection with our old VPN vs PIA connection.
For us, Private Internet Access is a winner, and it's certainly worth giving it a try if you don't use VPN already. The icing on the cake? It's 30-Day Money-Back Guarantee policy means that if you don't like anything about the system, you can cancel and get a full refund.
Sign up using our link below and you'll get 4 months FREE plus a dirt cheap rate of just $2/month.
CLICK HERE TO SIGN UP
To Sum Up
A VPN is the best travel accessory to add to your packing list. Grab a subscription and never lose access to your favourite shows and streaming services just because you are in a new country. Look for better deals on flights, car rentals and hotels by browning with a VPN set on another region. Plus, safeguard your connection and protect yourself from potential cyber-attacks when connecting to opened networks abroad.
Private Internet Access VPN's setup is simple and easy, and our special discount code in THIS LINK will give you 4 months for free!
Disclaimer: This is a sponsored post brought to you by Private Internet Access, but as always, all opinions expressed in this article are our own.