Tucked away next to Brunei on the island of Borneo, Gunung Mulu National Park and its main attraction the Mulu caves is one of the biggest protected rainforest areas in this part of Malaysia.
*This post may contain affiliate links, as a result, we may receive a small commission (at no extra cost to you) on any bookings/purchases you make through the links in this post. As an Amazon Associate, we earn from qualifying purchases. Read our full disclosure
The park's extensive underground cave network and unique mountain peaks are what drew our attention to this remote corner of Sarawak, Malaysia and why we recommend that others make a trip out here during their visit to Borneo.
Mulu National Park is a great place to visit as a tourist, but it is also a favourite spot among scientists as well. The cave systems have been intensely studied by geologists, conservationists, and expeditionists for many years. The entire area is a UNESCO World Heritage Site and is one of the most spectacular nature parks that we've seen in all of Asia.
On our recent visit to Malaysia in February 2019, we spent 4 days in Gunung Mulu National Park, visiting the Mulu Caves and hiking to the Mulu Pinnacles.
Things to do in Gunung Mulu National Park
Visit Mulu Caves
The national park is most famous for its cave systems, the longest in the world by surface area. Altogether, the vast underground system has nearly 300 km (186.5 miles) of cave passages and over 1.5 million cubic feet of volume.
Traveling Soon?

Here is a list of our favourite travel providers and accessories to help get you ready for your upcoming trip!
The first 2 days of our time in the park were dedicated to exploring the famous caves, particularly the Lang Cave, Deer Cave, Clearwater Cave, Wind Cave and Lady Cave.
Lang Cave
First on our itinerary was the Lang Cave, one of the smaller Mulu Caves but one that was certainly still worth a visit.
In this cave, we found fantastic limestone rocks formations as well as a host of stalactites and stalagmites all, lit up with floodlights.
Deer Cave
Deer Cave is perhaps the most famous of the Mulu Caves. First open to tourists in 1985, it is the largest cave in the park that can be visited and gets its name from the communities of deer that often seek shelter inside.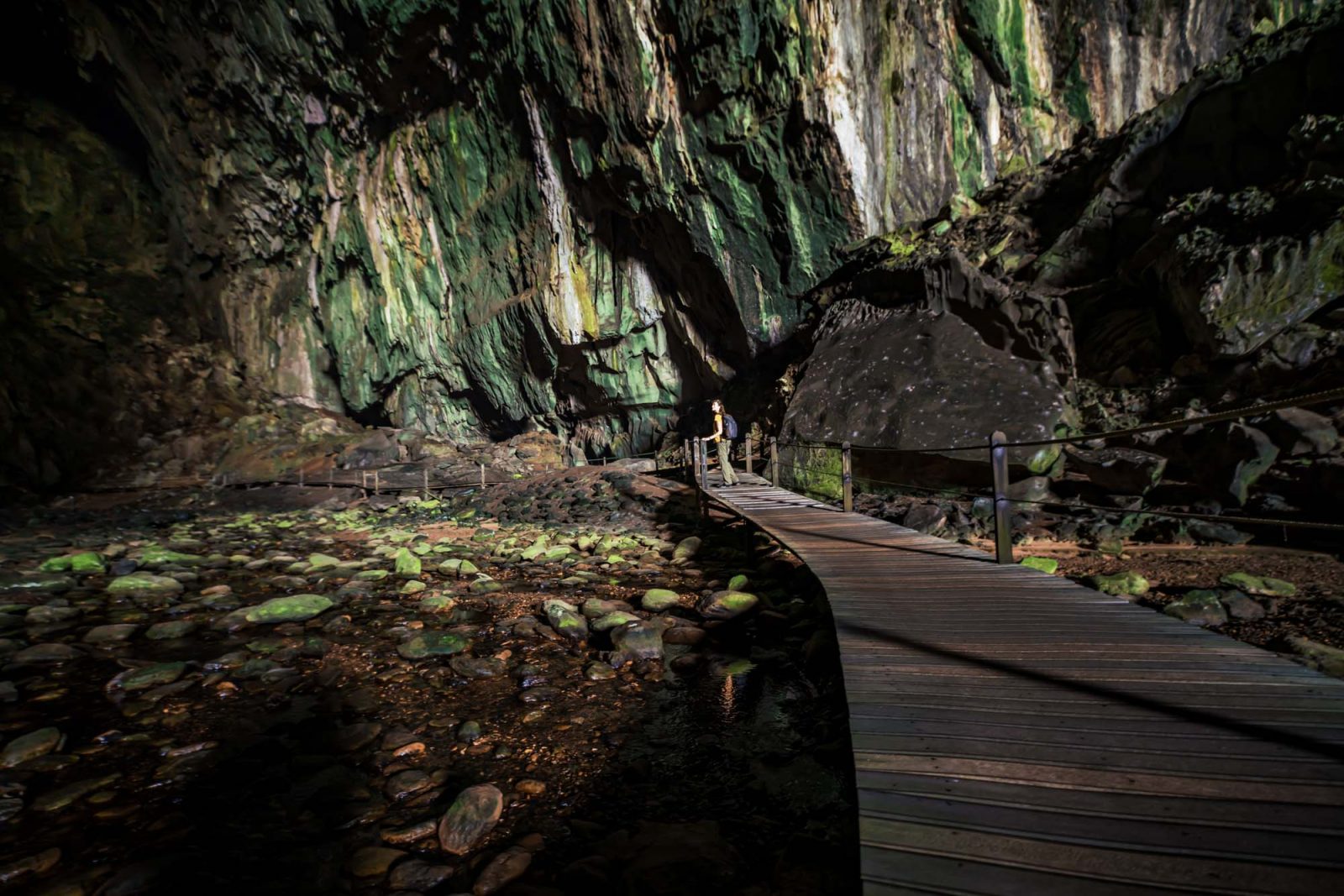 The Lang Cave is connected with the Deer Cave, so they are usually visited together. We were able to visit both the Lang Cave and the Deer Cave in one afternoon.
The Deer Cave has a number of cool features such as the Garden of Eden, a hole in the ceiling that shines a light in a circle below, and the gigantic rock formation resembling the profile of US President Abraham Lincoln.
The Bat Exodus
The most exciting thing about the Deer Cave was the Bat Exodus that takes place nearly every evening. Between 5 and 7 pm, the bats that live in the cave exit by the thousands, ready to spend the night searching for food.
There is a viewing platform set up just outside of the cave, where we settled in for about an hour after our cave tour and waited for the show. The Bat Exodus lasted for about 45 minutes with thousands of bats exiting the cave at once.
Clearwater Cave
Clearwater Cave holds the title of the longest cave in all of Asia at 107 km (66 miles) long. The highlight of the cave is its underground river that makes for a unique surrounding inside the cave.
A visit to the Clearwater Cave is usually combined with the Wind Cave and the Lady Cave, so that's exactly what we did during our 2nd day at the Gunung Mulu National Park.
Wind Cave
As a part of the Clearwater Cave system, Wind Cave is smaller but just as impressive as its larger neighbours. The most exciting corner of this Mulu Cave is called the Kings Room, a chamber full of massive rock columns and coral structures.
The cave gets its name from the strong air drafts that can be felt in many places.
Lady Cave
Lady Cave is another part of the Clearwater system and can be explored in just 15 minutes. The reason for the name of the cave actually stems from some of the stalagmite formations that looks like a statue of the woman. The cave is not as impressive as some of the other caves, but it's worth a visit.
Other Tours and Activities in the Park
The Pinnacles Hike
Beyond the caves, the national park is famous for the Mulu Pinnacles, massive and jagged limestone formations that require a 3-day and 2-night hiking trip to visit.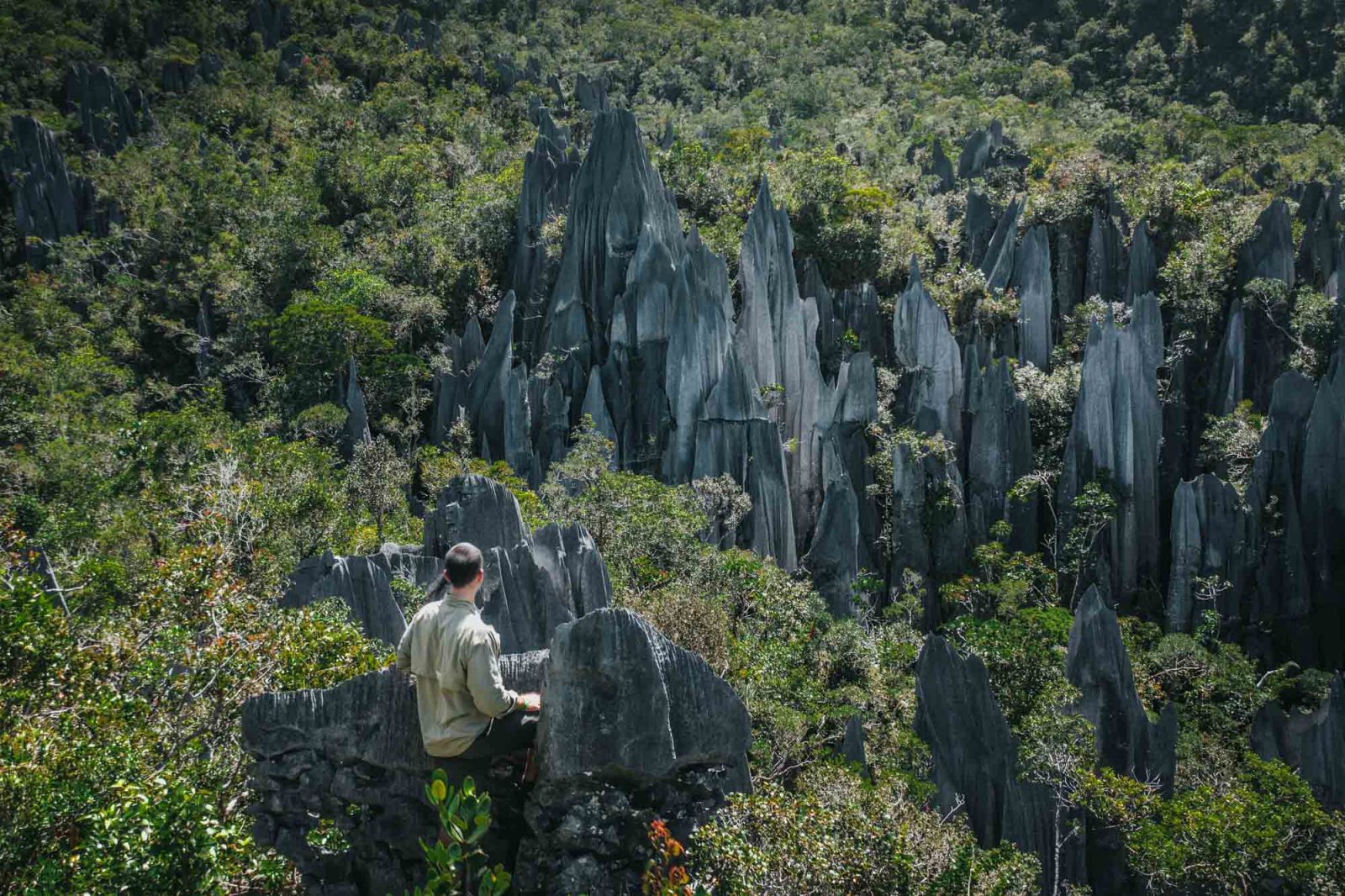 Our journey to the Pinnacles began from the Clearwater Cave on Day 2 of the trip. It took a 2-hour boat ride and another 2-hour hike to get to Camp 5 where we stayed overnight. From there it was a long 10-hour return hike to the Pinnacles the following day.
This journey was very difficult, especially when arriving at the Mulu Pinnacles themselves, which required to scale numerous ladders bolted into the rock cliffs.
Adventure Caving
If you want to see more of the cave systems than the traditional tours allow, then suit up for some adventure caving.
On your journey, you'll traverse undergrounds rivers, climb over large boulders, squeeze through narrow tunnels, and even do some rock climbing and abseiling. Expect to sweat, get dirty, and have an incredible adventure!
While adventure caving does require a strong body and a level head, there are a few different options of varying difficulty that you can choose from.
Canopy Walks
One great way to see more of the jungle in Mulu National Park is to explore the long network of canopy bridges that crisscross the trees more than 20 meters (65.5 feet) above the ground.
The track is about half a kilometre long and crosses over rock formations, lush vegetation, and waterways. These walks are a great way to get a new perspective of the beautiful rainforest. Only a certain number of people are allowed on the canopies per day so make sure you book your tour ahead of time with the Mulu National Park Headquarters.
Hikes
There are more than a few fantastic hikes in Mulu National Park, but most of them are for advanced trekkers only so make sure to assess your level of experience honestly and come prepared. These two are a couple of the most exciting.
Headhunter's Trek
This track is an awesome option for those who want a little bit of everything during their visit. You'll start with a journey by boat along the river and then hike through the jungle for a number of days while spending your nights at Camp 5, the national park's remote lodging for long distance hikers.
Gunung Mulu Summit Trek
If you really want to challenge yourself, you can summit Mt. Mulu over the course of three or four days. You'll also stay at jungle huts overnight, and will have the pride of saying you conquered the toughest track in Mulu National Park. The lookout point at the top provides views of the entire park below.
Accommodation & Facilities
Although there isn't a lot of variety when it comes to accommodation, there are still a number of good options to choose from in and around the park.
Mulu National Park Headquarters
One possibility is to stay at the park's headquarters, an affordable and comfortable choice right at the center of the action.
You can choose to stay in a private bungalow with a private bathroom, share a bungalow with friends, or opt to stay in a hostel-like longhouse accommodation. All bungalows have a lovely deck seating area where you can enjoy nature in between your tours/hikes.
The headquarters has a restaurant on site that serves nice local meals at reasonable prices.
All hikes and cave tours start at the HQ reception, which makes this accommodation option the most convenient place to stay for exploring Mulu National Park.
Mulu Marriott Hotel
Another option is Mulu Marriott. Designed like a traditional longhouse on stilts, this hotel is your best option for a luxury yet still affordable stay during your time in the jungle. There is a restaurant on site.
The Marriott is located just 5-10 mins away from the park HQ.
How to Get to Mulu National Park
Mulu National Park is very isolated. In order to visit, you'll need to fly into the Mulu airport right outside the entrance to the park. You can catch a number of daily flights to Mulu starting in the seaside town of Miri, Malaysia, or fly from Kuching, Kota Kinabalu, or Bandar Seri Begawan although these flights run less frequently.
Though it may be a little out of the way, Mulu National Park is an amazing trip for dedicated adventure lovers. The hiking was excellent, the wildlife was truly wild, and the caves were so much fun to explore. If you want to really get immersed in nature and journey where few tourists dare to go, there's no better place than Gunung Mulu National Park.
Have you explored any of Malaysia's national parks? Which one was your favourite?
Disclaimer: This post contains affiliate links which means that we receive a small commission on your bookings at no additional cost to you.