October was our 3rd month of being full-time travelers and digital nomads and we have to admit, we are really loving it! It's finally hitting us that this lifestyle is not just a long vacation, it's our new life!
*This post may contain affiliate links, as a result, we may receive a small commission (at no extra cost to you) on any bookings/purchases you make through the links in this post. As an Amazon Associate, we earn from qualifying purchases. Read our full disclosure
Here is what October had in store for us.
Countries Visited
England (short stop), Morocco, Spain (short stop), Romania, Denmark (short stop), USA
Cities/Towns Visited
England: London; Morocco: Tangier, Chefchaouen, Fes, Merzouga, Ourzazate, Essaouira, Imlil, Marrakech; Spain: Madrid; Romania: Bucharest, Brasov, Sighisoara, Sapanta, Baia Mare, Cluj Napoca, Balea Lake; Denmark: Copenhagen; USA: Fort Lauderdale
Traveling Soon?

Here is a list of our favourite travel providers and accessories to help get you ready for your upcoming trip!
We kicked off the month with a quick layover and a lovely evening with some friends in London before hopping on a plane to Morocco. Once there, we rented a car and traveled down and across the country, all the way from Tangier to Marrakech. In the 2 weeks that we spent in Morocco, we got a chance to experience the country's great cities with their culture rich medinas, beautiful Kasbahs, and swarming markets, along with the quieter High Atlas Mountains, and the magnificent Sahara Desert.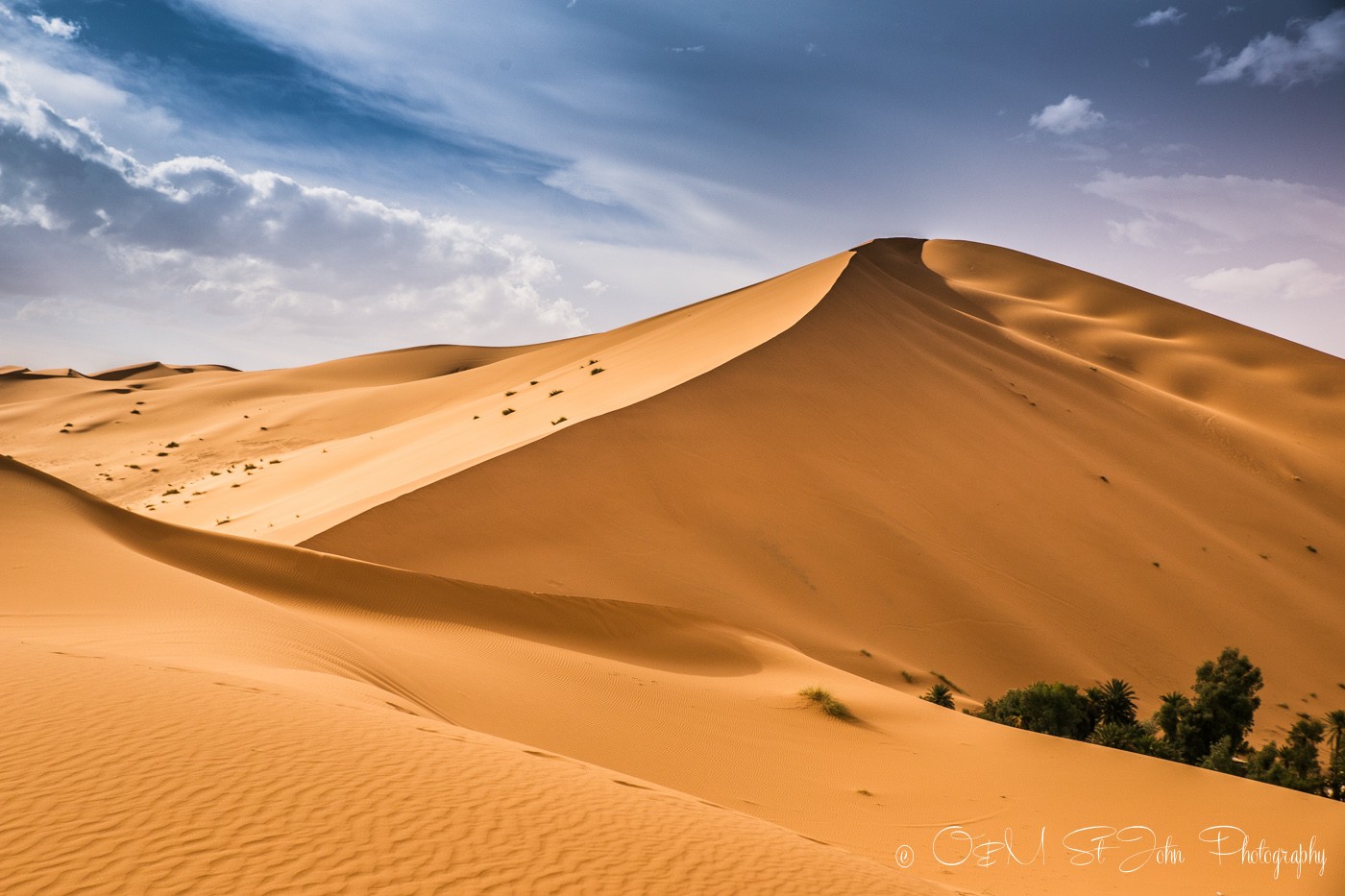 Distance Traveled
19,040 kms
Modes of Transportation
8 planes, 2 cars (well technically 3 since one of them had to be replaced after our Sahara Desert fiasco), 3 trains, 2 busses, 2 camels, 1 bike, 1 tow truck. October was definitely an easy month of transportation since we opted to road trip across Morocco and Romania instead of hopping around local busses, trains, and donkeys.
Photos Taken
Only 5,800 snaps this month! But sometimes less is more…
Money Spent
This month we took our daily budgeting to a new level by investing in a paid version of our favourite spending app – Trail Wallet. Did we mention it is freaking awesome? We were able to track our spending in October down to a dollar, making it easy for us to analyse where we are spending our precious $$.
Unfortunately, the app didn't help us stay on budget this month. We spent AUD $3,636 (USD $2,555) between 2 of us, which is $536 over our budget and is an equivalent of roughly AUD $117 (USD $82)/day. Not too shabby, considering how low our budget goal is, but it is a bit more than we were expecting. Turns out, those tangines in Morocco can be pricey and my little shopping addiction meant that we walked away with a few more Aladdin pants and scarfs than we probably should have. Oh and that $250 lost key fee didn't help us either.  
Travel Highlights
There were plenty of amazing experiences in October, but at the top of our list was definitely our visit to Balea Lake, the highest point along the Transfăgărășan road in Romanian Transylvania. The lake was situated at 2,034 m in the Făgăraș Mountains, making it a popular spot for trekking to the peaks.
We were incredibly lucky to arrive in Balea Lake on the most perfect blue-skied day, just in time for a 2-hour ascent to the famous peak overlooking the lake. It was cold,  windy and the path was steep and slippery, but the views from the top and the magical sunset on the way down made it an unbelievable experience.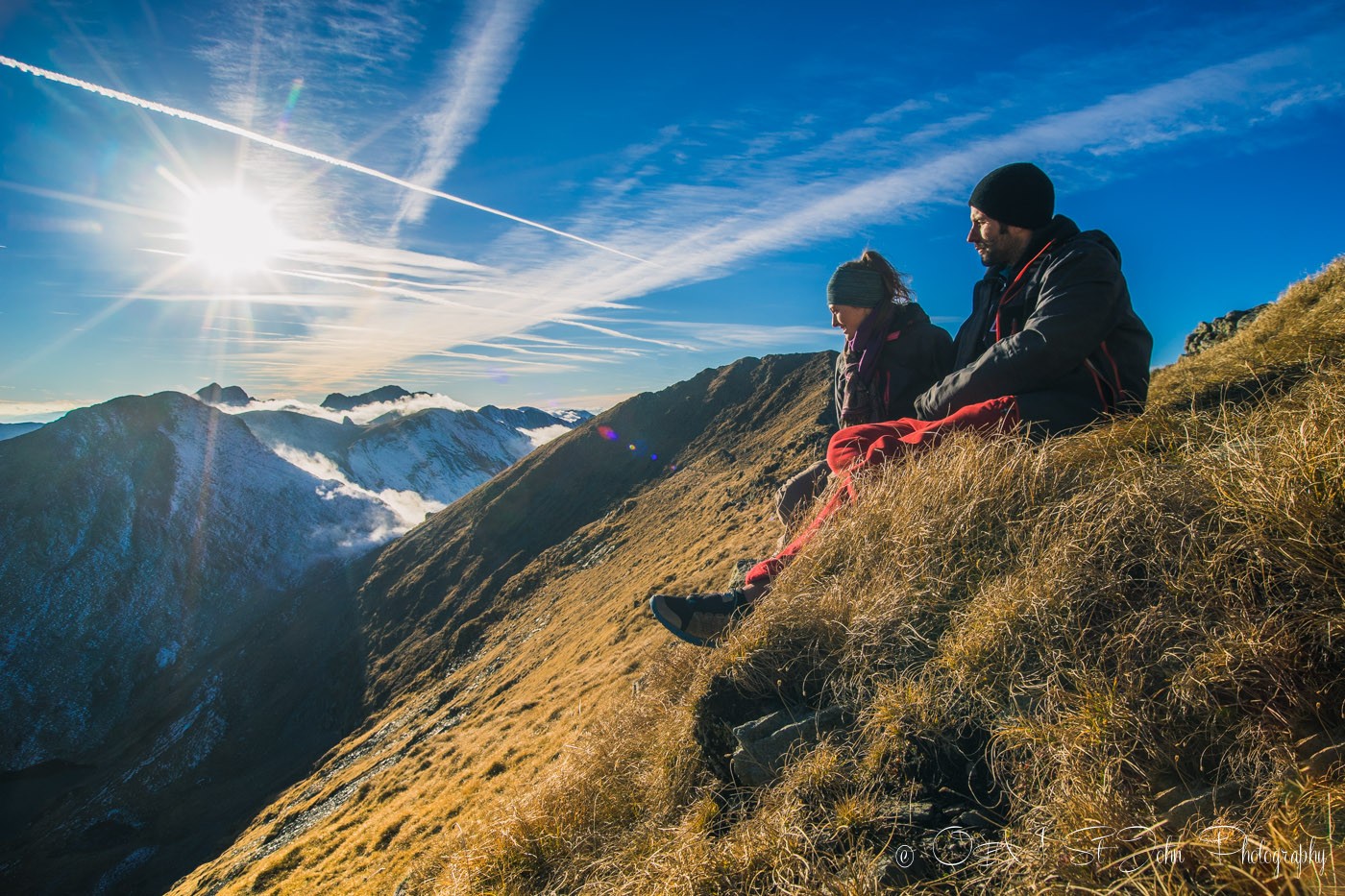 …and low lights
Sahara Desert. Keys. Tow Truck. Enough said…although as time passes this incident seems more like an epic travel tale and less like the worst memory of October.
Favourite Eats
We were a bit disappointed to discover that cuisine is Morocco was seriously lacking in diversity. I mean, don't they get tired of eating tagine and couscous every day? And the truth is, they probably don't, because both tagine and couscous can come in great varieties and flavour combinations. Our favourite was Beef Tagine with Prunes and Almonds – a perfect combination of sweet and savoury, crunchy and tender, full of Moroccan spices and exquisite flavours.
In Romania, we (well mostly just Oksana) fell in love with the Bean and Ham Soup Served inside a loaf of bread, a dish with Hungarian origin that was common in the northern parts of the country, particularly in areas of Maramures and Transylvania. The best part of this hearty dish was the last few spoonfuls that always contained the gooey bread soaked with the delicious flavour of the soup. It's making my mouth water just thinking about it!
Tea of the Month
It is no wonder they call it Berber Whiskey, the Moroccan mint tea is addicting and intoxicating and it is hands down our FAVOURITE TEA IN THE WORLD!  (Yes, we said it. It's a big statement and we are sticking to it!)
Favourite Accommodation
Our favourite accommodation in October was Maison Hotel (find it here), a 4 storey beautiful riad tucked away in a winding medina in Chefchaouen in Morocco. We came across it as a complete fluke (the hotel doesn't even have a website) and fell in love with its design, traditional Moroccan decor, great service and their delicious breakfast. All for just $25 a night!
Next Month
The truth is, we have no idea what we are doing in November. As the year is coming to an end, we need to slow down our travels and shift our focus to preparing for our New Year's Eve Wedding in Costa Rica. Max has already made his way to Costa Rica to start preparations and I'll be following him shortly. But first, I'm joining my future sister in law on my very first cruise to the Bahamas! I'm excited and nervous at the same time.
Cruising has never been an activity I was interested in, but when Norwegian Cruise Lines invited us to preview their brand new ship – the Norwegian Escape, we just couldn't say no. So wish me luck!
Have you ever been on a cruise before? Can you share any of your first timer tips with me?