This post was first published in 2015 but has been updated in 2019 with the most recent information on the Sahara Desert Tour
We had planned our Sahara Desert Tour for a while. But even though we spent a lot of time and effort on research and preparations ahead of our adventure, our Sahara trip still took an unexpected turn when we got stranded without a car in the middle of the hot Moroccan desert. We hope this article will help you to avoid the same mistake and entertain you to a certain level.
*This post may contain affiliate links, as a result, we may receive a small commission (at no extra cost to you) on any bookings/purchases you make through the links in this post. As an Amazon Associate, we earn from qualifying purchases. Read our full disclosure
Our Experience on a Sahara Desert Tour
We were in the middle of our Sahara Trip enjoying the serene beauty of the surrounding landscapes and taking in every second of our amazing experience when things went wrong.
"Oksana!," I heard the panic in Max's voice and immediately contoured my body and turned around trying my best not to fall off the camel.
"What is it?" I screamed against the wind.
"Shit, Oksana," Max was visibly distressed, frantically patting his shorts and looking around his camel's saddle. "I don't have our car keys."
"Where are they?" I asked not quite sure yet if I needed to start panicking or if this was just another case of Max misplacing something in his pockets/bag. "Relax, I'm sure they are just in some pocket in the bag," I assured him, fully believing what I was saying.
"Muhamed, can we stop the caravan?" I yelled out to our camel guide who continued to lead our two camels through the desert. "We need to check the bags to find our car keys," I explained.
"No, you don't understand, Oksana," Max insisted. "They are gone! They were in my small Velcro pocket and now the pocket is undone and the keys are gone.
I couldn't quite process the information. Were the keys lost? Did we have the spare ones? Was this a big deal? Were we in trouble? What were we going to do?
Traveling Soon?

Here is a list of our favourite travel providers and accessories to help get you ready for your upcoming trip!
It was our second day of the Sahara trip, but we were still in absolute awe of our surroundings. It was just the two of us, our two camels (called Bob Marley and Jimmy Hendrix) and our camel guide, Muhamed, making our way up and down the dunes in search of tiny nomad settlements or the cool shades of the oasis on once-in-a-lifetime Sahara Desert tour
Sahara Desert Tour: Day 1
We departed our hotel in Merzouga, a town in the east of Morocco, the day before and after a painful (no one tells you camel rides are painful, so we will), 2 hour journey across the dunes, we rode into the sunset to a simple mud hut in a one-family nomad village in the Erg Chebbi.
We ate delicious Tagine meal prepared by the local family and spent that evening drinking Berber Whisky (that's what the Berbers call Mint Tea), playing cards, and joking around with Muhamed while practicing our star and light photography. (Muhamed was fascinated!)
Sahara Desert Tour: Day 2
The second day of our Sahara Desert tour was possibly the most relaxing day we had in months. We saddled our camels shortly after breakfast and made our way to an oasis hidden away in the heart of the sand dunes. It was a short 1.5hr ride to get there, which our butts were oh-so-grateful for!
We spent hours lounging in the shade in the Oubira Oasis, drinking tea, eating more delicious food, playing cards, and chatting about life. Rested and relaxed, we were keen for another ride across the desert. We snapped pictures, played with our camels, and we were really looking forward to another great night of the Sahara trip.
But then our Sahara Desert tour took an unexpected turn.
Trouble in the Sahara Desert
"Any luck?" I asked Max who has now jumped off his camel and was frantically rummaging through his day pack.
"No. The key is gone. I'm walking back to the oasis to look for it," he said.
CRAP!
"You can't go back by yourself. It's a f&$&ing desert and we've been weaving through it for more than an hour now. You'll get lost!" I cried out in disbelief.
"Ok. It's no problem," said Muhamed. "The camp for tonight is only 10 mins away. We continue walking, get to camp, you leave your things and we can walk back to look for key"
It was 6p.m., just an hour before the sun dips below the horizon and covers the desert with a blanket of complete darkness. I didn't like the idea of Max wandering off into the desert on our Sahara trip, but there seemed to be no other option.
Upon arrival, Muhamed tied up our camels, introduced me to another Berber who was running the campsite (which, by the way, was a LOT nicer than our nomad mud hut the night before) before heading back into the desert with Max.
I was in for a long wait…
After spending 30 minutes flipping our bags inside out in search of the missing key, I decided to make good use of my time and take some shots of the desert.
Camera in hand I headed out of the campsite and walked to the top of the sand dunes. The sky was fierce! I snapped away at the harsh cloud lines and the beautiful sun dipping below the horizon and for a few minutes found myself completely mesmerised by the desert yet again.
Lost key? It didn't seem to matter. The desert had me captivated. The worries were gone and I was again enjoying our Sahara tour.
Getting Caught in a Sand Storm during Sahara Desert Tour
The wind suddenly picked up and the clouds were looking angrier and ominous with every passing minute.
I heard a faint noise from the campsite and looked over to realize that our camels had broken free and were hobbling (their right front knees were tied up to keep them in place) away from the campsite.
Shit! This wasn't good.
"Camels! Camels! Help!" I ran back into the camp looking for the Berber.
He came out of the kitchen tent, looked at the sky, then at the running camels and sprinted into the desert to catch them. All of a sudden, the GoPro that I set up to take a time lapse of the sunset had dropped to the ground, knocked down by gusty winds.
A wave of sand covered my feet. I finally put two and two together. Angry sky+strong wind+animals running for their life = we were about to get hit by the sandstorm.
My mind hit panic mode.
Max! The key! There was no way he was going to find it in the middle of a sandstorm. It was getting dark out. Are they even going to be able to find their way back?
The wind gust picked up another wave of sand and covered me in it. I ran back to the tent looking for shelter.
But I couldn't sit still. I covered up (luckily by now I had become an expert at tying a desert turban) and went back to the edge of the camp fighting against the sandy wind every step of the way.
I stood there for what felt like an eternity when 2 figures appeared on the edge of the horizon. My heart filled with joy! It's them! They are back!!!
I didn't care about the stupid car keys, I didn't care about all of our possessions, passports and other valuables being locked in the car. I just wanted them back safely.
And they were. I hugged Max tightly, not wanting to let go.
"I didn't find the keys," he whispered.
"It doesn't matter." And at that moment it really didn't.
Making the Most of our time on the Sahara Desert Tour
Even after our unsuccessful search for the lost keys, we tried our best to make the most out of our Sahara Desert tour. The delicious meal, Berber whiskey, and some traditional Berber music, singing, and dancing helped us put aside our worries and enjoy our Sahara trip again …even if it was temporarily.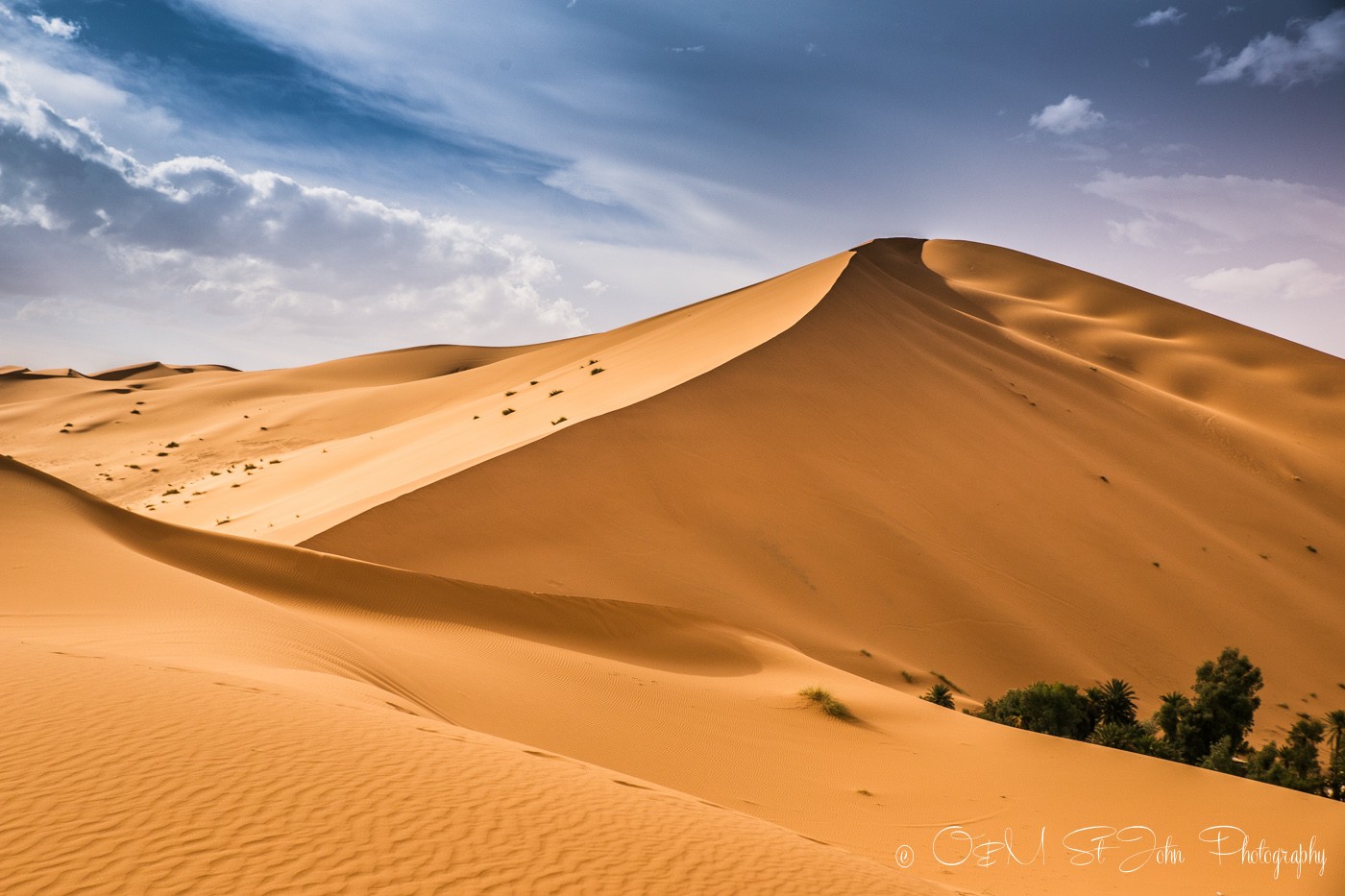 The next morning Mohamed and two of his friends borrowed an ATV and retraced our steps in the desert searching for the damn keys. But the desert had them now. The sandstorm had covered our tracks and made it impossible to find something so small in the gigantic sand dunes.
Despite losing our keys, we returned from the Sahara trip in complete awe of the experience. Hearing the stories of the Sahara nomads from Muhamed, drinking tea and eating homemade tagine in the nomad's camp, watching sunrise and sunset among the sand dunes, and seeing the desert Berber lifestyle with our own eyes was the highlight of our time in Morocco. Our Sahara trip was one of our greatest travel experiences despite the lost keys.
Upon returning to the hotel the next morning, we called our rental company, Europcar, and with some help from the amazing hotel staff were presented with 2 choices.
Sit tight and wait for 2-3 days for the spare key to be delivered from Casablanca

Order a tow truck which would tow our car and us to the nearest Europcar dealership, which happened to be in Ouarzazate, some 300kms away (186 miles).
The rental company played nice and agreed to cover the cost of roadside assistance, leaving us with only $250 USD fine to pay for the lost keys. I guess it could've been much worse!
An 8-hour sweaty, smelly, bumpy tow truck ride later we arrived in Ouarzazate, where the Europcar manager managed to unlock our car and free our belongings. Since the car keys were still missing, he gave us a new rental, collected our $250 USD fee and let us go on with our Sahara trip.
All's Well that Ends Well
They say, all's well that ends well and, given the circumstances, we got off pretty easy, but losing our car keys during our Sahara trip has got to be the STUPIDEST thing we have ever done!
Bob Marley and Jimmy Hendrix far away in the distance…We hope our story will serve as a cautionary tale for you and will help you to plan and prepare for your Sahara Desert trips properly. The Sahara desert is a harsh and unforgiving place and it's crucial that you always keep your belongings in check and follow the directions of your guide.
How much time should I spend in the desert?
Going on one of Sahara tours is one-of-a-kind experience that you can't find anywhere else in the world. Besides strolling along the dunes and taking pictures, there are numerous other activities that you can do while visiting the Sahara desert. Some of them include sandboarding, stargazing and hunting for fossils. The Saharan region is rich in fossils and if you know where to look, you can easily find a few.
Booking a Sahara Desert Tour
If you are planning your adventure in the desert, you might wonder if it's better to prebook your tour or book it when you arrive in Morocco.
As soon as you get to the country, it'll be easy to find a tour operator that will help you book a Sahara Desert Tour. However, we only recommend this option to travelers with a flexible schedule, as it may be difficult to jump on a tour on your desired date if don't make a booking ahead of time. Booking last minute can help you save on the tour price, but it might also mean that you'll have to wait for a few days for the tour to depart.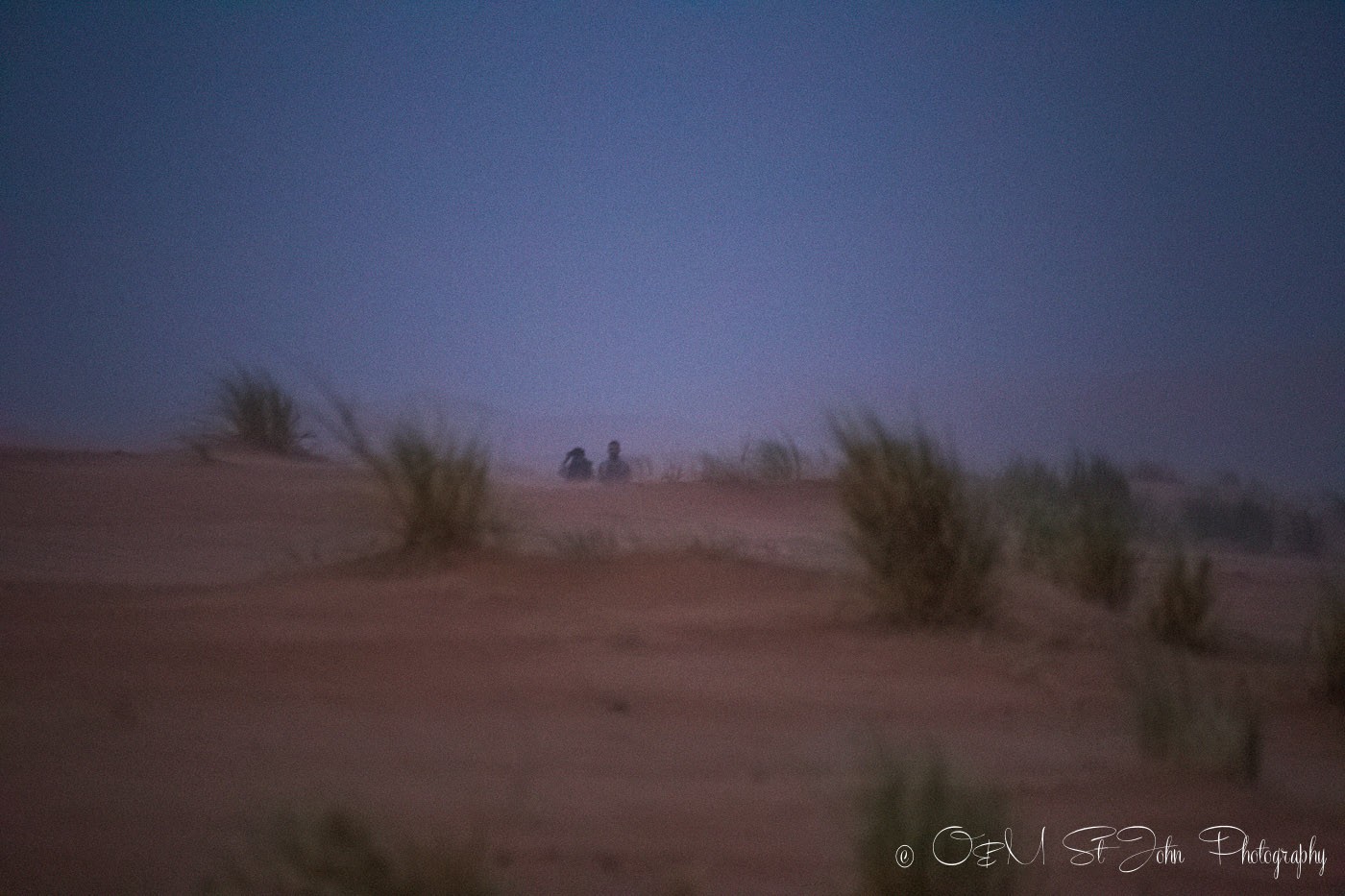 They are back!If you are short of time, we recommend booking your Sahara Desert Tour in advance to give you the peace of mind that your itinerary in Morocco will not be interrupted.
Most tour companies offer tours that visit similar spots in the Sahara Desert and offer a comparable number of inclusions.
Marrakech to Merzouga 3-day Safari Trip:

This tour departs from Marrakech and is accompanied by a multilingual tour guide who speaks English and French. The tour includes the night at a Bedouin camp in the Erg Chebbi dunes, a visit to Kasbach of Ouarzazate, and a camel ride to see the sunset and sunrise.

From Merzouga: Overnight Camel Trek over Erg Chebbi Dunes:

This tour option is ideal for someone who is able to get to Merzouga on their own. The tour starts from the town of Merzouga, located just outside of the desert and includes a camel trek through the dunes of Erg Chebbi Desert on this overnight trip through the Sahara. While on the tour, you can also try sand-boarding and drumming, then enjoy traditional tagine and sweet mint tea before camping under the stars in a Berber tent.
3 Days 2 Nights Desert Trip to Marrakech from Fes:

This tour includes a visit to the Desert en route from Fes to Marrakech. The tour also takes you through the Cedars forest, Atlas Mountains and the Sahara Desert. It's a great option if you do not have your own transportation and are looking for a convenient way to visit the Sahara Desert.
What to pack for Sahara Desert Trip:
Taking a Sahara trip requires knowledge and preparation. You have to make sure that you bring only the most necessary items but at the same time have enough of critical supplies such as food and water. Here are some of the items that should be on your list when you plan one of Sahara tours.
Loose fitting clothing. This applies to pants, t-shirts and scarves that you can wrap around your head and the upper part of your body when it gets too hot.

A hat and a pair of sunglasses for some shade

Closed footwear. If you are going to ride a camel, stay away from open-toe footwear such as sandals and flip-flops

A camera. You can never take enough photos on your trip through the Sahara Desert

Enough water and snacks. Depending on how much water you drink, you may want to take some extra bottles. Keep in mind that water in plastic bottles do get very hot, so it's a good idea to bring a metal thermos or other container that will keep it cool.

A first-aid-kit. From getting a headache to injuring yourself accidentally, anything could happen on your journey. With the nearest hospitals hundreds of miles (or kilometers) away, it's crucial to have items that you might need in an emergency situation

A headlamp or flashlight. When the sun goes down, the desert literally gets pitch black. Having a flashlight can be extremely helpful in the dark desert.

A power bank (and charging cords). A power bank can come in very handy when you get to the camp and need to charge you camera, phone or any other electronics that you have

Toiletries. This doesn't need an explanation. One thing you need to keep in mind is that chapstick is a great thing to have as your lips could get cracked from the hot temperature.

A small backpack or bag. Don't forget to put everything in a small bag or backpack that can fit your belongings.
Like this post? Pin it for later!
Have you ever made any big mistake like this while traveling? Please share them in the comments below so we can feel a bit less stupid about ours…