A Miami to Key West Road Trip is widely known as one of the best road trips in the US. The route offers great beaches, fun activities, and a chance to visit the buzzing town of Key West.
*This post may contain affiliate links, as a result, we may receive a small commission (at no extra cost to you) on any bookings/purchases you make through the links in this post. As an Amazon Associate, we earn from qualifying purchases. Read our full disclosure
---
Key West is by far the most popular vacation destination in the region, but there is a lot more to see and do en route, especially for outdoor and nature lovers.
---
The distance from Key West to Miami is only 164 miles, making it easy to tackle the drive in one go. Driving from Miami to Key West takes just 3-4 hours, but we recommend stretching the journey across 5-7 days to cover all the highlights of the Florida Keys.
As sustainable travelers, we are always looking for ways to minimize our impact on the environment and on the destinations we visit, so for this Key West Road Trip, we rented an Electric Vehicle to traverse the Keys with minimal CO2 impact.
In the below guide we share all of our tips for planning an eco-friendly Miami to Key West drive. Read on for our recommended things to do, favourite places to eat and stay from Miami to the Keys.
Traveling with an Electric Vehicle in Florida Keys
Traveling with an electric vehicle in the Florida Keys ended up easier than we expected.
We rented a 2021 Polestar 2 by Volvo from Enterprise Car Rental at Miami International Airport for a great price of less than $100/day. The vehicle came fully charged, allowing us to travel the distance of up to 300 miles in one go. This was more than enough to drive from Miami to Key West without having to recharge along the way.
Traveling Soon?

Here is a list of our favourite travel providers and accessories to help get you ready for your upcoming trip!
Plan Your Trip: Check Car Rental rates in Miami for your dates.
Want to reduce your emissions in the Florida Keys? Check Hybrid or Electric under car specifications to filter your search results by eco-friendlier options.
EV Charging Stations in Florida Keys
When it came time to charge up, we were happy to find a number of EV charging stations in the Florida Keys. For non-Telsa drivers, like ourselves, Electrify America offers 2 EV charging stations in the Keys.
Electrify America stations offer CCS, CHADeMO and J1772™ connectors, so any electric vehicle can use these chargers to top up. Their chargers automatically give you the fastest charge based on the specs of your car. To charge, you can either use your smartphone and the Electrify America app (which gives you discounted pricing with a Pass+ subscription or simply use debit or credit card like you would at a regular gas pump.
Our Polestar 2 Electric Vehicle came with a fast charger and an adapter that allowed us to plug the vehicle into any regular outlet.
Electrify America Locations in Florida Keys
Key Largo:

101499 Overseas Hwy, Key Largo, FL 33037

Key West:

Bank of America Parking Lot at 3200 FLAGLER AVENUE, Key West, FL 33040
In addition to Electrify America charging stations, we were also able to charge at a number of hotels and restaurants in Florida Keys, including:
Grassy Flats Resort
Parrot Key Hotel
Isla Bella Beach Resort
These resorts did not offer fast charging, but leaving our car on charge overnight plugged into a regular outlet allowed up to get 60-80kW of power every day (xx of our battery). More than enough for our daily adventures!
EV Road Trip in Florida Keys
The bottom line is – we loved cruising around the Keys in our Polestar 2 EV. The ride was comfortable and relaxing! Given how easy it was to charge our Polestar en route, we never had to worry about finding an EV Charging Station in Florida Keys or waste precious sightseeing time at the charger. And knowing that our choice to travel in an Electric Vehicle resulted in a lower carbon footprint on our trip made us feel that much happier while exploring the Keys!
So now that we've hopefully convinced you of the benefits of using an electric vehicle for your Miami to Key West Road Trip, let's dive into our suggested itinerary.
Start in Miami
The City of Miami is a beach lovers' paradise. This coastal metropolis is famous for its Art Deco architecture, warm weather, stunning beaches, and a lively nightlife and shoppipg scene.
It's also the most common place to start your Florida Keys road trip. The city is a major transport hub so it's easy to fly into Miami International Airport and start your adventure from there.
While you might be eager to hit the road en route from Miami to Key West, we recommend slowing down and spending a few days in Miami.
Things to do in Miami
Head to South Beach –

one of the most popular and beautiful beaches in Miami

Shop til you drop at Lincoln Road Mall:

This is a popular shopping strip in Downtown Miami where you'll find all the major brands. Be mindful as you browse the shops and buy only what you truly need. Lincoln Road Mall is also a lively place on weekends with Sunday Farmer's Markets, morning yoga classes, and outdoor concerts.

Explore Little Havana:

Immerse yourself into Miami's cultural heart! Take a stroll in the colourful neighbourhood at the heart of the Cuban community. The area stretches from SW 12th to SW 17th Avenues along Calle Ocho and is dotted with Cuban restaurants, cigar stands, trendy shops and art galleries. Support the local community by grabbing a bite to eat, indulging in some great Cuban coffee or buying a few crafts for friends and family.

Everglades National Park:

This expansive 1.5 million-acre wetlands national park is one of the most incredible natural places to visit in the entire country. Located south of Miami, Everglades National Park is famous for its rare and endangered animals including the manatee, American crocodile and Florida panther. You can take a boat tour to view some of these animals or go hiking to explore on foot around the Everglades National Park.

Biscayne National Park:

Encompassing and protecting incredible coral reefs, islands, and shoreline mangroves in the northern Florida Keys, the Biscayne National Park is another great place to visit near Miami. There's no shortage of things to do in the park, including diving, snorkelling, boat tours, hiking, camping and kayaking.
Miami to Key West Drive: Florida Keys Road Trip Itinerary
Time to hit the road for your Miami to Key West drive! There is lots to see along the way so be sure to take it slow and plan to spend a few days en route. This allows you to take a leisurely pace and explore many of the best attractions on the drive to Florida Keys.
Day 1: Miami to Key Largo/Islamorada
Miami to Key Largo: 67 miles
Key Largo to Islamorada: 16 miles
The first stop on your Florida Keys is Key Largo, a small town sitting in the upper Florida Keys. Key Largo is often overlooked by travelers rushing to make their way to Key West and is a community that could use a boost in tourism.
Key Largo is often described as the dive capital of the world, so it's the must-stop for anyone who wants to explore the underwater world. If you leave Miami early and reach Key Largo in the morning you can spend a day exploring the area.
Things to do in Key Largo
Dive at John Pennekamp Coral Reef State Park.

This incredible underwater park can be explored by glass bottom boat tour, with a kayak or by scuba diving. If you are a certified diver, hop about with

Horizon Divers, a reputable and responsible dive operator in Key Largo, offering a variety of diving trips to over 100 dive sites

within John Pennekamp Coral Reef State Park. They offer 2 dive trips per day, in the morning and in the afternoon.

Grab lunch at Key Largo Conch House:

Hidden behind trees, Key Largo Conch House is a cozy local restaurant with outdoor seating in a

cute garden setting.

Their menu features fresh local seafood, breakfast options and delicious desserts. This spot is perfect for breakfast or lunch!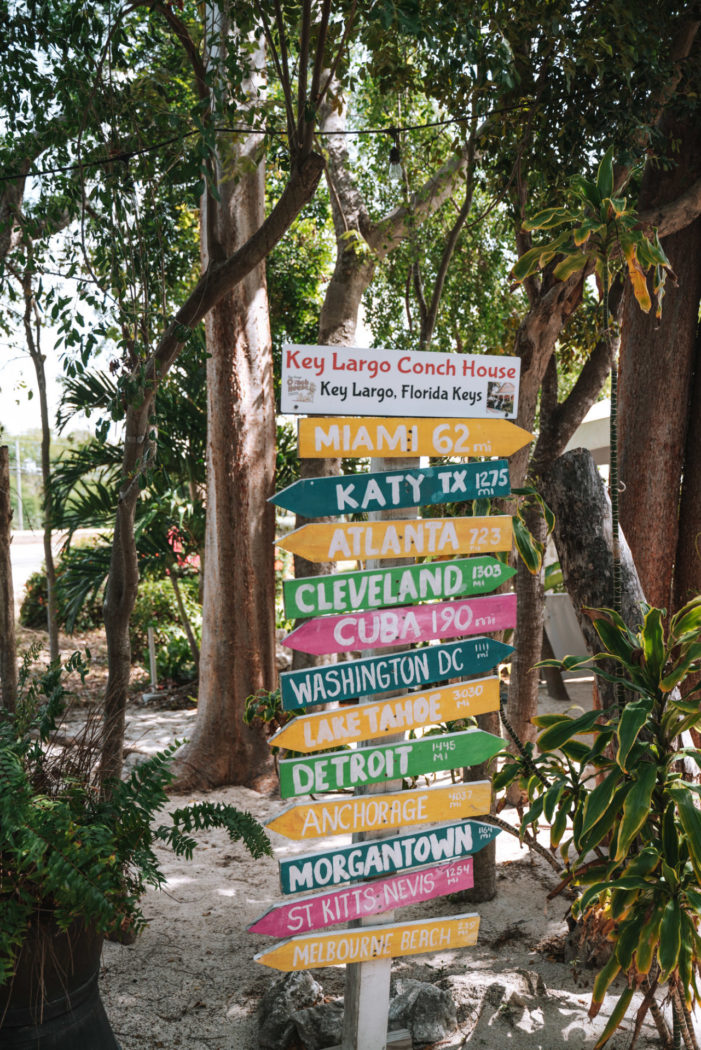 Things to do in Islamorada
Check out Tarpon at Robbie's Marina/Hungry Tarpon Restaurant:

The biggest draw of Robbie's is a

school of giant tarpon that circle the dock in the marina

. The marina sells fish for $2.25 that you can hand feed to the tarpon. While it makes for a cool experience and Insta-worthy shot, we opted out of feeding the fish, as we prefer to not hand feed marine life. If you are a conscious traveler, we recommend you do the same. The on-site restaurant and bar get rave reviews for their delicious fresh seafood and great sunset views.

Stop at the History of Diving Museum:

A quick stop at this not-for-profit museum in Islamorada is a must for any avid divers. The

museum

has exhibitions and displays for all ages to learn about the history of diving, with events running throughout the year.
Where to Stay in Key Largo/Islamorada:
Postcard Inn Beach Resort & Marina – A beautiful resort acknowledged by Florida Green Lodging for their commitment to the environment, the Postcard Inn Beach Resort offers rooms and cottages with nautical decor and rustic handcrafted furnishings. The resort is home to 14 acres of beach, iconic waterfront dining options and an on-site dive centre. The resort has an EV Charging Station on-site to help you keep your electric vehicle juiced up while you sleep.
Days 2-3: Marathon
Key Largo to Marathon: 47 miles
Islamorada to Marathon: 30 miles
From Key Largo/Islamorada jump back onto the Overseas Highway and continue your road trip to Key West through the Upper and Middle Keys. The next stop on your Key West Road Trip is the city of Marathon. Set on 13 islands, this region offers great boating activities, great beaches and reefs, and fishing opportunities. There are great waterfront restaurants, plus opportunities to kayak, paddle-board and jump into the turquoise waters.
If you're an active outdoor enthusiast, you'll find plenty of things to do in Marathon!
Things to do in Marathon
Try wakeboarding or paddle boarding at The Lagoon:

For water sports junkies,

The Lagoon

on Grassy Key is one of the best places to stop on the drive to Key West. The Keys Cable Park at The Lagoon is a huge 50-acre eco-conscious water sports park offering a variety of board, wind, and paddle sports. They have half or full-day rentals, including kayaks, SUP boards, body boards, windsurfing equipment and wakeboards. The Lagoon is run by a sustainability activist, Matt Sexton, who also owns the nearby Grassy Flats Resort and dedicates a lot of work to the sustainable development of the region.

Explore Old Seven Mile Bridge by Bicycle:

The Old Seven Mile Bridge was originally built over a century ago but has been recently turned into an extended cycle and walking path to the historic Pigeon Key. Walking the bridge can get really hot in the sun, so we recommend renting bikes from

Bike Marathon Bike Rentals

. They're a family-owned business with great quality bikes and equipment.

Dive into History at Pigeon Key:

Known as one of the most historically important locations on the Florida Keys,

Pigeon Key

is a tiny island that once housed 400 workers who built the Florida Keys Overseas Railroad in the early 1900s. Today, Pigeon Key is a

historical site with well-preserved buildings

, including a museum that showcases information about the railroad construction and the lives of its workers. The island is also a

good spot for snorkelling, kayaking and bird watching.

You'll find an outfitter on-site with snorkelling and kayaking equipment for rent.

Skip a visit to the Dolphin Research Center:

Located just north of Marathon near Duck Key, the

Dolphin Research Center

is still a popoluar attraction in Marathon, but one we suggest that you skip. While the Research Center is a non-for-profit and an educational facility, they

promote unethical wildlife encounters,

breeding in captivity, touching of wildlife and training their in-house marine animals to perform tricks. If you want a dolphin or sea lion interaction while in the Keys, we recommend a responsible dolphin cruise and snorkel with

Honest Eco Sustainable Nature Tours

in Key West (more on that later).

Join a Tour at the Turtle Hospital:

A visit to the Turtle Hospital in Marathon is a great ethical wildlife experience for any animal lover. The Turtle Hospital is a non-profit dedicated to rescuing and rehabilitating injured sea turtles. We recommend joining one of their tours of the hospital which run every half an hour and donating to their cause.

Spent some time at Bahia Honda State Park:

Located between Marathon and Big Pine Key, Bahia Honda State Park is known for having some of the best beaches between Miami to Key West. You'll find boat ramps, a campground, picnic areas and plenty of space in the park to spread out and relax for a day or so.

Stop at National Key Deer Refuge:

Just south of Bahia Honda State Park, this reserve on Big Pine Key covers 8500 acres. It was set up to protect the endangered key deer, which number in the 600-800 now. You can explore on foot to try and spot only a few dozen of them or visit the free Nature Center to learn more about them.
Where to Eat in Marathon
Breakfast at Bongo's Café at the Lagoon: Bongo's Cafe, located on-site at the Lagoon, serves a great tropical breakfast menu from 8am to 11am each day. It's the perfect place to fill your stomach before you enjoy some of the activities at The Lagoon. Ingredients are locally sourced and dishes are plant-forward!
Lunch at Food for Thought Cafe: One of our favourite foodie experiences in the Florida Keys, Food For Thought is located on Marathon and is a natural foods store and organic cafe all in one. It's great for breakfast or lunch, with plenty of vegan, plant-based, and gluten-free options. They also stock a range of health products and plastic-free alternatives.
Dinner at Mahina at Isla Bella Beach Resort: An incredible dining experience on your road trip to the Florida Keys, dinner at the new Polynesian-inspired restaurant at Isla Bella Beach Resort is pretty special. With fresh, tropical flavours inspired by Hawaii, the oceanfront dining area is the perfect place for a romantic night.
Where to Stay in Marathon
Grassy Flats Resort & Beach Club
The Grassy Flats Resort & Beach Club is a beautiful oceanfront resort and the beach club in Marathon is the perfect place to stay in the Middle Keys area. They offer 33 rooms including two to three-bedroom suites and a four-bedroom guesthouse. There are 2 pools on-site, a beach club bar, as well as kayaks and paddle boards for rent.
The resort offers that quintessential Florida Keys holiday vibe, but is unlike any other resort in the Keys thanks to its extensive focus on sustainable development and responsible operations. The resort boasts a long list of sustainability initiatives including the use of plant-based detergents, an in-house recycling program, exclusion of pesticides and herbicides from on-site gardens, and a seaweed composting program. The property also has a ban on single-use plastics and used a lot of recycled materials in the construction of the property.
If you are traveling with an electric vehicle as we did, you'll be able to plug in and charge up your EV overnight.
Days 4-7: Key West
Marathon to Key West: 51 miles
Your road trip from Miami to Key West ends here, but the adventures in town are just beginning. Key West Town is the southernmost city of the contiguous United States and has become a popular vacation destination. It's literally the end of the road, where you'll find Mile Marker 0 of the US Highway Route 1.
Plan to spend at least 3-4 days once you reach Key West to give yourself time to relax, see the town and enjoy some nearby activities. There's so much to do in Key West with great beaches, historical sites, and incredible restaurants.
Here are some of our recommendations for things to do in Key West
Things to do in Key West
Visit the Southernmost Point:

A giant buoy marks the southernmost point in the continental United States, which is also only 90 miles from Cuba. It's a popular spot to snap a photo to mark the end of your Miami to Key West road trip.

Go on a Sunset Sail Cruise:

For a completely unique way to see the Key West harbour, we recommend taking a sunset cruise with

Sebago Watersports

, a reputable operator with daily departures.

Don't forget to bring your own reusable cup on board, as drinks on the boat are unfortunately served in plastic cups.

Spend a day at Smather Beach: This picture-perfect beach just outside of Key West is a popular destination on a beautiful sunny day. There are sunchairs for rent, water sports on offer and food trucks lining the beach promenade, so you can easily stay all day.
Join a Dolphin Watching Tour:

This tour was one of the highlights of our Miami to Key West Road Trip.

The fabulous crew from

Honest Eco Sustainable Nature Tours

offers an incredible

half-day adventure on Key West's first electric-powered charter boat.

The boat takes visitors out to the nearby shallow waters known as the dolphin playground and gives you a chance to observe dolphins in their natural environment. The tour also includes an hour-long snorkelling session, suitable for complete beginners. We spotted a ton of marine life on our trip, including sharks, turtles, octopuses, lobsters and more!

Experience Nightlife on Duval Street:

Duval Street is the main hub of nighttime entertainment in Key West Old Town. It's home to many lively bars and restaurants and is a popular spot for a night of live music and good fun. At the northern end of the street, you'll also find Mallory Square, a public waterfront square with a nightly arts and crafts festival worth checking out at sunset.

Visit Key West Lighthouse & Keeper's Quarters:

Located in the heart of Key West Town, the

historic lighthouse

first opened in 1848 with a woman as its Keeper, which was nearly unheard of during the 19th century. While the lighthouse has been decommissioned since then, it's been preserved as a reminder of the maritime heritage of the area. You can walk up the 88 steps to the top of the Key West lighthouse for an incredible view and explore the belongings, photographs, and words of the lighthouse Keepers and their families in the museum.

Tour Ernest Hemingway Home and Museum:

Ernest Hemingway lived and wrote in Key West for nearly 10 years, with many of his classic works being put together at his

Whitehead Street property

. You can now step back in time and visit the rooms and gardens of the writer including his original studio every day from 9am to 5pm.

Take a Conch Train Tour of Key West Town:

Short on time but want to see as much of Key West as possible? Hop aboard the historic Conch Train for a fun and informative ride around the Old Town. You'll get insights into the historical significance of the town, and its main attractions and get a chance to see all of Key West attractions in a 1-2 hour tour.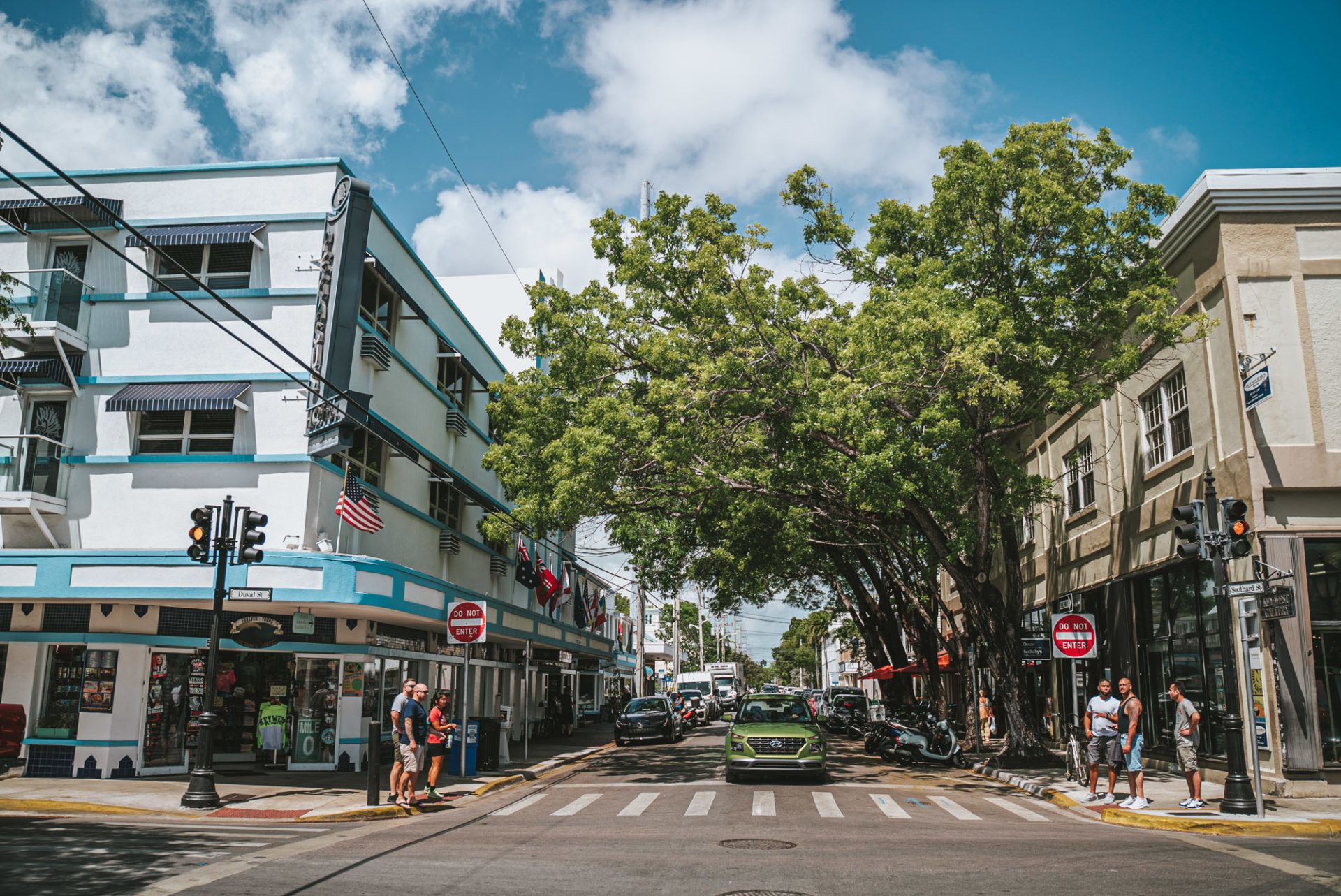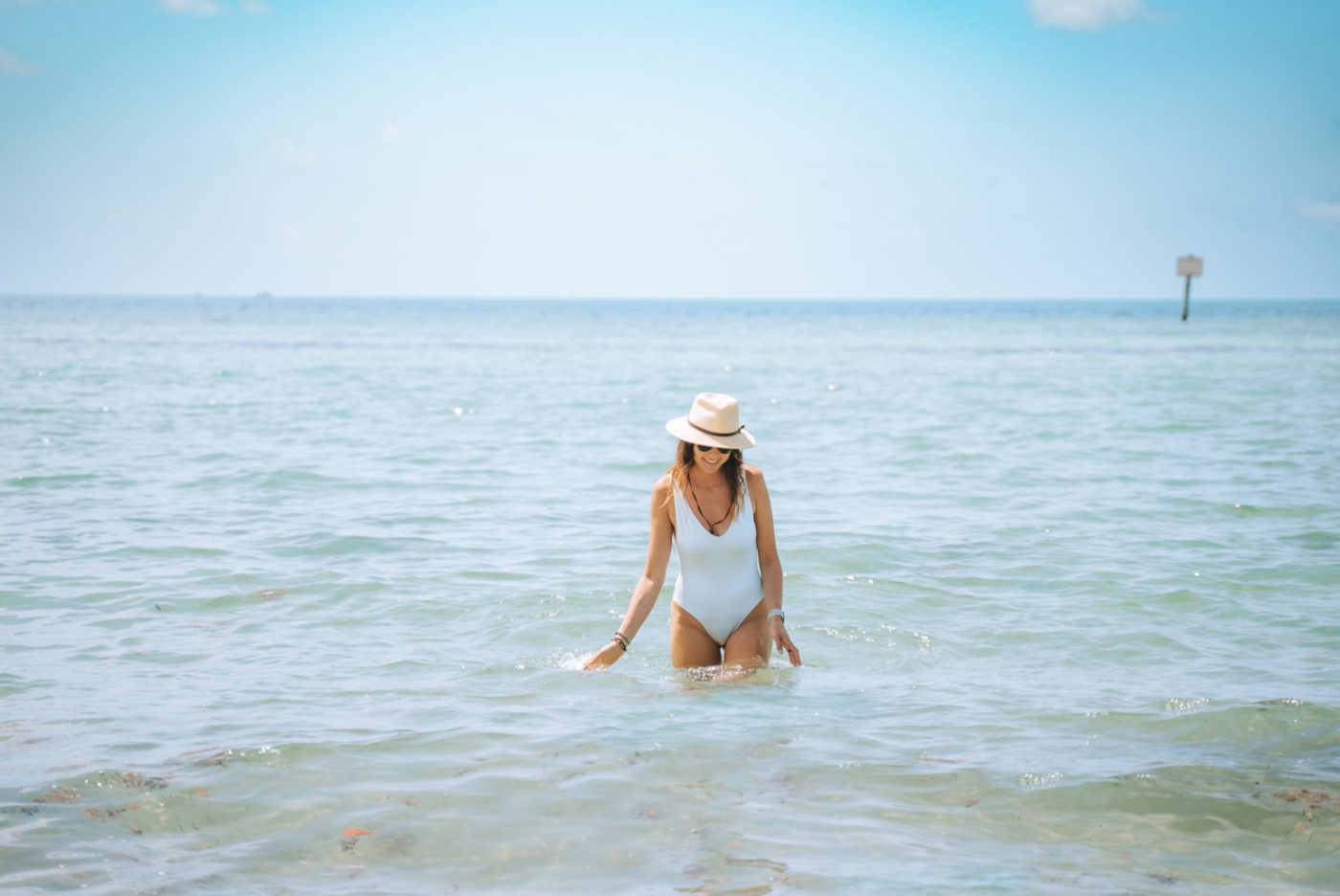 Visit Dry Tortugas National Park
Located just 70 miles off the coast of Key West, the Dry Tortugas National Park is one of the most unique national parks in the country. If you have some extra time on your Florida road trip, we highly recommend adding some time to visit the islands of Dry Tortugas.
You can visit the national park by seaplane or ferry, with the ferry taking around 2 hours and 15 minutes to reah Dry Tortugas from Key West. Note that ferry seats are limited and tickets sell out well in advance, so be sure to book ahead!
You can visit Dry Tortugas National Park on a day trip, but there is also camping available if you want to stay the night.
Must-see attractions in Dry Tortugas National Park:
Historic Fort Jefferson:

The iconic attraction of the islands is the historic fort dating back to the 19th century. Used during the Civil War by warships and as a prison, there are civil war relics and plenty of history to discover on a visit.

Garden Key Lighthouse: The

lighthouse, built in 1826, is located near Fort Jefferson and is another popular attraction in Dry Tortugas. The lighhouse was actively used for around a century.

Coral reefs:

Dry Tortugas National Park is a site rich in historical significance, but outdoor enthusiasts will be happy to hear that it is also home to an incredible coral reef network. The reef wraps around the islands, making Dry Tortugas a

great snorkelling and diving destination.
Where to Eat in Key West
Breakfast at Date & Thyme Organic Cafe: Located in a former gas station, Date & Thyme Organic Cafe & Market is a vibrant foodie oasis in the heart of Key West. Their menu features fresh, organic food with an aim to nourish and fuel the body and mind. You can also browse through their organic grocery store for extra goodies to take with you.
Lunch or dinner at Half Shell Raw Bar: Located in the Key West Historic Seaport, the casual Half Shell Raw Bar serves a variety of fresh seafood overlooking the marina. Whether you pick the traditional fish and chips, the famous Half Shell conch ceviche or their homemade Key Lime Pie (our favourite), you won't be disappointed by this local spot.
Dinner at Matt's Stock Island Kitchen & Bar: Located at The Perry Hotel Key West, Matt's Kitchen serves American coastal comfort food with a creative twist. The restaurant overlooks a beautiful marina on Stock Island and has won countless awards for its food and ambience.
Eat Key Lime Pie: If finding the best Key Lime Pie on your Miami to Key West drive, is on your to-do list, don't miss a chance to sample the goodies at Kermit's Key West Key Lime Shoppe. The bright place decked out in yellow and green is widely known as one of the best Key Lime pie spots in town. They offer fresh homemade pies to enjoy at the
Where to Stay in Key West
Located in New Town in Key West, this recently refurbished 148-unit property is surrounded by a mangrove forest. The hotel offers spacious waterfront villas with semi-private outdoor patios. Rooms are perfect for a romantic getaway for a couple, but can also fit a family or group of friends traveling together. Some rooms offer multiple bedrooms, living room space and balconies.
The property also features the poolside bar and Grove Kitchen which serves breakfast, lunch and dinner. The hotel makes sustainability a priority by using its own platform, EarthView, to track the energy and water use and waste impact.
To help its guests minimize their carbon footprint while in the Keys, the hotel offers bicycles for rent and a group shuttle that can take you to downtown Key West for dinner or activities throughout the day.
Have you ever done a road trip from Miami to Key West What other stops and fun attractions would you recommend en route?
Disclaimer: Big thanks to the Florida Keys & Key West Tourism Board for hosting us during our time in the Keys.
As always, all opinions expressed in this article are our own.