The Galápagos Islands are a truly magical place. They deserve a spot on every adventure traveler's bucket list for their gorgeous landscapes and world-renowned wildlife.
*This post may contain affiliate links, as a result, we may receive a small commission (at no extra cost to you) on any bookings/purchases you make through the links in this post. As an Amazon Associate, we earn from qualifying purchases. Read our full disclosure
San Cristóbal, Galápagos is not the most famous island of the archipelago, but it is undoubtedly a special place. It is the easternmost island, formed by several volcanos that melded together before going extinct. It was the first island Darwin ever visited when he first came to the Galápagos.
On our first trip to the Galápagos, we had the chance to explore four different islands, and each of them had something unique to offer. San Cristobal was easily one of our favourites. We spent a lot of time exploring both on land and below the sea and highly recommend a visit for anyone who's up for an adventure.
Things To Do on San Cristóbal Island
San Cristobal is brimming with fun activities and offers a unique natural and human history. From scuba diving to hiking your way around craters, there are many things to do in San Cristobal Island.
Admire the Sea Lions
When visiting the island, you certainly will see a few sea lions. In fact, San Cristobal Island has the largest colony of sea lions in all of the Galapagos—earning it the name "Sea Lion Island." The sea lions can are spotted dominating the beaches, docks and old boats around the island.
The best way to get up close and personal with some of these friendly creatures is to dive right in! Go for a swim at Playa de Oro or Playa Mann Beach, and you're likely to see them in their natural habitat. Or, just cruise the seafront promenade in Puerto Baquerizo Moreno as sea lions can be seen basking in the sun on the benches.
Traveling Soon?

Here is a list of our favourite travel providers and accessories to help get you ready for your upcoming trip!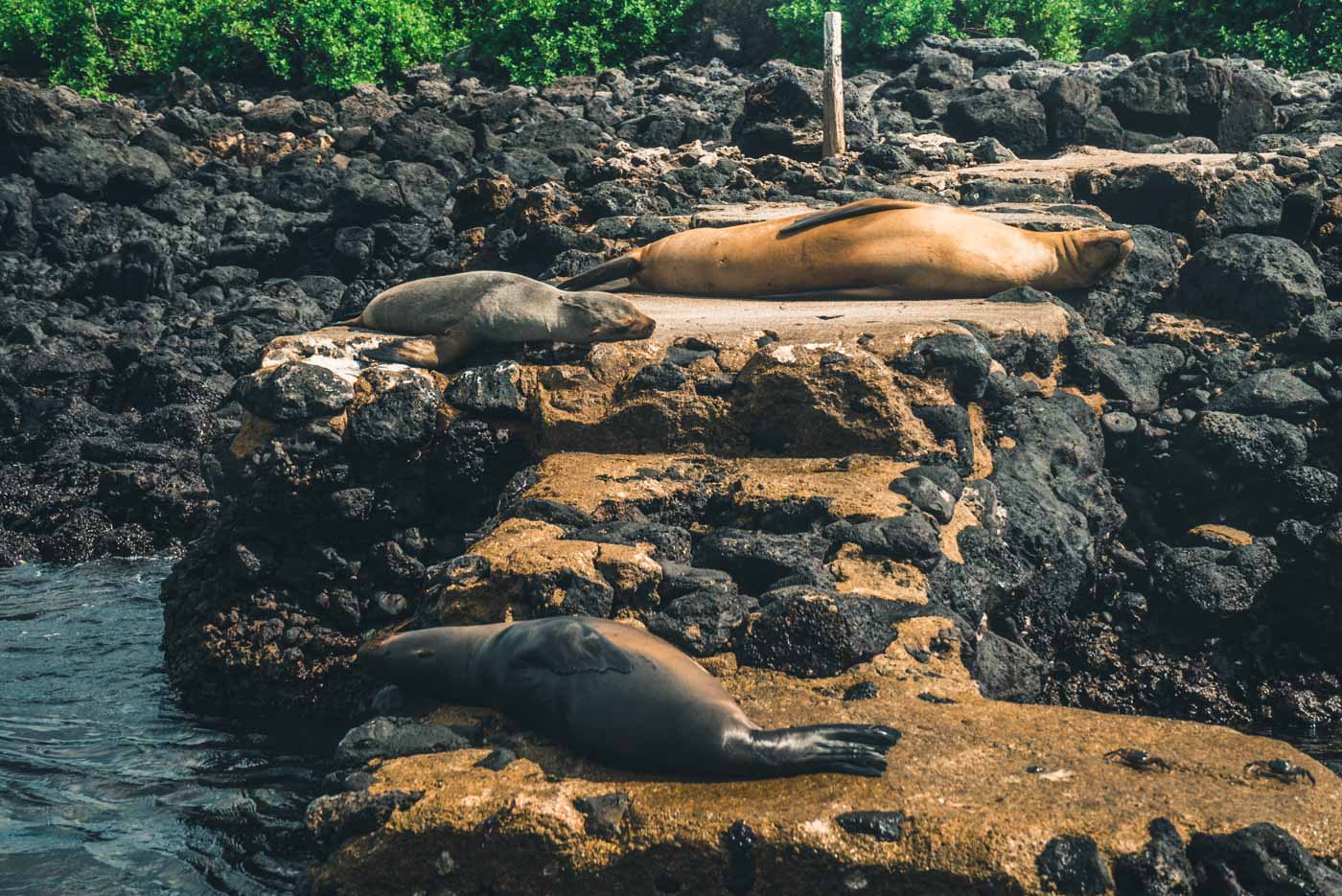 Explore the Island on a Bike
Biking was one of our main activities on San Cristóbal Island. It's a great way to get a new perspective on the island that most people never see while traveling via bus or cruise ship.
On your San Cristobal biking trip, you can pedal your way through the high coffee farms. This is one of the most under-the-radar attractions on San Cristóbal Island. Depending on the time of year, you can even snag a bag of coffee beans straight from the source. The highlands can get hot and humid but are home to many birds and other wildlife.
Another great option is to bike downhill from La Soledad lookout point above Puerto Baquerizo Moreno. You'll be treated to an incredible sea view, complete with a panorama of the port town all the way to Kicker Rock. The majority of the path is paved, and there are plenty of good places to stop for a break.
Biking on San Cristóbal Island is a great way to explore, and with few cars and some dedicated bike paths, the island allows some great cycling. Be sure to keep your eyes peeled for Galapagos wildlife along the way too. You're likely to see frigate birds, blue-footed boobies, and, if you're lucky, a San Cristobal mockingbird. We highly recommend doing so when you visit San Cristóbal, Galápagos.
Go Stand-Up Paddleboarding
If you want to see San Cristóbal Island's surrounding ocean from a different angle, try a stand-up paddleboarding tour.
You'll get to go at a leisurely pace around ocean coves and calm bays, all the while side by side with playful sea lions, dolphins, and other wildlife. The many beaches in Puerto Baquerizo Moreno are perfect for SUPing, with crystal clear waters teeming with marine life. Some popular spots include La Loberia Beach, Playa Ochoa, and Puerto Grande.
If you're looking for something that moves a little quicker, try surfing or kayaking. One of the best places to surf on San Cristobal Island is Puerto Chino Beach. It's located on the island's southeast coast and has white sandy shores with the only beach break on San Cristobal. It's a great addition to a day trip to the freshwater lake at El Junco Lagoon.
Snorkel and Scuba Dive
The Galapagos Islands are known for their mind-blowing biodiversity, and nowhere is this more prominent than in the ocean. World-class diving and snorkelling can be found all over the archipelago, but San Cristobal has some unique sites. Without a doubt, snorkelling is one of the best things to do on San Cristobal Island, Galapagos.
Kicker Rock is one such spot. This fantastic, towering rock formation juts out of the sea off the coast. It's even more exciting below the surface, where hammerheads, manta rays, and sea lions all gather and play. This is one of the best dive sites in all of the Galapagos Islands.
Another great dive site is Whale Rock, where you can see large schools of fish, rays, and sea turtles. It's about 30 minutes from the port in Puerto Baquerizo Moreno and situated between two different currents. This is a dive site suited for all levels and one of the most popular on San Cristobal Island.
Similarly, a visit to Cerro Tijeretas (Frigate Bird Hill) is fantastic to see birds but even better for San Cristobal Island snorkeling. It's a bit of a trek to get down to the bay, but it's well worth it! The water is ultra-clear and surrounded by reef fish, sea lions, rays and sea turtles.
And for more experienced divers, venture past Tijeretas to explore a sunken shipwreck in Naufragio Bay. Naufragio actually means "shipwreck" and is aptly named once the Australian SS Carawa got wrecked in 1920. Explore the 60-metre ship and marvel at all the marine life that now calls it home.
Go Hiking
It would be crazy not to lace up your boots and hit the trail in a place as green as San Cristobal Island. There are several great hiking routes on the island, such as Crater Lagoon, a large volcano lake high up on the island. Called El Junco Lagoon, it's one of the only freshwater lakes on the island and hiking around its perimeter takes about 1.5-2 hours. It's a relatively easy trek and a great place to admire the unique flora and fauna of the highlands.
Another great option is Punta Pitt, a challenging but rewarding hike on the island's northeastern tip. It's one of the only places on San Cristobal where you can see all three species of red, blue, and Nazca boobies and frigate birds. Completing this hike will give you unrivalled views of the sea and coastline below. Just be sure to come prepared, this northern coast hike takes about 8-9 hours to complete.
Those looking for some more accessible hikes should head to the Interpretation Center, located on the outskirts of Puerto Baquerizo Moreno. It's a launch point for a few different routes, including Cerro Tijeretas (Frigate Bird Hill), Playa Punta Carola, and Playa Baquerizo.
Plus, visiting the Interpretation Center itself is a great way to learn about sustainable tourism and one of the best free things to do in the Galapagos.
How To Get to San Cristobal Island, Ecuador
To reach San Cristóbal Island, you'll need to fly to the main airport in Puerto Baquerizo Moreno, the island's main town. There are daily flights from both Quito and Guayaquil in mainland Ecuador. The island can also be reached by cruise ship or diving liveaboard boat.
Best Hotels in San Cristóbal, Galápagos
There are a few accommodation options on the island, but we recommend the following:
Galapagos Eco Friendly Lodge
For the perfect combination of comfort and sustainability, book your stay at the Galápagos Eco Friendly Lodge, a family run hotel on San Cristóbal Island for the perfect combination of comfort and sustainability. The Galapagos Eco-Friendly Lodge has been certified as an eco-hotel by the Ecuadorian Ministry of Tourism and was awarded the GreenLeader Platinum level status by TripAdvisor. On the property, you'll find colourful rooms, views of the sea, and a quirky garden area. This is our top pick of San Cristóbal, Galápagos hotels.
Cactus Hotel
Right in the heart of Puerto Baquerizo Moreno, Cactus offers bright, stylish rooms with modern decor and complimentary breakfast. It's steps to all the city's restaurants and cafés and just a short stroll to Playa de Los Marinos. Cactus has eliminated all single-use plastics and pays homage to the natural environment with community programs and locally sourced food.
Arena Blanca Eco Hotel
If you're looking for something slightly more upscale, try the Arena Blanca Eco Hotel in San Cristóbal, Galápagos. With such amenities as an outdoor pool, spa, and elegant restaurant, you'll be hard-pressed to find another hotel on San Cristóbal Island that offers such a pleasant stay while still being kind to the environment.
Best Restaurants on Sal Cristobal Island
Calypso
Calypso is an Ecuadorian style restaurant is right on the water and is best known for its ginger coconut seafood platter. This restaurant has a wide variety of different seafood dishes as well as pizza, burgers, cakes, and more.
Cuencan Taste
Cuencan Taste is the best spot in town for baked goods, afternoon snacks, and sinful sweets. Make sure to give their cinnamon bread a try.
El Descanso Marinero
El Descanso Marinero is another fantastic restaurant in Puerto Baquerizo Moreno serving up freshly caught seafood. Best of all, you can eat it outside in their inviting garden area.
Where Else to Visit in the Galapagos Islands
For a complete island-by-island overview of the Galapagos Islands, check out our Islands of the Galapagos Guide. Here's a brief rundown of some of the most popular Galapagos Islands to visit on your next trip.
Isabela Island
Isabela Island is the largest island in the Galápagos and is well worth your visit. While there, enjoy the magnificent beaches, hike the volcanos, and pay a visit to the giant tortoises.
Santa Cruz Island
Santa Cruz Island is the most developed of all the Galápagos Islands and is the home of Darwin's famous research center. Spend a couple of days here to explore the ecological reserves, lava tunnels, and colourful markets.
Floreana Island (Santa Maria Island)
Floreana Island is the longest inhabited island in the Galápagos. Visit Pirate and Whaler Caves and enjoy the coastline from a stand-up paddleboard while you're there.
San Cristóbal, Galápagos might not get the same amount of tourists as some of the other nearby islands, but in our opinion, you absolutely should not miss it! We had a fantastic time exploring San Cristóbal Island by bike, paddleboard, and snorkel, and we would not hesitate to recommend a visit to anyone traveling to the Galápagos.
Have you ever been to the Galápagos Islands? What would you most like to do on San Cristóbal, Galápagos?