Ontario is home to some of the best spa retreats in Canada. If you're looking for a relaxing getaway to escape the daily grind and rejuvenate yourself, then a weekend spent at a spa resort might just be the perfect escape.
*This post may contain affiliate links, as a result, we may receive a small commission (at no extra cost to you) on any bookings/purchases you make through the links in this post. As an Amazon Associate, we earn from qualifying purchases. Read our full disclosure
There are plenty of resorts to choose from in Ontario, each with their own features, treatments and services. From Scandinavian-inspired spas to all-inclusive resorts on heritage estates, there are Ontario spas and inns for every type of getaway.
Whether you're looking for a relaxing girl's weekend away or romantic couples retreat, we've rounded up the best spa resorts that you can find in Ontario.
Traveling Soon?

Here is a list of our favourite travel providers and accessories to help get you ready for your upcoming trip!
Best Spas in Ontario
For the best Ontario spa weekend getaways, check out one of the following resorts around Toronto.
Ste Anne's Spa, Grafton
Distance from Toronto: 90-minutes
One of the most well-known all-inclusive spa resorts in Ontario is Ste Anne's Spa. Located amongst the rolling countryside of Northumberland, just east of Cobourg, this exclusive resort is characterized by old-world charm and is a wildly popular weekend destination for GTA residents.
Set inside a country castle from the 1800s, the heritage estate offers a welcoming and comfortable environment that focuses on rejuvenating the body and soul.
Services and Offerings
Ste Anne's Resort and Spa Ontario is an all-inclusive resort meaning that you get access to all the facilities and amenities with any of their packages. The 500-acre property features an onsite restaurant serving delicious country cuisine, a wide variety of accommodation in their Main Inn and of course, wellness classes and spa treatments.
Treatments and Wellness Features
Ste Anne's offers a wide range of spa services and body treatments. You'll find a therapeutic hydrotherapy pool, eucalyptus steam room, meditation and yoga classes, a fitness centre and over 30 spa treatments.
Ste Anne's Spa is open for Day Visits as well as overnight stays with rates starting at $275/person.
Scandinave Spa, Blue Mountain
Distance from Toronto: 2 hours
Scandinave Spa Blue Mountain is one of the most relaxing spas in Ontario and makes for a great destination for a day trip from Toronto. The spa is set on a 25-acre property overlooking the UNESCO World Biosphere Reserve Niagara Escarpment and offers a unique experience depending on the season.
Taking inspiration from traditional Scandinavian Spas, the Scandinave Spa boasts a unique design and is considered to be one of the best thermal baths in Ontario.
Services and Offerings
Scandinave Spa Blue Mountains take relaxing in nature to a whole new level. Their outdoor Scandinavian Baths have stunning views over the surrounding escarpment and natural forest. In Spring and Summer, visitors can also visit their Forest Bathing Trail, go for a hike or cycle on the many trails before a visit to the Spa.
On-site, you'll find holistic treatments, including massages and forest bathing and a cozy bistro, offering light meals and plenty of beverages throughout the day.
Treatments and Wellness Features
At Scandinave you can take advantage of all the health benefits of the traditional Hydrotherapy Circuit. This includes body warming with hot baths, a sauna and steam room, then a refreshing rinse with their thermal and Nordic waterfalls and cold plunges, followed by time in the relaxation areas or in their private treatment rooms.
The spa offers baths, forest bathing, as well as therapeutic massages, pregnancy and couple massages. Baths are booked in 2-hour time slots starting at $85/person. Forest Bathing is complementary.
Sir Sam's Inn & Spa
Distance from Toronto: 3 hours
Sir Sam's Inn & Spa is an adults only luxury Inn and Spa, uniquely located on the edge of Eagle Lake, about 15 minutes from Haliburton. This 4-season retreat is surrounded by the beautiful highlands and offers a tranquil escape for couples to relax and reconnect in the heart of nature.
The retreat has everything that you could possibly need for complete relaxation, including accommodation, fine dining, spa treatments and outdoor activities. It's one of the most romantic spa getaways in Ontario and a perfect destination for a couples escape.
Services and Offerings
The couples resort has everything that you could possibly want from an Ontario spa getaway. They have a variety of accommodation options from lakeside rooms to private cottages, with balconies, private hot tubs and cozy fireplaces. There is dining on site as well as a unique wine cellar.
Sir Sam's Spa is also home to a unique WaterSpa experience, where you can pamper yourself with a variety of treatments and massage options.
Treatments and Wellness Features
If you want to completely indulge in relaxation and beauty, then Sir Sam's adults-only spa is the ultimate vacation. They offer a unique indoor water circuit with a range of pools and waterfalls. The experience can be enjoyed for 45 minutes to 1 hour and is best combined with their spa treatment options and massages.
Overnight rates at the Sim San's Inn & Spa start at $188/person and include access to the WaterSpa. Day visitors packages are $30 which includes entrance to the WaterSpa, change rooms and showers. Massage treatments are extra.
Millcroft Inn & Spa, Caledon
Distance from Toronto: 1 hour
Millcroft Inn & Spa is one of the closest spas to Downtown Toronto and is widely considered to offer a perfect balance of country retreat and modern luxury. The property is set against 100 acres of woodland and nearby waterfalls, allowing you to relax amongst nature at one of the top spas in Ontario.
The focus here is on a holistic approach with both indoor and outdoor pools, a variety of treatments and wellness offerings that can be tailored to each individual.
Services and Offerings
Millcroft Inn & Spa has a holistic mindset and offers accommodation, dining at the Headwaters Restaurant and spa experience on-site. They have a range of signature services to make everyone's experience a unique one.
The Millcroft Spa offers 17 treatment areas, a fitness centre, indoor pool, outdoor hot spring pools, sauna, jacuzzi, steam room, a wood-burning fireplace and lounge, and a fully licensed cafe and restaurant. It's by far one of the best spas near Toronto.
Treatments and Wellness Features
The health treatments at Millcroft Spa are perfect for a self-indulgent experience. They have four hydrotherapy rooms, as well as, exclusive rooms for private treatments. You can choose from massages, facial treatments, body wraps and manicures and pedicures from the extensive spa menu.
Overnight accommodation at Millcroft Inn starts at $250/night and include access to the Millcroft Spa. Day passes to the Spa can be purchased for $70 per person or $35 with the purchase of a spa treatment under $100.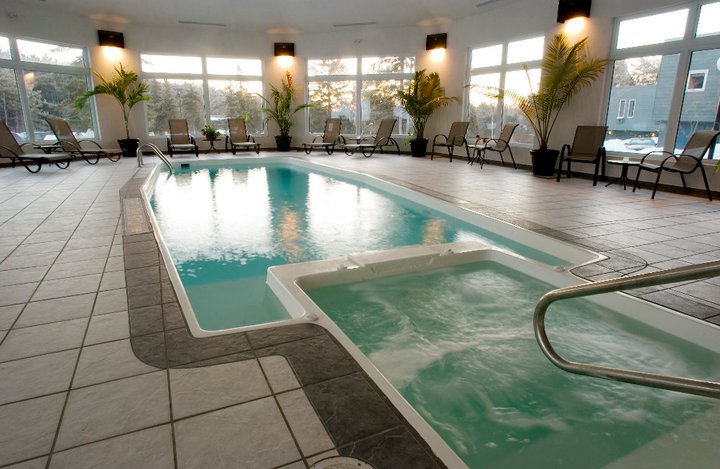 Touchstone Resort on Lake Muskoka
Distance to Toronto: 2.5 hours
Touchstone Resort is one of the most unique Ontario spa resorts. Set right on Lake Muskoka, it's the perfect place to rest and recover away from hectic city life. The estate features a private sandy beach, boat and swimming docks and breathtaking views over the lake.
Thanks to a range of features and a stunning settings the Touchstone Resort is easily one of the best overnight spas in Ontario.
Services and Offerings
Touchstone Resort features luxury accommodation, with many rooms offering lake views from the window. It also has an onsite restaurant with a world-class menu and waterfront views from the dining room to enjoy with your five-course dinners.
If you're visiting for a relaxing vacation, their spa therapies and features make it an ideal place to treat yourself to Ontario spa packages. Otherwise, you can always head out for a swim or paddleboarding in the lake.
Treatments and Wellness Features
The incredible resort has a long list of revitalizing features including a hot tub, outdoor pool on the water's edge, infinity pool overlooking the lake, a fitness and health centre and an in-house spa.
The spa features facials, a hot rock massages, body wraps, pedicures and manicures all using plant-based and aromatic oils. It's by far one of the best resorts in Ontario, if you want to get outside of the city for a relaxing weekend of activities and relaxation.
Elm Hurst Inn & Spa
Distance from Toronto: 1.5 hours
As one of the best day spas in Ontario, Elm Hurst Inn has been a landmark resort since 1872. Steeped in old-world charm, the Inn is the perfect place to escape your day-to-day life and enjoy a spa day not too far from the GTA.
Located halfway between Brantford and London on 30 acres of beautiful gardens, the Inn is easy to reach off Hwy 401. While the inn and spa have retained plenty of its original design, you'll find modern facilities and a luxury setting.
Services and Offerings
Elmhurst Inn and Spa offers 47 guest rooms and two luxury suites, a fine dining restaurant, reception spaces for weddings and, of course, the onsite spa and massage space. Whether you're looking for Ontario spa getaways for couples or a destination for a girls weekend, Elm Hurst can accommodate your needs.
Treatments and Wellness Features
The spa at Elm Hurst has private treatment rooms with an extensive list of skincare treatments, body massages, wraps, and hair removal treatments for a complete experience. Their features and treatments are best when combined with one of their packages, which includes a romantic getaway, pyjama party and refreshing mid-week stay.
Some overnight packages include a spa allowance, otherwise, spa treatments can be booked on an a-la-carte basis.
White Oaks Resort & Spa
Distance from Toronto: 1 hour
White Oaks Resort & Spa is a luxury 5-star resort known for luxury accommodation and amenities. Set on 13 acres amidst the Niagara on the Lake wineries and countryside, it's a popular conference centre and destination for wine tours in Niagara on the Lake.
The large resort is just over an hour from the city, which means you can either make a weekend of it or just enjoy it for a day visit.
Services and Offerings
White Oaks is known for having something to suit any spa getaways in Ontario. It has a world-class conference centre, award-winning restaurant and bar, fitness and health centre and luxury accommodation.
If you're looking for an Ontario spa retreat that has it all, White Oaks is one of the top Ontario spas and resorts.
Treatments and Wellness Features
As one of the best spa resorts in Ontario, White Oaks has 19 treatment rooms with plenty of pampering options. It's also one of the best spas in Niagara for couples with an exclusive luxury couples suite.
The treatment options include massage, aromatherapy, body wraps, skin therapy including the unique ice clinical facial and nail therapy. It's the perfect place to indulge in overnight spa packages in Ontario.