Springbrook National Park
Springbrook National Park dominates the skyline west of the Gold Coast and is a perfect place for travelers looking for a taste of the Gondwana Rainforests of Australia World Heritage Area. It's a rather small size and close proximity to Brisbane (100kms) and Gold Coast (30kms), so when it comes to day trips from Gold Coast or Brisbane, Springbrook National Park offers the perfect escape for nature lovers on a tight schedule.
*This post may contain affiliate links, as a result, we may receive a small commission (at no extra cost to you) on any bookings/purchases you make through the links in this post. As an Amazon Associate, we earn from qualifying purchases. Read our full disclosure
When to Go
It is possible to visit Springbrook National Park any time of the year, but if you want to see it in its best, visit between December – March. This time of year offers the most daylight hours, and temperatures that typically hover between 13-25 degrees Celsius.
Getting There
Springbrook National Park is located about 30k from the Gold Coast and about 100km from Brisbane. It's best accessed by car although some travel agencies do run tours to the National Park from Brisbane and the Gold Coast. Prices typically range from $100 AUD ($75 USD)- $165 AUD ($122 USD) per person for a full day tour.
Things to do in Springbrook National Park
Traveling Soon?

Here is a list of our favourite travel providers and accessories to help get you ready for your upcoming trip!
There's no shortage of things to do in Springbrook National Park, you just need to decide where you're starting.
Springbrook National Park is divided into 4 sections: Springbrook plateau, Mount Cougal, Natural Bridge, and Numinbah.
Springbrook Plateau
Abundant in short walks and great views of the surroundings, this is the part of the park really worth exploring! Short walks through the rainforest will reward you with incredible views from the Wunburra lookout, Canyon lookout, Goomoolahra Falls lookout and Best of All lookout.
At the time of our visit, the Warrie Circuit, the longest and most interesting track on the plateau, was closed. So we embarked on another one of the Springbrook National Park walks, a 4 km hike along the Twin Falls Springbrook Circuit.
Starting from the Tallanbana picnic area, the track passed through rocks, different forest types, palms and tree ferns, and eventually lead us to one of the biggest attractions of Springbrook National Park – the Twin Falls!
The Twin Falls, Springbrook National Park
Even in the middle of winter, the Twin Falls were beautiful. But those visiting in the Spring will likely find the Springbrook National Park waterfalls gushing down with a lot more force. The view is great and the rocks right in front of the falls, make it for a great place to take a break and admire the beauty of Springbrook National Park.
From here, you can turn around and head back down, or you can keep following the path that will take you behind the Springbrook National Park waterfalls and through rock splits to the end of the track at Canyon Lookout.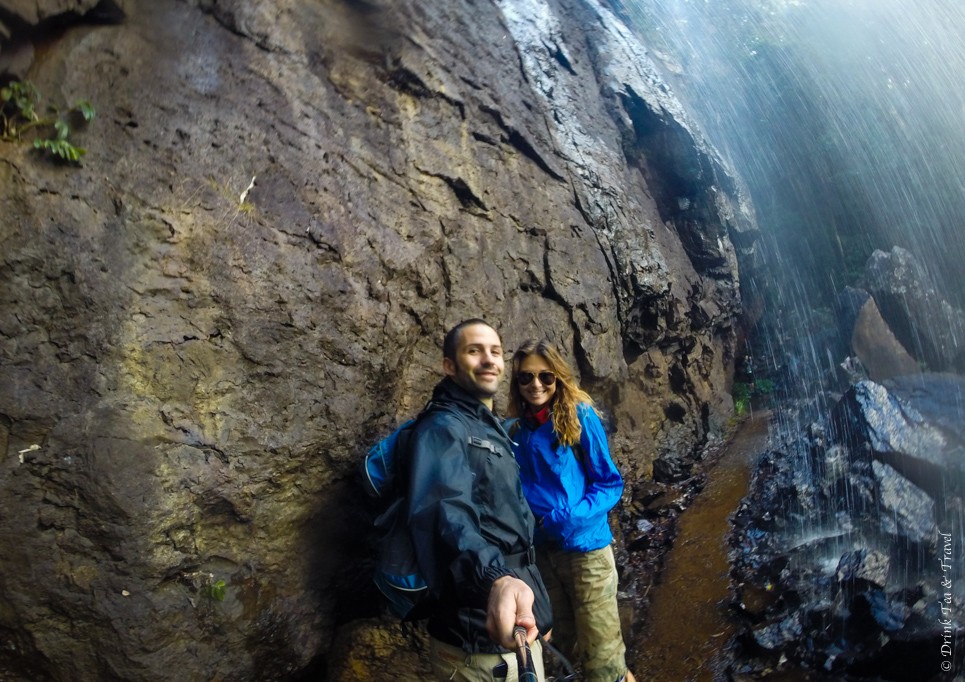 The Natural Bridge, Springbrook National Park
If the treks in the Springbrook Plateau don't tire you out, head to the Natural Bridge Springbrook Section, a naturally formed arch over Cave Creek. This section is located along Nerang-Murwillumbah Rd, about a 30 min drive from the Springbrook Plateau. But it definitely is worth the drive…
This is what Springbrook National Park is really famous for! During the day, admire the beautiful Natural Bridge Waterfall, either on your own or as part of a tour, if you're in the mood for a more all-encompassing Springbrook National Park day trip. When the sun goes down, discover the Springbrook glow worms that live within it.
Springbrook Glow Worms
The Springbrook glow worms are a fly species, found only in Australia and New Zealand, that require dense rainforest cover and plenty of rainfall to survive. Glow-worm species in Australia were once plentiful, but today their existence is restricted to regions of rainforests and permanently wet caves, so the opportunity to see them is the perfect reason for a Springbrook day trip. These incredible creatures can only be seen after sunset, with the best displays typically occurring in the warmer wetter months, from December to March.
You can experience the sight on your own, or if you'd like to make a day of it, you can sign up for a Springbrook National Park tour.
If you only have 1 day to spare on your trip around Australia and are looking to get a taste for the Gondwana Rainforest Heritage Area, a Springbrook National Park day trip might be exactly what you are after.
Springbrook National Park Accommodation
Crystal Creek Rainforest Retreat
The operators of Crystal Creek Rainforest Retreat are passionate about minimizing their impact on the environment. Their beautiful eco property is set amongst the rainforest and adjoins to Springbrook National Park.
Springbrook Lyre Retreat
Springbrook Lyre Retreat offers modern, comfortable cabins. It is owned by the Australian Rainforest Conservation Society, and all profits go towards Springbrook rainforest restoration.
Binna Burra Lodge
Binna Burra Lodge is located about an hours drive from Springbrook National Park but is a great base if you plan on exploring Lamington National Park as well. This beautiful lodge has a long list of eco-initiatives.
Springbrook National Park Camping
The most eco-friendly way of experiencing Spring National Park is by getting amongst nature and camping in the park. Springbrook National Park camping is possible in the Settlement Camping area, and a night under the stars could be the perfect end to a Springbrook day trip.
Permits must be obtained in advance at ParksQ, and prices range from $6.35 AUD ($5 USD) – $25.40 AUD ($19 USD) depending on the time of year and which vehicle or camp space you will be occupying.
What other spots in Springbrook National Park would you recommend to visit?