Sonoma County has got to be one of the most underrated destinations in Northern California. The county is home to 76 miles (122 km) of coastline, incredible beaches, rolling hills and redwood forests but is most famous for its world-class vineyards and farm-to-table dining.
*This post may contain affiliate links, as a result, we may receive a small commission (at no extra cost to you) on any bookings/purchases you make through the links in this post. As an Amazon Associate, we earn from qualifying purchases. Read our full disclosure
When it comes to wine regions in California, the neighbouring Napa Valley may get all the fame and international glory. But from what we've experienced, Sonoma County is a wine region that's not missed! Sonoma County is home to 425 wineries and has a variety to suit any taste. Wine tasting in Sonoma is less about glamour and fine dining and more about farm-to-table cuisine and organic produce.
It's a great place to connect with the land and each other, slow down, and appreciate all the things to do in Sonoma!
Having visited Sonoma on our recent California road trip, we put together this guide with our favourite experiences and top recommendations to help you plan your road trip around Sonoma County.
Sonoma County Towns
Sonoma County spans an area of 1,768 square miles (4,580 km2) and consists of three main regions:
Pacific Coastline and Sea Villages to the west,
Redwoods and Rivers in the centre, and
Valleys and Vineyards to the east.
You'll find over 30 small towns and vibrant cities within these regions to add to your Sonoma itinerary. Here's a quick look at some of the best towns in Sonoma County to visit on your trip.
Santa Rosa
If you plan to visit Sonoma County, then Santa Rosa is a great base just north of San Francisco to explore the whole region. It's one of the largest Sonoma County cities, so you'll find plenty of amenities, restaurants and accommodation options.
Wandering the historic streets is one of the best things to do in downtown Santa Rosa. Don't miss the old railroad square and museums; check out three distinct shopping districts, five historic residential neighbourhoods, arts and culture, great restaurants, wine-tasting rooms, and more! Santa Rosa even has a wildlife conservation park. Encompassing 400 acres just outside of town, Safari West hosts thousands of guests annually and emphasizes the importance of sustainable operations.
Sonoma
A trip to the county is not complete without visiting the town of Sonoma. Home to Mission San Francisco Solano, the last Spanish-Mexican California mission, Sonoma has plenty of history to explore. The best way to discover this history is by visiting Downtown Sonoma and the national historical monuments and landmarks, including:
Sonoma State Historic Park
Historic Sonoma Plaza
Sonoma City Hall
Depot Park Museum
Sonoma Valley Museum of Art
General Joseph Hooker House
The town of Sonoma, particularly Sonoma Plaza, is a great destination for shops, tasting rooms, restaurants, bakeries and more! If you plan on visiting Sonoma in March, consider checking out the famous Sonoma International Film Festival. This 5-day festival hosts viewings of the best independent films, along with the best food and wine proprietors in Sonoma Valley.
Traveling Soon?

Here is a list of our favourite travel providers and accessories to help get you ready for your upcoming trip!
Healdsburg
Healdsburg is considered to be another hub in Sonoma wine country. The charming small community has a vibrant town plaza, which is perfect for dining, shopping and people-watching. With the three wine-growing regions at the doorstep: Russian River, Dry Creek Valley and Alexander Valley, this town makes for a great base to explore all the things to do in Healdsburg, CA.
Glen Ellen
The small town of Glen Ellen, located just north of Sonoma, is known as the heart of Sonoma Valley. It's home to many popular things to do in Sonoma, from wine tasting to exploring the beautiful nature. Glen Ellen is most well known for being the home of author Jack London. So, if you're a literary fan, you'll want to check out Jack London State Historic Park.
Otherwise, just outside of town you can wander around Sonoma Botanical Garden, featuring a large collection of Asian plants in these beautiful regional parks.
Sebastopol
This agricultural town located just outside of Santa Rosa offers a more laid-back vibe. It's a popular destination for fine arts, culture, and history and is a hub for those interested in the environment, sustainable living, and outdoor recreation. For those interested in picking up a souvenir from your time at a unique gift shop, you'll have to head to either The Barlow marketplace (more on this below) or Antique Row, a selection of antique shops downtown.
Jenner
Perched high above, where the Russian River meets the ocean; this little town is a very picturesque place to visit in Sonoma County. It's known for its incredible scenery and Sonoma Coast State Park access.
One of the best things to do in Jenner CA is to head to the coast and spend an afternoon at Goat Rock Beach. This sandy beach is a great spot on a warm summer day.
Bodega & Bodega Bay
The beautiful Bodega Bay is a popular holiday destination on the Sonoma Coast. There's so much to do in and around the town, including fishing, spotting whales off the coast, enjoying the beaches or taking surf lessons at Doran Regional Park.
The small village of Bodega is just inland of Bodega Head makes for a good stop if you want to check out some markets or visit the eclectic mix of shops.
Freestone
Known as Sonoma's first Historic District, the community of Freestone is home to some classic western buildings. It's only a tiny spot with just 32 full-time residents, but you'll still find a great sourdough bakery, artisan cheese shop and day spa there.
Guerneville
A rustic town set amidst redwoods, rivers and wine country, Guerneville has long been a popular holiday destination, especially for California's gay population. You'll find trendy restaurants, cafes, and more than 50 wineries within a short drive. It's home to Armstrong Redwoods State Natural Reserve, located just 2 miles away. The best part about Guerneville is its close proximity to both the Sonoma Coast and Wine regions, making it easy to explore the best of Sonoma Valley from one base.
Petaluma
The riverside town and foodie destination, Petaluma is the place to go for great food and wine. There is a great farm-to-table scene here. So, the best things to do in Petaluma CA are all centred around the award-winning restaurants, local produce and boutique stores housed in historic buildings.
Cotati
The historic old town is located just south of Santa Rosa but has a very distinct feel about it. With a much cooler climate and a strong tradition of agriculture and music, it's an interesting place to wander the streets.
Duncans Mills
This tiny village just inland from the coast sits in a beautiful spot amongst surrounding hills near the Russian River. While it has a tradition of being a lumber mill town, it has transformed today into a great place to head for unique handcrafted souvenirs and goods. It's a great, trendy little spot for some shopping in Sonoma wine country.
Cazadero
A historic town in the hills above the Russian River, the tiny village of Cazadero is like a step back in time. It has some quaint bed and breakfast accommodations and some incredible opportunities to cycle around the hills.
Cloverdale
A picturesque town in the beautiful Alexander Valley wine region, Cloverdale is the northernmost town in Sonoma. With history, outdoor activities and plenty of events throughout the year, Cloverdale is a
Geyserville
Nestled between Cloverdale and Healdsburg, Geyserville is another town in Alexander Valley. It has a real wild west vibe to the town, with wooden boardwalks and old storefronts. Geyserville is also home to world-renowned Sonoma County wineries, like Francis Ford Coppola Winery, fantastic restaurants, and much more!
Timber Cove
Towards the northern part of the Sonoma coastline, Timber Cove is a tiny village just off Highway 1. It's a rather dramatic section of coastline where it heads inland to a canyon surrounding the town.
Things To Do In Sonoma County
There are so many fun things to do in Sonoma County! From wine tastings to outdoor adventures, it's easy to appreciate the incredible range of Sonoma activities even on a short visit.
Eco-conscious sustainable travelers will particularly love Sonoma County for its focus on sustainable initiatives, organic farms, wineries, farm-to-table restaurants, and opportunities to learn more about sustainable living practices! And don't forget to sign the Sonoma County Pledge to Travel Kindly before you go.
Here are just some of our favourite things to do in Sonoma County!
Wine Tasting
With over 425 wineries dotted around the region, there is no shortage of options when it comes to winery tours in Sonoma County. You can choose to enjoy wine in an intimate experience at a small family-run winery or opt to visit many of the internationally renowned award-winning vineyards in the region, including Buena Vista Winery – the oldest commercial winery in California, Jacuzzi Family Vineyards, Chateau St Jean Winery, or Gloria Ferrer Wines, known as the best producers of sparkling wines in the state.
Most premium wineries charge a $50-$100 tasting fee, although a few offer complimentary tastings. You can also pick up a Sonoma Valley Tasting Pass for 1 Day ($39/pp), 2 Days ($69/pp) or 90 Days ($99/pp) and enjoy great discounts and free tasting flights at many of Sonoma Valley wineries and distilleries.
During our visit, we focused our visit on organic and sustainable wineries visiting the following spots during our time in Sonoma Wine Country.
Medlock Ames Winery
We loved our visit to Medlock Ames Tasting Room! The founders behind this family-owned winery and vineyard located at Bell Mountain Ranch have committed 80 percent of the 338-acre property to ecological health and conservation, particularly to provide a habitat for wildlife. The remainder 40 percent is used as an organic farm, producing grapes, olives and vegetables.
Medlock Ames Winery offers a unique Immersive Sound Experience, a self-guided audio tour through the ranch. The tour showcases the Bell Mountain Ranch, explains its wine-making process, and highlights the efforts the team has made to incorporate sustainability in their operations. The tour is followed by a guided wine tasting of six wines paired with local cheeses. The property is located at the southeast corner of Alexander Valley and Russian River Valley just north of Santa Rosa. It's easily one of the best things to do in Sonoma for eco-conscious wine lovers!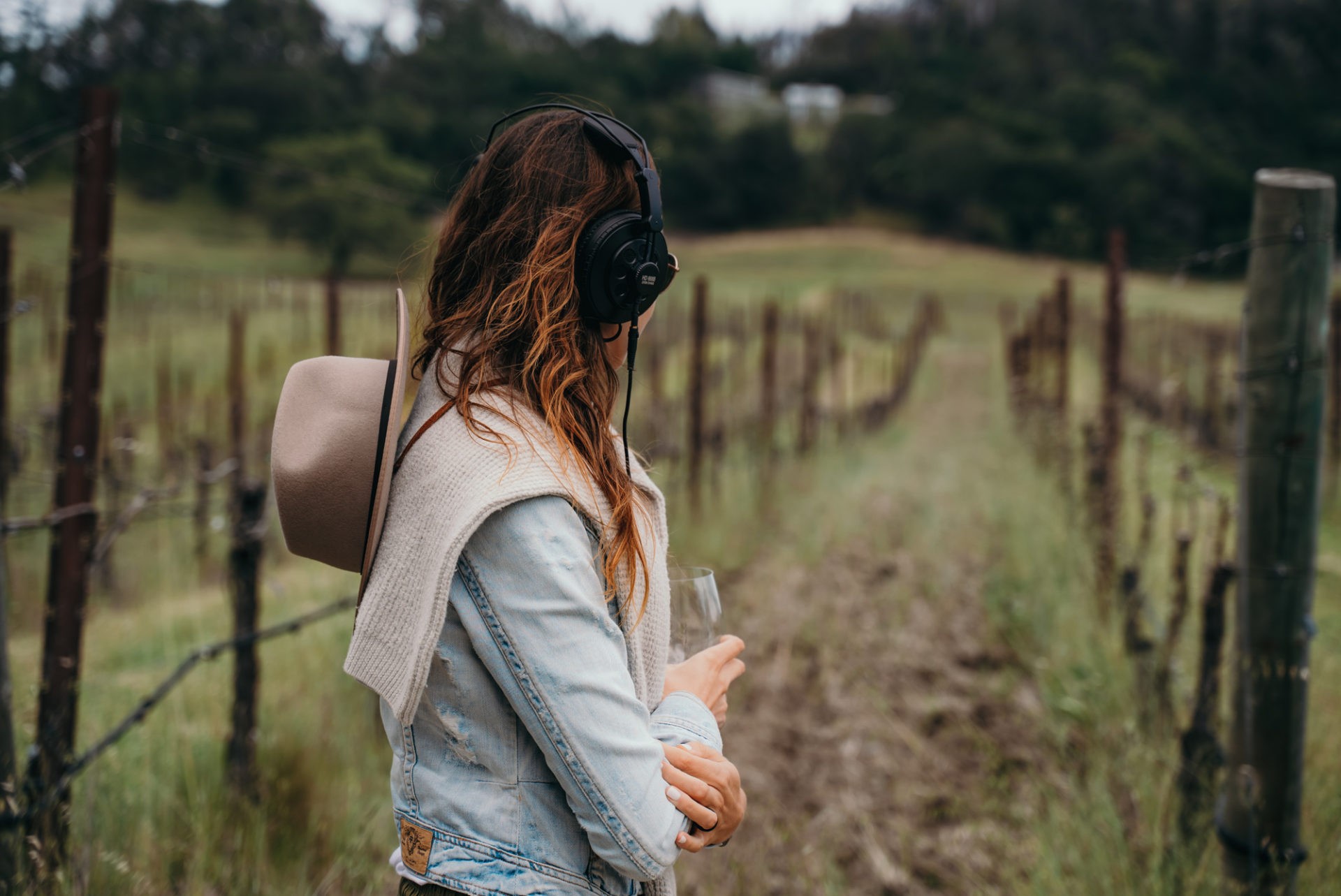 Jordan Winery
Located between Geyserville and Healdsburg, in the heart of the Alexander Valley, Jordan Vineyard and Winery is one of the most outstanding places to visit in Sonoma County. The estate has a strong focus on sustainable operations. Also, it features a garden growing food and flowers, an apiary for beekeeping, a chicken coop, as well as cows and goats that eat unwanted grass and scraps. They are focused on having a balanced ecosystem on the property.
Jordan Winery offers a number of experiences on-site. The most popular is their premium wine-tasting experience featuring award-winning Cabernet Sauvignon. You can combine a wine tasting with an estate tour or spend an afternoon enjoying an epicurean alfresco lunch.
Preston Winery
Located just outside of Geyserville, Preston Farm and Winery is a family-run organic vineyard in the Dry Creek Valley. Consisting of over 125 acres, the property is not only an estate producing world-class wines but is also a farm, growing vegetables, olives, grains and pastured livestock.
As one of the boutique Sonoma wineries, Preston Winery offers private and intimate visits. Tastings here have a generous time limit and the staff are full of knowledge not just about the varietals of their organically grown estate wines but also about the larger Sonoma Valley region and its peculiarities. You can visit the winery for a private wine tasting or book a picnic appointment to enjoy one of their wines with your own picnic on-site. Otherwise, their cellar door and produce store is open daily, if you want to pick up some organic goods.
DaVero Winery
If you're passionate about organic produce, then another of the best places to visit in Sonoma is DeVero Winery. Their farm in Healdsburg features a vineyard and an olive grove. Their motto is "grow what belongs here and be patient", which has guided them throughout their farming lifestyle, including the decision to go Biodynamic. It's definitely amongst the must-visit Sonoma wineries for sustainable wine lovers.
You can visit this premium winery on your Sonoma vacation. You can enjoy a private tasting and wine tour to learn more about the farming philosophy and techniques. The Discover the Farm tours include wine and olive oil tasting, paired with produce grown on the farm.
Kendall-Jackson Winery
Kendall Jackson is, arguably, one of the biggest names in California wine, so no visit to Sonoma County is complete without a stop at this iconic winery.
In 2020, Kendall Jackson Winery won the 2020 Green Company of the Year Award recognizing their sustainability leadership and climate action initiatives in the beverage industry. Their list of sustainability initiatives is one of the most impressive in the region and includes achievements in water conservation, land preservation and extensive solar power use. 100% of their estate vineyards and wineries are third-party certified sustainable!
The winery's beautiful setting with seven distinct garden spaces is an attraction in its own right but the opportunity to taste some of their estate wines is not to be missed.
We chose to enjoy Kendall Jackson wines as a Wine and Food Pairing. This farm-to-table culinary experience paired with a selection of our small-production, limited-release wines was our favourite wine-tasting experience in Sonoma County.
Quivira Vineyards
Quivira Estate has long been committed to a more sustainable farming process. With the vision of the owners, Pete and Terri Kight, along with the winemaker Hugh Chappelle, you can expect delicious wine that is created with ecological balance. It's widely considered to be one of the best wineries in Sonoma County.
Quivira Winery is located close to Healdsburg and the Dry Creek Valley wine region and offers a range of affordable wine tasting options, including their world-class Chardonnay and Pinot Noir. Or, you can also join one of their estate tours, where the knowledgeable and friendly staff will give you an in-depth look at their sustainable practices, biodynamic farming, and beautiful garden full of veggies, herbs, and flowers.
Enjoy The Great Outdoors
Some of the best parts of this area don't even involve wine – the natural beauty is truly amazing. Sonoma County is a haven for outdoor lovers, and there is so much to do. The region is home to 60 regional and state parks, more than 70 miles of coastline, and the mighty Russian River, snaking its way through the county. There are plenty of mountain biking and hiking trails through redwood forests, opportunities to paddle along the coast or down rivers, swimming, fishing, boating, camping, and a chance to enjoy nature at its best.
There are lots of outdoor activities in Sonoma County, but if you are only visiting for a few days, don't miss the following.
Visit Armstrong Redwoods State Natural Reserve
Located just north of the Russian River, the Armstrong Redwoods State Natural Forest was established in 1870 by a lumberman just outside of Guerneville. It's now managed by the state and covers a huge 805 acres of incredible trees.
It's a really wonderful place to visit in Sonoma Valley, especially if you want to stretch your legs and hit a few hiking trails. You'll be able to see the oldest redwood tree, which is more than 1400 years old, and the tallest tree, which stands more than 310 feet high.
The best walks to do in the reserve include:
Armstrong Nature Trail takes you on an easy walk with interpretive signs to detail the history of the area.
Discovery Trail includes a tree-hugging platform for those who want to get up close and personal with nature.
Extended Loop can be made by connecting the trails which creates a 5-mile hike for those looking for more active things to do in Sonoma, CA.
Explore Sonoma Coast State Park
This incredibly rugged stretch of coastline just south of Jenner and Duncans Mills is one of the top things to do in Sonoma for beach lovers. The state park consists of a series of beaches connected by a rocky coastline. It's a wild and beautiful part of the county.
There are lots of things to do in Sonoma Coast State Park for both adults and kids, ranging from fishing to sunbathing. It's definitely a destination worth visiting in Sonoma County on a warm summer day. Regardless of the time of the year, many consider this one of the most stunning parts of the Northern California coastline – and we tend to agree!
Do Good
It's easy to visit Sonoma County and fill your days with amazing food and wine experiences, hiking, and outdoor activities. But, we are strong believers that as travelers we can do more than that! Our goal is to leave each destination better than we have found it. Be it by supporting local businesses, small producers, or other local organizations. We found two worth mentioning during our time in Sonoma County.
Goatlandia Farm Animal Sanctuary
If you're looking for fun activities in Sonoma County, especially something for the kids to enjoy, then a tour of Goatlandia Farm & Animal Sanctuary is a must. The sanctuary rescues farm animals and educates the community on the benefits of living a more environmentally responsible plant-based lifestyle.
They offer a range of activities, including tours, animal therapy sessions, volunteering and summer camps for kids. We enjoyed touring their farm, meeting their rescued animals and learning more about how our choices to consume meat and dairy in our day-to-day life impact these animals.
Gleaning With Farm To Pantry
Farm to Pantry is another incredible organization in Sonoma County. The goal of this non-profit is to rescue food from farms and get it to people in need. We can't think of a better way to go hyper-local in Sonoma County than by getting involved in "gleaning" with Farm to Pantry. You get to visit beautiful farms, meet other local volunteers and feel good about doing good on your holiday!
You can find out more on the Farm to Pantry website, including how to get involved. It's definitely one of the more unique things to do in Sonoma Valley.
Eat & Drink: Best Restaurants In Sonoma County
The Barlow
Located just west of Santa Rosa in Sebastopol, The Barlow is a very cool industrial complex that deserves its own shot out on this list of things to do in Sonoma County. This complex has an industrial-chic vibe and is home to many shops, restaurants and bars. It's definitely one of the best Sonoma County activities to do with friends.
Visit The Barlow during the day if you want to do some shopping. You'll find everything from one-off fashion stores to home decor items from the region. Alternatively, you can head to the Barlow in the evening for a night of cocktails and good food. If you're wondering what to do in Sonoma County at night, this is the place to go.
There are so many great restaurants and bars at the Barlow that it's hard to pick just a few to recommend.
Other Great Restaurants In Sonoma County
There's no shortage of delicious food and wine in Sonoma. With incredible farm-to-table cuisine and local wines to try, you're spoilt for choice. Here are a few more of our top picks from the world-class restaurants on offer in Sonoma County!
Little Saint
Located right in the heart of Healdsburg, Little Saint is a new spot in town dedicated to serving 100% plant-based meals, with everything sourced from local farms and creative producers. It's an incredible culinary and creative space!
Boon Eat + Drink
Located right in the vibrant centre of Guerneville, Boon Eat + Drink is one of the best places to eat in Sonoma. The fun bistro features farm-to-table food with a simple but undoubtedly tasty menu. You can also pair your organic dinner with some delicious wines and local brews.
Cannetti Roadhouse Italiana
Located on the main road in Forestville, Cannetti Roadhouse Italiana is a cozy North Italian restaurant that features fine dining meals, an open kitchen and an outdoor grill and patio area. It's a very romantic place to eat and taste some of the best Sonoma has to offer.
Where To Stay In Sonoma County
With over 300 accommodation options, there is no shortage of great places to stay in Sonoma County. Take your pick from a selection of boutique wine country hotels, resorts, bed-and-breakfasts, small inns, vacation rentals, and even campgrounds.
During our visit, we stayed at a modern adult-focused B&B, called Mine + Farm Inn in Guerneville and would highly recommend it to couples or groups of friends looking for a centrally located B&B in Sonoma County.
Mine + Farm
Mine + Farm's vision is to be a modern and meaningful bed and breakfast for guests to completely relax and enjoy the Russian River Valley of Sonoma County. The inn is housed inside a 1906 farmhouse on two and a half acres of property. It's just 90 minutes north of San Francisco. It's a truly memorable place to get away from the hustle and enjoy the best of what the wine country has to offer. Plus, it's conveniently located halfway between Sonoma's Coast and Wine region, just steps away from the Russian River and the Armstrong Redwoods Reserve.
The restaurant offers a very intimate stay with just 9 rooms and ultra-personalized friendly service. You can choose from one of the farmhouse rooms in the main house or stay in one of the carriage house rooms and enjoy a bit more privacy, a private entrance and your own little veranda.
The rooms are decorated in a modern country style. It also has great contemporary eco-conscious amenities, like premium, artisan-made bedding, Turkish bath towels, and refillable organic bathroom products. There is an outdoor hot tub on-site and a communal lounge, dining area and guest kitchen. One of the most unique things about Mine+Farm is that the property is also a working cannabis farm. So, cannabis strains from the farm are happily shared with guests.
Organic breakfast each morning was another highlight of our stay, featuring farm-fresh eggs, and seasonal produce from nearby farms!
Our visit to Sonoma County was a short one. But, it was just enough time to fall in love with this incredible destination. We loved the region's collaborative focus on sustainability and the desire to do things better, honour the land and the local producers and support one another in every initiative.
We loved our visit and hope to be back again soon to add more fun things to do in Sonoma County to this guide!
Disclaimer: Big thanks to Sonoma County Tourism and Visit California for hosting us during our time in Sonoma County. As always, all opinions expressed in this article are our own.