While most visitors are drawn to Cambodia's famous Angkor Wat Temple Complex, there are lots of other things to do in Cambodia.
*This post may contain affiliate links, as a result, we may receive a small commission (at no extra cost to you) on any bookings/purchases you make through the links in this post. As an Amazon Associate, we earn from qualifying purchases. Read our full disclosure
Top Things to do in Cambodia
1. See the sunrise/sunset at Angkor Wat
Angkor Wat is one of the most historic sites in Cambodia. Destinations like this one are few and far between around the globe. Angkor Wat is a Buddhist temple complex that spans 162 hectares. It is said to be the largest religious monument in the world.
There are several ways to explore this Cambodia must-see. We suggest taking a full day sunrise tour. If you have a bit more time, you can spend three days touring the top temples in the Angkor region. It also includes a sunrise tour of Angkor Wat. When considering what to do in Cambodia, this Cambodia tourist spot should top the list.
2. Visit the former capital of Angkor Thom
Angkor Thom once served as an ancient capital city in the late 12th-century. The remnants of the city lie along the Siem Reap River. The location is often visited by tourists who include Angkor Wat on their list of Cambodia destinations. In fact, you can take a tour of both Angkor Thom and Angkor Wat which concludes by watching the sunset from the Pre Rup Temple.
3. Shop at Siem Reap Night Market
Do you love shopping? Want to support locals? How about picking up souvenirs to take home? Cambodia tourist spot of the night markets in Siem Reap is the perfect place to go. It truly is a sight to see with the stalls lit up at night.
There are several markets in the area of Siem Reap. Tour during the day then head to the markets at night for inexpensive souvenirs alongside handmade items in Cambodia. You can shop and experience nightlife at the same time!
If you are interested in exploring the area by day, there are several options in Siem Reap. Tour a village with a local guide, take a walking tour or visit the smaller temples in the area. Those who are artfully inclined or would like to learn a skill can take part in a pottery-making class.
4. Enjoy a Night Out on Pub Street in Siem Reap
While you are in the area of Siem Reap at night, you can easily visit Pub Street. If you enjoy the nightlife and staying up all night, this is one of the best things to do in Cambodia. Destinations like Pub Street come alive around 8 p.m and settle down at sunrise.
The street is lined with bars after bars and it remains crowded every day of the week. Even if you'd like to enjoy a drink or want to head to a bar, you should consider adding this to your list of what to do in Cambodia. Pub Street is a gathering place for young and old people alike (you will seriously see people toting their children around) from all over the globe.
You can do some light shopping, go dancing until the wee hours of the morning, or purchase and eat roasted bugs if you dare! This is one of the more lively places to see in Cambodia and we highly suggest stopping by. That photo above – did we take it as the sun was going down or coming up? We'll never tell!
5. Learn Cambodia's history at S-21 aka the Tuol Sleng Genocide Museum and the Killing Fields
Things to do in Cambodia vary from the fun nightlife scenes to the reality of the country's shocking history. We don't often hear about the genocide that happened in Cambodia. Both the Killing Fields and the Tuol Sleng Genocide Museum are things to see in Cambodia that will leave a lasting impact.
Although the real number isn't known, it is estimated that from 1976-1979 20,000 people were imprisoned, questioned, tortured and killed at Tuol Sleng. Now a museum, it was once a school before it became a prison.
The Killing Fields consist of a number of places to go in Cambodia. A combined total of over 1 million people were killed and buried during the Khmer Rouge communist regime from 1975-1979. This is one of the best places to visit in Cambodia if you want to learn about the history of the country. You can also take a combined tour of the museum and fields.
6. Relax on the Beaches of Sihanoukville
No Cambodia travel guide would be complete without the mention of a beach for a bit of peaceful reflection and relaxation in Cambodia. It's up to you what you'd like to do! You can sit on the sand and listen to the surf, or you could join a shore excursion and watch fishermen going about their daily tasks.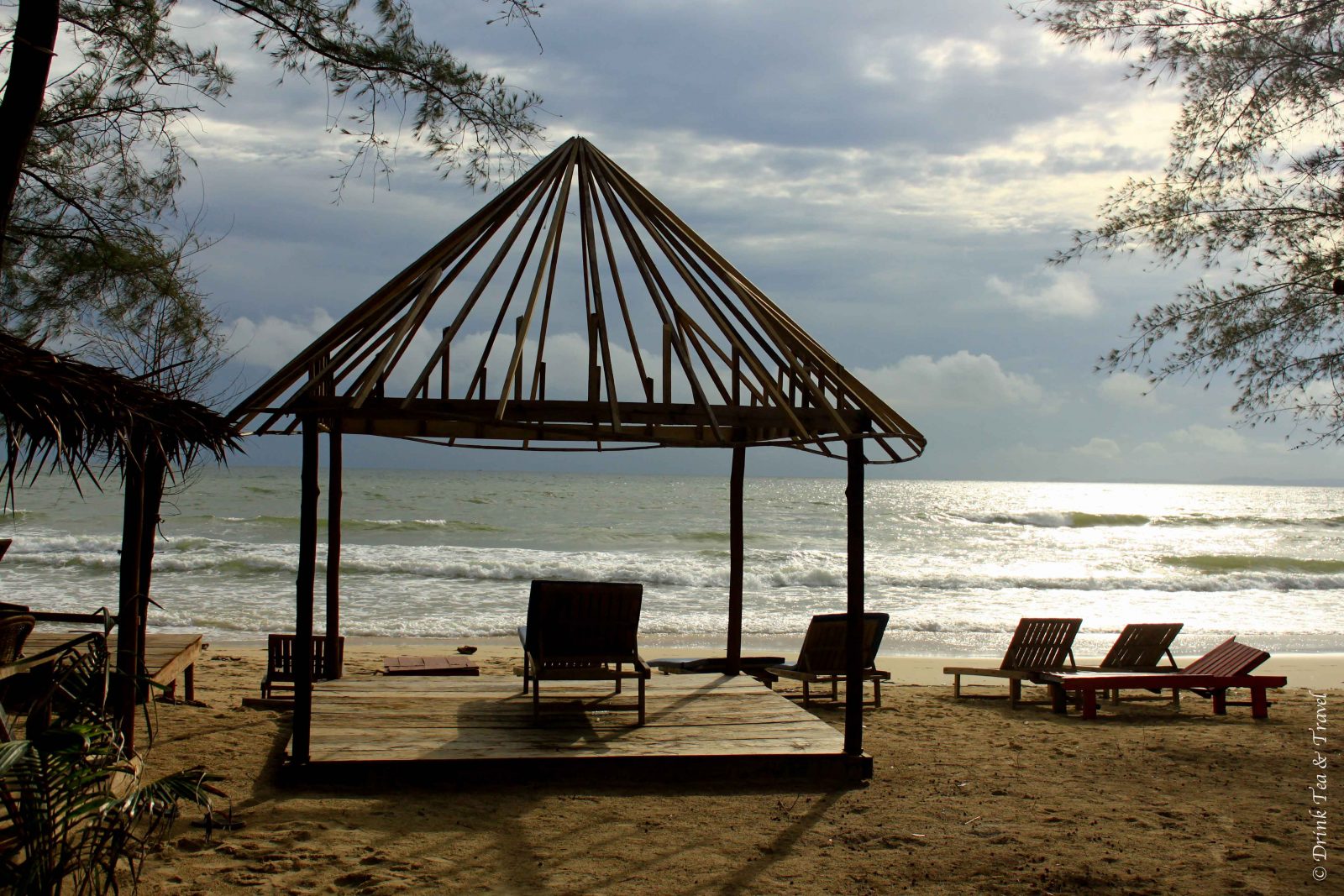 The beaches in Sihanoukville are peppered with palm trees and seafood restaurants are close by for those who wish to dine on a fresh catch. The area of Sihanoukville is one of the best places to go to in Cambodia for viewing the ocean or catching the spectacular sunsets. If you are interested in staying for a few days, you can opt to take a multi-day tour. It includes stand up paddle boarding, zip-lining, cliff jumping and snorkelling.
7. Explore the Cardamom Mountains and S.E. Asia's Largest Mangrove Forest in Koh Kong
The region of Koh Kong is fairly untouched, which makes hiking the area one of the top things to do in Cambodia. Visiting a place like this requires a bit of gear, so be sure to take along good hiking boots and outdoor clothing.
The area is mountainous and heavily forested. In fact, much of it is inaccessible and includes the Cardamom Mountains and two national park areas in Cambodia. Tourist spots can't compare with the natural, untouched beauty of Koh Kong.
8. Enjoy the Laid Back Atmosphere of Kampot
The area of Kampot has a decent-sized town, but the main attraction is the beauty of the river itself, which is the reason many tourists include this on their list of what to see in Cambodia. Tourism is growing in Kampot, but the locals mainly rely on natural resources, such as fishing, salt and pepper production, and growing fruit to bring in an income.
Kampot has also seen a recent influx of ex-pats, which accounts for the growing number of restaurants, shops, and hotels in the town. There is no doubt that seeing this lovely area is one of the best things to do in Cambodia.
9. Take a Motorcycle and Get Off the Beaten Track to Get a Feel for the Untouched Parts of the Country
Of course, there are many popular suggestions of what to do in Cambodia, but sometimes getting off the beaten path and seeing how people live their daily lives can be just as interesting as the main attractions. One way to see these parts is to rent a motorcycle and ride through the countryside at your leisure.
If traipsing off on your own is a bit intimidating, you can always join a tour or check out other options of transportation in Cambodia.
There are several tours to choose from. We suggest a 3-hour tour on the ancient trails from Siem Reap or an 8-hour tour on brick trails and through rice fields, which also leaves from Siem Reap. Vespa scooter tours are also available in the Angkor area.
10. Visit a TREE Alliance Restaurant and Contribute to Build a Better Future for Cambodian Former Street Youth
TREE is actually an acronym for Training Restaurants for Employment and Entrepreneurship. You can do good for the future of Cambodia by eating at a TREE Alliance restaurant. The premise of the restaurants is all about educating and training Cambodians on how to manage restaurants and cook.
The proceeds from patrons go right back into the organization to fund their projects. It's a brilliant, symbiotic relationship between locals and customers to help foster a positive future in the developing country of Cambodia. As far as what to do in Cambodia, this is not a normal "attraction" but it tops our list as a way to do good while you are in the country.
No matter what you choose to do from our list of things to do in Cambodia, it is safe to say that you can find adventure, shopping, history, and nightlife in the country. You can do a bit of good by investing in the local community through tourism, shopping the night markets, or eating at an educational restaurant. Cambodia is a beautiful place to visit!
Have you visited Cambodia? Do you have any ideas about what to do in Cambodia? Let us know your Cambodia must-see places!