This post was first published in 2015 but has been updated in 2019 with the most recent information on the best places to visit in Tasmania.
*This post may contain affiliate links, as a result, we may receive a small commission (at no extra cost to you) on any bookings/purchases you make through the links in this post. As an Amazon Associate, I earn from qualifying purchases. Read our full disclosure.
Our recent trip to Tasmania was…well…UNFORGETTABLE! Between the rolling pastures peppered with farm animals, rugged remote wilderness, lush green rainforests, vibrant cities, and exciting arts and food scene, Tasmania really does have all the ingredients for a perfect trip. The travel experts (the folks at Lonely Planet) agree, naming it one of the Best in Travel Regions for 2015, yet for some reason, international travelers and local Australians often forego this island state.
Infatuated by the stunning images of Tassie's natural beauty, mesmerized by the stories of the great hikes, and enchanted by the sunsets over Tasmania's coastline, we decided to take advantage of Easter holidays and spend some time exploring Tasmania attractions. We discovered so much more than we ever bargained for. There were lots of places to visit in Tasmania recommended by locals, experienced travelers, explorers, and wanderers.
Here are our suggestions for the 10 best places to visit in Tasmania for an unforgettable trip!
1. Cataract Gorge, Launceston
The Cataract Gorge, or The Gorge, as referred to by the locals, is a unique natural formation located just a two-minute drive away from central Launceston. In my humble opinion, it is the biggest attraction in Launceston, one that is loved by locals just as much as travelers.
The Gorge is an urban oasis for "Launie" residents. It is a perfect place for a swim or a weekend picnic with the family or friends offering a beautiful backdrop of stunning cliffs looking down onto South Esk River. A leisurely walk around the First Basin of the Gorge and the river took us approximately 2-3 hours.
The blue skies and sunny weather made it feel like one of the best things to do in Tasmania while spending an afternoon in Launceston!
2. Walls of Jerusalem National Park
Our 2-day hike through the Walls of Jerusalem National Park started with an excruciating 4-hour steep climb into the heart of Tasmania's wilderness. The Walls of Jerusalem are not accessible by car and does not offer many facilities for casual hikers, so getting into the park required some serious well-equipped bush walking. It was cold, rainy and our 20kg (44 pounds) backpacks with overnight gear and supplies were killing our backs. It was the first time we were faced with the harsh Tasmanian conditions.
But the next day when the weather cleared up, The Walls of Jerusalem revealed the most unique and breathtaking landscapes we experienced during our time in Tasmania. Volcanic rock peaks, highland lakes, and the alpine vegetation was unlike anything we have ever seen before. We were spoiled with the beauty inside the park and will hands down agree that this was our favourite spot. So if you are wondering what to do in Tasmania, consider putting this on your list!
3. Cradle Mountain/Lake St Clair National Park
Cradle Mountain National Park is arguably the island's biggest natural attraction, which makes it one of the most popular places to visit in Tasmania. Every day busloads of tourists visit the park to admire Cradle Mountain and Dove Lake in the North and Lake St Clair in the South. Some embark on the 3-5 hour hikes to appreciate the stunning views from the top, but most meander through short tracks, snap a few photos and call it a day. Despite being rather touristy, the park is still a pleasure to the eyes with its impressive peaks and picturesque lakes.
We choose to embark on a walk to Marion's Lookout which allowed us to get away from the crowds and take the time to admire the beauty of Cradle Mountain National Park.
4. Corinna /Pieman River
Once nothing more than a remote mining town, Corinna is now a true eco-tourism haven. A small town set on the banks of Pieman River, Corinna is a 2 street settlement with one restaurant, a few tent sites and cabins, and nothing to do but relax and enjoy the beautiful setting of the untouched remote rainforest wilderness. We hired kayaks and spent the day exploring the Pieman River and Whyte River that connects to Lake Pieman further south.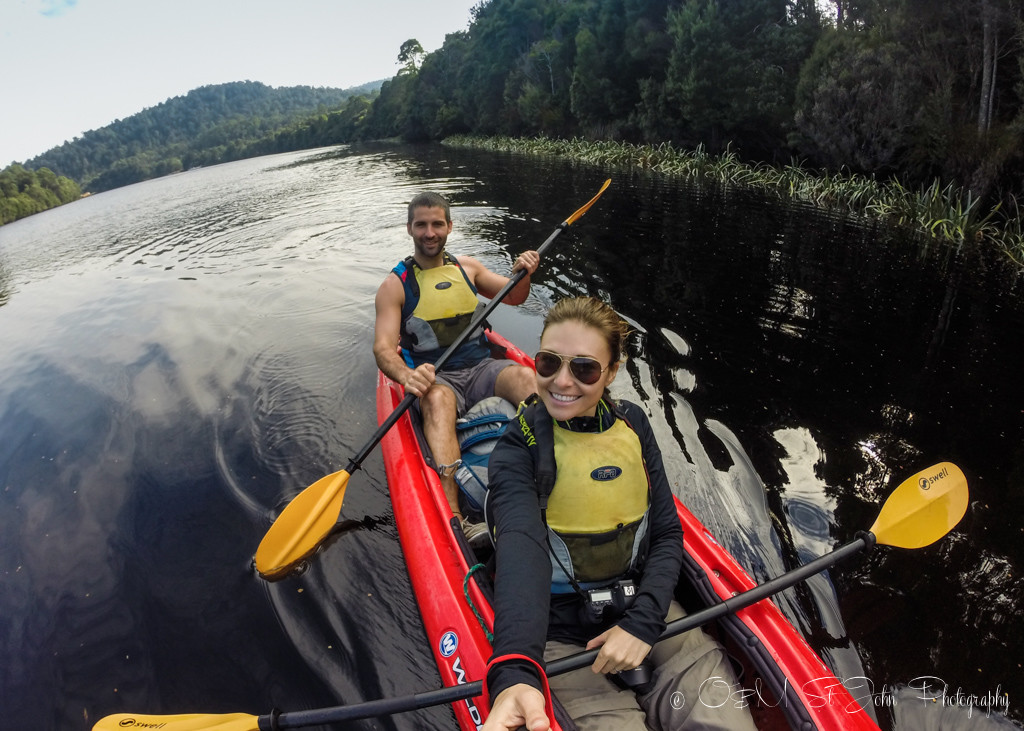 5. Mt Field National Park
Mt Field National Park may be one of Tasmania's most beloved parks, but it's one that still rarely makes it onto international visitors' itineraries. The lack of tourists and the abundance of natural wonders and incredible plant diversity makes it one of the best things to do in Tasmania and a well-kept secret. We loved roaming through the park's narrow trails, admiring the stunning waterfalls and coming face to face with some of Australia's famous wildlife.
6. Salamanca Market
We love markets, so this was definitely one of our favourite Tasmania attractions! We've been to quite a few of them in Australia and around the world and we can easily say that Salamanca Market is one of the best markets we have been to in the world! 300+ stalls of homewares, clothing, produce, souvenirs, and all sorts of locally made goodies sent us into a shopping frenzy. It was the best 4 hours of our time in Hobart, and is something you must add to your list of things to do in Tasmania
7. Port Arthur
Located about 1.5hrs south of Hobart, Port Arthur is a small town, a former penal settlement, and home to a 40-hectare historic site of a former convict colony. Port Arthur's open-air museum is one of Australia's most significant heritage areas and a place that oozes with history from Australian convict times.
We were worried that Port Arthur's dull museum demeanour might bore me, but the visit was nothing short of fascinating and educating. The stories told during the introductory tour painted a vivid picture of the rich history of Australia's first settlements and the historic site itself definitely lived up to its reputation of being one of Australia's greatest Cultural UNESCO World Heritage Sites.
8. Freycinet National Park
Freycinet is another great national park on the east coast of Tasmania. The park is world-renowned for its biggest attraction the Wineglass Bay, which draws thousands of visitors to its granite peaks, secluded bays, and white sandy beaches. For us, the highlight of Freycinet was once again going off the beaten path to avoid the crowds and discover the more stunning (in our opinion anyway), Hazards Beach. We left wanting more, therefore it made our list of best places to visit in Tasmania. We wished we had more time to spend in the park and to discover the southern end of the Freycinet Peninsula.

Wineglass Bay. View from the Wineglass Bay Lookout. Freycinet National Park
9. Freycinet Marine Farm
Tasmania is renowned for its great local produce and its fantastic seafood. But there is seafood and then there is Freycinet Marine Farm seafood. Succulent oysters, freshly harvested mussels, local Tasmanian Rock lobster, scallops, and calamari are all on offer at this family-owned marine farm. Our delicious oyster and mussel lunch was by far the best meal we had in Tasmania and one that is bound to keep me salivating for more fresh oysters for months to come! As far as food goes, it is definitely one of the best places to visit in Tasmania.
10. Bay of Fires
Bay of Fires is a bay on the northeastern coast of Tasmania that has been named by Lonely Planet as the hottest destination and the secret edge of Tasmania. Its white beaches of fine white sand, lichen-splashed granite, and crystal clear blue waters have been luring in locals for many years. Even though a four-day guided hike is considered the best way to experience the natural beauty of the bay, we explored it by car, stopping in to admire the picturesque bright colours of the beaches.
We spent 10 activity packed days exploring Tasmania. But despite all the unforgettable experiences we had and the number of towns, parks, and beaches we were able to visit, we left wishing we could have seen more. We missed the entire North West, failing to check out places like Devonport, Burnie, Stanley and the other small coastal towns that offer getaways to a few other national parks.
We didn't get a chance to see the West Coast, particularly Strahan and the Gordon River. We missed out on the chance to explore the islands off the coast of Tasmania, like Flinders Island, Bruny Island, or the Tasman Island that promised to offer stunning coastline views. We only spent a couple of days in the wilderness and even fewer days in the cities. The list can go on and on of some of the best things to do in Tasmania that we wish we could go back and experience!
And that's the beauty of the island and our suggestions for top 10 things to do in Tasmania! For a small island with just 500,000 residents, it sure does offer a ton of sights and activities unique not only within Australia but also around the world. There are so many beautiful and memorable things to do in Tasmania!
Essential Travel Info
Getting In
The easiest way to get into Tasmania is to take a short domestic flight from any major city in Australia. Jetstar and Tigerair offer the cheapest flights to Hobart from Melbourne, Sydney, Canberra, Brisbane, and the Gold Coast. You can also fly to Launceston from Melbourne, Sydney and Brisbane. Alternatively, you could hop on the Spirit of Tasmania Ferry that runs daily between Devonport and Melbourne. Ferry service takes 11 hours and costs between $120-$170 for a seat on board.
Getting Around
The best way to get around Tasmania is by car. If you book in advance, you can hire a car for as cheap as $20-$30 a day. A small price to pay for the flexibility that comes with it.
When to Go
Summer (Dec – Feb) is the best time to visit Tasmania, when the average temperatures hover around 23°C during the day and 12°C at night. However, the shoulder season (spring/fall) is also a good time to visit. It'll be a bit colder, but less crowded at Tasmania attractions.
Like this post? Pin it for later!
What are some of your suggestions for best places to visit in Tasmania?