Cambodia is one of those countries, where getting off the beaten path is almost a must-do. So much of the country's culture, the true understanding of the day to day lives of its people, their values and believes lies just outside of the touristy Phnom Penn and Siem Reap. In Cambodia, nothing beats getting out into the country side and away from the big cities.
*This post may contain affiliate links, as a result, we may receive a small commission (at no extra cost to you) on any bookings/purchases you make through the links in this post. As an Amazon Associate, we earn from qualifying purchases. Read our full disclosure
If your schedule allows it, look to add Kampong Cham, Kep or Kampot to your itinerary. These places are less frequented by the hoards of tourists and continue to maintain their local, small town feel and authenticity. There is not a ton to do or see in these towns, but that's the beauty of it. Hire a bike and spend some time exploring the towns and the nearby areas. You'll be glad you did!
For those that don't have extra 3-4 days for a stop-over in one of the off the beaten path towns, there is another option and it's only a short drive away from Siem Reap! Step outside of Siem Reap and you will immediately be thrown into the quiet local life untouched by tourists and the flashy lights of Siem Reap.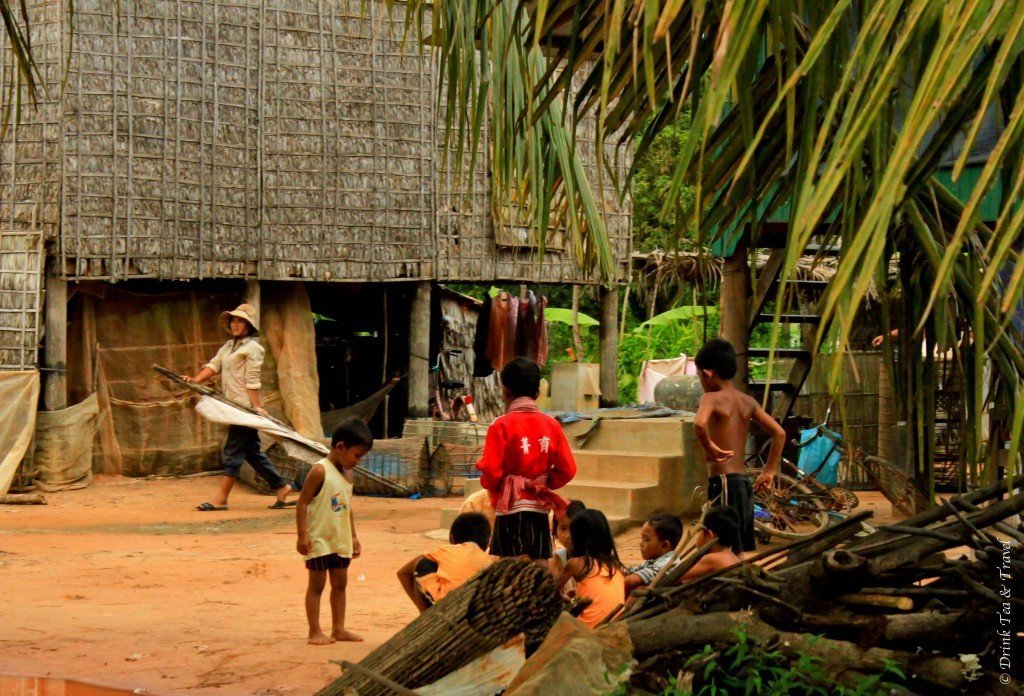 Explore the wooden huts along the tiny trails, see kids going off to school and many more playing on the sides of the streets, in the puddles and the rivers. Kids that so clearly have absolutely nothing to their name, no toys, no fancy electronics, sometimes not even clothes, whose families live on pennies a day, but who are always so welcoming and friendly.
Stop by any of the huts and within seconds you'll be surrounded by kids, mesmerised by you, waving their "hello's" and "good-byes". Most villagers in these areas are not accustomed to seeing foreigners, so don't be surprised if you get a few weird looks and stares from the kids and sometimes even adults, especially if you are blond, have really white skin or are just really tall.
You won't find too many people speaking English, if any at all, but a little sign language can go a long way. Alternatively, getting out into the country side with a local, who can act as a translator will make your trip 10 times more enjoyable. While we all know that Cambodia is still an incredibly poor country, but seeing the poverty first hand can be a very different and powerful experience and is one that anyone interested in Cambodian culture should embrace!
However, getting out into the country side of Siem Reap can be a bit tricky. You will not find a single place to hire a motorbike in Siem Reap. Fearing that many tourists would take motorbikes out to Angkor Wat, the government has implemented a "no bikes for tourists" rule a number of years ago, forcing visitors to rely on tuk tuk drivers to get around. The tuk tuk drivers would happily take you around the nearby villages, stopping along the way to chat with the locals, acting as your personal translator and guide to the country side.
Another option to explore the country side is to join one of many ½ day or day long motorbike or bicycle tours provided by a variety of small tour operators in the area. A few operators worth noting are: Khmer Ways, Hidden Cambodia Adventure Tours, and Siem Reap Dirt Bikes. They charge a steep price $50-$100 per day depending on the operator but are 100% worth the price! With these tours, you will not only get a chance to explore the country side, but be accompanied by a local guide, who will look after your bikes for you, cook you delicious lunch along the way and be able to act as a translator for your interactions with the locals. My experience getting outside of Siem Reap with Khmer Ways was one of the highlights of my trip to Cambodia, giving me a better understanding of local ways, life beyond the big cities and the true challenges faced by Cambodian families today.
But don't just follow my advice..
Read what hundreds of other travelers had to say on TripAdvisor
Like this post? Pin it for later