A journey to the Amazon had long been on our South America Bucket List. We were always under the impression that the only way to experience the Amazon was by traveling to the Manaus region in Brazil, but after a bit of research realized that trips to the Amazon River could also be arranged from Colombia and Peru.
*This post may contain affiliate links, as a result, we may receive a small commission (at no extra cost to you) on any bookings/purchases you make through the links in this post. As an Amazon Associate, we earn from qualifying purchases. Read our full disclosure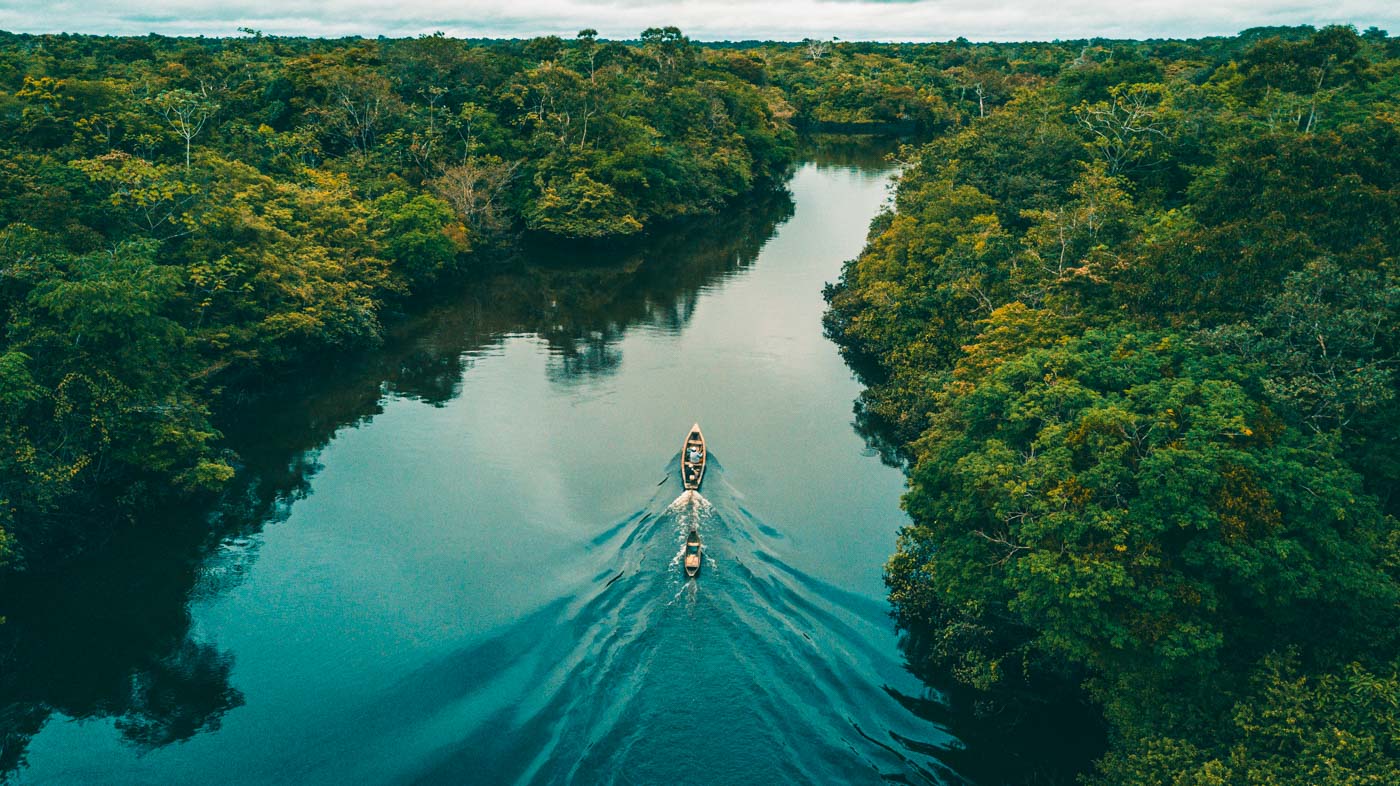 Traveling Soon?

Here is a list of our favourite travel providers and accessories to help get you ready for your upcoming trip!
A number of destinations in Peru offer a chance to experience the Amazon Basin. We choose to make our way to Iquitos and explore the Amazon with Amazonia Expeditions, one of the top rated providers in the region, praised for their sustainability practices and commitment to making a positive environmental and economic impact on the region.
Our 5D/6N tour took us deep into the Amazon River basin, giving us lots of unique opportunities to see wildlife endemic to the region and appreciate the Amazon jungle to the fullest.
Zip Lining Through the Amazon Canopy
It was our first day at Tahuayo Lodge, one of the two lodges owned by Amazonia Expeditions on the Tahuayo River. Tired but excited to explore, we hopped into small canoes and set off on an adventure through the rainforest towards the zip lining course hidden deep in the thick jungle.
It was a smooth and fascinating ride as we made our way past mangroves, ferns, and the vines of air plants. The black water created perfect reflections of the vegetation around us, making the ride even more magical. About 30 mins later, we arrived at an old Ceiba tree, which housed the first platform of the canopy course.
Amazonia's zipline complex is one of its kind in the Amazon, consisting of 5 canopy platforms, 3 zip lines and a canopy walkway between. Designed using only wooden platforms and bolts which can be removed from the supporting tree if any signs of stress, this is a low impact structure created with the lowest environmental impact but designed to deliver utmost fun.
We got strapped in and swung through the jungle from one platform to the next, admiring the beautiful views of the Amazon jungle canopy from above.
It wasn't the most adrenaline filled adventure but a great intro to the rainforest and the right level of fun and adrenaline to get our hearts pumping and cameras snapping.
The Search for Majestic Pink River Dolphins
After a hearty lunch and a bit of a siesta back at the lodge, we set off to search for the Amazon's most unique mammal – the pink dolphin.
Pink Dolphins are known to hang out in the Charo Lake, located about an hour or so away by boat from the Tahuayo Lodge, where we arrived shortly after 4pm.
"Let's kill the motor", suggested our Amazonia guide, Nelly, who's been guiding tours with Amazonia Expeditions for over 7 years "it bothers the dolphins", she pointed out. "Let's just sit and wait in silence".
We nodded our heads and peered across the lake. It looked like the last place you might expect to see a dolphin. A few minutes later, as if on demand two fins surfaced out of the water! A mom and her calf.
"Right there! Dolphins!", we all exclaimed at once, as the pair surfaced some 50m away from our boat.
As they peered out of the water, we caught a better glimpse of their colour. Grey.
Nelly explained that there are actually 2 species of dolphins in the Amazon, grey and pink. Pink dolphins of the Amazon are surrounded with a veil of mystery and legends. One of the legends says that the pink dolphin can transform into a young man, seducing young girls on the riverbanks on the Amazon. Many villagers believe that pink dolphins are the devil, but the scientific truth is that pink dolphins are a species of toothed whale found only in the Amazon Basin. Adults acquire a pink color, which is more prominent in males, especially in the breeding season.
A few minutes had passed and another fin appeared, this time a pink one. He breached the waters a few more times and joined a pod of grey dolphins. We jumped in the water hoping to get a bit closer to the beautiful creatures but didn't get lucky.
They kept their distance gracing us with their fins every couple of minutes.
Coby, Dorilla, and Baby Woolly
It was another beautiful morning in the Amazon and we were en route to Terra Firma to search for poisonous dart frogs.
Before reaching our final destination for the day, we stopped outside a small village about an hour away from the lodge to meet Coby, a rehabilitated woolly monkey that was released there by the Research Centre about 3-4 years ago.
Coby used to be a house pet and spent the first year of his life tied to a rope eating rice and fish. When his captors relocated from the village to Iquitos, the Research Centre was able to save Coby from captivity. They rehabilitated him for a few months and eventually released him in the exact spot where he hangs out today. The naturalists from Amazonia Expeditions bring him some bananas and other fruits when they pass by the village and are considering relocating him to another part of the river where food is easier to find and where he may be reunited with his mate, Dorilla.
Just like Coby, Dorilla was also a rescue rehabilitated by the Research Centre and released into the wild a few years ago. For the first little while, they lived side by side, enjoying each other's company in the jungle. The researchers were always under the impression that it was impossible for rehabilitated monkeys to breed in the wild, but about a year ago, she gave birth to baby woolly.
Today, Dorilla and the baby live in the jungle near the Research Centre, so the staff can monitor the baby's growth and development. They are cute as a button (or as a stuffed toy monkey) and their story is a testament of the important conservation work the Research Centre does in the area.
River Otters, Sloths, and Other Creatures of the Amazon
Every day in the Amazon was a different type of adventure and we were lucky that with Amazonia Expeditions' Private Guide service, we were able to choose our own itinerary day in and day out.
Everyone comes to the Amazon in search for a different type of experience. Some people are dying to see the dancing manakins, some spend days chasing the elusive river otters (we sure did), and others are all about the snakes, tiny frogs, and insects.
Amazon has them all, and can't wait to share her beautiful world with visitors that grace its shores. The only thing to remember is that to spot the most unique creatures, you need lots of patience and plenty of time in the region.
Choosing a Responsible Tour Operator
There is nothing more important when it comes to a trip to the Amazon then choosing a responsible, environmentally friendly provider for your tour of the Amazon. The most popular way to explore this region is, on a cruise, which unfortunately is the least sustainable option for travelers with an eco-conscious mindset.
We recommend choosing an operator that uses small, quiet boats and canoes to explore the Amazon basin, not only because this is the most environmentally friendly way to get around the river, but also because it is the best way to get up close to the wildlife without disturbing them in their habitat. Learn from merrittsupply.com if there are all necessary supplies for the trip.
We recommend Amazonia Expeditions, a great ecotourism company in the Amazon basin, rated #1 in the Amazon basin for contribution to conservation. The company does a great job at providing a meaningful contribution to the indigenous community of the Amazon and the livelihoods of their employees and the Iquitos community. The treat their staff well and take charge of looking after the rainforest. The company played an instrumental role in creating the 1 million acre reserve, the Area de Conservacion Regional Comunal Tamshiyacu Tahuayo (ACRCTT) which now has the greatest diversity of flora and fauna found in any lowland Amazon basin site and is doing its part in conservation, rehabilitation, and scientific research in the region.
Essential Travel Info

Getting in: Amazon River basin can be explored on a tour from Iquitos. To get to Iquitos you'll have to fly as no roads currently connect Iquitos ot other cities in Peru. Avianca, Peru Airlines, Star Peru, and LATAM operate daily flights to Iquitos from Lima.

Getting around: Once you make your way to the river basin, your options for getting around are limited to boats, canoes, or your own two feet. Different companies take travelers to different parts of the Amazon and include various ways of transportation to get them from one spot to another. It's important to understand these details before booking your trip.

Where to Stay: A number of lodges are scattered all across the Peruvian Amazon basin. Some tour providers int he region have their own lodges, while others, collaborate with lodge owners to provide tours to their guest. If you opt to jump on a tour with Amazonia Expeditions, you'll be staying at one of both of their Amazon River lodges: the Tahsuayo Lodge, located about 4 hours south of Iquitos and the Amazon Research Centre,tucked away deep in the Amazon jungle. The lodges are basic, but nice, offering comfortable beds, bathrooms (shared only at the Research Centre), free wifi, and lots of space to hang out and exchange stories with fellow travelevers.

Tahuayo Lodge, Amazon, Peru

Where to Eat: Traveling independently in the Amazon is not an option, so many hotel/lodge will likely have a full-board package or a restaurant on site where you can indulge in some local dishes throughout your stay. Food on our trip with Amazonia Expeditions was healthy, fresh, and very delicious. There were lots of choices, and we never found ourselves going hungry, no matter what we got up to throughout the day.

What to budget: Amazonia Expeditions offer 8 days / 7-nights tour to the Amazon for $1295. Shorter trips and custom itineraries can be arranged.
Disclaimer: Our trip to the Amazon was provided courtesy of Amazonia Expeditions, but all opinions expressed in this article are our own.