The beautiful Flinders Ranges draw visitors from all over the world to this arid wonderland 5 hours north of Adelaide. The area is filled with rugged mountains, winding gorges, and a rich cultural heritage that's iconic to South Australia.
*This post may contain affiliate links, as a result, we may receive a small commission (at no extra cost to you) on any bookings/purchases you make through the links in this post. As an Amazon Associate, we earn from qualifying purchases. Read our full disclosure
On a recent visit to the Ikara-Flinders Ranges National Park, we had the pleasure of staying at the Wilpena Pound Resort. It's the only accommodation located within the national park and has everything you need for an incredible outback getaway.
About the Resort
Set alongside a massive rock amphitheatre, Wilpena Pound Resort is a must for anyone visiting the Flinders Ranges. The resort has a long history of tourism in the area and serves as the perfect launchpad for outdoor activities and rugged luxury. The resort has a restaurant, general store, swimming pool, and plenty of tour options so you'll never be short on things to do.
We divided our time at Wilpena Pound Resort between bush camping and safari tent glamping and had a wonderful stay in the Australian wilderness.
Traveling Soon?

Here is a list of our favourite travel providers and accessories to help get you ready for your upcoming trip!
Accommodations at Wilpena Pound Resort
Wilpena Pound Resort has options for every traveler's style and budget. There are 60 resort-style hotel rooms, 15 glamping safari tents, and over 300 campsites.
The Rooms
Hotel rooms at Wilpena Pound Resort offer a comfortable stay amidst the rugged surroundings. Rooms have bathrooms, air conditioning/heating, and range in size suitable for couples and families. Standard rooms are modern yet cozy and come complete with a separate living area to unwind after a day exploring the park.
If you're a larger group or just want some extra space, the deluxe rooms seem lovely. The Edeowie Room, for example, sleeps 5-6 people and has a small kitchenette perfect for whipping up lunch or a snack.
The Safari Tents
No trip to the Flinders Ranges is complete without staying in a glamping safari tent! The Ikara safari tents are the true definition of bush luxury! Each tent has a king-size bed, ensuite bathroom, private deck, fire pit, and even air conditioning and heating. This is glamping, after all.
We spent 2 nights in a safari tent and felt like we were transported to a peaceful desert paradise. Spending an evening overlooking the mountains on our private deck was an idyllic way to end the day. And because we were traveling in April, the weather was starting to get quite chilly at night. We were so happy to have a heater in our tent!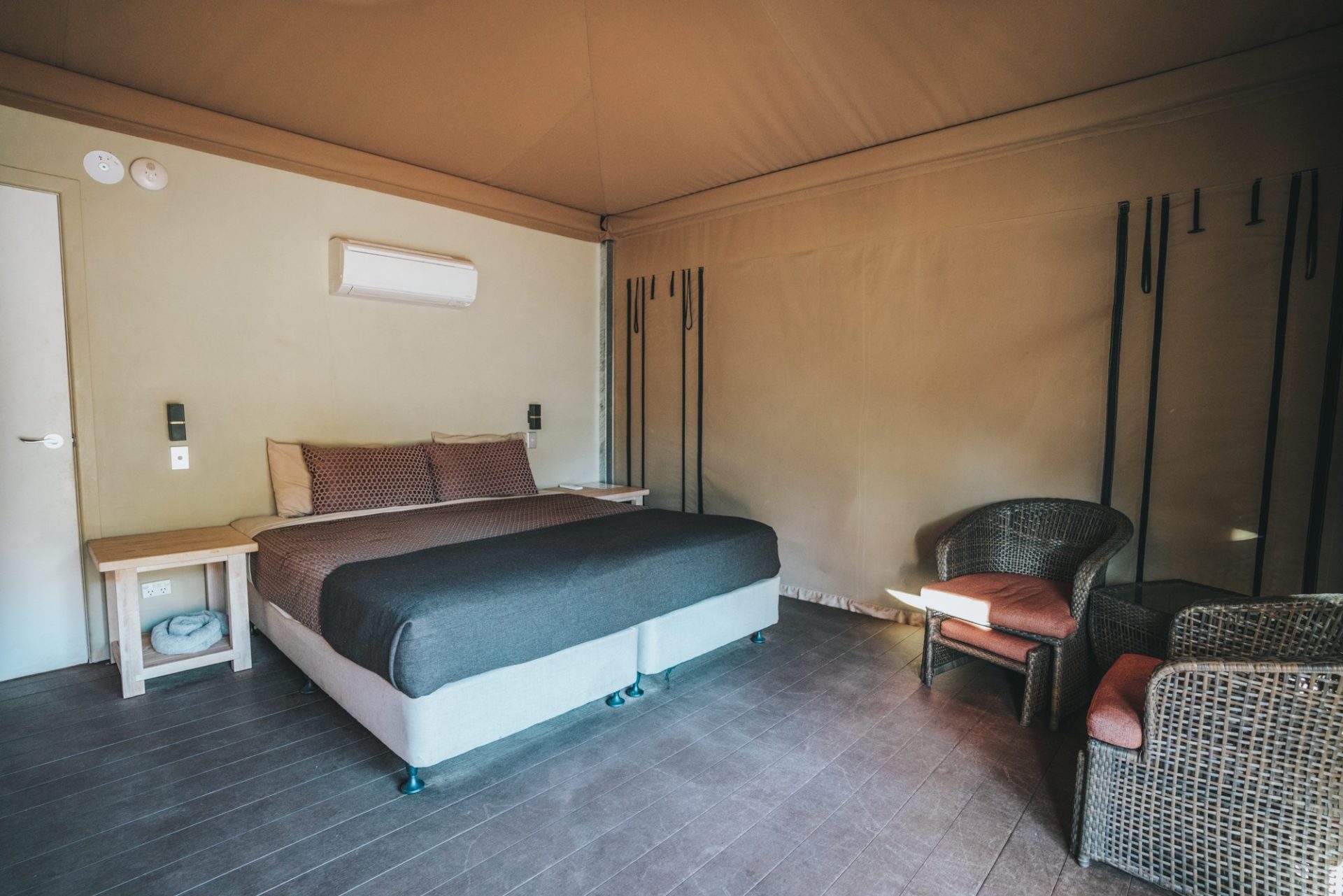 The Campground
If you're craving a more rustic experience, Wilpena Pound Campground has hundreds of bush campsites to enjoy. There are 300 unpowered sites for tents or campervans and 40 powered sites for camper trailers and caravans. Unpowered sites are unmarked and unallocated, many have fire pits and all have easy access to the campground amenities.
We spent 3 nights in our campervan, Tilly, under the stars at our campsite. We loved how spacious the sites at Wilpena were, and how easy it was to find a site near one of the three amenities blocks.
Food & Drink
The restaurant and bistro at Wilpena Pound showcase regional cuisine and delicious South Australia wines. The Ikara Lounge is the resort's bar & bistro that offers daily casual dining with outdoor views. There's also an IGA general store on-site if you want to grab a snack or some basic groceries.
The restaurant offers meals at a reasonable price and it's great to see lots of great choices available. Dinner was a bit on the pricier side but pleasant. We particularly enjoyed the creative use of native ingredients and wild game in the dishes.
Activities
There are tons of fantastic outdoor and cultural experiences to uncover within the Flinders Ranges. Wilpena Pound Resort offers all of the tours and activities you'd want for making the most of your stay.
Start with an Aboriginal cultural tour to Sacred Canyon or Arkaroo Rock to see the incredible rock etchings that have been preserved for thousands of years. The local guides are fantastic.
After, take a scenic flight over Wilpena Pound and see the ancient rocky amphitheatre from a birds-eye view. Or, go on a 4WD tour through the gorgeous gorges while yellow-footed rock wallabies wander about.
End your evening with the free Welcome to Country event each night where songs and stories are shared in Yura Ngawarla, the language of the Adnyamathanha people.
Wilpena Pound Resort is also the starting point for 5 great hikes and even offers mountain bike hire for those looking to hit the trails.
Sustainability
Wilpena Pound Resort's commitment to putting minimal impact on the environment and promoting sustainable tourism is quite impressive. The resort is EcoStar-certified and has an Advanced Ecotourism Certification with Ecotourism Australia. Almost all electricity is powered by massive solar arrays that fill a large battery bank that services the entire resort.
All water on the grounds comes from a nearby spring with on-site treatment. The resort promotes a self-sufficient way of operating and encourages guests to be conscious of their energy and water consumption. In addition to environmental practices, the resort is very community-focused. They employ all Aboriginal guides who were just as happy to share insights into their culture with us as we were to learn about it.
The Bottom Line
Wilpena Pound Resort is the perfect base for exploring the Flinders Ranges. The resort offers fantastic nature and cultural experiences that made our stay exciting and memorable. Whether you're looking to camp, glamp, or just enjoy the resort, Wilpena Pound offers an amazing outback experience for every type of luxury.
Disclaimer: Our stay in the Safari Tents and at the Campground was provided courtesy of Wilpena Pound, but as always, all opinions expressed in this article are our own.