Shanghai is the largest city in China and no visit to the country is complete without a stop here. Not only are there a lot of things to see and do, but it's also a good place to get a peek into the culture of modern China. As the financial hub of China, it's busy and energetic with a sleek, contemporary skyline as the backdrop to it all.
*This post may contain affiliate links, as a result, we may receive a small commission (at no extra cost to you) on any bookings/purchases you make through the links in this post. As an Amazon Associate, we earn from qualifying purchases. Read our full disclosure
Traveling Soon?

Here is a list of our favourite travel providers and accessories to help get you ready for your upcoming trip!
There are countless temples, museums, and historic sites to visit, but if you only have a few days in the city, you can still see a lot. Still, it can be quite intimidating for first-time visitors since it is so big, busy, and hard to navigate, but that doesn't make it any less worthy of a visit.
Since Shanghai is so huge, it's easy to find vacant hotel rooms, but on the other hand, it's extremely hard to know where to stay. This breakdown of the best places to stay in Shanghai will help you understand how the city is organized as well as which hotels are some of the best in town.
Where to Stay in Shanghai
Pudong
Pudong is a huge residential district to the east of the city center. This is where to stay in Shanghai if you're traveling as a family or you want a more suburban feel during your stay.
This neighbourhood is home to such attractions as the Shanghai Wild Animal Park and the Shanghai Science and Technology Museum. It's also home to some of the nicest hotels in the city right near the river, where you can catch views of the city center from above.
Where to Stay in Pudong, Shanghai
Luxury Hotel
For the ultimate luxury hotel experience in Shanghai, head to the Four Seasons Pudong, which hosts some of the best skyline views in the entire city. Although it's a luxury brand, Four Seasons is well known for its efforts to give back, including environmentalism.
Mid-Range Hotel
The Eton Hotel is a classy and modern choice for where to stay in Shanghai. It has a sleek and modern design and is complete with a stylish bar and great dining options.
Budget Hotel
The Jinjiang Inn is a clean and comfy budget hotel that's just across the river from the center of town. Its unassuming design and great price tag make it one of the best hotels in Pudong, Shanghai for families and couples.
Old City/ Huangpu
Huangpu is the traditional old city in Shanghai. Lots of the city's famous culture and historic sites can be found here, including the Jiuqu Bridge and the Shanghai Liuli China Museum. This is also where to stay in Shanghai if you love to shop; you'll find countless famous streets such as Nanjing Road, Huaihai Road, and Taikang Road that are perfect for browsing. Most famously, the neighbourhood includes the Bund, a famous, elegant walkway along the Huangpu River.
Where to Stay in Old City, Shanghai
Luxury Hotel
As far as luxury Shanghai Hotels go, the Banyan Tree is one of the best. It is right on the Shanghai Bund and is the perfect romantic hotel for couples. The people at Banyan Tree are also deeply committed to their sustainability practices.
Mid-Range Hotel
The Langham Yangtze Boutique Hotel is luxurious and elegant without an exorbitant price tag. The style of the hotel pays homage to the city in the 1930s.
Budget Hotel
Laoshan Hostel is a great choice if you're on a tight budget but you still want to be right at the center of the action in Shanghai. Its location is perfectly located at a crossroads for backpackers and is complete with its own casual bar.
Jing'an
Jing'an is where to stay in Shanghai if you want to be centrally located and in the heart of the action. You'll find some of the most beautiful temples in the city in Jing'an, including the famous Jing'an Temple. Lastly, don't miss this neighbourhood's lovely greenspaces, including Jing'an Park and the Yanzhong Greenbelt.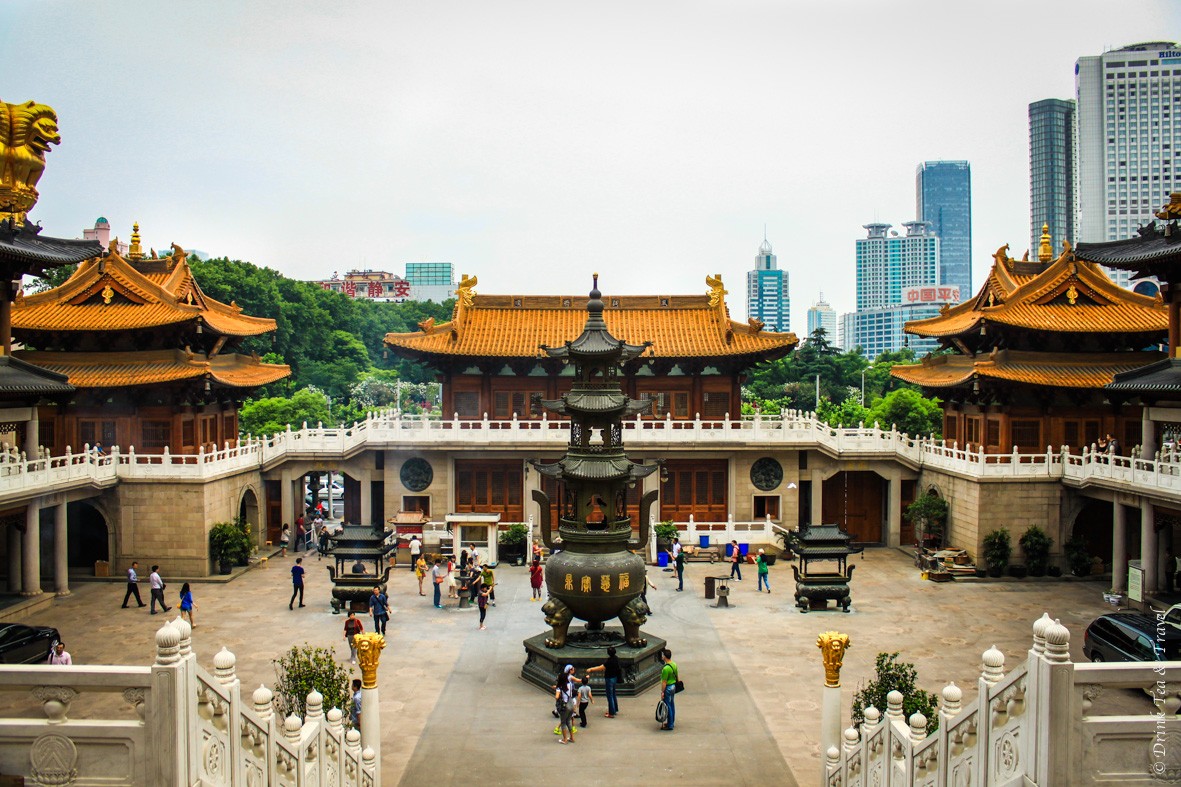 Where to Stay in Jing'an, Shanghai
Luxury Hotel
URBN Boutique Hotel is the first completely carbon neutral hotel in China. Besides being so environmentally friendly, it incredibly stylish with boutique design elements all over the property.
Mid-Range Hotel
The Mansion Hotel is exactly what it sounds like: a hotel that feels just like a mansion. With checkerboard tile floors, huge wooden banisters, and french windows, the hotel has the perfect splash of elegance without being crazy expensive.
Budget Hotel
For comfortable accommodation that won't break the bank, book your stay at Le Tour Traveler's Rest Youth Hostel. You'll find dorm rooms, privates, and other mixes of bedrooms to accommodate solo travelers or groups.
The French Concession
The French Concession is one of the most popular areas to stay in Shanghai. It has a strong European influence as the name might suggest, and the elegant architecture and prominent greenery might have you thinking you're walking down the boulevard in France. It's a great place to stay in Shanghai if you're interested in the atmosphere as there are tons of great restaurants and bars, live music, parks, and art museums.
The Xuhui neighbourhood, which is the most well-known part of the French Concession neighbourhood, is a great mix of energy and calm. You'll find plenty to see here such as religious sites, museums, and green spaces. The Longhua Temple and the Xujiahui Catholic Church are both worth a visit for their impressive architecture and cultural significance.
The Shanghai Botanical Gardens are also located in Xuhui and during the right time of year, they're stunning in full bloom. Although not as popular as the Shanghai Bund, another riverside promenade can also be found in Xuhui and is a great place to take a sunset walk.
Luxury Hotel
Renaissance Shanghai Caohejing Hotel is a great choice of where to stay in Shanghai if you want a luxury experience away from the larger crowds of the city. It's a highrise hotel, which means great views, and the dining options are virtually endless.
Mid-Range Hotel
The San Want Hotel is a great place to stay in Shanghai for nearly all kinds of travelers. It's in a great location with lots of bars and restaurants nearby, and you can easily reach the city center from its location.
Budget Hotel
Rock & Wood International Youth Hostel is the perfect place to stay in Xuhui if you're looking to save cash. There are both dorm rooms and privates at a very affordable price and the atmosphere is inviting and green with a tucked-away garden and an outdoor social area.
All things considered, Shanghai can be a hectic city to visit if it's your first time, but it's well worth it. There are plenty of exciting things to do in town and in addition, Shanghai is a great jumping-off point for other adventures in China. If you weren't sure about where to stay in Shanghai, we hope this guide has demystified this huge and thrilling city.
Have you ever visited Shanghai? Where did you stay during your visit?