The city of Cape Town in South Africa is undoubtedly one of the top destinations in all of Africa. Situated at the southernmost tip of the country on the Atlantic Ocean, Cape Town is a beautiful urban sprawl that attracts millions of visitors to its beaches, mountains, and Winelands.
*This post may contain affiliate links, as a result, we may receive a small commission (at no extra cost to you) on any bookings/purchases you make through the links in this post. As an Amazon Associate, we earn from qualifying purchases. Read our full disclosure
Planning a visit to Cape Town can be quite daunting, especially when it comes to deciding where to stay. Some areas are closer to the beach, while others have a more lively nightlife and are closer to the main attractions.
Safety is also another important consideration when deciding where to stay in Cape Town, South Africa as there are some areas of Cape Town can be quite dangerous, especially at night.
---
If you're wondering where is the best place to stay in Cape Town, check out our recommended neighbourhoods and hotels for your stay in the city.
---
Best Neighborhoods in Cape Town
City Centre: Best for Backpackers & First Time Visitors
The City Centre is the central area of Cape Town that lies between Bo-Kaap and District Six. The City Centre or the Central Business District (CBD) lies within the greater City Bowl area in Cape Town. It's referred to as the bowl because it's geographically carved out by the surrounding mountain range and sits at the base of Table Mountain.
Traveling Soon?

Here is a list of our favourite travel providers and accessories to help get you ready for your upcoming trip!
The City Centre is a popular neighbourhood to stay in for first-time visitors to the city, due to its central location. It's also particularly appealing to backpackers. It may seem like a great idea to spend your Cape Town visit in the heart of the city, but it may not be the best part of town if you are looking for a peaceful place to stay.
While the area is safe during the day, it can get a bit rowdy, particularly around Long Street, thanks to many bars and nightclubs dotted around the area. This makes the City Centre a bit more sketchy at night.
Best Hotels in the City Centre
Daddy Long Legs Art Hotel $
Despite the strange name, the Daddy Long Legs Art Hotel offers great value accommodation in Cape Town. It's quite creative and the rooms are covered in art-inspired decor and it's right in the middle of the CBD area. The 13 rooms have been uniquely designed by a local creative, meaning you can admire and support local artists in your stay.
The Grand Daddy Hotel $$
The Grand Daddy Hotel is regularly considered one of the best hotels in Cape Town, CBD. It offers regular rooms but also cool recycled rooftop trailers where you can spend the night with 360-degree city views as well as an open-air cinema. It's one of the most unique hotels in the city.
Cape Heritage Hotel $$$
The Cape Heritage Hotel dates back to the 18th Century and, despite being located in the CBD, offers a calm oasis from which to explore Cape Town. With 17 bedrooms, the hotel offers all the modern comforts but retains its age-old charm and character. The Cape Heritage Hotel partners also with charities and non-profit organizations throughout the city, which is another great reason to stay here during your visit.
Gardens: Best for Laid Back Local Living
Gardens is another inner-city neighbourhood on the higher elevation side of the City Bowl. It's more low key than the central CBD area and is particularly great for AirBnB and apartments, if you are looking for a longer stay in Cape Town.
Gardens is also one of the best areas to stay in Cape Town terms of location. It's close to the impressive Table Mountain and Lions Head, whilst still being within easy access to major sights like the V&A Waterfront, Woodstock, and the beaches.
Kloof Street is the main strip for shopping and dining in the area and at night, this is the place to head for some fun. If you opt to stay close to this street, then you'll be within walking distance from everything you'll need.
Best Hotels in Gardens
Once in Cape Town Hostel $
Once in Cape Town Hostel is located right on Kloof Street and within walking distance to the popular bars in the area. This hostel is perfect for budget travelers with dorms available as well as private rooms. It has a communal kitchen and free parking for those who are self-catering and it has a nice chill vibe for those looking to relax. The company behind the hostel is officially Fair Trade Tourism accredited, meaning you can be confident that the tours they offer are supporting responsible tourism in South Africa.
Cloud 9 Boutique Hotel and Spa $$
Cloud 9 Boutique Hotel is one of the most popular mid-range choices in Gardens. The hotel is an eco-conscious property housed across multiple heritage buildings with incredible mountain views. The place also boasts a spa/sauna, library and art gallery for anyone wanting to stay in for the day. It's one of the best Cape Town city centre hotels.
Belmond Mount Nelson Hotel $$$$
Belmond Mount Nelson Hotel has long been known as one of Cape Town's top five star hotels. It offers the perfect combination of being away from the hustle and bustle while being located in the heart of the Gardens district. The hotel has an old colonial facade with model rooms and offers beautiful furnishing and artwork inside every suite. It's pricey, but if you are looking for a splurge, the Belmond is certainly worth it.
V&A Waterfront: Best for Upscale Accommodation
The V&A Waterfront precinct is another popular tourist area of the city. It's very picturesque and is located right on the harbour, offering stunning mountain views as the backdrop to the cityscape. It's also a hub of activity and is ideal for anyone who wants to be close to the shopping malls, high-end restaurants, glamorous bars and boat tours to Robben Island.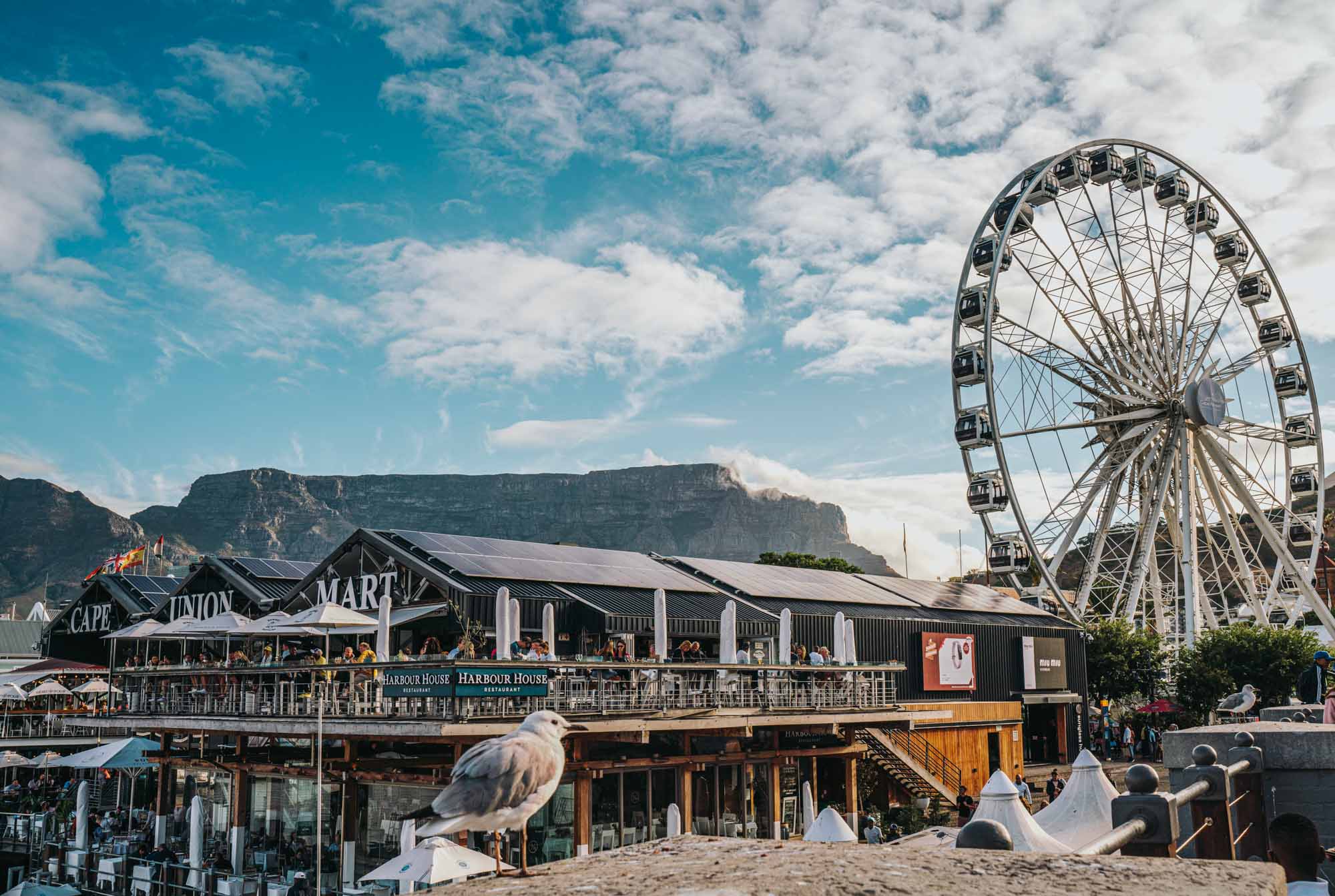 However, it's certainly an area with more upscale accommodation options. It is also where you'll find many of the five star, luxury hotels in Cape Town. It's also one of the safer areas of the city and you can easily wander the shops and restaurants well into the night.
Best Hotels in V&A Waterfront
The Portswood Hotel $$
Although you may not find much in terms of budget accommodation on the V&A Waterfront, The Portswood Hotel is one of the best value finds on the harbour. It's built around a 300-year-old prison where people were kept before being taken to Robben Island, meaning you can experience a part of the city's history through your stay. It's within a minute's walk from the Waterfront shopping precinct and the food market.
The Silo Hotel $$$$
The Silo Hotel hotel has become one of the new favourite luxury Cape Town hotels. It's housed inside an old grain silo and boasts a great rooftop patio, ideal for having a drink at sunset. It has 28 rooms across six different price categories depending on the room size and views. Most of them have stunning views across to Table Mountain and Lion's Head. It's often considered the best hotel in Cape Town.
Green Point: Best for Sports Fans
Green Point is a highly underrated neighbourhood of Cape Town to base yourself on your visit. It's at the base of Signal Hill and nestled between Sea Point and the V&A Waterfront. Its main road is lined with upmarket apartment blocks but there's plenty of budget-friendly accommodation options from guesthouses to hostels.
The main point of interest in Green Point is the Cape Town Stadium. If you're planning on attending any sports events or concerts, then this is certainly the best area to stay because you're within walking distance from the venue. It's also within easy access to both the beach and the shopping and dining precinct of De Waterkant, making it one of the best all-round areas in Cape Town.
Best Hotels in Green Point
Atlantic Point Backpackers $
Atlantic Point Backpackers is one of the best places to stay out of the cheap lodges in Cape Town. It has everything a budget traveler or backpacker would need, from a lounge to a communal kitchen and the choice between dorms or private rooms. It's also walking distance from the V&A Waterfront area. You can feel good about your stay here too, as they give back to the local community through different charities and organizations.
The Tree House Boutique Hotel $$$
The incredibly trendy and comfortable mid-range Tree House Boutique Hotel in Green Point is a short distance from both Table Mountain and the Waterfront precinct. It has 12 spacious rooms with incredible views, as well as a pool and spa. They take their environmental responsibility seriously and have recycling and waste reduction policies as part of their business. It's one of the top boutique hotels in Cape Town.
Sea Point: Best for Relaxed Beach Centered Stay
Sea Point is arguably one of the more beautiful and safest Cape Town neighbourhoods. It's a popular place to live for expats and prices for apartments in this part of town are certainly not cheap. However, there are accommodation options for everyone.
The beach is close by, making it perfect for anyone wanting to spend mornings walking along the sandy coastline or swimming in the public pool at Bantry Bay. However, the city centre is not within walking distance and you'll have to rely on public transport or your own vehicle to get to Cape Town's main sights.
Still, the area has a more relaxed vibe than the CBD and the main road is full of good quality restaurants serving everything from Greek to Asian food. Sea Point is definitely one of the best places to stay in Cape Town, South Africa.
Best Hotels in Sea Point
Mojo Hotel/Hostel $
Mojo Hostel is one of the coolest hotels in Cape Town, South Africa. It offers a variety of options to suit different budgets from dorm rooms to private rooms and apartments. Its unique interior is decorated with creative murals designed by local artists. The downstairs Mojo Market supports designer retail stalls and local fresh food vendors. It's right near the beachfront and just a few kilometres from the city centre.
Atlantic Affair Boutique Hotel $$
Atlantic Affair Boutique Hotel offers 12 deluxe, self-catering rooms for mid-range travelers. It's close to the beach and the centre of the city, making it one of the best Cape Town hotels for a range of travelers. They have committed to a strong environmental policy aimed at reducing water usage and electricity consumption.
Woodstock: Best for Hipsters and Creatives
Funky, creative and up and coming, the neighbourhood of Woodstock is the newest kid on the block. Although technically an old part of Cape Town, it's seen a huge revamp in recent years that is attracting tourists and visitors to its neighbourhood markets and boutique breweries.
Woodstock has become a hub for creatives, young professionals and entrepreneurs and there is a strong hipster vibe to the area. Being one of the eastern neighbourhoods, it's a bit cheaper than the Atlantic Coast-side areas of the city, and it's becoming a popular hangout for backpackers.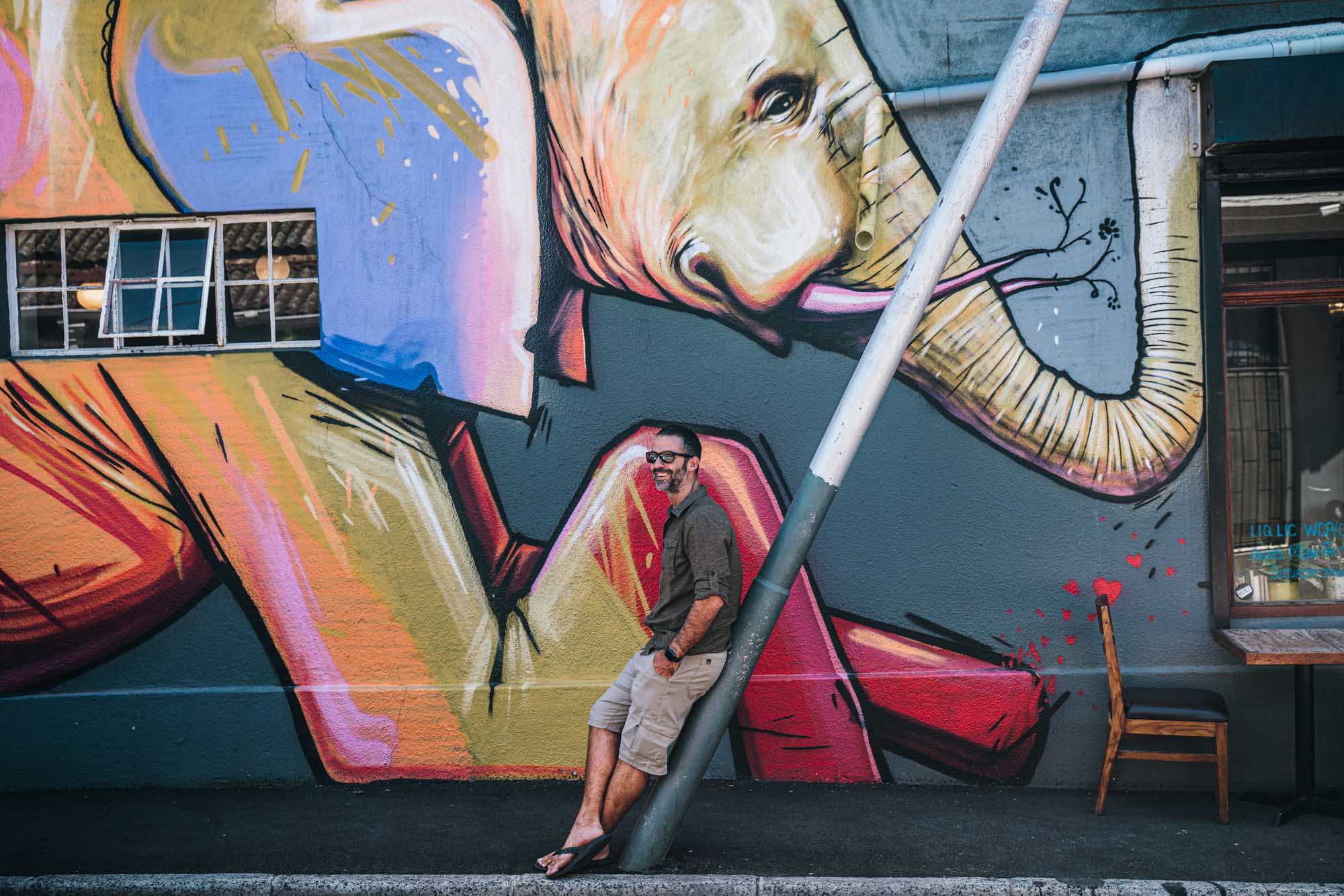 It's still really close to the city centre and has good local transport links, although it's not one of the safest neighbourhoods in Cape Town, particularly after dark. It's still one of the best areas to stay in Cape Town for any visitor to the city.
Best Hotels in Woodstock
Loft in Trendy Woodstock $$
This AirBnB loft is a single apartment in a converted industrial block in the middle of Woodstock. It's interior is incredibly chic and clean with just one bedroom and is perfect for both budget and mid-range travelers.
Stock Exchange $$
The Stock Exchange is a Cape Town hotel set in an ultra-modern building in Woodstock. It has 33 spacious rooms available. Its interior has colourful art on display showcasing the Woodstock vibe and is a top choice for mid-range hotels in South Africa, Cape Town. The building is also multipurpose, with artisans and artists occupying stores in the building, so you're able to connect with the neighbourhood's creations.
Observatory: Best for Backpackers and Nightlife
Further east of the city centre is Observatory or locally referred to as Obs. Although Woodstock is starting to make a name for itself as the arty neighbourhood of the city, Observatory is not far behind. It's got more of a bohemian vibe with plenty of art shops, vintage clothing stores and healthy cafes. It's also home to a vibrant nightlife with offbeat bars popular with a young backpacker crowd.
Similar to Woodstock, there's plenty of budget accommodation around and affordable food. However, it's further away from the city and can also be less safe at night. Plus getting around on public transport to Cape Town's main attractions would be time-consuming. Still, it's one of the coolest neighbourhoods in Cape Town to stay.
Best Hotels in Observatory
Bohemian Lofts Backpackers $
Bohemian Lofts Backpackers is an affordable funky hostel rated as one of the best budget traveler accommodations in this neighbourhood. It has beautifully decorated rooms and is right in the middle of the main nightlife area of Observatory. It's kind of like staying in a funky art museum, with much of the interior decoration using recycled and unique furniture and decor.
Cape Town Mowbray Hotel $$$
Cape Town Mowbray Hotel is operated by the Marriott and is housed inside an old Dutch Manor house. The place has been completely restored and is decorated in an old-fashioned and yet stylish interior. It is not small with 70 rooms on offer, but the large 19th-century gardens offer a sense of tranquillity. It's not too far away from the International airport. It's considered one of the best Cape Town boutique hotels.
Camps Bay and Clifton: Best for Upscale Living
This neighbourhood on the Atlantic coastline is where you'll find the city's rich and famous. The area is full of large flash villas and luxurious accommodation all offering incredible sea views.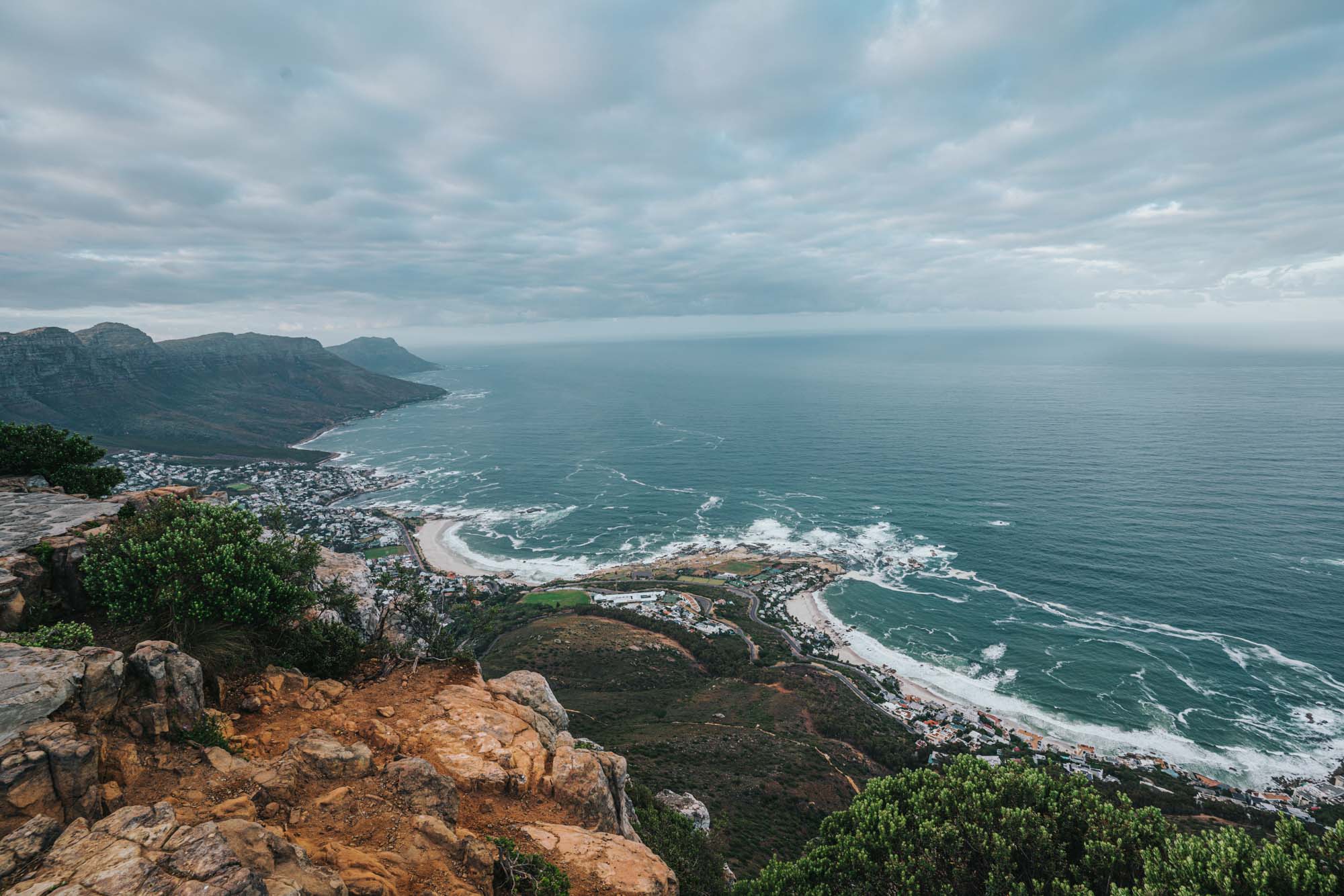 The beaches along this part of the coast are really picturesque and inviting. Most visitors to Cape Town will go for a day trip to Camps Bay just to visit the beach. It's an expensive area of the city to stay but if you're up for an exclusive and relaxing beach holiday, then this is the perfect location. This is by far one of the best neighbourhoods in Cape Town.
It's a fair distance from the centre of the city though and with limited public transport, it's best if you have a car or are willing to pay taxis or Ubers to get around.
Best Hotels in Camps Bay
Diamond House Guesthouse $$
Located in Camps Bay, an area known for luxury, the Diamond House Guesthouse is surprisingly affordable and suitable for mid-range travelers. It has a rooftop pool with beautiful views back towards Lion's Head and Table Mountain and is within walking distance to the beach. It's small with just 7 spacious rooms making it a boutique stay without a huge environmental footprint.
POD Camps Bay $$$
POD Camps Bay is an eco-friendly, luxurious accommodation and one of the best hotels on the beach in Cape Town. Their modern rooms overlook the beach with natural interior design and the onsite restaurant has locally sourced produce and top-shelf cocktails. It's a bit pricey but for the location, it's worth every cent.
Cape Town FAQs
What is the best area to stay in Cape Town?
The best area to stay in Cape Town as tourist largely depends on your budget and what kind of traveler you are. However, for all-round value and location, we would recommend Gardens, Sea Point or Woodstock. If you're looking for hotels in Cape Town on the beach and can afford a more upscale stay, then we suggest Camps Bay.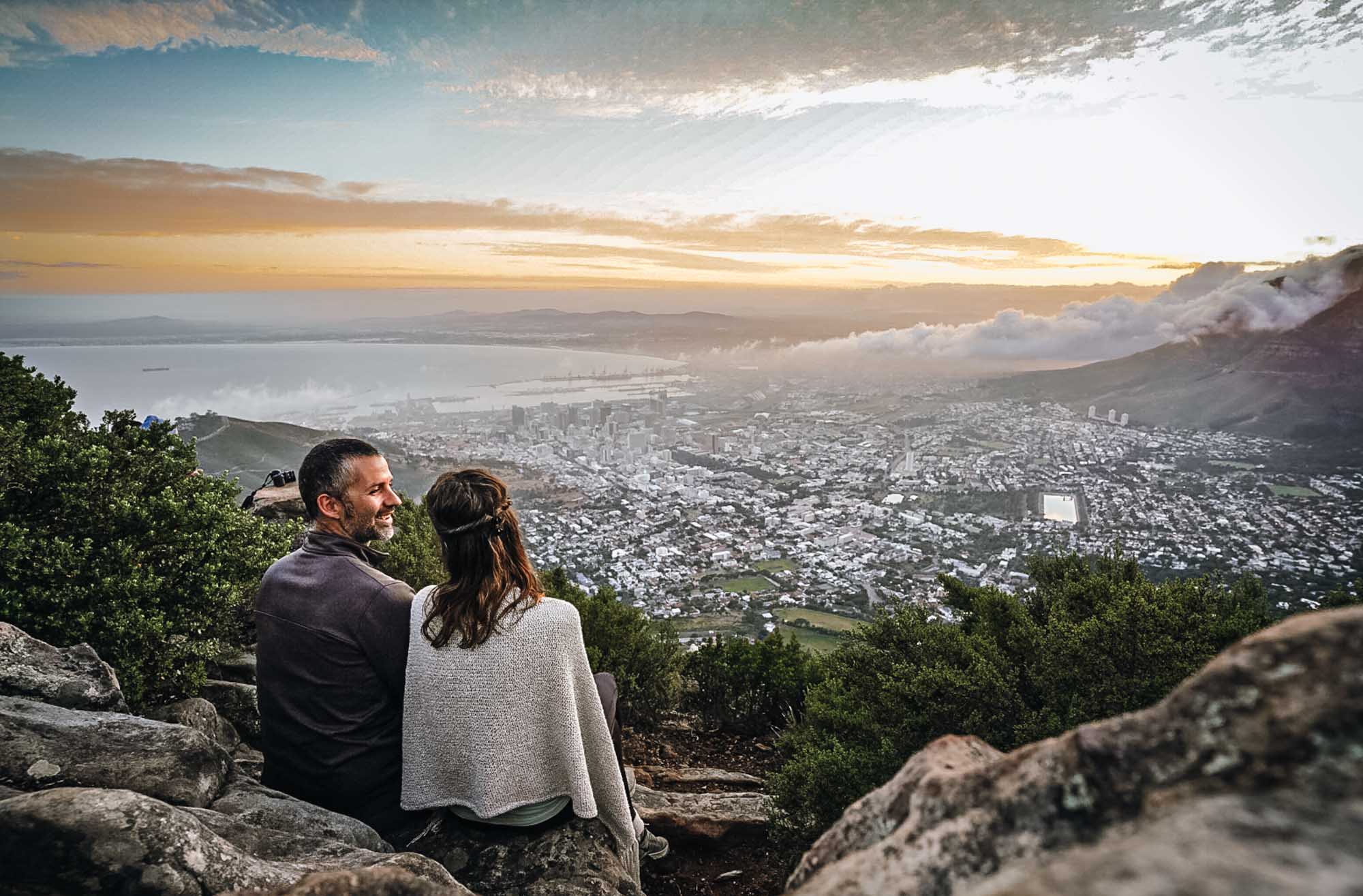 Where do tourists stay in Cape Town?
Most tourists stay around the City Bowl in Cape Town, with most attractions a close distance away. Gardens and the V&A Waterfront are popular for many visitors to the city and Camps Bay is popular with those looking for a beach holiday.
What is the safest area in Cape Town?
The safest area in Cape Town is generally Camps Bay and Clifton, due to their more upmarket nature and seclusion from the city. However, the City Bowl is also relatively safe, especially Gardens, as well as Sea Point.
How expensive is Cape Town for tourists?
The cost of traveling in Cape Town really depends on the type of traveler you are and you can certainly find accommodation and food for all different budgets. Woodstock is a great neighbourhood for budget travelers and where you can find some of the cheapest hotels in Cape Town. On the other hand, Camps Bay, Clifton and the V&A Waterfront are expensive areas where you can find luxurious accommodation and fine dining. A typical per person daily budget for a stay in Cape Town varies between $50/day and $200/day.
Next Article: Sustainable City Guide: The Ultimate Guide to the Best Things to do in Cape Town, South Africa
Have you visited Cape Town? What neighbourhood in Cape Town did you choose for your stay?