The city of Amsterdam has so much to offer in the way of culture, history and the arts, and it also makes a convenient layover point in Europe.
*This post may contain affiliate links, as a result, we may receive a small commission (at no extra cost to you) on any bookings/purchases you make through the links in this post. As an Amazon Associate, we earn from qualifying purchases. Read our full disclosure
Whether you decide to extend your layover or make Amsterdam your final destination, it is a worthwhile stop. From famous landmarks to a lovely coffee and cheese scene, the city is perfect for those with a variety of interests.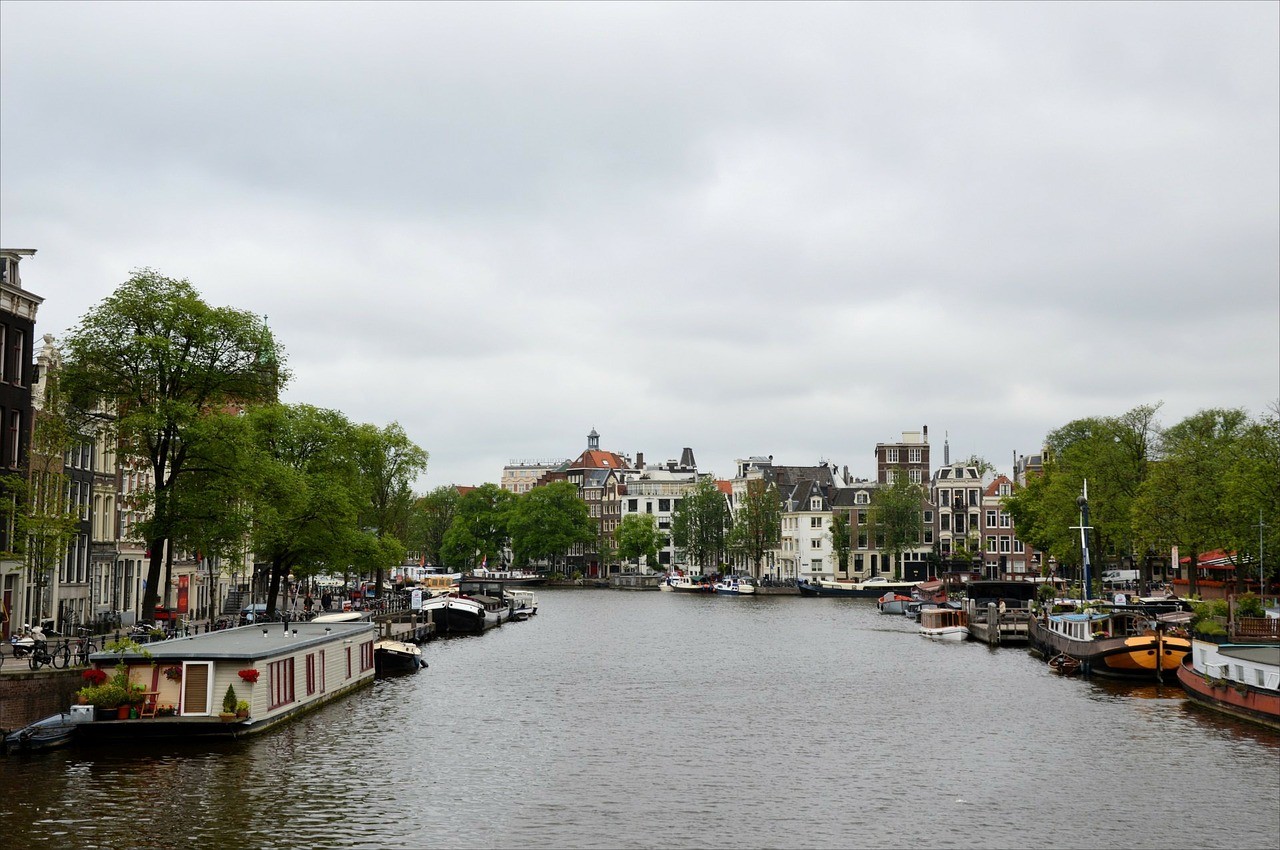 Traveling Soon?

Here is a list of our favourite travel providers and accessories to help get you ready for your upcoming trip!
If you enjoy museums, famous sites such as the popular Van Gogh museum and the sobering Anne Frank House are fabulous places to visit, and you can take a hop-on/hop-off tour to see the city's many highlights. Another highlight of the city is the canals running through Amsterdam, and they are a sheer delight to peruse by boat or bike.
For those craving a food experience, the Netherlands is known for its cheeses. There are several cheese shops in the heart of Amsterdam, so we suggest visiting a few. While you are in the city, also be sure to visit the Flower Market, or head out of the city on a half-day trip to visit a tulip farm for a more immersive experience.
The city also boasts many cafes and coffee shops, which are not the same. "Coffee shops" are for purchasing and consuming cannabis, which has been legal in the country since 1976. So, if you want real coffee, be sure to head to a cafe.
Also, as a word of caution, be aware of the red light districts – or not – depending on what's on your itinerary and where you wish to stay in Amsterdam. These areas are well-policed and not dangerous, but it is still good to know where they are located so you aren't surprised when you come upon them when you are walking to or from your Amsterdam accommodation.
Where to Stay in Amsterdam
Amsterdam is divided into 8 districts which are further divided into neighbourhoods. The concept may seem confusing, but getting to know your way around the city won't be difficult once you get your bearings.
The city does offer green and eco-friendly places to stay in Amsterdam for sustainable travelers. If you are wondering what options are available for hotels in Amsterdam city center (Centrum), read on for our detailed guide below.
Old Centre
The city centre includes the oldest parts of the city, so this is the best location to stay in Amsterdam for history buffs. This area includes the Red Light District in the De Wallen section, so be aware of your surroundings during your strolls.
Amsterdam accommodation options in the areas of Dam Square, Spui, and Nieuwmarkt are included in these best hotels in Amsterdam city center list below.
Best Hotels in Amsterdam Old Centre
Luxury: Sofitel Legend the Grand Amsterdam
If butler services and amenities galore are your things, then Sofitel Legend the Grand Amsterdam will provide an unmatched level of comfort. Although it's in the centre of the city, it's tucked between two canals and has a Garden Terrace within its historic property located in one of the best areas to stay in Amsterdam.
Mid-Range: NH Collection Amsterdam Barbizon Palace
The NH Collection Amsterdam Barbizon Palace is across from the city's Central Station. Due to its proximity to public transportation, it is considered to be in the best neighbourhood to stay in Amsterdam. Not only is the location perfect, but the hotel itself contains a 15th-century chapel and a restaurant that focuses on seasonal cuisine.
Budget: Ibis Amsterdam Centre
Don't let the low price fool you as the ibis Amsterdam Centre still has amenities such as complimentary breakfast and WiFi. It is also centrally located with lovely views of the waterways in Amsterdam. Where you want to stay is up to you, but the price and location of the ibis are hard to beat.
Grachtengordel/Canal Belt
Surrounding the Old Centre is the Canal Belt neighbourhood, which is called Grachtengordel in the Netherlands. The Canal Belt is a UNESCO World Heritage Site thanks to the rings of canals that were built in the late 16th and early 17th century.
You may recall seeing postcards featuring boat laden canals lined with stately row homes, both of which are earmarks of the Canal Belt, which makes it one of the best areas to stay in Amsterdam.
Best Hotels in Amsterdam's Canal Belt/Grachtengordel Area
Luxury: De L'Europe Amsterdam
The luxury hotel of De L'Europe Amsterdam claims to be one of the best areas to stay in Amsterdam, and it is no wonder as it lines a canal. Part of its building process was once a medieval fortress (so cool!). This Amsterdam accommodation has a wellness centre and an on-site restaurant, and it is also directly across from the Flower Market.
Mid-Range: Albus Hotel Amsterdam City Center
A 3-minute walk from the Flower Market and Rembrandt Square, the Albus Hotel Amsterdam City Center is a stately building tucked among row homes. Their on-site restaurant and breakfast buffet both focus on featuring fresh, sustainable, local ingredients.
Budget: Dikker en Thijs Hotel
Set in an 18th-century warehouse, Dikker en Thijs Hotel offers a lovely view of the canals, which is one of the best areas to stay in Amsterdam. It is also within walking distance to major sites, so it is possible to utilize your room as a home base while you go out exploring on your bike.
Jordaan
The section of Jordaan is one of the most upscale locations in Amsterdam. Each place sets their own fees, which is good for those who wish to find accommodations in this location with beautiful streets and art galleries.
Best Hotels in Amsterdam's Jordaan Neighbourhood
Luxury: Heritage Canal House Suites
The Heritage Canal House Suites is more of a bed and breakfast Amsterdam accommodation. It is located close to the Canal Belt while offering great views of the city, and the Houseboat Museum is also close by.
Mid-Range: Linden Hotel
Sites are easy to reach from the Linden Hotel as the tram system is only 200 metres away. Of course, walking or biking is also an option. They also offer complimentary, refillable water bottles to reduce plastic waste during your stay.
Budget: Hotel II Fiore
Although not necessarily budget-friendly as Jordaan is not filled with cheap places to stay in Amsterdam, the Hotel II Fiore is one of the least expensive accommodations in Jordaan. The property features garden views and an on-site restaurant and bar.
Plantage
It's no secret that Jews were oppressed from the late 16th century up through World War II. The areas of Jodenbuurt and Plantage are where many of them lived, so the area is filled with memorials and synagogues.
The Plantage (plantation) section was formerly a green space, but now the area contains botanical gardens and a zoo. Where to stay is up to you, but be ready for a glimpse into the history of the Jewish people while experiencing a bit of flora and fauna.
Best Hotels in Jodenburt and Plantage
Luxury: Hyatt Regency Amsterdam
Offering complimentary breakfast and an afternoon happy hour, the Hyatt Regency Amsterdam is filled with botanical-inspired guest rooms, which are uniquely complemented by the property's indoor garden areas. The hotel focuses on sustainability and has won awards for its indoor vertical garden.
Mid-Range: citizenM Amstel Amsterdam
Trading the traditional lobby for a living room instead, citizenM Amstel Amsterdam is ready to welcome visitors. They also have a bar and canteen in case you need after hours or midnight sustenance.
Budget: Amsterdam Hotel Parklane
With only 13 rooms, this budget-friendly Amsterdam accommodation may just be the most undiscovered best hotel in Amsterdam. The historic building has no two rooms that are alike, hence the charm of Hotel Parklane.
Museum Quarter
The Museum Quarter is filled with – you guessed it – museums. Boasting the Van Gogh Museum and Rijksmuseum (a national museum of arts and history), the quarter also houses Vondelpark, which is an urban park with an open-air theatre.
The Museum Quarter is just outside of the city centre and near major sites. It easily could be considered the best location to stay in Amsterdam that's not in the heart of the action.
Best Hotels in Amsterdam Museum Quarter
Luxury: The Muse Amsterdam – Boutique Hotel
The Muse Amsterdam just might be the best hotel in Amsterdam. Offering beautifully designed rooms, the hotel was renovated in 2016 to include modern updates in a peaceful setting. The property has an inner courtyard and is close to the museums.
Mid-Range: Apollo Hotel Amsterdam
Located in the southeastern part of the Museum Quarter, the Apollo Hotel Amsterdam is situated on the intersection of five canals, so you can get the feeling of being in the Canal Belt. The property also includes a fitness center (although we suggest walking and biking the city for exercise!) and an on-site restaurant.
Budget: Dina-Perla Lodges
This is one of the cheapest places to stay in Amsterdam, but one caveat is that you may end up sharing a bathroom. Located in a 200-year-old building, the Dina-Perla Lodges are locally owned and operated, which is a plus in a big city such as Amsterdam.
So, Where Are the Best Places to Stay in Amsterdam?
It's really up to you to choose in which neighbourhood you wish to stay in Amsterdam, but we suggest choosing one based on your interests. No matter what, you will be close to everything by boat, bike, walking, or public transportation. What a fun city to explore!
Old Centre –

If nightlife and being close to the oldest part of the city is what you crave, this is the best place to stay in Amsterdam.

Canal Belt –

Canals, biking, and beautiful views encompass this area, so if that is what you enjoy, this is where to stay in Amsterdam.

Jordaan –

Stay in the posh section among the elite if you choose Amsterdam accommodation in this area.

Plantage –

If Jewish history interests you and/or want to view botanical gardens and the zoo, be sure to consider this area.

Museum Quarter –

Stay here if you want to spend the day inside perusing artifacts and learning about art and history.
Have you been to Amsterdam? Do you have other suggestions on where to stay in Amsterdam? Let us know!