*This post may contain affiliate links, as a result, we may receive a small commission (at no extra cost to you) on any bookings/purchases you make through the links in this post. As an Amazon Associate, I earn from qualifying purchases. Read our full disclosure.
We love to travel but sometimes, it can be more draining than invigorating as you try to soak up the atmosphere and experience everything in each new destination. It's a bit of a cliche, but needing a vacation after the trip is a common complaint!
But there is a way to experience the culture and relax, recharge and reconnect with yourself all at the same time. Wellness and meditation retreats abroad can offer exactly that!
Whether you fancy a spiritual retreat, mindfulness retreat, or a yoga retreat, for couples or for singles, there truly are meditation retreats for any type of traveler!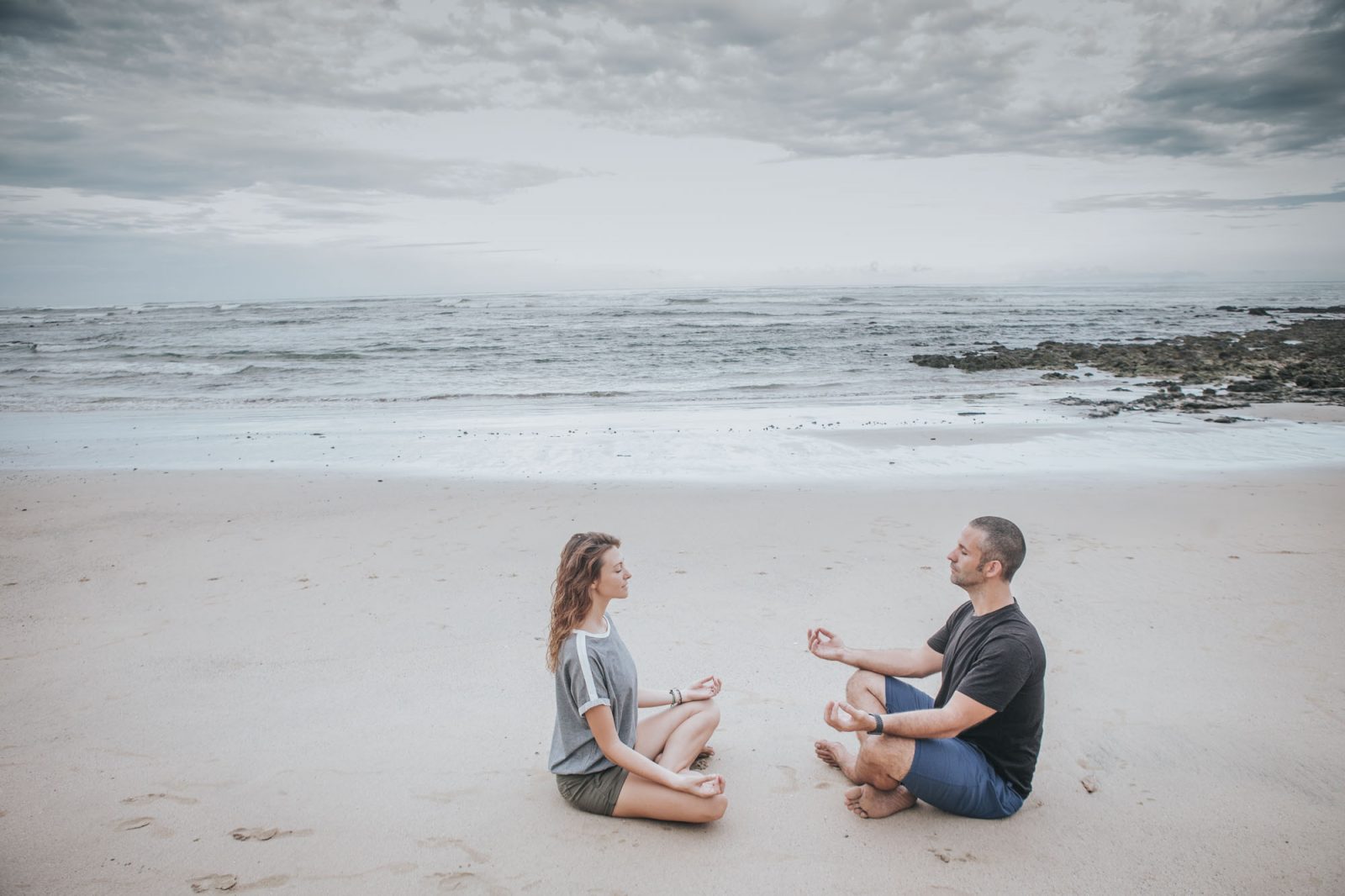 We asked some fellow travel bloggers to share some of their favourite wellness and meditation retreats and festival experiences and included some of our own favourites from around the world.
1. Hariharalaya Meditation Retreat, Siem Reap, Cambodia
Contributed by Christine Williams from Don't Forget To Move
If you're looking for a retreat to escape the hustle and bustle of Southeast Asia, definitely pay a visit to the Hariharalaya yoga and meditation retreat in Cambodia. The retreat center is located just outside of Siem Reap, not far from the ruins of Angkor Wat. The retreat lasts 6 days and runs all year long. With morning yoga and meditation, as well as optional workshops in the afternoon, their classes are open to all levels of experience.

Besides brushing up on your yoga skills, the Hariharalaya retreat is all about disconnecting from the outside world and reconnecting with yourself. They ask that you don't take out any electronics like your phone or laptops during the retreat and instead take advantage of your downtime to connect with other participants, read or journal. They serve all vegan meals and snacks during the retreat and the food is incredible!
They also offer a different evening activity every night including game night, movie night and a night of ecstatic dance, which I won't spoil for you, but is definitely a highlight!
Accommodation is on site and you can choose to stay in the dorm for $300USD, have a private room for $400USD, or book one of their bamboo huts.
2.Wild View Retreat, Algarve, Portugal
Contributed by Steph from The Mediterranean Traveller
Ever been tempted to go on a week-long supervised juice fast? I hadn't either (I love food) but my cousin opened a retreat in Portugal and obviously I had to try it out. Plus its setting in the foothills behind the Algarve looked blissful.
It's called Wild View Retreat and for good reason. It's set in an abandoned mountain village that has been sympathetically restored into an exclusive wellness retreat, where uninterrupted nature is quite literally all around. There's a panoramic yoga studio oriented for sunrise and a natural infinity pool for the sunsets. Rooms (also with views and hammocks) are decorated in soothing neutrals and natural fibres.
There are dates throughout the year, and most focus on the combination of juice fasting with nutrition talks as well as fitness classes, yoga, and guided walks. The activities are optional but the day is packed in case you need to keep your mind off the lack of food. The fast itself was much easier than I expected, and a real group bonding process. It proved the perfect reset for body, mind, and soul.

Prices for the 2019 season start at $1090 USD based on two sharing, inclusive of accommodation and activities.
3. International Yogi Festival, Rishikesh, India
Contributed by Sandy N Vyjay from Voyager

The land which can be termed as the motherland of Yoga is set to stage the International Yogi Festival 2019.
The event is scheduled from March 1-7, 2019 and will be held in the beautiful region of Rishikesh in the northern state of Uttarakhand in India. The festival is one of its kind as it is a confluence of different styles of Yoga, meeting of Yoga masters from across the world, and the dissemination of Yoga practices and techniques to the participants.
The festival promises to be a boon to beginners as well as advanced students of Yoga. The event will include symposiums, Yoga sessions, lectures by Yoga masters, as well as Yoga certifications. The International Yogi Festival 2019 is organized by the Uttarakhand Tourism Development Board and Garhwal Mandal Vikas Nigam.
For schedule, participation, registration and booking accommodation, click here.
4. Wanderlust Festival, California, USA
Contributed by Claire Drinkwater of Backpacking Bella
2019 is the tenth anniversary of the Wanderlust festivals, taking place in stunning locations across the US and Canada. Here, leading yoga teachers, speakers and musicians set the space for a mindful, enriching and fun festival experience.
Tasty food is provided by local, sustainable catering start ups. Since the first Wanderlust festival was held in California in July 2009, the events have taken place as far afield as Australia and New Zealand.

On a hot and sunny day in the lakeside Western Springs park in Auckland, I entered 'Wanderlust in the City', the organizers' first festival in New Zealand. Over 3,500 yoga enthusiasts, young and old, were happily browsing the bohemian stalls, listening to wellness speakers and lining up their mats in front of the main stage, ready for workshops led by local and international yoga teachers.
A highlight was an energetic and playful session led by Cameron Shayne, founder of the Budokon movement, a powerful fusion between yoga and martial arts. The festival's free-spirited vibe encourages visitors to perform impromptu acro yoga routines. After the workshops wrap up and the sun sets on a beautiful day, it's time to let loose and dance to tunes from DJs and artists.
5. Bali Spirit Festival, Bali, Indonesia
The Bali Spirit Festival is one of our favourite yoga and spiritual retreats, as it not only caters for the travelers but it also gives back to the local community through initiatives for children, HIV & AIDS awareness, and for environmental protection.
The Bali Spirit Festival offers so much more than a spiritual retreat. You can also enjoy yoga, healing, dance, and music workshops led by internationally recognized teachers as well as local artists and performers.
The Bali Spirit Festival takes place from March 24 – 31, 2019. Tickets start at $525 USD for 7 days & 8 nights of music and workshops.
6. Envision Festival, Uvita, Costa Rica
No list of meditation retreats or festivals would be complete with mentioning the Envision Festival and it's certainly one of our favourite retreats in Costa Rica.
Envision Festival takes place in Uvita, on the Pacific Coast of Costa Rica, where the rainforest meets pristine beaches making it the perfect location for getting back to nature and reconnecting with yourself.
The 4-day festival takes place in February and is built upon 8 pillars of Permaculture, Spirituality, Movement, Art, Music, Community, Health, and Eco Building.
A 4-day pass will set you back about $315USD for general admission. This allows you to participate in a huge variety of activities including art, spirituality, yoga, music, dance, performance, and education.
7. MindBodySpirit Festival, Australia
Australia is home to the MindBodySpirit Festival, Australia's largest health, wellbeing and natural therapies event. The 4-day event takes place at different times of the year in different cities, namely, Sydney, Brisbane and Melbourne.
Head to the festival and you can take part in a wide range of seminars, watch live stage performances, unwind in mindful meditation sessions, and sample a range of delicious health foods. But the best part about it is, that the MindBodySpirit Festival is FREE to attend!
8. Soul Seed Gathering, Bahia, Brazil
The Annual Soul Seed Gathering provides a space for spiritual connections, cultural exchange and soulful talks for females from all around the world.
Soul Seed Gathering offers a totally unique proposition and thus is quite different from a typical spiritual or meditation retreat, as its primary aim is to conduct research and connect with indigenous female cultures around the world.
The retreat focuses on learning from our ancestors and offers many lectures, hands-on workshops and teachings, but also provides lots of juicy creative time, with live music and art celebrations.
The next 'chapter' of Soul Seed Gathering is taking place between March 16-25, 2019 in Bahia, Brazil. Tickets are available through the crowdfunding campaign
9. Soul & Surf, Kerala, India
Yoga retreats don't have to be slow paced and calm all the time. You can combine the thrill of riding the waves with a spiritual retreat and yoga practice at Soul & Surf in Kerala, India.
The Soul & Surf hotel sits atop a cliff peering onto the Golden Beach on the Malabar Coast of India. The yoga retreat operates from October to May and offers surf lessons and guided yoga practice. If India isn't on your travel itinerary, Soul & Surf also offer their surf and yoga retreat combo in Sri Lanka, and Portugal.
10. Womadelaide, Australia
Contributed by Emma Walmsley of Small Footprints, Big Adventures
Womadelaide is one of the highlights of the year for us, and anyone interested in music, arts and dance from around the world.
It is a 4-day Australian festival for which people from all over the country come to celebrate and enjoy the amazing acts and atmosphere. It's a very family friendly event with great activities for children too, such as huge bouncing areas, art installations, science discoveries, storytelling and dress up areas!

In addition to the international lineup of musicians and artists, Womadelaide offers Planet Talks and a Healing Village for guests to attend. Workshops about global issues are discussed in the Planet Talks, and bookings can be made for numerous international modalities within the Healing Village.

Womadelaide is committed to being planet friendly and has a zero waste to landfill aim. A huge range of healthy and international cuisines are on offer to eat, and all stallholders must use compostable or recyclable crockery and cutlery. Segmented bins are provided throughout the festival and all organic waste is composted.

Womadelaide is held in Botanic Park, Adelaide, South Australia in March each year. In 2019 it runs from the 8th – 11th March. A full priced adult ticket bought before the festival is $277 USD for the whole event, while three-day passes are $250USD. Children under 12 are free with a paying adult, and single day passes, concession and youth rates are also available.

Botanic Park is right in the city of Adelaide, so many hotels and apartments are close by to stay in. However, March is a very busy time in Adelaide so I recommend booking accommodation early. No accommodation is offered at Womadelaide, but some car parking is available and free bike parking is too.
Is there a retreat or festival on here that you haven't heard of before that piqued your interest? Will we see you there this year?