The small town of Dominical, located about 30 kms away from the tourist hotspot of Manuel Antonio has long served as a draw card for surfers, hippies, and travelers that just couldn't say goodbye to Costa Rica.
*This post may contain affiliate links, as a result, we may receive a small commission (at no extra cost to you) on any bookings/purchases you make through the links in this post. As an Amazon Associate, we earn from qualifying purchases. Read our full disclosure
We discovered Dominical on our trip to the South Pacific last year and vowed to come back again to spend more time in this laid back beach town.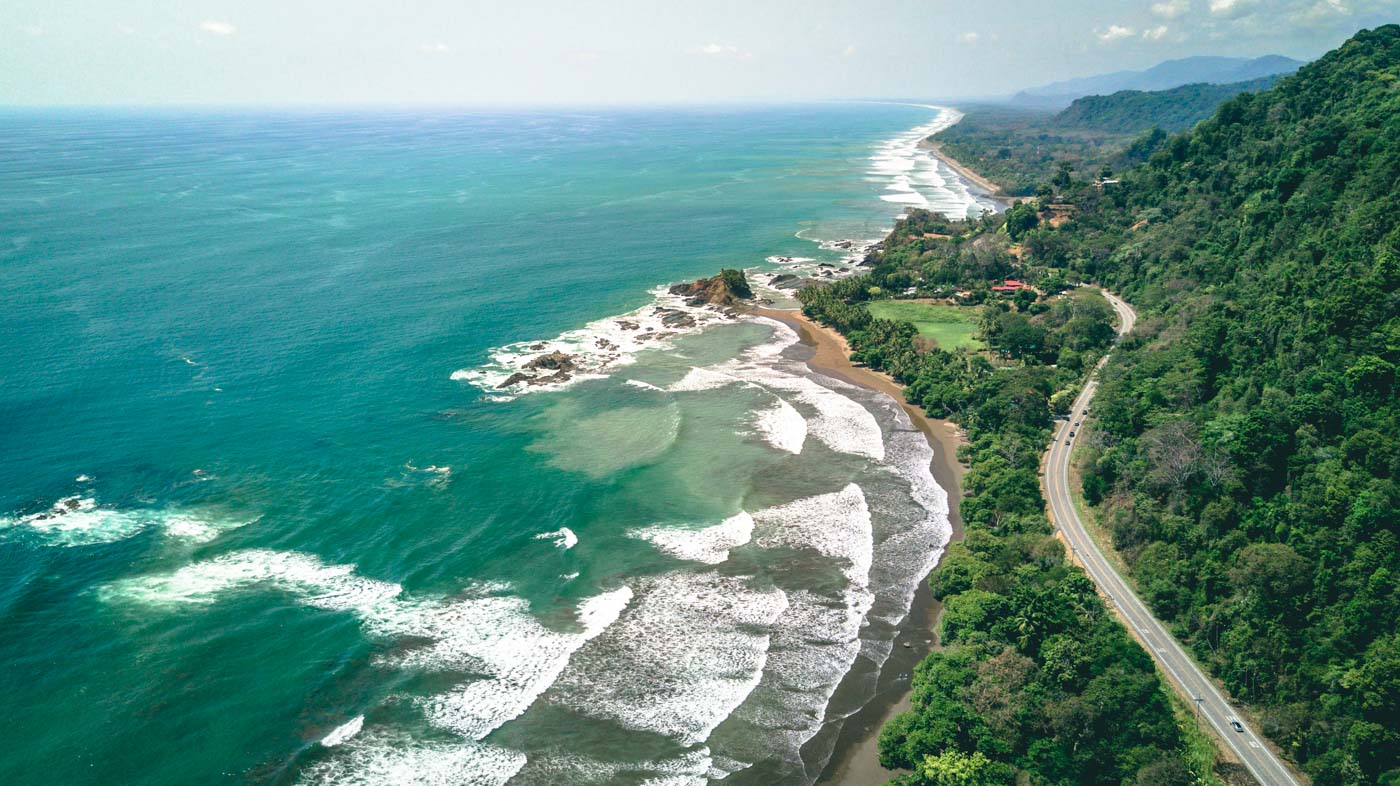 Traveling Soon?

Here is a list of our favourite travel providers and accessories to help get you ready for your upcoming trip!
When visiting Dominical, staying in town seems like the most suitable option for accommodation, but since we had the convenience of traveling by car, we decided to explore some hotels further up in the jungle-clad mountains. It was here that we came across the Waterfall Villas Wellness Retreat.
Waterfall Villas Retreat was born from the intention to save a piece of the Costa Rican rainforest and has been carefully designed and nourished into a space that serves as so much more than a typical hotel room. Run by the lovely, Fateh, a Top Vegan & Raw Foods Chef, and a Certified Kundalini Yoga Teacher, the Waterfall Villas Retreat is a place for disconnecting, sharing, and healing. 
The Property
Waterfall Villas are set on a lush tropical rainforest property located about 6km from Playa Dominical. Despite being so close to Dominical, the retreat feels many miles away from civilization and offers a perfect place to disconnect and unwind.
The property is blessed with natural waterfalls and a small hiking trail, while everything on site is built in Balinese style using natural materials. Waterfall Villas walk the talk when it comes to sustainability. Fateh and her team do everything with the utmost respect to the environment and the local people in the community. It's not a flashy effort to score some points for marketing sake, the desire to be sustainable is ingrained in the DNA at the Waterfall Villas.
The Accommodation
Waterfall Villas Retreat offers 6 suites/rooms each one suitable for 2-3 people. Each room is unique and special in their own way. Some, like the Butterfly Suite that we had the pleasure of staying in, offer lots of space for a real luxurious experience. Our suite had a king sized bed, a kitchenette, a private bathroom with a beautifully hot rain shower (so rare in Costa Rica), and a private balcony overlooking the jungle.
All rooms at the Waterfall Villas are well decorated with natural Bamboo molding and cathedral ceiling and feature natural lava stone and marble detailing in the bathrooms.
Handmade toiletries, as well as coffee and a great selection of teas, are provided in every suite.
The suites start at $140/night for the Dragonfly Suite and go up to $210/night for the Honeymoon Jacuzzi Suite. Rates go up by about $20-40 during the summer season (Jan 4th – April 30th) and a bit more over the Christmas holidays.
Timing is everything when it comes to accommodation prices. Use our month by month guide to the best times to visit Costa Rica to find the right balance.
Best Vegan Food in Costa Rica
The meals at the Waterfall Villas were probably the highlight of our stay, but we'll be honest with you, we didn't expect to say that about a retreat that serves a plant based diet. We are not vegans, nor are we vegetarians. While we enjoy an occasional vegetarian dish, we are both carnivores at heart.
The founder of Waterfall Villas and the chef behind many of the retreat's dishes, Fateh, is a strong believer in the power of a plant-based diet and is a passionate supporter of organic produce.
Breakfast is often included in the room rates at the Waterfall Villas, while a 3-course dinner can be arranged within 24-hour notice for an additional $118 for 2. We had the pleasure of sampling both during our 2-day stay.
Breakfast on day 1 was a delicious pancake-like dish with sauteed vegetables and fruits. On day 2, we had the most delicious organic porridge with homemade almond milk. Tea, coffee, and fruit were also included.
Breakfast was good, really good, but it was the 3-course dinner that absolutely stole the show!
A mouth-watering mixed green organic salad with chayote, hemp seed, black sesame seed, toasted almonds, and fig balsamic dressing, served with caramelized water apples and almond cheese balls. TO DIE FOR! The main course consisted of a mushroom stroganoff with seitan served with quinoa and mixed green beans. To top it off, we had a dessert of carrot tart with a nut crust and Costa Rican plum.
Activities at the Waterfall Villas and Nearby
Every day at the Villas, Fateh leads a morning Kundalini Yoga class opened only for the guests of the retreat. The class starts at 8am and is a lovely way to wake up and energize for the day ahead. 
From there, activities in the area are endless. The closest attraction to the Waterfall Villas are the beautiful Nauyuca Waterfalls, which yu can visit on foot ( 4 hr hike), or with a tour.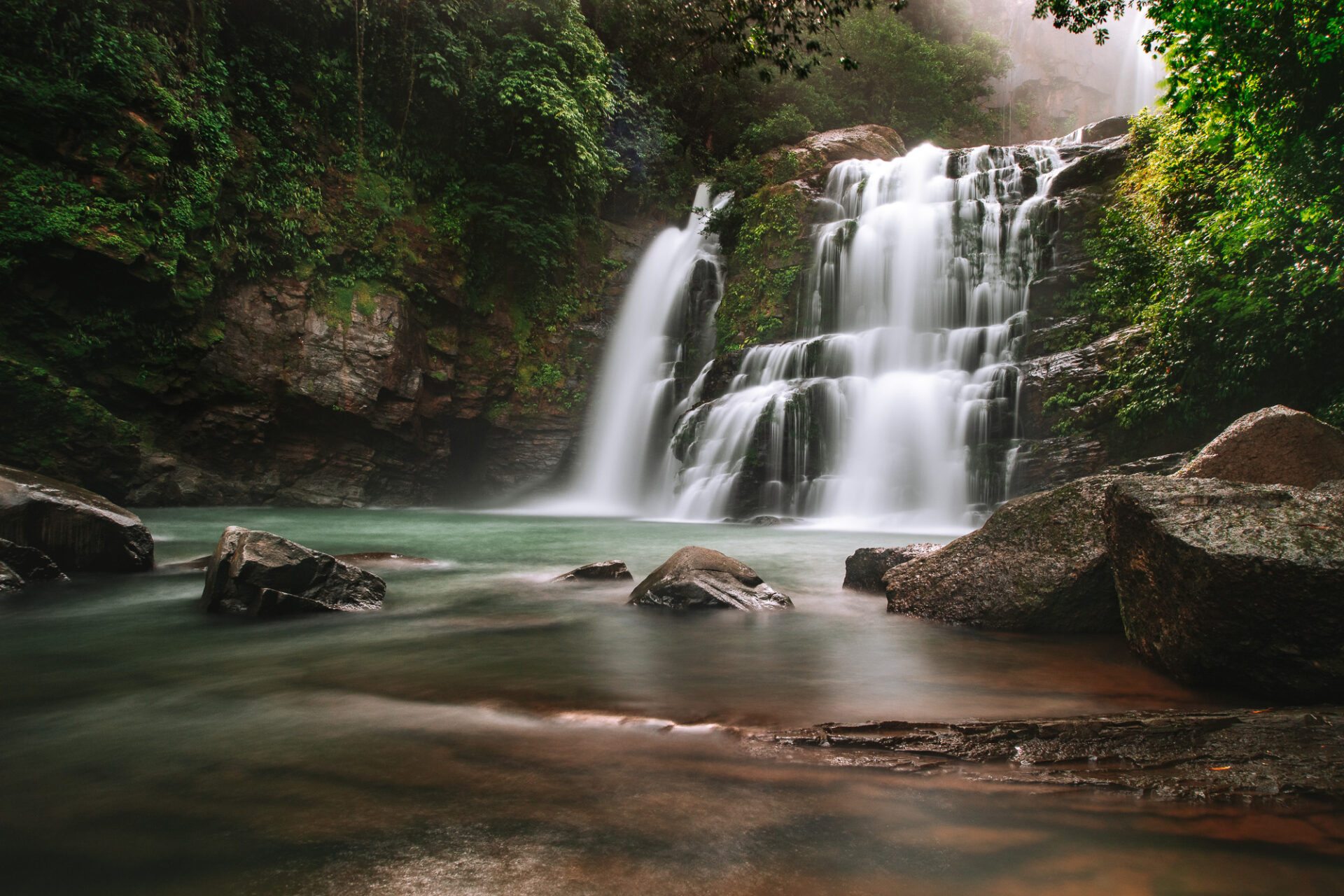 Uvita and the rest of the Costa Ballena is a short 15 min ride away. From there you can explore the Marina Ballena National Park, check out the famous Whale's Tail at Playa Uvita, and if you are visiting between the months of December and April, you can try your luck at spotting the majestic Humpback Whales that migrate through the waters in this region.
Disclaimer: Big thanks to Fateh and her staff for hosting us at the Waterfall Villas during our time in Dominical. Opinions expressed in this article are our own and have in no way been influenced by the Waterfall Villas.
Like this post? Pin it for later!
Looking for more things to do in Central Pacific in Costa Rica? Check our posts on the area below:
** READ NEXT**