Of all the National Parks in South Africa, iSimangaliso Wetland Park is probably one of the most well known and biggest parks in the entire country.
*This post may contain affiliate links, as a result, we may receive a small commission (at no extra cost to you) on any bookings/purchases you make through the links in this post. As an Amazon Associate, we earn from qualifying purchases. Read our full disclosure
The park is located along the southern coast of South Africa, spanning from St Lucia to the border of Mozambique and is known for its remarkable diversity. In 1999, iSimangaliso Wetland Park became Africa's first UNESCO World Heritage Site and since then, the park's international acclaim has only grown with an influx of domestic and international holidaymakers to the area.
On our recent trip to South Africa, we spent a week exploring the park and found it to be unlike any other destination in the country. The sheer number of ecosystems and natural habitats that thrive within the park is incredibly impressive and we found plenty to do during our one week adventure inside the park.
Why Visit iSimangaliso Wetland Park
The park covers the span of just over 3000 kilometres and consists of grasslands, coastal areas, coral reefs, wetlands, forests, and lakes that come together to form the transitional area between subtropical and tropical Africa.
Traveling Soon?

Here is a list of our favourite travel providers and accessories to help get you ready for your upcoming trip!
More than 6500 species of plants and animals are supported here, more than in Kruger National Park, including Africa's largest population of hippos and crocodiles.
The Big Five can be spotted in the grasslands, whales, dolphins, and leatherback turtles can be spotted from the coast, and flamingos thrive in these wetlands in South Africa.
iSimangaliso is truly a unique place to visit and one of our favourite destinations in South Africa!
How to Get There
iSimangaliso is located 275 kilometres north of Durban, in the province of KwaZulu-Natal. The nearest international airport to the park is King Shaka in Durban and the closest regional airport is at Richards Bay. However, most visitors, us included, choose to drive themselves accessing the park via two major tarred roads – the N2 and the R22.
St.Lucia is the most popular getaway town for iSimangaliso Wetland Park. It is located on the eastern edge of the park and is often used as a base to explore the east and south. The eastern gate to the park is only 5 minutes from St.Lucia.
To access the northern section of the park, you will need to travel via the rural town of KwaNgwanase.
Since iSimangaliso covers a massive area of land, each area within iSimangaliso has its own gates, hours of operation, and entry fees. Be sure to check these prior to departure.
Note that all visitors entering the park must pay a Community Levy (R5) with their entry fee.The levy supports community development in the iSimangaliso area. Sadly, over 80% of people living in this area are below the poverty line and only 15% of the economically active population is formally employed. The iSimangaliso Wetland Park's Rural Enterprise Accelerator Programme hopes to change that with the help of the Community Levy fee.
Getting Around iSimangaliso Wetland Park
We recommend you pick up an iSimangaliso Wetland Park map from one of the park's entry points if you are self-driving. Bear in mind that a 4×4 is required to access a majority of the park (see our notes on each section below). However, a 2WD is suitable for the road between St.Lucia and Cape Vidal.
The park strictly enforces a 50 km/h maximum on sealed roads, 40 km/h on gravel roads, and 20 km/h when game viewing. Night driving is strictly forbidden in iSimangaliso Park so if you would like to do a night safari you will have to go with a tour.
Highlights of iSimangaliso Wetland Park
Lake St.Lucia
The highlight of the park is the St Lucia Estuary, an incredibly biodiverse part of the park and the main reason that iSimangaliso was awarded a UNESCO World Heritage Site status.
At over 80km in length, Lake St.Lucia estuary is the largest one in South Africa. It is one of the easier to reach attractions in iSimangaliso, as part of the estuary backs onto the town of St.Lucia. The outer edges of the St Lucia wetlands can be explored by walkways connected to the town.
However, the best way to explore the lake is on a boat cruise. You'll get close to the largest population of hippos and crocodiles in Africa and your guide will point out some of the 500 species of birds that have been recorded in the area. We recommend a sunset cruise!
Access to Lake St Lucia: the lake is easily accessed from St Lucia town and no 4×4 is required.
Charters Creek & Western Shores
The grasslands and the forest of the Western Shores surrounding St Lucia Lake are bustling with wildlife. iSimangaliso has had significant strives to reintroduce animals to the Western Shores that were pushed out by forestry plantations, including elephants, nyala, white and black rhinos, buffalo, zebra, and wildebeest.
Access to Western Shores & Charters Creek: The area is well developed for safaris. There are boardwalks, several hide and lookout areas, and a canopy walk.
Cape Vidal & Eastern Shores
This part of the park connects the grasslands to the coastline. It is the most visited area in the park for its wildlife viewing and natural beauty.
We did a game drive through the Eastern Shores of Lake St Lucia and were lucky enough to spot a herd of rhinos, buffalos, antelopes, and other small animals. The region is also home to elephants, hyaenas, and even leopards.
Our drive took us all the way to Mission Rocks Beach, a beautiful spot within the park. Further up from Mission Beach is the famous Cape Vidal, a popular place to spend the afternoon.
At low tide, the beach is suitable for swimming and rock pools are revealed which are great for snorkelling. Between October to March, the beach becomes a breeding ground for loggerhead and leatherback turtles which can be seen laying their eggs and scrambling back to sea. In the right season, you can also spot whales, dolphins, and even whale sharks in this area.
Access to Cape Vidal: suitable for 2WD via the tarred road inside the park.
False Bay
Located on the shores of Lake St.Lucia, this stretch of coast offers precious insight into the past and an opportunity to get close to some of the areas of animal inhabitants.
This part of the park can be explored on foot via the park's self-guided walking trails. They are 8 kilometres each and cross the forest and along the shoreline. Keep your eyes peeled for antelopes, monkeys, and smaller wildlife like butterflies, birds, and insects.
Since the area was previously covered by the ocean, fossils are sometimes found along the lakeshore.
Sodwana Bay
Sodwana Bay is located about midway between St Lucia and the Mozambique border and is known as a world-renowned diving destination and a paradise for scuba divers. Pack a picnic and spend a day on the beach swimming, sunbathing, and bodyboarding.
One of the top attractions in this region is turtles! Loggerhead and Leatherback turtles use the sandy beach to lay nests and little ones can be seen making the life-threatening dash to the safety of the waters. Tours to view this phenomena are available.
Sodwana Bay is also ranked as one of the world's top scuba diving destinations, but diving here is not for the lighthearted. Waters are cold (often falling below 20C), the currents are strong and the journey to get out to the dive site is often a bumpy ride. But the underwater seascape is teeming with vibrant marine flora and over 1,200 species of fish including whale sharks, so the adventure is definitely worth it. Bottlenose dolphins frequent the coast and Southern right and humpback whales can be spotted along their migratory route from June to November.
We dove just north of there in Mabibi Beach and were pleasantly surprised by the diversity of marine life. The private reef in front of Thonga Beach Lodge where we did our dive was teeming with fish and since its not accessible by the public it was in great condition!
Access to Sodwana Bay: it's not possible to access Sodwana via Cape Vidal, as the only road available to reach the bay is the main highway that runs all the way from St Lucia. The drive here is long (about 4 hours), but is suitable for a small 2WD car.
Lake Sibaya
Lake Sibaya is famed as the largest freshwater lake in South Africa. A large hippo and crocodile population reside in its waters. While birders come from near and far for the nearly 300 species that frequent the area. The nut vulture, flamingos, pels fishing owls, pygmy geese, and yellow white-eye herons are some of the most vied for birdlife amongst bird watchers.
Outside of birding, kayaking on the lake is a popular activity, so we couldn't miss a chance to get on the water during our visit. We spotted flamingos and enjoyed a bit of a workout and were happy to not run into any hippos along the way!
Access to Lake Sibaya: limited to 4×4 vehicles only. If you don't want to rent a 4×4, you can get away with renting a 2WD if you stay at Thonga Beach Lodge. The lodge offers 4×4 pickups from the main road where guests can park their car for the duration of their stay. All activities in the area require a 4×4, but most are included in the stay at Thonga Beach Lodge (see more on this at the bottom of this article).
Coastal Forest
Maputaland Coastal Forest is probably the least explored area of the park. It can only be accessed by 4 wheel drive but is home to some of iSimangaliso's most pristine beaches. The dunes that connect the forest to the coastline are estimated to be about 25,000 years old and are some of the highest in the world.
Each beach offers its own unique set of attractions and stunning natural vistas. Mabibi Beach, the home of Thonga Beach Lodge where we spent a few nights, and Lala Nek are known for their healthy off-shore coral reefs which entice snorkelers and scuba divers. While Black Rock Bay has some of the best fishing opportunities along the coast.
Access to Coastal Forest: limited to 4×4 vehicles only
Kosi Bay
The Kosi Bay lake system is located close to the border of Mozambique. It is made up of an estuary and wetlands which connect Amanzimnyama, Nhlange, Mpungwini and Makhawulani Lake.
The local Thonga people have been using Kosi Bay for hundreds of years as their fishing grounds. Their sustainable fishing traps can be seen in Kosi Bay. The fishing traps use tree branches arranged in a swirl to allow small fish to exit and enter freely but trap larger ones within.
The rare nut vulture can be spotted near Kosi Bay, as well as other species such as flamingos, African fish eagles, hippos, crocodiles, and monkeys just offshore.
The highlight of this area is Kosi Bay Mouth, a spot where the lakes meet the ocean, creating a unique ecosystem and a beautiful sight! This is a very quiet area where you can find a patch of sand and enjoy a day sunbathing, swimming, and snorkelling.
Access to Kosi Bay: Kosi Bay Mouth is only accessible with a 4×4 or on foot. If you are traveling with a small car, like we did, park your car at the entrance to Ushwayia Kosi Mouth Lodge (it's accessible with a 2WD), and take the leisurely 2km walk down to the mouth for the day.
Maphelane Beach
Mapheland Beach sits at the base of Mapheland sand dune – the highest vegetated sand dune in South Africa. Hike to the top of Mapheland sand dune for unrivalled views of the Greater St Lucia Wetland Park.
Swimming is not advised at Mapheland Beach, but intertidal pools can be fun to explore. Mapheland Beach is an easy walk from the St.Lucia town center. However, for those looking to stretch their legs further, the Jolly Rubino Wreck can be spotted from the southern end of Mapheland Beach.
uMkhuze Game Reserve
uMkhuze Game Reserve supports healthy populations of hippo, crocodiles and the Big Five. Over 420 species of birds have been documented in uMukhuze.
There are game viewing hides at kuMasinga pan, kuMahala pan, and iNusumo pan. These hides give visitors a chance to spot large congregations of animals who stop by for a drink or to wallow in the mud.
Access to uMkhuze Game Reserve: Take a self-drive or guided tour of uMkhuze Game Reserve. Over 100 kilometres of road crisscrosses the grass and woodland habitats.
Best Time to Visit iSimangaliso Wetland Park
Travelers come to iSimangaliso Wetland Park year-round. However, we would recommend you visit during the dry season from May to September. At this time of year, the weather is mild and temperate.
Afternoons hover around 20 degrees celsius and nights cool to 15 degrees. This is the best time of year for wildlife viewing. Animals tend to gather around water holes in these drier months and they are more active when compared to the summer months.
The rainy season takes place between October to April. Days are hot and humid, with afternoons often exceeding 30 degrees celsius. Rainfall is common but often only in short bursts. We visited the park at the end of November and enjoyed a mix of rainy and sunny weather with warm temperatures and pleasant days. It was perfect weather for the beach, but we did find wildlife viewing to be a bit lacking.
Whale watching can be done between June and November. Turtle season is from October to March and scuba diving can be done year-round.
iSimangaliso Wetland Park Accommodation
Forest Lodge, St Lucia
Forest Lodge is located in the heart of St.Lucia. The rooms at Forest Lodge are modern, well equipped, and backed by tropical gardens. The property itself is quiet but conveniently located just a short walk away from the town's main strip where visitors can find many places to eat and drink. Game drives into the southern part of the park as well as boat cruises around Lake St Lucia can be organized by the lodge staff.
Thonga Beach Lodge
This eco-conscious, luxury lodge is located on the beautiful Mabibi Beach just north of Sodwana Bay. Thonga Beach Lodge offers 12 thatched rooms, with Indian ocean or forest views, and lots of great activities to fill your time like kayaking on Lake Sibaya, a sundowner at Lake Sibaya, and scuba diving. On-site there is an alfresco dining deck, indoor dining room, and a bar and lounge. Accommodation at the lodge is on a full board basis, with all meals and many activities included in the price.
One of the biggest benefits of staying at Thonga Beach Lodge is that they offer 4×4 pick up and transport to all activities to guests at the lodge. So you can park your 2WD car in their designated area and not have to worry about driving for the duration of your stay.
Ushwayia Kosi Mouth Lodge and Camp
Ushwayia Kosi Mouth Lodge and Camp is located in Kosi Bay and provides accommodation in one of their permanent tents, cabins, or at their campsite. The lodge is heavily involved in community development and provides job opportunities for locals. There is a restaurant on-site or guests can make use of the communal kitchen.
Kosi Forest Lodge
Kosi Forest Lodge is a sister lodge of Thonga Beach Lodge and a part of the Isibindi Africa Collection. As with the other Isibindi Lodges, Kosi Forest Lodge prides itself on being an eco-tourism leader. Their property is set in a coastal sand forest, on the banks of Kosi Bay. The stand-alone rooms at Kosi Forest Lodge are nestled in the bush and they each have an indoor-outdoor bathroom. Food is included in the price of each stay and dinner is typically served outdoors, on the wooden deck Boma.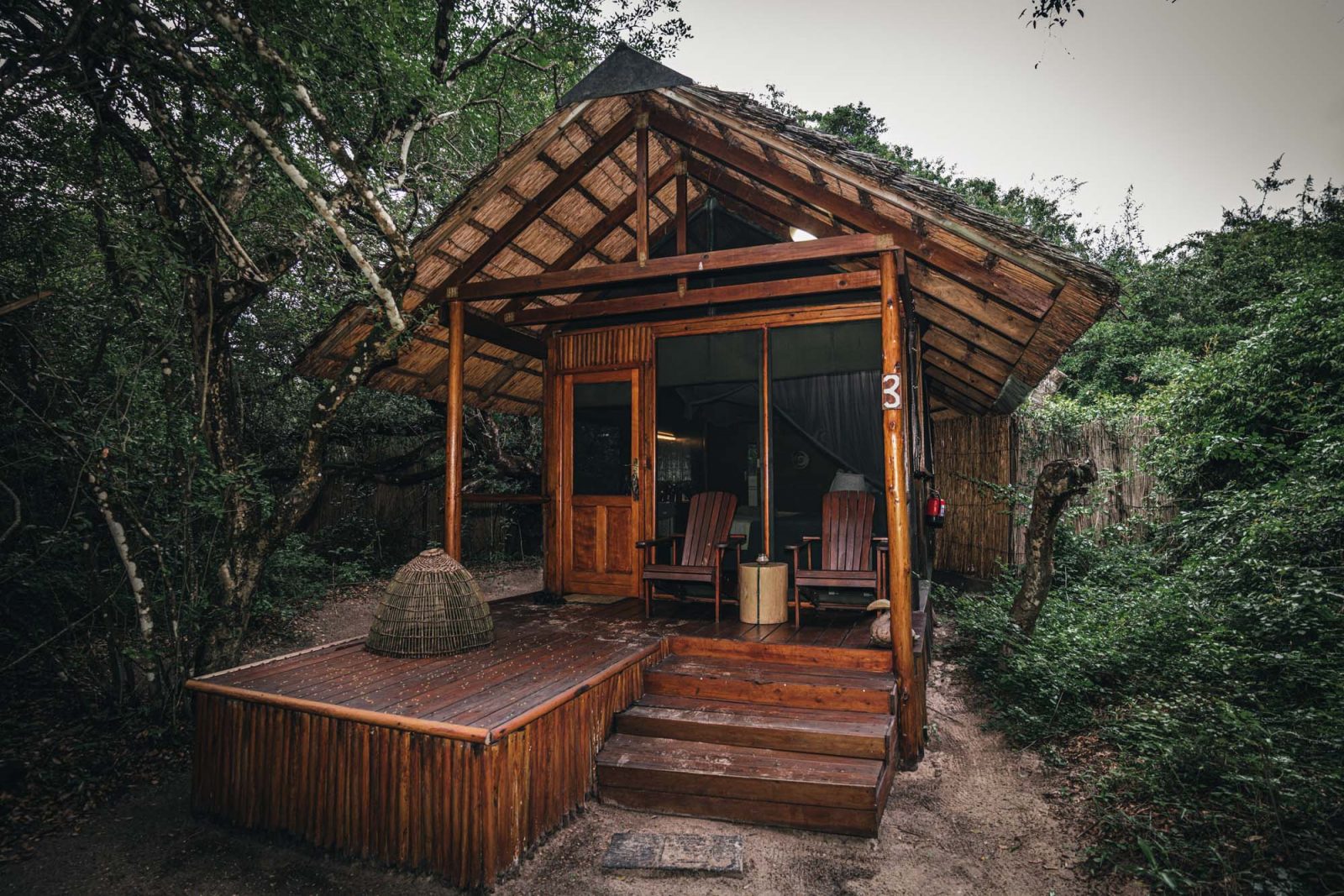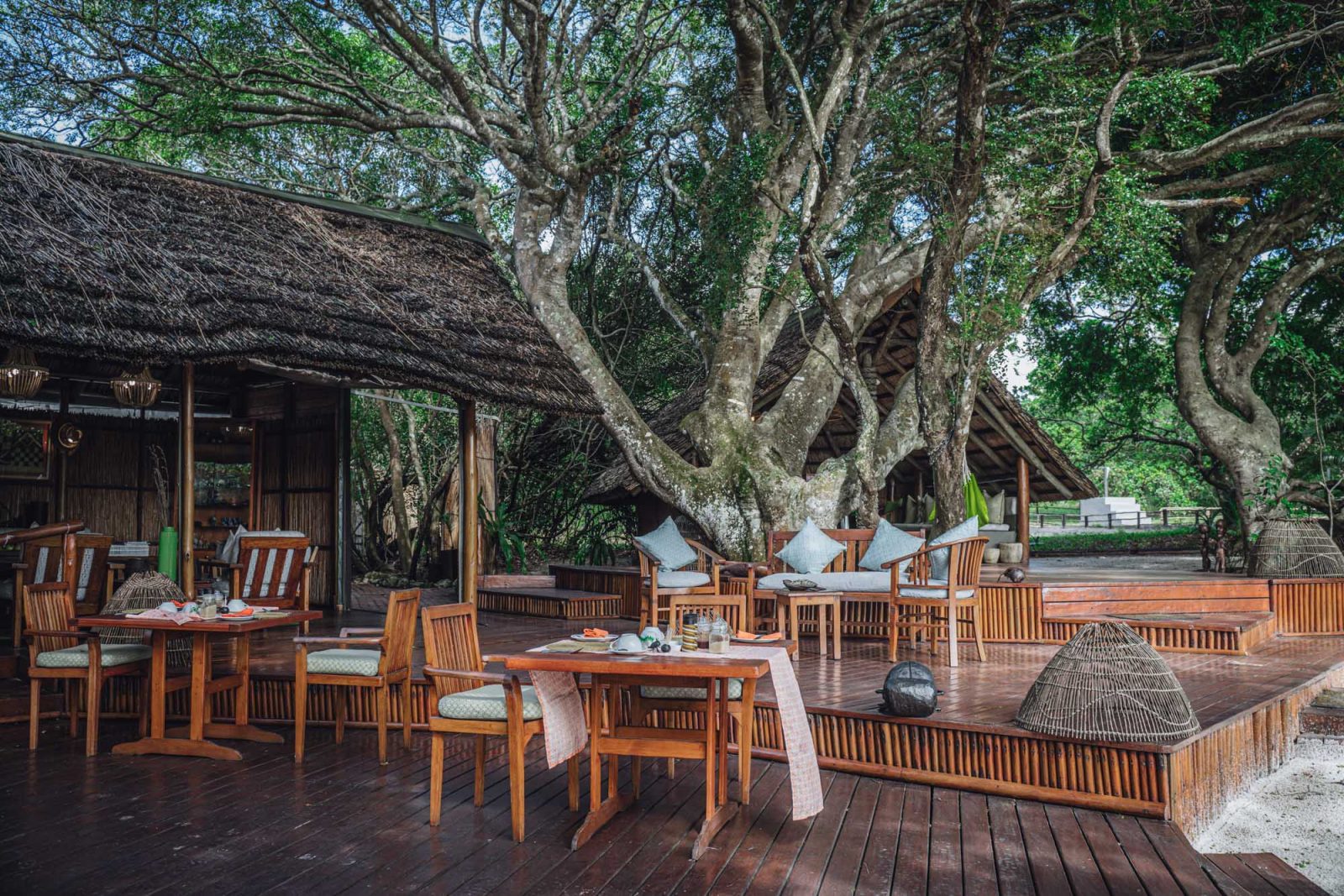 Kosi Forest Lodge also offer 4×4 transfers to their guests, so you can enjoy this remote part of the park without having to explore it in your own 4×4 vehicle.
Disclaimer: Big thanks to Thonga Beach Lodge, Kosi Forest Lodge and Ushwayia Kosi Mouth Lodge for hosting us during our time in iSimangaliso Wetland Park. But all opinions expressed in this article are our own.