Rolling hills, medieval hilltop villages, and lush green vineyards…this is Vipava Valley, locally known as Vipavska Dolina. Slovenia's best-kept secret and our favourite stop on a recent Slovenia holiday.
*This post may contain affiliate links, as a result, we may receive a small commission (at no extra cost to you) on any bookings/purchases you make through the links in this post. As an Amazon Associate, we earn from qualifying purchases. Read our full disclosure
Traveling Soon?

Here is a list of our favourite travel providers and accessories to help get you ready for your upcoming trip!
Like the local Burja wind that reaches speeds of 200km/hr, Vipava Valley blew us away. It was a region we almost missed, but one that proved to be an unforgettable destination with incredible food and wine experiences set in an idyllic picture perfect setting.
It didn't take us long to fall in love with Vipava Valley and it all began with a simple lunch at Cejkotova Domacija, an argifarm tucked away in a tiny village of Goče in Vipava Valley.
Incredible Food Experiences in Vipava Valley (Vipavska Dolina)
We dined under a grapevine canopy on the terrace of a 200-year old recently restored traditional house. It was in this postcard-perfect setting that we met Davorin, the owner of the argifarm and an incredible host with a contagious passion for local homemade food.
Our meal that afternoon was a perfect reflection of his farm-to-table values and the region's flavours. Home baked walnut and olive bread, herb cheese, wind-dried prsut (prosciutto, unique to the area) and a traditional frittata to start.
Followed by a plate of farm-raised pork, homegrown potatoes, and green peas, and a delicious cake baked fresh by Davorin's daughter. The meal was simple, but made with an abundance of flavour and oozing with local aromas
Every course was perfectly paired with local Zelen, Pinela, and Klarnica wines straight from Davorin's cellar, which we had the pleasure of exploring during our visit. There, in a candlelit setting, we sampled a few varieties of reserve wines from the late 2000s while listening to Davorin's tales of harsh winters and Burja winds that play a huge role in the winemaking craft in this region.
We weren't sure if it was the wine, the authentic lunch fare, or the serene surrounding of our meal that left us infatuated with Vipava Valley.
Vipava Valley Wine Tastings
After lunch, we spent a bit of time meandering the narrow streets of Goče, admiring the perfectly preserved facades of 17th-century buildings that were built to withstand even the harshest gusts of Burja wind.
Then it was onwards to the countryside, where vineyard-clad hills fringed the roadside. We stopped at an inconspicuous mid-construction building perched on a hill overlooking the town. Burja Estates. One of the most well known and highly praised wineries in the region.
Our tour of the Estate was led by none other than Mr. Lavrencic, an expert winemaker and the mastermind behind Burja Estate.
"Mr. Lavrencic is a bit of a celebrity around here", noted Jani, our guide, and an ambassador for the region, the founder of the local tour company, Wajdusna. "He's one of the most successful organic winemakers in the region, paving the way for a new variety of wines".
"The Burja wind is what makes our wine", explained Mr. Lavrencic modestly as we sat around a table chatting, swirling Burja Estates Reddo wine in our glasses. "The persistent gusts keep the grapes free of insects, eliminating the need for pesticide use in our winemaking process".
As we followed Mr. Lavrencic on a tour of the estate, our fascination with this amazing structure and the practices of the Burja Estate grew exponentially. Despite still being under construction, the exposed stone wall, modern elegant designs of the cellar and the future tasting room revealed what was soon going to be a top-notch wine tasting space in the valley.
But it's not just Burja Estates that's putting Vipava Valley on the wine trail. The region is home to dozens of small family-owned and operated wineries that have recently started to open their doors to visitors in the area. Finding them, though, takes a bit more than a google search, so companies like Wajdusna are paving the way for unique ways to experience the best this region has to offer.
Slovenian Hospitality at St Daniel Hotel in Vipava Valley
Accommodation options in Vipava Valley are not plentiful, but ideal for those looking for an authentic stay and a taste of Slovenian hospitality. Most farmhouses now offer rooms for rent and a typical bed and breakfast experience.
But one hotel in the area stood out from the crowd, not just for its prestigious eco-friendly labels but for their holistic outlook on the guest experience.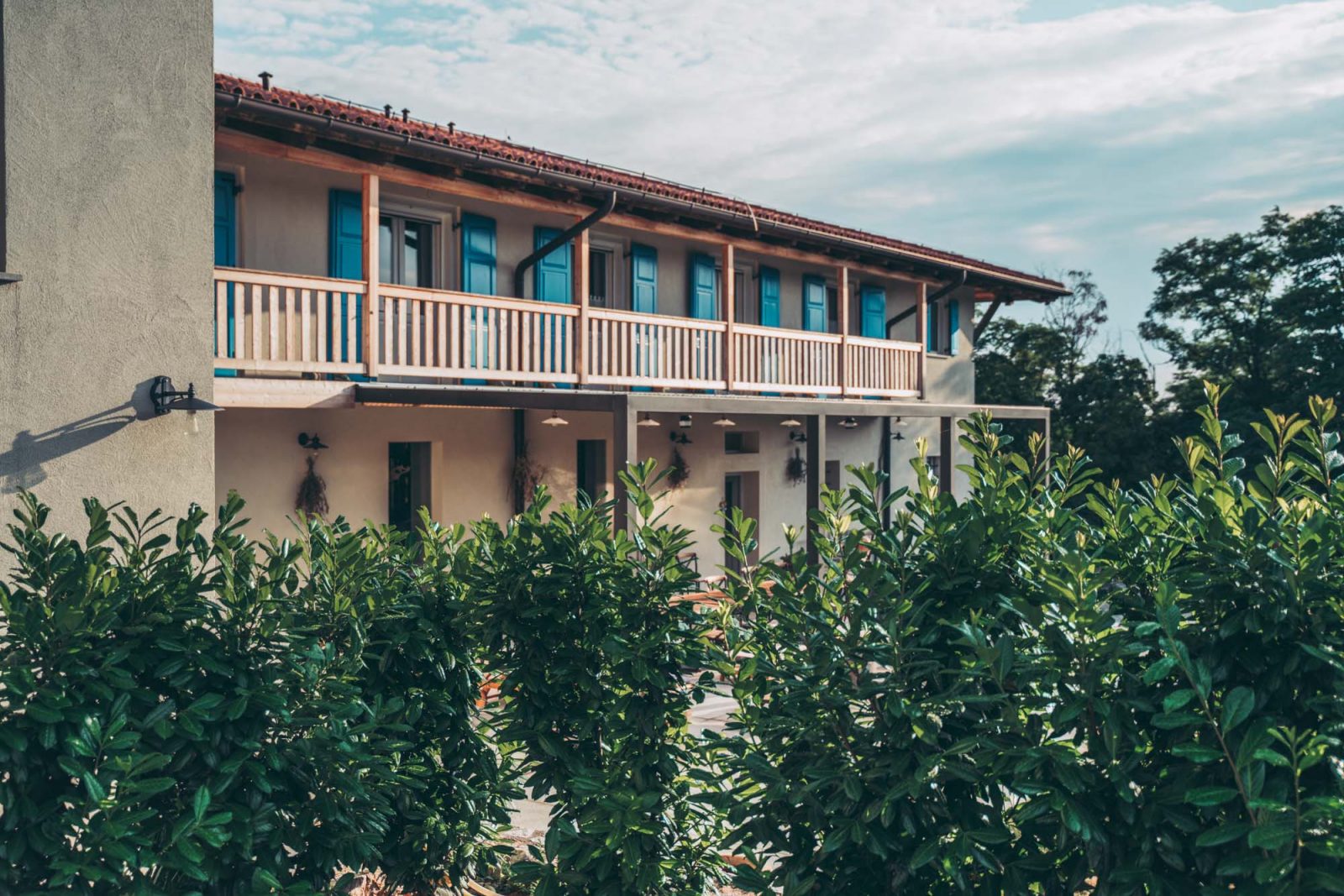 A love child of Nina Abramič and Miran Prodmik, Hotel St Daniel, is a charming boutique eco-hotel hidden amidst the vineyards and meadows just outside of the town of Stanjel.
The hotel began as an old farmhouse and took over 4 years to renovate. The owners believe that ECO is not just a label, but a way of life and their vision manifested itself into space where guests feel well, eat well, sleep well, move well and think well.
Despite having perfectly decorated rooms, a restaurant, and even a holistic wellness center on site, Hotel St Daniel feels more like an old friend's house than a typical hotel.
"We love details and thoughtful touches here", smiled Nina acknowledging our remark about the incredible decor in the reception area. "We love them until it comes time to spring clean…", she laughs, "and then we hate them!"
Our dinner here was spectacular. Simple recipes mingled with ingredients, creating the most incredible flavours. Zucchini tomato salad, buckwheat soup, and homemade pasta with chicken and pumpkin sauce tasted like heavenly creations.
For dessert, it was the highly acclaimed Teran wine from Derenda Estate which we shared in the company of Darko Derenda, the winemaker behind this unique Karst specialty.
"Our compliments to the chef, Nina", we said.
"It's just me and my mom in the kitchen", blushed Nina, humbly. "When you are working with fresh organic ingredients, you don't need complicated recipes or fancy cooking degrees. No matter what you make, it will taste great!"
She was being modest, but we let it slide. It was hands down the best meal we'd had in Slovenia and a perfect ending to a perfect day in the beautiful Vipava Valley.
Have you ever visited Vipava Valley? What drew you to this unknown destination in Slovenia?
Disclaimer: We traveled to Vipava Valley as guests of the Slovenia Tourism Board, but all opinions expressed in this article are our own.