*This post may contain affiliate links, as a result, we may receive a small commission (at no extra cost to you) on any bookings/purchases you make through the links in this post. As an Amazon Associate, I earn from qualifying purchases. Read our full disclosure.
Visiting the iconic Victoria Falls has been on our travel list for many years, so when an opportunity to witness this incredible natural wonder presented itself, we couldn't say no.
Planning a Trip in the time of COVID?

Keep in mind that information found in this article may have been impacted by travel restrictions and other closures. Double check opening hours, tour providers and hotel status before you go. And don't leave your home without travel insurance! If you are looking for an insurance provider that covers COVID-19, we recommend SafetyWing. Get Medical and Travel Insurance starting at just $40/month and you can sign up even if your trip has already started!
We spent a total of 3 days in the area, visiting the falls from both the Zimbabwean and Zambian side. We soaked up the mist of the falls (literally), swam in the Devil's Pools and enjoyed exploring the busy town of Victoria Falls.
Our home for this adventure was Victoria Falls Safari Lodge, one of the best and oldest hotels in Victoria Falls, Zimbabwe.
About Victoria Falls Safari Lodge
The Victoria Falls Safari Lodge is a beautiful property set on the edge of Zambezi National Park, just 4 kilometres from the mighty Victoria Falls in Zimbabwe. The lodge faces West, offering amazing sunset views of the park and the nearby watering hole from the rooms and the hotel restaurant and bar.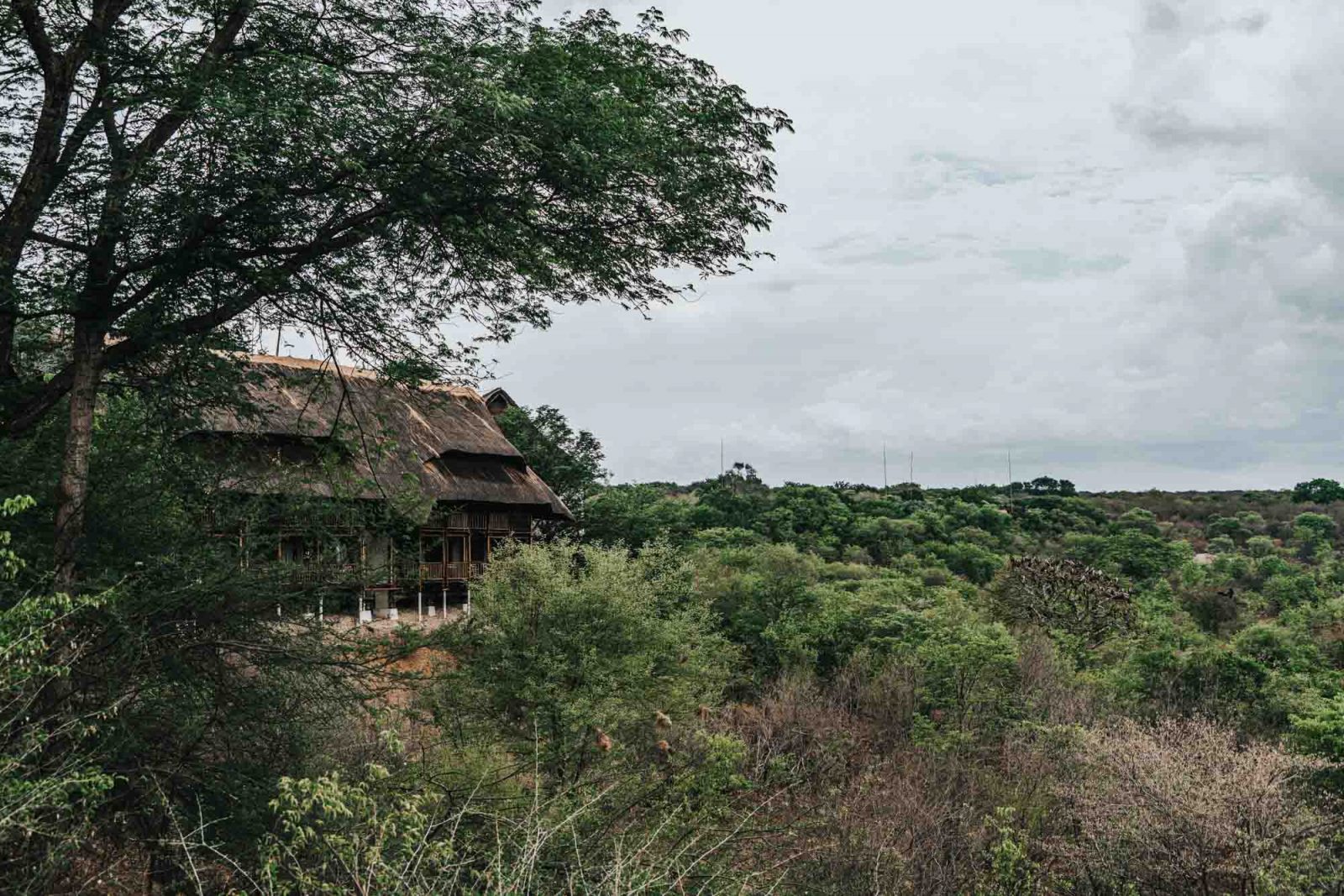 We used the lodge as a base while visiting Victoria Falls but quickly discovered that Victoria Falls Safari Lodge is a destination in and of itself. There was lots to do on-site. Besides soaking in the lodge views and spotting wildlife at the waterhole, guests can enjoy the two-tier swimming pool, gym, lounge, and upper and lower decks.
The Rooms and Suites
There are 72 private rooms at Victoria Falls Safari Lodge. All of them feature balconies, which face West for amazing sunset and bushveld views. There are two on-site restaurants and a bar with views that rival those in the rooms. Room service is available, so if you don't want to leave your room at any point throughout the day, the lodge offers in-room dining as an option.
There 3 types of rooms at the lodge:
24 Standard Rooms

have westward-facing balconies that look out toward Zambezi National Park. These rooms feature comfortable double beds and private bathrooms with rainfall showers.

42 Waterhole Facing Rooms

offer some of the best views in the house. Their balconies look out toward the waterhole, where you are likely to spot wildlife and big game like kudu, buffalo, and elephants. They are similar in nature to the Standard Rooms, with top-notch facilities, Africa inspired decor and wooden touches.

6 Waterhole Facing Suites

are the most luxurious option at Victoria Falls Safari Lodge. Not only do they have views of the waterhole but these extra-large, two-story suites have a lounge room and two bathrooms.
We stayed in the Standard Room during our visit and despite it being the cheapest option at the lodge, we loved the views and the room set up. The room was spacious, had fast wifi, and still offered great views of the bush and the watering hole.
Food and Drink
Every stay at Victoria Falls Safari Lodge includes a buffet breakfast at the on-site restaurant. The hotel restaurant is known for its great views since the restaurant deck is open on three sides and looks out toward the waterhole. We found that having breakfast early in the morning offered the best chance of spotting wildlife at the waterhole.
Besides breakfast, Victoria Falls Safari Lodge offers lunch and dinner in the MaKuwa Kuwa Restaurant. Dinner is a more upscale affair and requires guests to follow a dress code. The chefs strive to create dishes with local produce whenever possible.
There is also Buffalo Bar, a more laid back eating establishment on-site, which was once listed on Heineken's list of 'Greatest Bars in the World'. They offer lunch, snacks, and a large selection of drinks. The Buffalo Bar overlooks the waterhole.
The other restaurant at Victoria Falls Safari Lodge is the Boma Victoria Falls Restaurant which offers alfresco breakfast and lunch but is better known for its Dinner & Drum show experience. The four-course meal features traditional Africa game meat like Impala and Buffalo and guests are treated to a night of singing and dancing native to Africa. We didn't get to try this during our stay, but it sounded like a really fun activity!
Activities
There is lots to do at Victoria Falls Safari Lodge and the surrounding area. Our favourite thing about staying at the lodge was the complimentary shuttle to Victoria Falls town. From there, it was easy to explore Victoria Falls Zimbabwe at our own pace.
There are many viewpoints and hiking paths around Victoria Falls on the Zimbabwe side, cross the Victoria Falls bridge or experience the Devil's Pool at the top of the Victoria Falls on the Zambezi side. In town, check out the crafts market. Your purchases will go to support local vendors.
In some ways, Victoria Falls, Zimbabwe is a place made for adrenaline junkies. You'll find lots of opportunities to experience ziplining, white water rafting, bungee jumping, and other fear-inducing activities at Victoria Falls, Zimbabwe and Zambezi. These can be booked directly at Victoria Falls Safari Lodge or other Victoria Falls hotels and lodges.
Vulture Feeding
Another cool and free activity that you can do while staying at the Victoria Falls Safari Lodge is the vulture feeding. It was a highlight of our stay!
At 1 pm each day, the scraps from the Buffalo Bar and MaKuwa Kuwa Restaurant are fed to the vultures in an exhilarating spectacle. Hundreds of raptors descend on the food and guests and other visitors are invited to watch the "show" and learn more about the creatures in the meantime.
We don't normally advocate supporting live feeding shows but the vulture feeding is part of a conservation program to aid the survival of these endangered raptors in Africa. Prior to putting out the scraps, guides brief the crowd on the importance of vultures to the ecology in Africa and the area and explain the reasons for their dwindling numbers. We didn't realize this until we attended the vulture feeding, but their population is essential to the ecosystem in Africa.
If you have a little more time at Victoria Falls Safari Lodge you can take day trips to explore Zambezi River, check out Zambezi National Park or Chobe National Park in nearby Botswana for an amazing safari in Africa.
Sustainability
From the construction of the lodge to day to day operations, Victoria Falls Safari Lodge is founded on the ethos of sustainable tourism. One of the key things we noticed about the lodge is that there are no plastic bottles in any of the hotel rooms, restaurants or lodge facilities. Victoria Falls Safari Lodge uses a Natura water system that purifies water onsite and eliminates the need for plastic bottles. But that's not all!
Victoria Falls Safari Lodge has founded the Victoria Falls Recycling Initiative which helps manage waste in the community by transporting recycling to large recycling facilities.
They also oversee regular community clean-up campaigns and each year the staff partake in National Tree Planting Day by planting one indigenous tree on the property of the safari lodge. Victoria Falls community now also prides itself on the Victoria Falls Anti-Poaching Unit, founded by the Victoria Falls Safari Lodge. The unit employees members of the local community and has arrested nearly 800 poachers and rescued nearly 250 mammals caught in snares.
On-site at Victoria Falls Safari Lodge, staff advocate for visitors to do their part by bringing much needed medical and school supplies to the area through their Pack for Purpose program. Likewise, the lodge makes regular contributions to the local schools, orphanages, and old age homes in Victoria Falls, Zimbabwe.
The Bottom Line
Victoria Falls Safari Lodge is a great accommodation option in Victoria Falls, Zimbabwe and is particularly suitable for those who don't mind paying a bit of a premium for responsible accommodation and a quiet and peaceful out of town location.
Disclaimer: Our stay at the Victoria Falls Safari Lodge in Zimbabwe was organized courtesy of Jumbari Family Safaris, a safari operator providing eco-friendly private safaris all over Africa. Big thanks to Victoria Falls Safri Lodge for hosting us during our stay.