Capturing vacation photos of ourselves on our travels is not an easy feat. We snap plenty of photos of each other, but the shots we take together are often limited to selfies, drone shots, or super posed and over-orchestrated photos taken with our tripod and a remote.
*This post may contain affiliate links, as a result, we may receive a small commission (at no extra cost to you) on any bookings/purchases you make through the links in this post. As an Amazon Associate, we earn from qualifying purchases. Read our full disclosure
We love being behind the lens, but once in a while, we like to let go of the equipment and just enjoy the moment. Along came Localgrapher and our personal vacation photographer, Lee, who captured some incredible photos of our time in Cape Town (full gallery below).
Traveling Soon?

Here is a list of our favourite travel providers and accessories to help get you ready for your upcoming trip!
About Localgrapher: A Vacation Photographer Service
Localgrapher is a vacation photography company that allows travelers to hire a photographer in destinations around the globe to capture travel memories or a photo tour of the area.
The company was founded by Matej Slezak. He came up with the concept while abroad when he was approached by a group of foreign tourists in Prague. They wanted to hire him for a photoshoot. At the time he was a full-time lawyer and a part-time photographer but the idea of connecting travelers with a professional photographer intrigued him. So, he quit his desk job and founded Localgrapher.
How it Works
Localgrapher has a huge network of local photographers in over 900 destinations all around the world, from New York to Marrakech, Bali and beyond. All of their vacation photographers are local to the area, English speaking, and can be booked online on short notice.
We discovered Localgrapher while on our last trip in Southern Africa. Having just fallen in love with Cape Town, we decided that it would be an ideal place for us to try out this cool service.

We hopped online and within minutes were browsing through galleries of 10 local photographers based in Cape Town. There were lots of great photographers to choose from, but we selected Lee, a natural light photographer with a documentary style.
On the platform, you can book a local professional specializing not just in photography but also in videography to capture your next vacation. A list showing each photographer for hire will appear and you can browse their portfolio of latest work, their likes, photography styles, and languages spoken. Once you have found a photographer local to the area that you like, you can request to book them along with one of the 3 Professional Photographer Packages.
The Bronze Package

is recommended for solo travelers. It includes a 30-minute photo session with your vacation photographer and 20 edited photos for $250 USD.

The Silver Package

is more geared toward couples who want to capture their travel memories. The photo session is 60 minutes and includes 35 professional photos for $350 USD.

The Gold Package

is the longest photo session available at 100 minutes. This experience is good for groups or for special occasions where you want to get a lot of snaps from your vacation photographer. Your professional photographer will send you 60 edited photos within 4 days. The price is $500 USD.

The Video Package

includes 60 minutes of filming which results in a 60 second HD video for 450 USD. The Photo and Video package produces 35 professionally edited photos and a 60-second Full-HD video which are filmed over the course of 60 minutes.
We opted for the Silver Package, which gave us an hour with our professional vacation photographer and 35 professionally edited photos.
There are also tours and photography workshops perfect for those looking for a little bit of help or some photo tips from locals.
The Instagram Photo Tour & Workshop

is aimed at travelers who want to grab great pictures with their smartphones. Your local guide will take you to the trendiest photo spots in your destination over the course of 90-minutes. Along the way, local photographers ply their guests with tips and tricks. The cost is $220 USD.

The Pro Photo Tour & Workshop

is double in length at 180 minutes. Your guide will take you to the cities top spots and provide you with trips and tricks for $390 USD. This package is aimed at travelers with cameras who want insight on how to use their features at each photo hotspot.
You can build your own video, photo, or workshop package to meet your vacation photos and videos needs. This is a great option for bigger groups, team building, or other momentous occasions.
We didn't experience this service, so we can't comment on how valuable one of these tours would be.
Our Photoshoot with Lee
After booking our shoot, we were put in touch with our local photographer, Lee via email. Over the next few weeks, we exchanged a few emails, going over Lee's suggested locations for our shoot and working out all the logistical details.
It was so great to have Lee suggest some nice locations for the shoot. By going through her existing portfolio we found a few locations that we liked and narrowed down our options to Signal Hill, a beautiful spot with views of the city, Lions Head and the Table Mountain.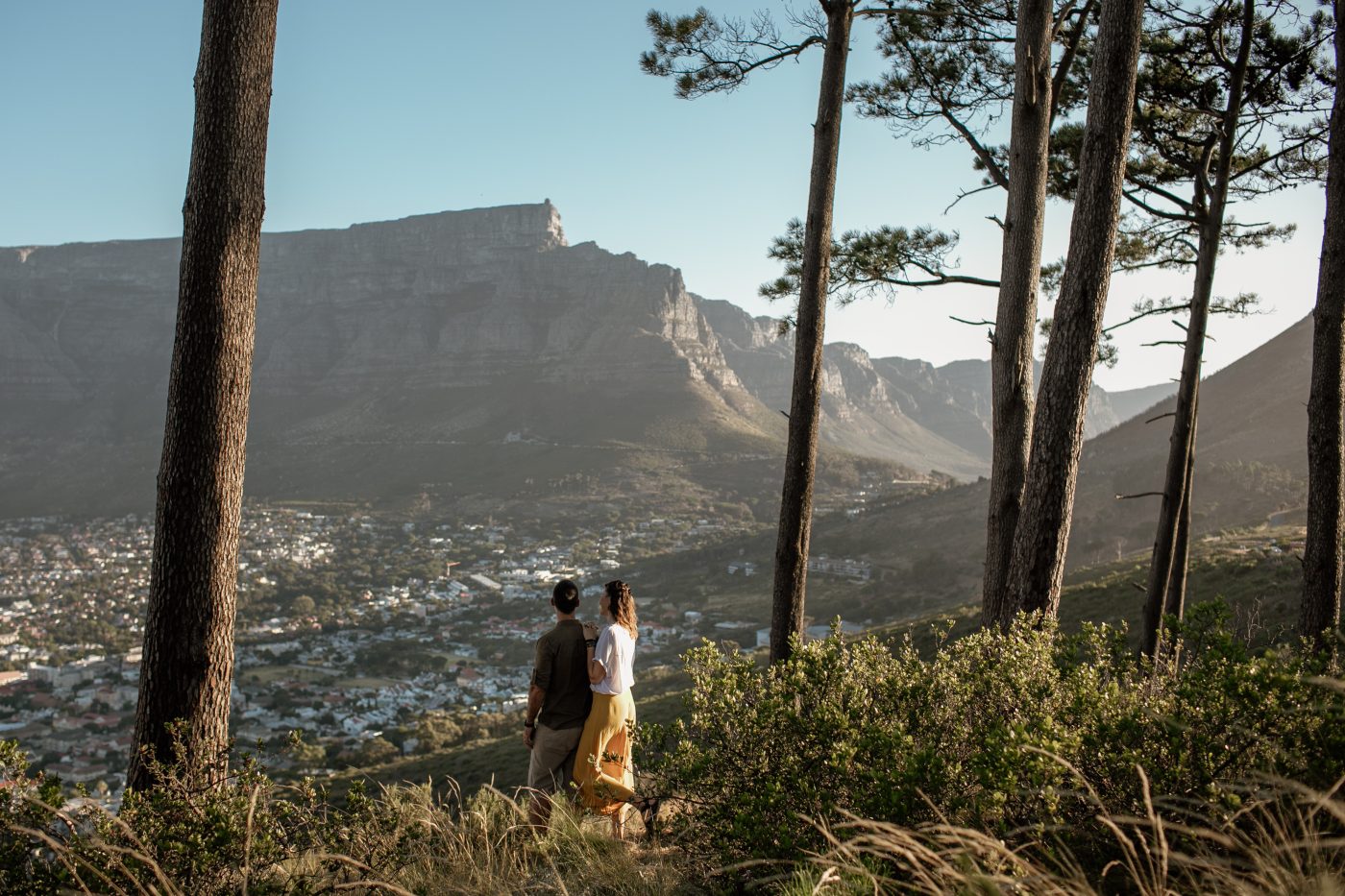 We spent a few days exploring the city leading up to our shoot (it was an excellent idea to book the shoot for the end of our stay) and discovered another beautiful spot overlooking the ocean and the beautiful suburb of Camps Bay. Lee was super flexible and found a way to fit both locations into our shoot – another benefit of booking a 1-hour package!
On the day of the shoot, we met Lee at a designated time and place and after a brief walk through the area, she grabbed her camera and started snapping away. She was great at directing us to get the best light and nice positions.
We were a bit shy at first but warmed up and quickly got into the groove. Things got a little silly throughout the shoot, which made for some fun "behind the scenes" shots too.
Our Beautiful Cape Town Gallery
We received our full gallery in our inbox within 72 hours of the shoot. It was nice to know that if for whatever reason we don't like our photos, Localgrapher has a very generous 100% money-back guarantee.
We LOVED our photos! We gushed over them for days, before finally selecting a few of our favourites to share on social media. For those interested in seeing the rest, check out our gallery below!
The Bottom Line
Hiring a vacation photographer is not something we would have done in the past, but having experienced this service first hand, we were thoroughly impressed. We got some great shots from our favourite city in the world and our family got some amazing photos to frame that are more beautiful than our typical selfies.
It's definitely a service we can see ourselves booking in the future, especially when traveling with friends or family.
Would you consider hiring a photographer for your next vacation?
Disclaimer: Our photoshoot in Cape Town was provided courtesy of Localgrapher, but all opinions expressed in this article are our own.