In case you haven't heard the news, Colombia is back on the map as a tourist destination. This country has so much to offer, and for so long it was inaccessible to tourism.
*This post may contain affiliate links, as a result, we may receive a small commission (at no extra cost to you) on any bookings/purchases you make through the links in this post. As an Amazon Associate, we earn from qualifying purchases. Read our full disclosure
In the last few years, this has all changed. Colombia is now an emerging destination for travelers, and it's arguably safer than ever. People are starting to consider a Colombia vacation as an exciting and viable option, and there's never been a better time to visit.
There are so many things to see and do in Colombia. You'll find charming and historic cities, ancient ruins, awe-inspiring national parks, and vibrant culture. The food is delicious and the people are warm and friendly. As a whole, the country is developing fast, opening up more and more avenues for sustainable tourism.
What's more, flights tend to be really cheap if you're coming from North America. Still, need convincing?
Here's everything you need to know to plan your Colombia itinerary.
The Best Time to Visit Colombia
Colombia's peak tourist season is between December and March. The rain is at its lightest during these months, so this is when the visitors pour in as a result. However, the prices are highest during these months.
Traveling Soon?

Here is a list of our favourite travel providers and accessories to help get you ready for your upcoming trip!
The rainy season is different depending on whether you're in the mountains or on the coast. The coast experiences the most rain between September and October, while the Andean Mountains are wettest from May to July and October to December.
All things considered, however, there isn't a bad time to take a Colombia vacation. The temperatures are fairly consistent all year 'round and even when it does rain, it's usually followed by bright sunshine.
Best Places to Visit in Colombia
Medellín
Time Needed: 3-4 days
Medellín should be one of the top cities on your Colombia itinerary. It's considered one of the country's most liveable cities and has recently become a hotspot for expats and digital nomads. Tucked into the mountains of the Antioquia Province, Medellín is affectionately known as the "City of Eternal Spring" due to its nearly perfect weather regardless of the season.
Medellin isn't chock full of sights and attractions, but it does have some nice botanical gardens, lovely public parks and green spaces, and famous city squares such as the Plaza Botero.
The food and nightlife are both world class in Medellín. On a food tour, you can explore the markets in town and sample some of the regional delicacies, such as mondongo. Make sure that you also go out at night at least once to experience the city after dark; try going to one of the local bars and tasting a locally made craft beer.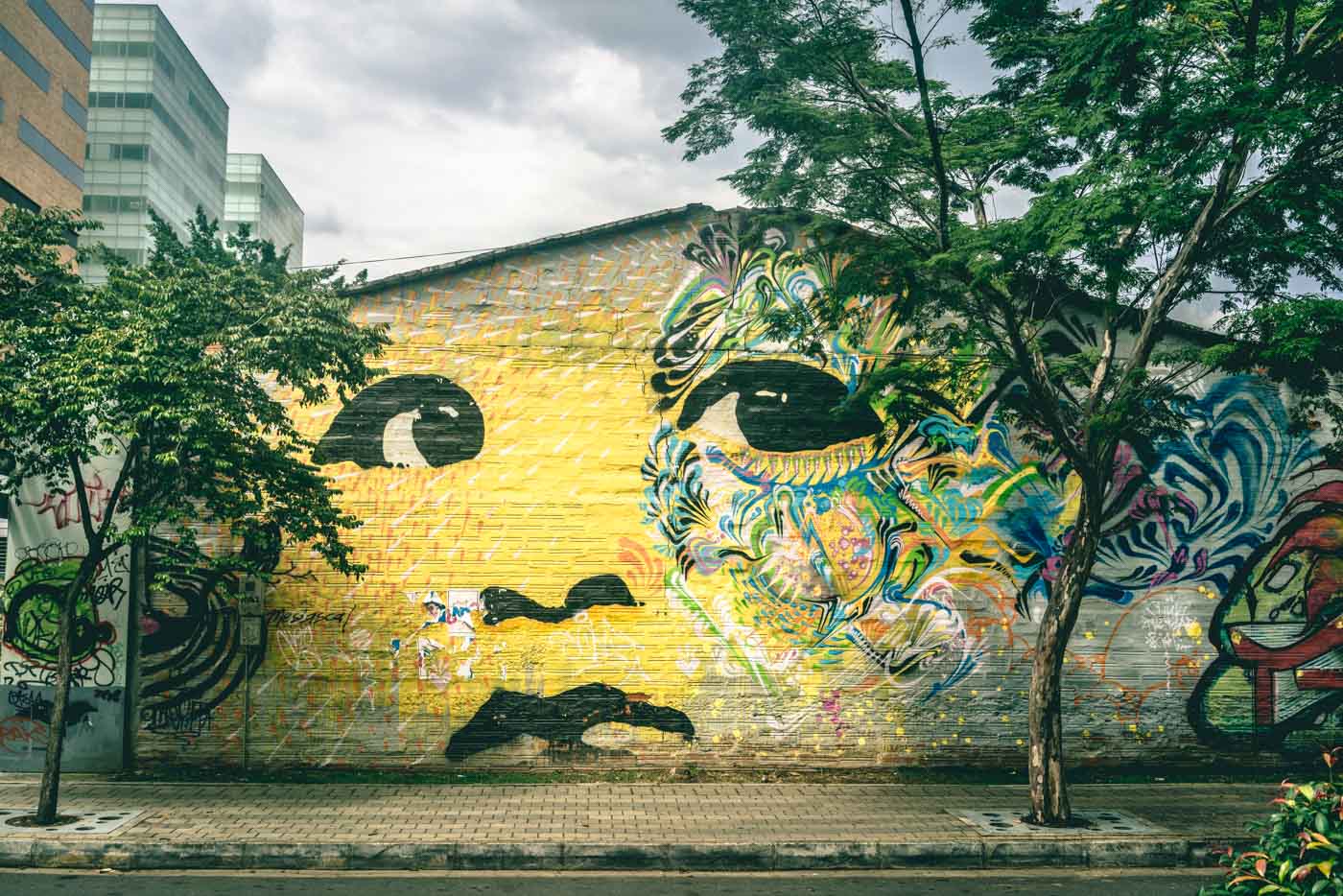 In addition, there are a number of great day trips you can take from the city.
One of the most popular options is Guatapé, a colourful town about two hours away, where you can spend a full day touring. The most popular sight to see here is El Peñol, a massive slab of rock with hundreds of stairs carved into the side that visitors can climb for unrivalled views. Some of the best Colombia tourist attractions can be found in Medellín, both inside and outside the city limits.
Bogotá
Time Needed: 2-3 days
One of the best places to visit in Colombia is undoubtedly the country's capital, Bogotá. Located about eight hours to the southeast of Medellín, the city has lots to offer visitors.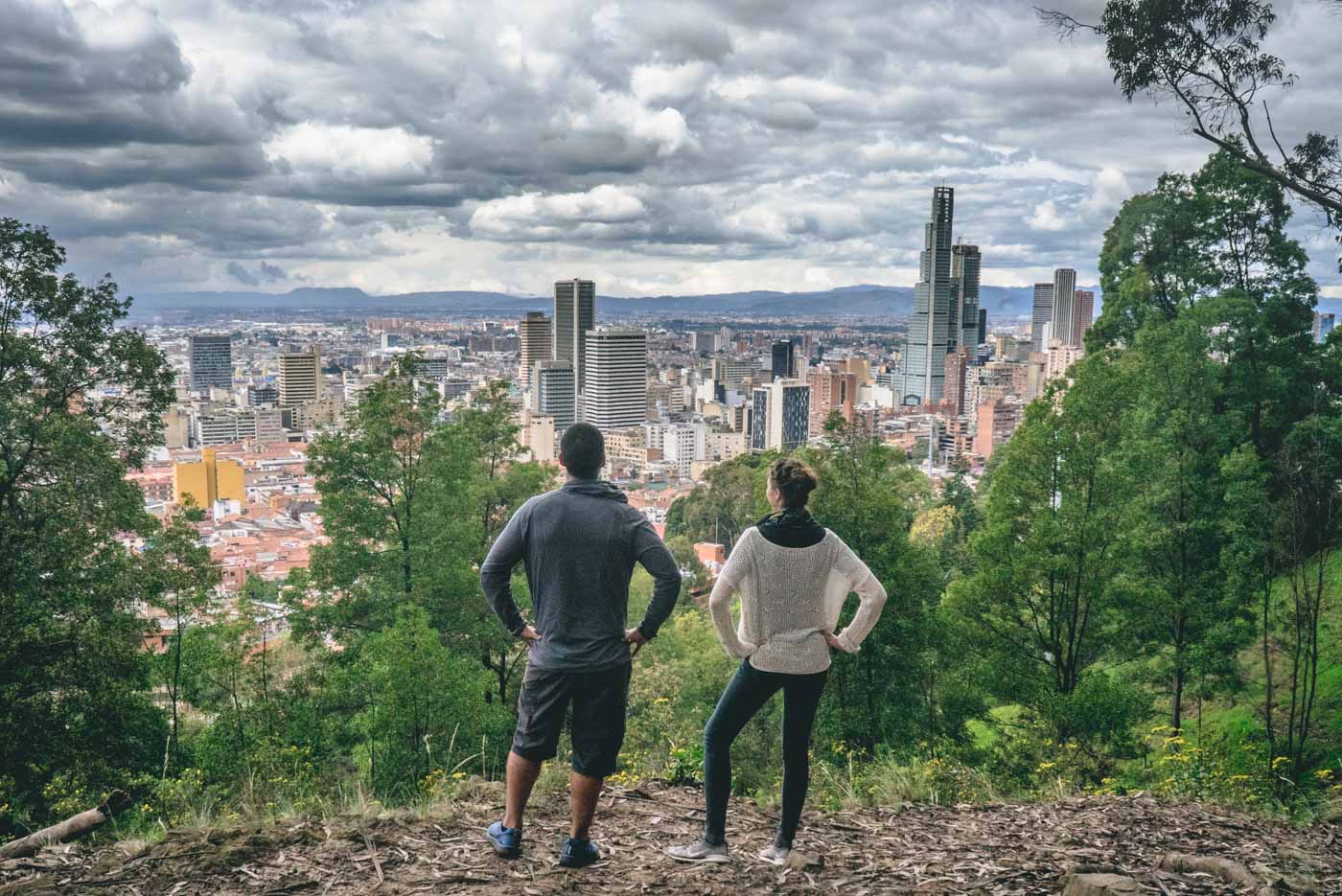 Start your Bogotá, Colombia itinerary by visiting La Candelaria, the historic city center. Lined with cobblestones and colonial buildings, it's the perfect place to take a walking tour or even a biking tour.
Next, visit some of the famous museums, such as the Museo del Oro (Gold Museum) or the Museo de Botero, a renowned art museum.
No visit to Bogotá would be complete without a visit to Cerro Monserrate, a mountain that overlooks the city to the east. Take the cable car up for breathtaking views over the entire Bogotá cityscape. Seeing the skyline from above is certainly one of the best things to do in Colombia.

For a really fascinating experience, try taking a Breaking Borders Tour. This tour is run by a group of ex-gang members in Bogotá and gives incredible insight into the city from those who have seen it through unique eyes.
Cartagena
Time Needed: 2-3 days
If you're into cities by the sea, then add Cartagena to your Colombia itinerary: the best parts are all right by the ocean.
Start your tour of Cartagena by exploring the old town, a section of the city enclosed in an old stone wall. There's a lot of history to be discovered here, and you'll find a stark contrast between old and new. Next, head over to Bocagrande to explore the more modern side of the city.
Later, hit the beach. You can either relax and enjoy the weather on a few of the lovely sand beaches right near the city or take a boat to one of the nearby islands for a little slice of paradise.
Santa Marta
Time Needed: 4-5 days
Santa Marta is one of the best places to visit in Colombia and one of our personal favourites. There's so much to see and do in the area, especially for outdoor and nature lovers.
Explore the nearby town of Taganga, where you can relax on tropical beaches or take a boat trip on the ocean. The area is known for excellent diving, so make sure to explore beneath the surface as well.
You'll also want to spend some time in Tayrona National Park, one of the most fantastic nature reserves in Colombia. It's an incredible place to go hiking and to explore some truly pristine, secluded beaches.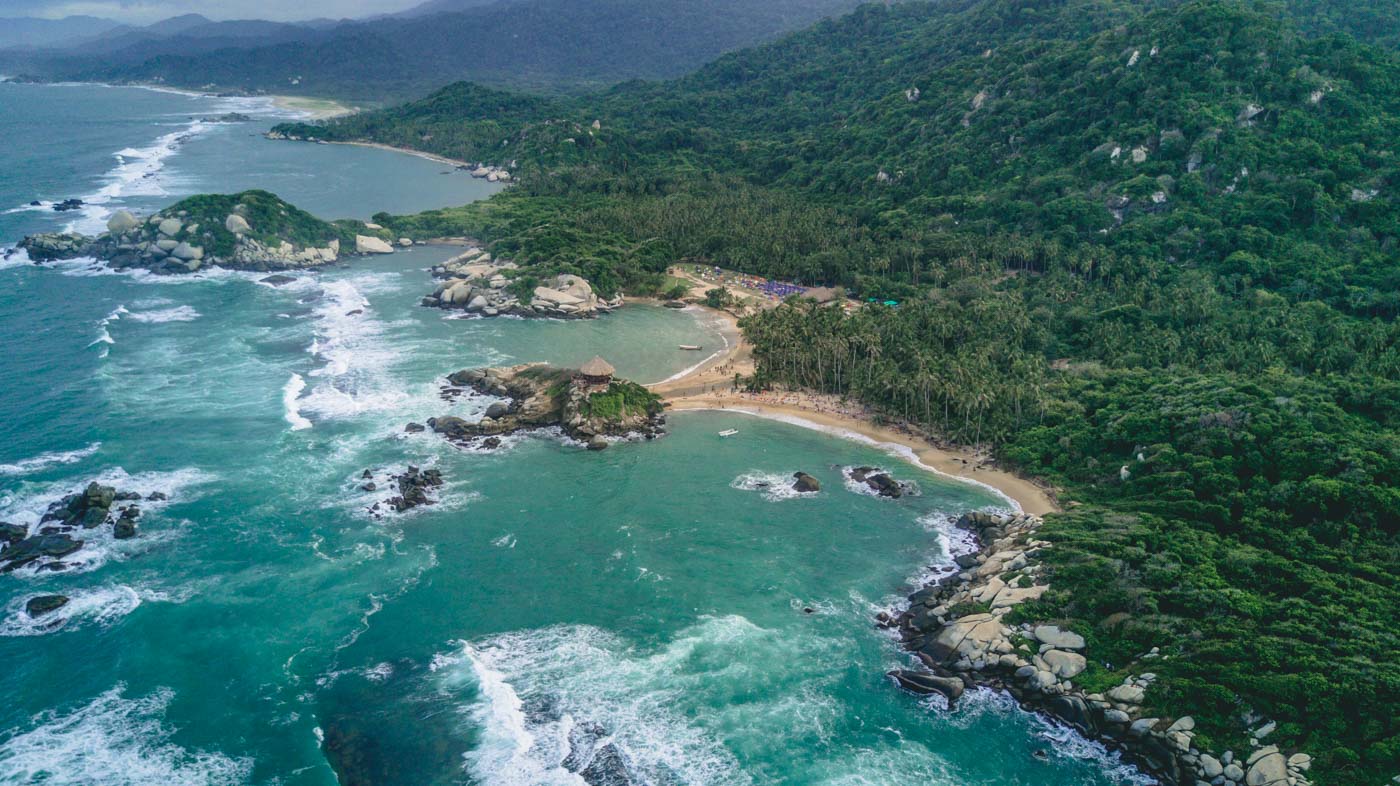 Lost City Trek
Time Needed: 4-5 days
Santa Marta also serves as a gateway to the famous Lost City Trek, a 4-5 day hike to the ancient ruins that known locally as Ciudad Perdida.
It's a challenging hike, but nothing compares to adventuring through the jungle and coming upon ancient ruins of civilizations that have long since disappeared. This is definitely one of the most exciting and rewarding things to do in Colombia.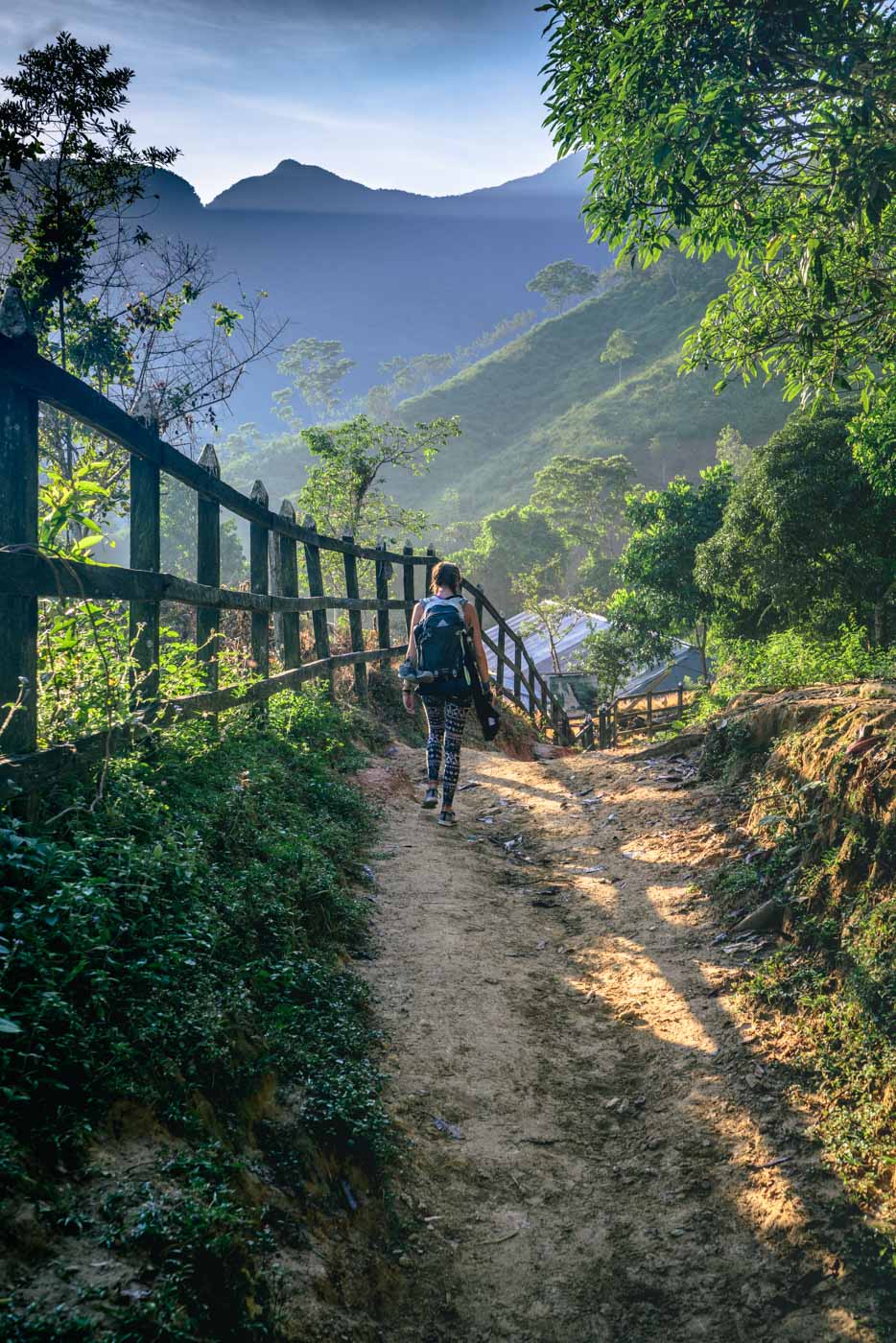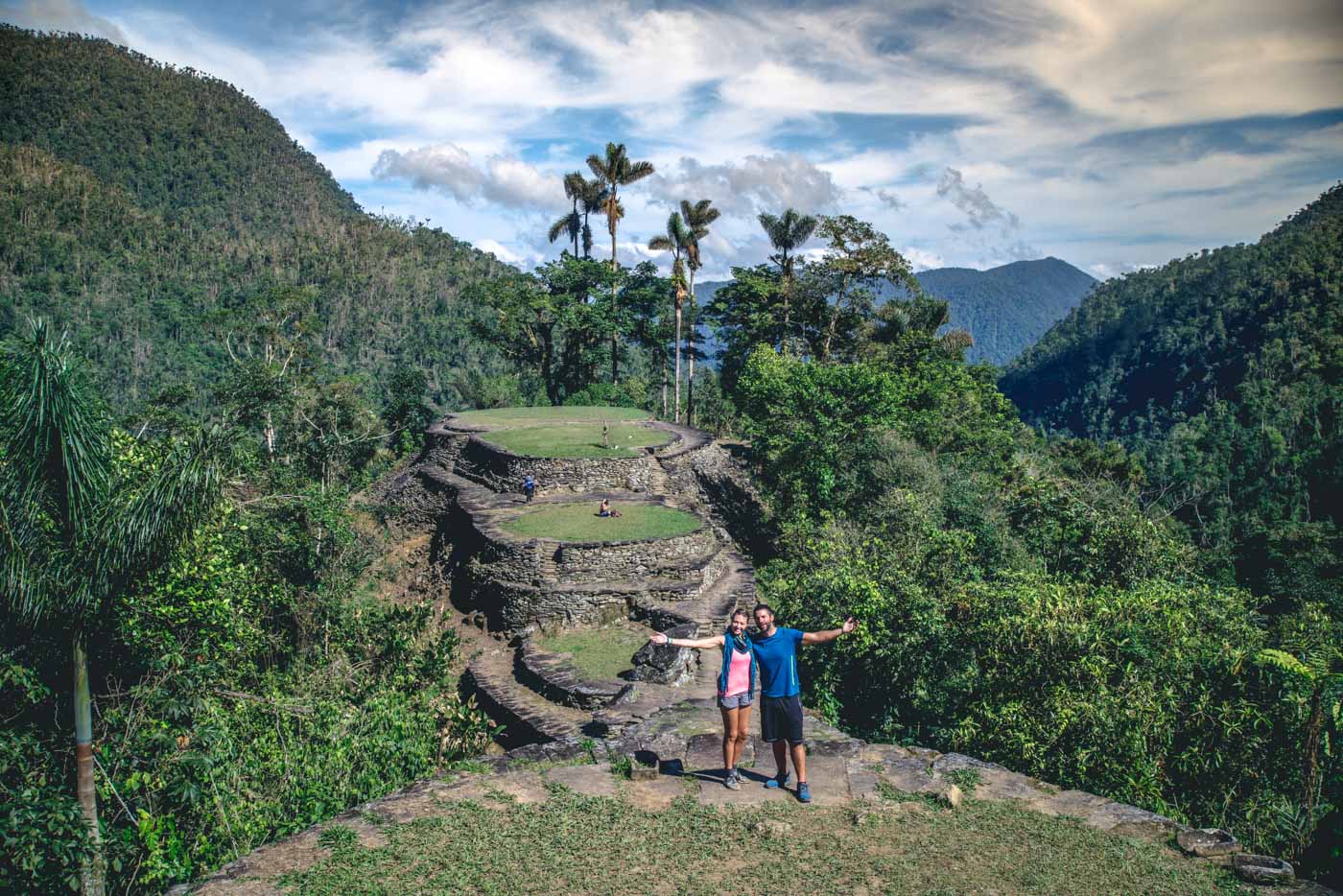 San Gil
Time Needed: 2-3 days
San Gil is Colombia's adventure capital. There are so many things to do here to get your adrenaline pumping, such as whitewater rafting, hiking, kayaking, canyoning, and more.
San Gil's main claim to fame, however, is paragliding. There are two different places where you can do it and two different flights you can take, long or short. We gave paragliding a try when we were traveling in San Gil and it was one of our favourite (and most adrenaline-packed) experiences in Colombia!
San Gil is quite small but enormously charming. There isn't a lot to do in the town itself, but with some raging rivers, rolling hills, and deep canyons nearby, you'll find adventure right outside of town. If you're simultaneously looking for some excitement and the chance to get away from the chaos of the cities, then San Gil is one of the best places to visit in Colombia.
Other Destinations To Consider
Cali
If you love sports, dancing, or going out at night, put Cali on your Colombia itinerary right away. This city, located in the southwest of the country, is full of energy.
During the day, make sure to visit Barrio San Antonio, a charming neighbourhood full of buzzing cafes and restaurants. Don't forget to try the pandebono, a local cheese bread.

At night, hit the trendy bars and mingle with the locals, or go out dancing at a popular salsa club and see how the experts dance. It might be a popular Colombia tourist attraction, but it's certainly worth experiencing.
Punta Gallinas
Punta Gallinas is the northernmost point in South America, making it a must-visit for those who want the experience of seeing the cardinal extremes of the continent. To get there, you must cross La Guajira, a vast, sandy desert. Once you reach Punta Gallinas, you'll get to explore wide and remote beaches and likely enjoy the ocean all to yourself.
Salento
This small town tucked away into the mountains attracts coffee-lovers from around the world. While you're visiting, make sure to take a tour of a coffee plantation and taste the local brews.
Salento is also the gateway town to Los Nevados National Park, a stunning nature reserve home to rare and exotic birds.
Cocora Valley
If you're a hiking- or outdoor-enthusiast, consider visiting Cocora Valley. Right in a central part of the Andean Mountains, the Cocora Valley is lush, green, and full of trekking routes to discover.

Caño Cristales
The Caño Cristales is widely considered one of the best places to visit in Colombia. This incredible river is famously nicknamed the "River of Five Colours." From above, it looks like a flowing rainbow, full of bright yellows, pinks, blues, greens, and reds. The colours are caused by a unique bloom in plant life in the river that only takes place during a short window of time each year.
Isla de Providencia and Isla de San Andrés
Off the east coast of Nicaragua, you'll find two small islands that belong to Colombia, San Andrés and Providencia. The islands are stunning, with lots of colourful coral reefs just below the water's surface. Reggae music is also huge here, so you can look forward to relaxing on the beach to some island tunes.
How Long Should Your Colombia Itinerary Be?
Colombia has so much to see and do that you could easily spend months here. We personally visited for a full month and have since come back for more.
In general, if you want to see as much of the country as you can on a full trip, two weeks is the absolute minimum you should spend. Three weeks or more is ideal. If you can't spend that long in the country, you'll just have to plan to come back for a second trip.
No matter what your travel style or interests are, Colombia deserves a spot on your bucket list. With so much to see and do, you could never explore it all in a lifetime, but you can try!
Which of these places holds the number one spot on your future Colombia itinerary?