In recent years, Uber has become a viable transportation option on the streets of Costa Rica. It began operating in the country in 2015 and continues to grow with locals and tourists despite ambiguous legal concerns.
*This post may contain affiliate links, as a result, we may receive a small commission (at no extra cost to you) on any bookings/purchases you make through the links in this post. As an Amazon Associate, we earn from qualifying purchases. Read our full disclosure
The rideshare app straddles a grey area that's become an annoyance for taxi drivers. That said, we never use taxis anyway and don't recommend them to any traveller. Taxis in Costa Rica are notorious for trying to scam tourists.
Enter: Uber. Taking Uber is a great alternative to taxis and public transport but with some stipulations. It's really only prevalent in cities like San Jose and isn't super helpful in other places. Since it's not found everywhere in the country, answering yes to "is there Uber in Costa Rica?" is loose. Let's dive into that and more with these tips on everything you need to know about Uber in Costa Rica.
Traveling Soon?

Here is a list of our favourite travel providers and accessories to help get you ready for your upcoming trip!
FAQs About Uber in Costa Rica
Since Uber in Costa Rica is still somewhat new and continuously evolving, there is lot to consider. First, let's answer some key questions:
Is Uber available in Costa Rica?
Yes, you can use Uber in Costa Rica but only in select cities. As of January 2023, rides are readily available in the major metropolitan areas of San Jose, Liberia, and San Carlos. There is availability in other towns, but it may be pricier because of surge pricing, and it may be less readily available.
On top of that, while it's fairly feasible to get a ride from the airport, getting a return ride to the airport will be much more difficult.
Is Lyft available in Costa Rica?
No, Lyft is not currently available in Costa Rica.
Is DiDi available in Costa Rica?
Yes, the Chinese-based rideshare company DiDi started to operate in Costa Rica in late 2019. It's similar to Uber in terms of availability and price but seems to be less popular.
Is Uber legal in Costa Rica?
Technically, Uber is operating illegally in Costa Rica but sits in a a grey area to Costa Rican lawmakers. Much like early operations in Canada, the USA, or Australia, government officials turn a blind eye to the rideshare service.
Drivers assume a risk by accepting rides but there have been few cases of anyone being charged. The bigger concern is with angry taxi drivers that don't want Uber in Costa Rica. Legal or not, Uber continues to operate and expand its coverage in Costa Rica.
Red cabs with a yellow triangle are the only legal taxis in Costa Rica (along with airport-specific orange taxis). We don't recommend taking taxis but if you're ever in a pinch, hop in one of these.
Why is Uber illegal in Costa Rica?
Uber is a new tech-based taxi service that has no precedents in Costa Rican law. Similar to pirate taxis, legal taxi drivers don't want Uber drivers stepping on their toes.
Their main argument is that Ubers can undercut taxi pricing. To settle this, Costa Rica added a 13% VAT to Uber rides in October 2020. The hope was to level the playing field and allow both drivers to operate simultaneously. It also blurs the lines on its legality since paying taxes legitimizes the business.
Is Uber the best way to get around Costa Rica?
Using Uber in San Jose, Costa Rica, is a cheap and effective way to get around the city. However, outside of San Jose, Ubers are few and far between. Ubers won't take you to national parks and even getting to the airport can be a hassle.
For that reason, we highly suggest renting a car in Costa Rica. It gives you more freedom to explore on your own schedule and can actually work out to be cheaper.
How much does Uber cost in Costa Rica?
Generally, Ubers are 10-15% cheaper than taxi fares. For example, say you're staying at a hotel in Escazu and want to go for dinner, a 3.5 km (2.17 mi) ride to the restaurant Mirador Tiquicia, would cost CRC 1,750, which is about USD $3. The same ride in a taxi would be CRC 4,579 or USD $7.15.
Remember to expect surge pricing, especially at rush hour. The number of Uber drivers on the road versus the number of Uber requests determines prices. San Jose Uber rates can vary a lot.
We suggest using Uber's fare estimator before your ride. If you don't already have an Uber account, you can create one here to get a quote. Log onto the Uber website, set your pick-up location, and add your destination to see fares.
Where is Uber Available in Costa Rica?
Though the coverage maps seem promising, they are a little ambitious. In reality, the actual active areas are much more limited.
San José
The majority of Uber drivers are located in the San Jose metropolitan area. Uber works in different parts of the Central Valley, with some popping up in La Fortuna as well. Uber in La Fortuna is very new, so don't rely on it
San Jose Airport
Though there are many cars in town, service to San Jose International Airport can be a little tricky. It's easy enough to request a ride in the app, but you'll have to arrange a pickup location away from the arrivals area. The bus stop on the other side of the parking garage is a popular spot for Uber drivers. Also, some people have reported that the airport WiFi blocks access to the Uber app, so you'll need cell data to book.
Taking an Uber in Costa Rica for a departure flight is an easier process. Your Uber driver can drop you off like normal but might request that you sit in the front seat. This is to avoid any confrontation with taxis.
If you are traveling with a group, remember that Uber in Costa Rica only offers cars with a maximum capacity of 4 passengers. If you need a larger vehicle, consider using a different ride-sharing service or a traditional taxi.
Jaco
Uber in Jaco, Costa Rica began in early 2019 and is much less active. At the time of research, there were only 5 Uber vehicles available in all of Jaco. A small number of cars means a longer wait and potentially unreliable service.
The truth is, Jaco is a relatively small town, and most of its attractions are found within a two-mile stretch. Considering that, it's perfectly feasible and generally more convenient to just travel by foot. If you need to get from point A to point B faster, you might have better luck renting a scooter than relying on Uber as your main method of transportation. Pricing will vary depending on the company, but renting a scooter for $20 for six hours of use is pretty standard.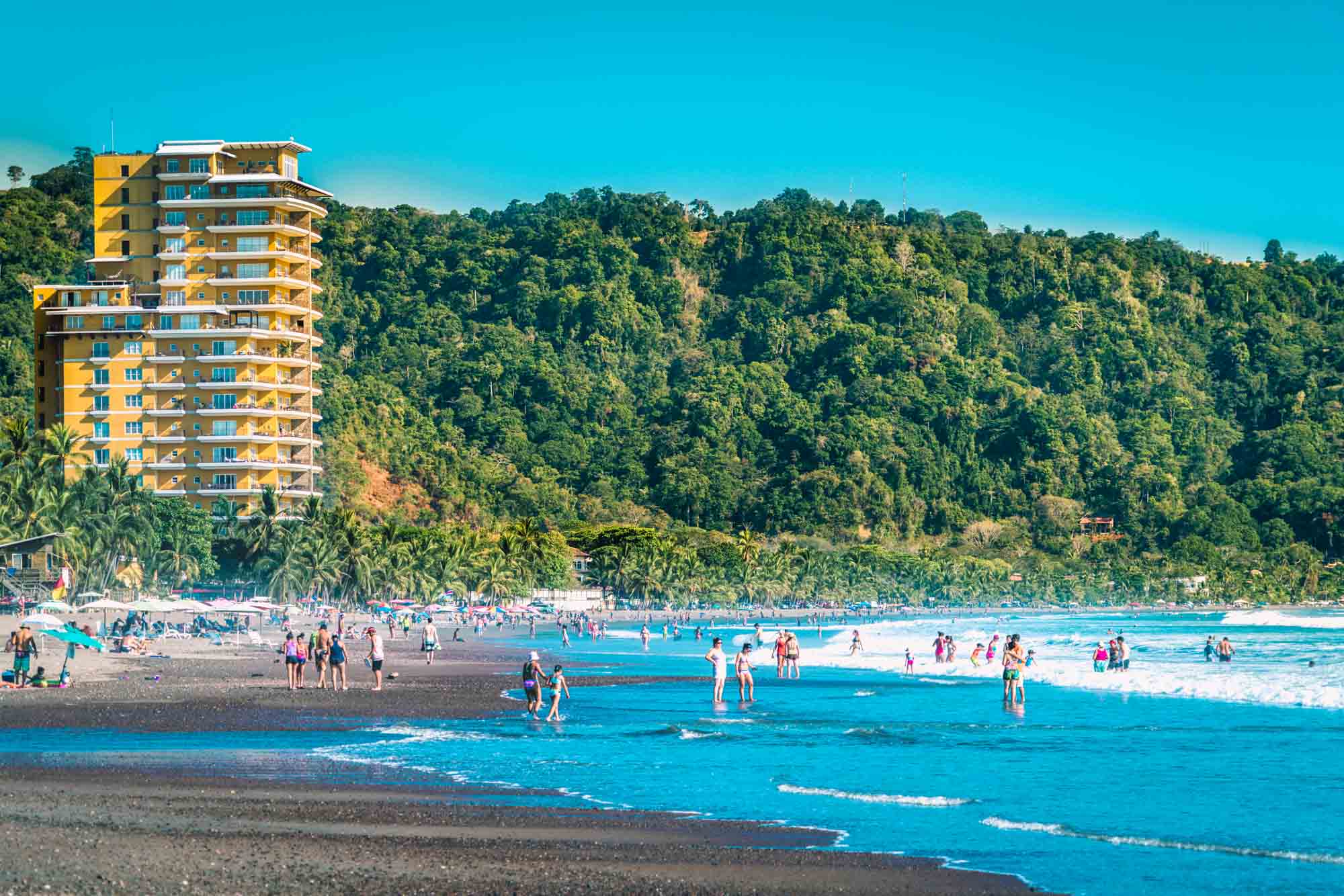 Tamarindo
There is a small presence of Uber in Tamarindo, Costa Rica. The company announced its expansion to the Nicoya Peninsula in 2019 but isn't as quickly growing as San Jose. Again, with only a few cars using Uber in Tamarindo, we wouldn't count on it as a reliable option to get around the town.
The town itself is quite compact and walkable. But if your accommodation is farther away or if you want to explore beyond the main streets in town, renting a bike or a scooter is most likely going to be more convenient than using Uber. There are a number of rental shops in town, so you'll be able to find one within your budget.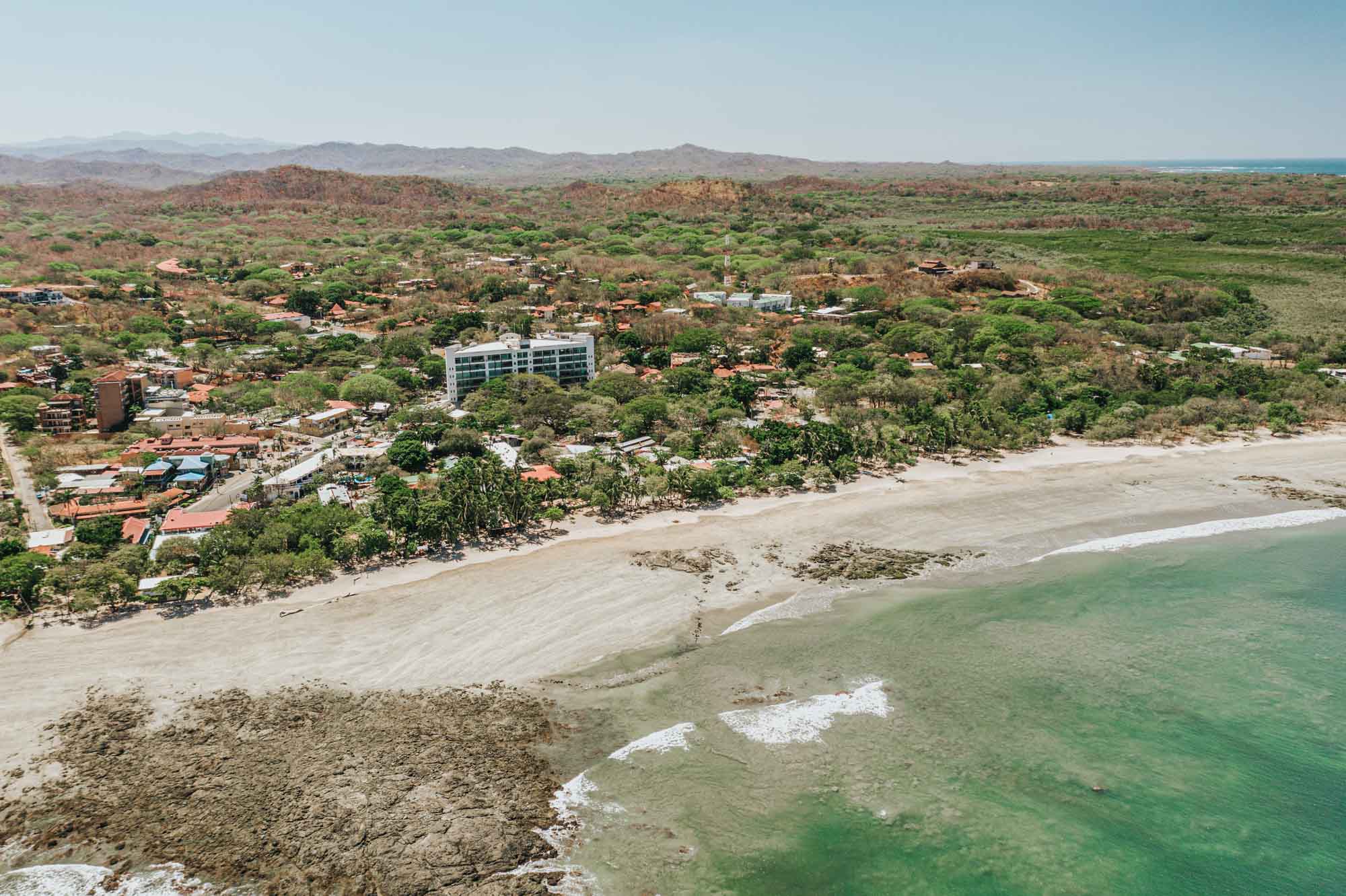 Liberia
Uber in Liberia, Costa Rica is is more common than other parts of Guanacaste. At the time of research, we saw 5-10 Uber vehicles in Liberia. You can use Uber to travel within Liberia, if you need to make your way from Liberia Airport to the city centre or the reserve. But if you are looking for transportation option to travel form LIberia airport to your accommodation elsewhere in Guanacaste, we recommend taking a shuttle of renting a car instead.
Our personal recommendation for rental agencies is Vamos Rent-A-Car. Their Liberia location is near the airport, their rates are very reasonable, and they won't spring any unexpected fees on you when you rent from them.
Puerto Viejo
There are very few, if any, Uber drivers operating in Puerto Viejo. At the time of research, we found no Uber drivers in Puerto Viejo on the Caribbean Coast. The destination is quite remote and small, and thus has little demand for Uber in Costa Rica. Local taxi drivers can be found for those looking for ways to explore the area, although you'll find that most tours and activity providers will offer shuttle transfers included in the activities.
Santa Teresa
If you were considering relying on Uber in Santa Teresa, don't even bother. Instead, your best options are local shuttles, taxis, or tuk tuk services. A tuk tuk is a small, three-wheeled taxi that can hold a couple of passengers; they look a bit like a mix between a car and a golf cart. The fare is typically similar to that of a regular taxi.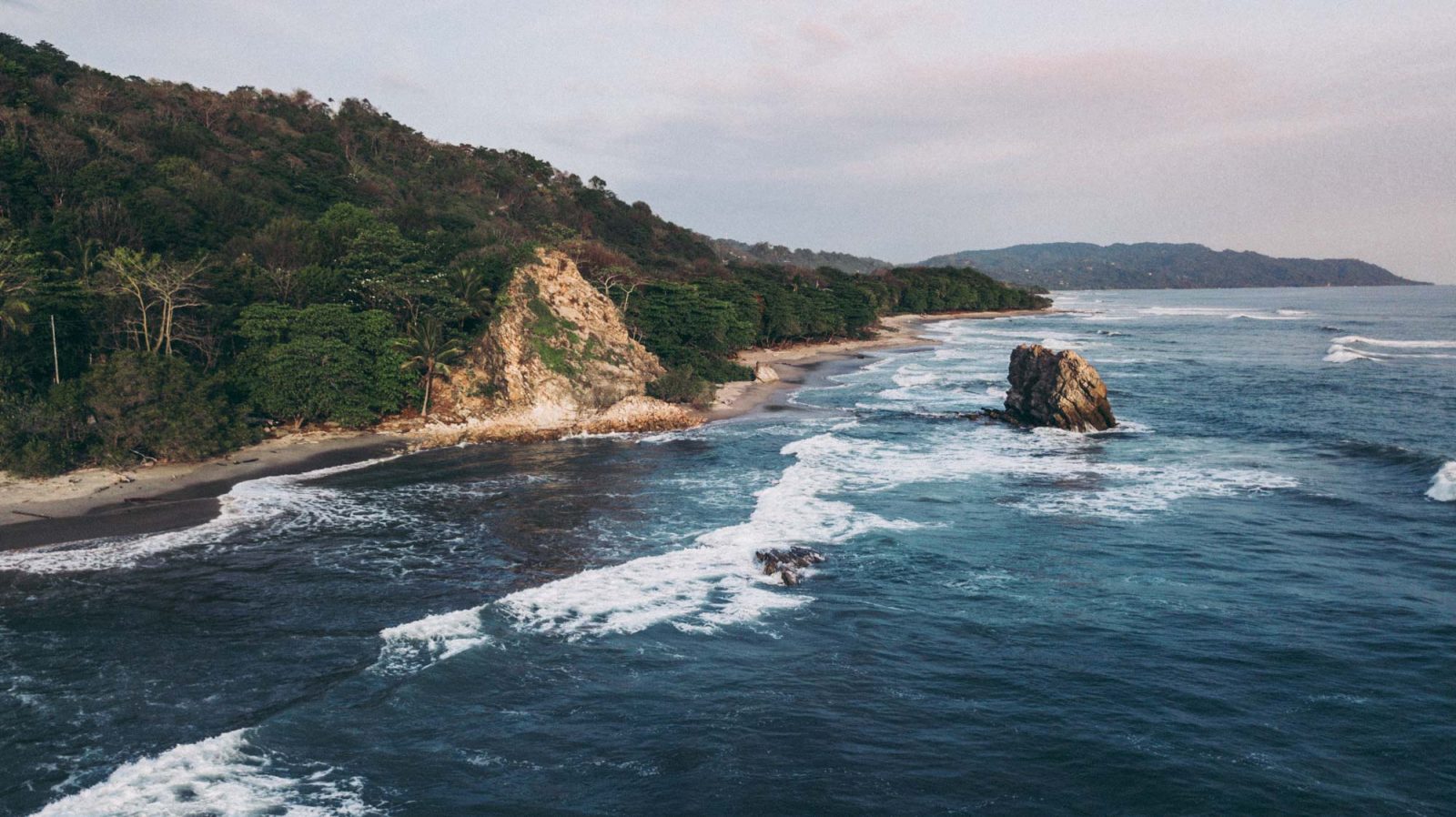 Osa Peninsula
If you plan on going to Osa Peninsula while you're in Costa Rica, be aware that rideshare options are non existent in this area. If you're venturing to the Osa Peninsula, you'll want to rent a car, and we recommend renting a 4×4. Many roads on the peninsula are unpaved, and all of the roads can be challenging during the rainy season.
Montezuma
If you're hoping to use the Uber app in Montezuma, Costa Rica, then you're going to be disappointed; even regular taxis are difficult to find. Your best option for just getting around town is to rent a mountain bike.
La Fortuna
You'll be surprised to learn that Uber is available in La Fortuna, Costa Rica. We certainly were! With a couple of Uber cars in circulation, getting around using the Uber app is possible. Given that many hotels in La Fortuna are located outside of the main town while restaurants, shops and many activities are in town, getting to and from town without a car can be a challenge.
Uber in La Fortuna can certainly help, but we would not rely on it as your main means of transportation. If you are traveling to La Fortuna without a car, we recommend getting an introduction to a local taxi driver from your hotel and using the same driver for all your transfers while in town. You'll form a good rapport with the driver throughout your stay and likely get better prices as well.
What You Need to Know About Using Uber in Costa Rica
Here are some tips:
Uber is a great option in the city of San José – There are lots of cars, it's reliable and fast. It's proven to be a decent alternative to public transportation buses, especially during the wee hours.
Do not rely on Uber anywhere else in the country – Car rentals and shuttles are a far better option outside of San Jose.
Uber at San Jose Airport can be challenging – It's been temporarily banned and blocked by airport WiFi. It's still available, but you'll need to arrange an alternative pickup location to ride.
Know where you are getting picked up – At SJO Airport, for example, pick-ups don't happen at the arrivals terminal. Usually drivers use the bus stop, but pay attention to the app and prepare to walk a bit.
Make sure you have data on your phone – Along with blocking the app, any airport WiFi will cut out once you leave the terminal. We recommend getting a Solis WiFi hotspot and using it for 1 day upon your arrival at any new destination. Just turn it on, give it a few minutes to boot up, and you've got internet. This buys you some time to find a good SIM card to use for the rest of your time in the country. Once you get a SIM, having a local number makes it a lot easier to communicate with your Uber driver.
Be prepared to wait – Traffic in San Jose is horrible, especially during rush hour.
Your trip may take longer – With crazy traffic and busy streets, don't expect zippy New York City-style service.
Don't use the schedule ride feature to book in advance – While it seems convenient, there's no guarantee that a car will be available. This can leave you stranded without a ride in an area with no cell service. It's always better to request the trip from your pickup location.
Don't be surprised if your Uber vehicle is not as modern or as big as you might expect – This is especially important if you're travelling with luggage. You'll want to opt for an UberXL if you have multiple people and baggage.
Never pay your Uber driver in cash – Always use the payment feature in the app. It's more secure for you and you know your driver will receive the money.
Book the Best Car Rental in Costa Rica

Renting a car in Costa Rica can be one of the most challenging parts of your visit! Unfortunately, car rentals in Costa Rica often come with significanthidden insurance fees, result in many frustrations at pick-up. The experience has ruined many trips and ballooned trip budgets for friends, family and followers. After years of not having a good solution, we finally found an honest car rental company that we proudly recommend to our readers.

We recommend booking with Vamos Costa Rica – a local car rental company that offers fantastic service and NO HIDDEN FEES and get 10% of your rental rate plus FREE additional driver, FREE child seat and other perks and benefits when booking through our link below!

Book early as rental car availability all across Costa Rica is currently lower than demand!
Tips for Driving in Costa Rica
Whether you decide that renting a car is the better option, or if you simply can't avoid it, here are a few tips for driving in Costa Rica.
Use the Waze App: You'll need a phone with a cell connection, but it is essential to have. The absence of street signs and poorly designated roads make driving in Costa Rica tricky.
Be patient: It's possible for Costa Rican roads to be congested and twisty, and you can run into unforeseen roadblocks like potholes or animals. To prevent accidents, it's crucial to drive gently and cautiously.
Be mindful of traffic laws: although they are comparable to those in the United States or Canada, there are significant changes that you should be aware of. For instance, you must always carry your passport and driver's license with you.
Avoid driving at night: Roads in Costa Rica are not well lit and might be challenging to see other vehicles, pedestrians, or animals on the road. If at all possible, try to avoid driving at night.
Hire a four-wheel drive: Renting a four-wheel drive vehicle is an excellent option if you intend to go through Costa Rica's rural or isolated locations. 4×4 is essential if you are traveling to Costa Rica in the rainy season.
Be on the lookout for scams: Dishonest locals take advantage of tourists by causing accidents or alleging that you damaged their vehicle. Avoid arguing or fighting with other drivers and drive carefully.
Make sure you have a spare tire and the tools to change a tire and know how to do it. The roads in Costa Rica are not great and it's better to be over-prepared than to be stranded.
If you're used to driving an automatic, you'll have to specify when renting a car. Cars with manual transmissions are more common in Costa Rica.
Some bridges only have one lane, so only one car can pass at a time. In order to get across, cars going in either direction will have to alternate and wait their turn.
Final Thoughts
When it comes to using Uber in Costa Rica, our advice is to skip it unless you're in San Jose. Your best bet is to rent a car or organize transfers with reputable companies to avoid fraudulent taxi charges and lack of Uber cars on the road.
When we travel in Costa Rica, we prefer having our own wheels to give us the freedom to explore and the flexibility to get around at our own pace. While we'd love to be able to recommend using public transportation, Costa Rica taxis or shared car services, the truth this hasn't been a priority for the Costa Rica Government and the infrastructure and great public transportation system isn't available in most parts of the country.
Renting a car is really the best way to get around Costa Rica!
Have you tried riding Uber in Costa Rica? What was your experience like?