The Great Ocean Road is a spectacular long-distance walk that traverses the Great Ocean Road, one of Australia's most scenic destinations.
*This post may contain affiliate links, as a result, we may receive a small commission (at no extra cost to you) on any bookings/purchases you make through the links in this post. As an Amazon Associate, we earn from qualifying purchases. Read our full disclosure
Stretching along 243-kilometres between the cities of Torquay and Allansford, just outside of Melbourne, Victoria, the Great Ocean Walk winds through varying terrain ranging from lush rainforest to jagged coastline and offers stunning views along the way!
Despite having already experienced the Great Ocean Road on our previous travels through Australia, we knew that this is a destination worth a second look at a much slower pace to really take it all in.
We opted to ditch the car and traverse a part of the Great Ocean Road on foot on a Great Ocean Walk with Twelve Apostles Lodge and the Australian Walking Company.
This walk is well known as one of the Great Walks of Australia, so we were thrilled to experience it for ourselves! And as we learned, having a local guide on this adventure made all the difference while exploring this region's diversity!
Traveling Soon?

Here is a list of our favourite travel providers and accessories to help get you ready for your upcoming trip!
Watch the highlight video of our walk below!
About the Great Ocean Walk
The Great Ocean Walk is one of Victoria's top long-distance walking trail adventures in Mainland Australia.
This captivating 100-kilometer trail begins in a quaint town of Apollo Bay, located about 200 kms west of Melbourne, within the world-famous Great Ocean Road region, and ends at the iconic Twelve Apostles. It gives hikers a vibrant experience featuring amazing panoramic views and historical landmarks, wildlife encounters, wild rocky shores, and pristine beaches like Wreck Beach.
The Route: The Great Ocean Walk trail is divided into several short walks, making it accessible for hikers of different experience levels. The duration of the Great Ocean Walk can vary based on individual preferences and hiking speed. On average, completing the entire 100-kilometer trail typically takes around 7 to 9 days.
This beautiful scenic walk passes through diverse terrain, offering amazing views of the tall forests of the Great Otway National Park and Port Campbell National Park, among other scenic highlights.
There are 8 key segments en route, including
Apollo Bay to Marengo: This is the starting point of the Great Ocean Walk and is a relatively easy section, taking you through coastal heathland, providing picturesque views of the Southern Ocean and the unique beauty of the coastal heathlands landscape.
Marengo to Blanket Bay: This segment features stunning views of the Cape Otway coastline, and you'll pass by beautiful beaches, including Shelly Beach and Parker Inlet.
Blanket Bay to Cape Otway: This part of the trail starting Blanket Bay leads you through lush rainforests, including the iconic Maits Rest Rainforest Walk, showcasing ancient trees and vibrant ferns. It can include a detour to Station Beach and a stop at Bimbi Park.
Cape Otway to Aire River: As you continue, you'll encounter the historic Cape Otway Lightstation and then hike through coastal woodlands, with glimpses of the ocean through the trees.
Aire River to Johanna Beach: This is one of the most challenging sections, with some steep ascents and descents. However, the panoramic views and the wild, undeveloped coastline are well worth the effort.
Johanna Beach to Ryan's Den: This part features more coastal woodlands and provides the opportunity to observe wildlife like wallabies, kangaroos, and a variety of bird species.
Ryan's Den to Devils Kitchen: You'll reach the dramatic sea stacks and arches of the Shipwreck Coast, with excellent viewpoints for photography and taking in the awe-inspiring scenery.
Devils Kitchen to Twelve Apostles: This is the final stretch of the walk, leading you to the famous Twelve Apostles rock formations, a must-see highlight of the trail.
Each segment varies in terms of terrain and difficulty, ranging from relatively easy coastal paths to more challenging sections with steep inclines and uneven terrain.
Managing Water and Food on the Great Ocean Walk
Water On the Great Ocean Walk
Water on the Great Ocean Walk can be scarce. Campsites do offer rainwater tanks, but their availability depends on rainfall. It's important to note that the rainwater is untreated, so carrying a filter or purifier is essential for safe drinking.
Food Options at Great Ocean Walk
For food provision, there are some restaurants and small grocery stores along the trail open during business hours, mainly in places like Apollo Bay, Cape Otway, Lavers Hill, Princetown, and Port Campbell. Many hikers opt to arrange resupplies with the help of a tour company or independently.
Best Time to do the Great Ocean Walk
Hiking along this world-famous coastal trail is a rewarding walk experience, but it's important to select the best season to match your preferences and expectations.
Spring (late September to late November):
Spring is the best and most popular time to explore the Great Ocean Walk. Expect mild temperatures with average highs of 18-22°C, occasional rain, and vibrant wildflowers like the kangaroo paw, flannel flower, and billy button, turning your hike into a colorful adventure.
Summer (December to February):
Summer can be hot and humid in this part of Australia. Expect average highs of 25-30°C, especially in January and February. Summer is the best time for spotting marine life, like dolphins, seals, and whale watching, as well as seabirds like penguins and gannets. But be warned, for scorching temperatures, pesky flies, and forest fire risk.
If you are going to embark on the Great Ocean Walk in the summer, start your day early and carry plenty of water.
Autumn (March to April):
Autumn is another popular season for hiking adventure along the Great Ocean Walk. This season sees pleasant sunshine, mild temperatures with average highs of 15-20°C, and fewer crowds. While the days are mostly sunny, occasional light showers can surprise you, so packing rain gear is wise.
Winter (May to August):
Winter is the wettest season on the Great Ocean Walk, with average highs of 10-15°C. The weather rejuvenates the rainforest environment with increased rainfall but often leads to muddy trails and cold conditions. Pack High-quality wet weather gear and durable boots.
Great Ocean Walk with Twelve Apostles Lodge
There are two Great Ocean Walk options available via Twelve Apostles Lodge. It's important to note that these walks do not cover the entire Great Ocean Walk trail but offer a chance to hike some of the most picturesque and memorable sections of the trail.
Twelve Apostles Signature Walk is a 4-day (56km) hike that includes the following sections:
Blanket Bay to Cape Otway (3 hours)
Milanesia Track to Moonlight Head (6.5 hours)
Moonlight Head to Wreck Beach (3 hours)
Princetown to the Twelve Apostles (3.5 hours)
Twelve Apostles Weekend Walk is a 3-day (29 km) long weekend hike that offers you a chance to hike even smaller sections of the Great Ocean Walk trail, including:
Blanket Bay to Cape Otway (3 hours)
Moonlight Head to Wreck Beach (3.5 hours)
Princetown to the Twelve Apostles (3 hours)
You'll find more information on each option below
The Twelve Apostles Signature Walk
This is a 4-day hike that starts at Castle Cove and ends at the magnificent rock formation outside of Port Campbell.
Distance
This walk spans 56 kilometers; hikers are immersed in the region's rugged beauty and captivating coastal scenery.
Route
The hike follows the second half of the Great Ocean Walk trail but allows for a more comfortable way to experience the region. Making it a unique Great Ocean Road hike.
Accommodation
Thanks to the fact that the Twelve Apostles Lodge Walk runs out of the Twelve Apostles Lodge located in Johanna, Victoria, we did not need to worry about camping along the trail, securing an 8-day supply of food and drink, or carrying heavy camping gear.
At the end of every day, we were whisked away to a luxurious lodge with comfortable rooms, hot showers, and gourmet food. It was the perfect way to combine the great outdoors, hiking, and a little bit of pampering!
Difficulty
While challenging, the Signature Walk is well-suited for moderately experienced hikers with good fitness.
The Twelve Apostles Long Weekend Walk
For a shorter yet captivating hiking experience, the Three-day Long Weekend Walk offers a delightful taste of the Great Ocean Walk region.
Distance
This ocean walk spans 29 kilometers, providing a more manageable exploration of the region's beauty.
Accommodation
Just like the Signature Walk, the accommodations for the Long Weekend Walk are provided by the Twelve Apostles Lodge, ensuring a comfortable stay for those with limited time to spare.
Difficulty
Tailored for those who prefer a less physically demanding experience, this walk is ideal for individuals or groups seeking an accessible introduction to the Great Ocean Walk region.
Whether you choose the comprehensive journey of the Twelve Apostles Signature Walk or the more concise adventure of the Long Weekend Walk, the Twelve Apostles Lodge offers remarkable accommodations and a unique blend of outdoor exploration and relaxation. These two hiking options cater to different preferences in terms of distance, difficulty, and the duration of the adventure, ensuring there's an ideal choice for every nature enthusiast.
It's been a few years since our experience hiking on the Great Ocean Walk with Twelve Apostles Lodge. Since our visit, the route of the hike has changed a bit (as we described above). However, the beauty of the region and details of our experience hiking the Great Ocean Walk trail with the crew from Twelve Apostles Lodge stand the test of time.
Here is a day-by-day recap of our time on the trail to help you get immersed in the experience firsthand.
Twelve Apostles Lodge Walk: Day 1
Distance: 6.5km/ 3 hours
Trail: Castle Cove to Johanna Beach
Difficulty: Easy to Moderate
Our day began early in the morning with an early transfer from Melbourne, embarking on our journey along the Great Ocean Walk. While en route, we got to know some of the other fellow hikers and our trusted guide, Darlene.
Time passed quickly, and we soon found ourselves at the Twelve Apostles Lodge, our first night and base for the next 4 days. It was here that we met the rest of our group and geared up for the first part of the hike.
After a delicious morning tea, we laced up our boots and packed our bags with lunch, snacks, and supplies for the day before jumping in the van headed for Castle Cove, the starting point of our hike. The shuttle services made our journey even more convenient and enjoyable.
The views at Castle Cove were phenomenal and got us excited for the days ahead.
The first part of the trail followed close to the ocean, exposing the jagged cliffs and stunning vistas. Lunch break was a great excuse to sit down at one of the lookouts and take in the beauty of the area.
From there, the trail moved deeper into the Great Otway National Park, and we found ourselves in the lush vegetation of tea trees. After emerging from the canopy, we stopped at the Dinosaur Cove within Great Otway National Park to hear stories of Dinosaur remains dating back 104 million years that have been discovered in this exact area.
The last part of the trail was a 2km hike along Johanna Beach. It was a great spot to kick off our boots and just enjoy the sand between our toes under big skies. The shoreline was a cool fusion of soft sandy beaches and rugged rocky shore platforms. It was a beautiful location for an ideal picnic by the great ocean walk sea.
As it turned out, hiking on the sand in bare feet was a bit tougher than we expected, so we slowed down our pace and meandered toward the end of the beach, giving ourselves plenty of time to snap photos and enjoy the scenery!
We were back at the Twelve Apostles Lodge by around 4pm with plenty of time to relax and unwind before dinner with our group and our fearless leaders. We couldn't help but appreciate the wild nature of the area and the tall forest of trees surrounding us during this section of the Great Ocean hike.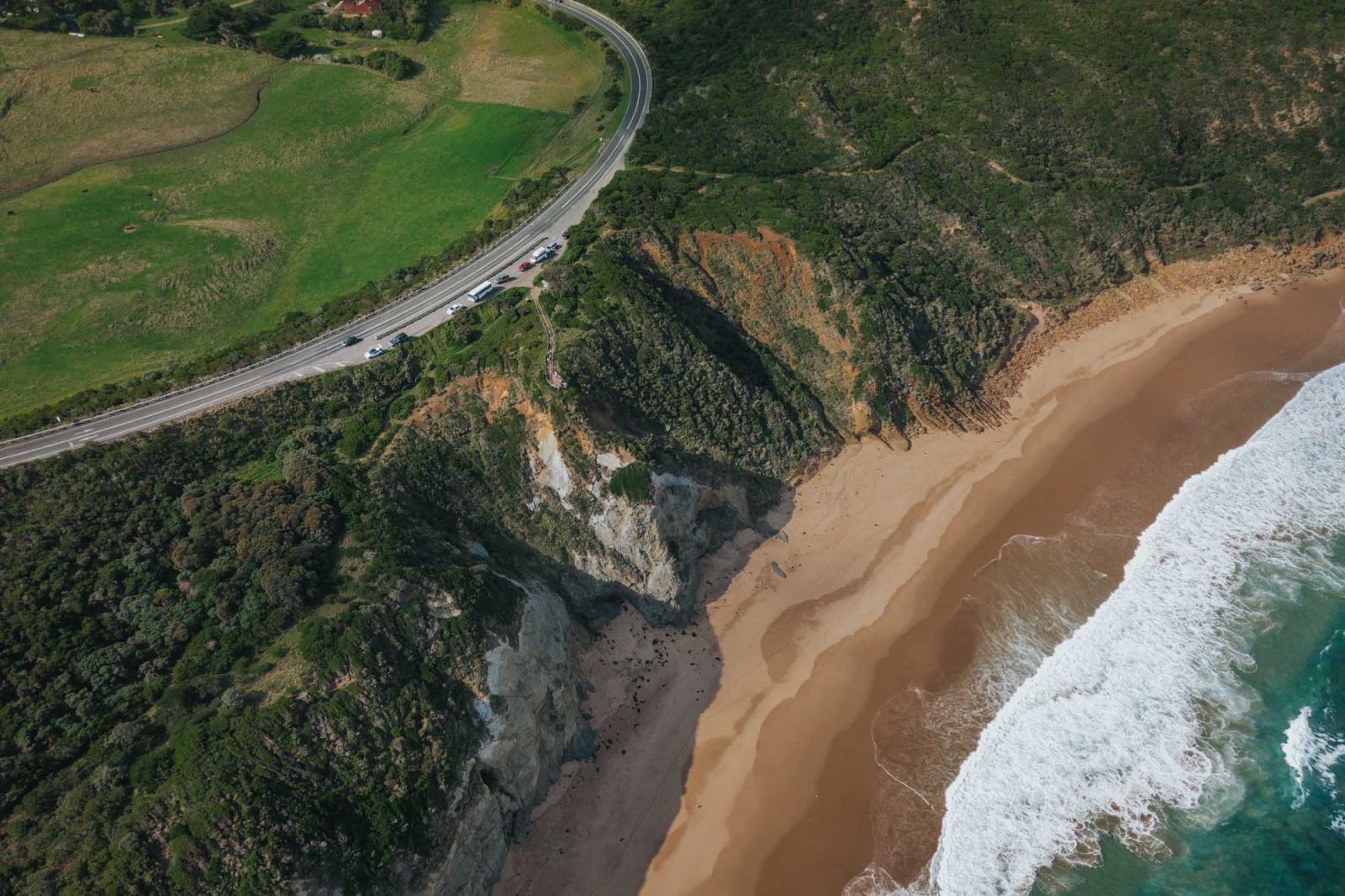 Twelve Apostles Lodge Walk: Day 2
Distance: 15km/ 6-7 hours
Trail: Milanesia Track to Moonlight Head
Difficulty: Moderate
Day 2 was definitely the hardest section of the walk covering 15km of the wildest, most rugged, and remote part of the Great Ocean Walk. But what we gave in effort we gained in breathtaking seascapes.
Our walk on Day 2 started on Milanesia Track descending onto Milanesia Beach before a short but challenging climb back to the trail. This was just a taste of what's to come!
We continued on the trail through deep gullies and thick forest, up 132 steps before heading west to Ryans Den where we stopped for lunch.
In the afternoon, we continued along the trail, enjoying the amazing views of Cape Volney and Cape Otway, framed with the tall forests. Our final destination for today's hike was Moonlight Head.
Twelve Apostles Lodge Walk: Day 3
Distance: 12.5km/ 6-7 hours
Trail: Moonlight Head to Princetown
Difficulty: Easy
Another long day of hiking ahead for Day 3, but much less climbing involved! The day kicked off at one of the country's highest cliff-top viewing points, the Gables Lookout.
From there we headed to Wreck Beach, aptly named since over 300 ships came a cropper along this particular stretch of coastline. It was here that we got a chance to see the remains of two famous shipwrecks – Marie Gabrielle and Fiji.
One of the best things about our experience on the Twelve Apostles Lodge Walk was the constantly changing scenery, nature, and landscape. We admired ocean walk views, sandstone, limestone, thick Eucalypt forest, native plants and wildflowers as we made our way to the Gellibrand River.
On Day 3, the freshwater marked the entrance to Port Campbell National Park and the end of our hiking for the day. Port Campbell National Park was a great spot to take a refreshing dip after all the trekking! truly made the Great Ocean Walk a spectacular and unforgettable experience.
Twelve Apostles Lodge Walk: Day 4
Distance: 3 hours
Trail: Princetown to the Twelve Apostles
Difficulty: Easy
The final trekking day was a lot less taxing than all the other days of our Twelve Apostles Lodge Walk. Starting from Princetown, just by the Gellibrand River, we had a fairly easy 30-60 min walk before the excitement of finally reaching the final steps of our journey had set in.
It wasn't long until the formations of the 12 Apostles were peaking out on the horizon…
We learned that today, there are only 7 Apostles left and for a minute felt a bit cheated. Isn't this the Twelve Apostles Walk? But as it turned out the Apostles above ground have been eroding over time. Meanwhile, 5 new stacks are actually forming under the waves!
The 7 visible land formations were grand enough to take our breath away. As the trail rose and they all came into view, we soon forgot all about the aches and pains of the last 4 days and were mesmerized by the sight ahead.
Before getting closer to the Apostles, we descended down the Gibson Steps to admire the Apostles from sea level. We had the incredible opportunity to traverse the breathtaking Great Otway National Park with its towering woodlands, granting us a glimpse into the extraordinary array of native plant and animal life in the area. This gave us a unique perspective of the Apostles height, one 73-metres tall, almost the equivalent of a 20-storey building.
From here, we had a unique opportunity to bypass the crowds at the viewing platform and admire the Apostles from above on a breathtaking helicopter ride along the coast. It was the perfect ending to our spectacular Great Ocean walk.
Accommodation At The Twelve Apostles Lodge
The Twelve Apostles Lodge felt like home! It provides accommodation along Great Ocean Road, if home was surrounded by rich rainforest and came with a foot spa, a dining room stocked with wine, and someone else preparing great food for you every night!
The rooms were large, spacious en-suites with a comfortable king-sized soft bed, perfect for stretching out and resting weary bones after long days hiking.
The Lodge is used only by your walking group, which means we weren't sharing the facilities with loads of strangers! It was a nice benefit!
The eco-conscious travelers in us were happy to hear that the Twelve Apostles Lodge is also a sustainable accommodation option. Their eco-award-winning design includes solar and hydronic power, a self-sufficient water supply, on-site wastewater treatment, composting, and more!
After your day of hiking, you can look forward to a hot shower to freshen up and rejuvenate.
If you are looking for a home away from home Twelve Apostles Lodge will be your ideal haven along the Great Ocean Road.
Food At Twelve Apostles Lodge
You certainly worked up an appetite during the day, so the food was an important element of our experience on the Twelve Apostles Lodge Walk and it didn't disappoint!
Every evening as we returned from our trek, we were treated to canopés and drinks while we freshened up before dinner.
Every meal was well presented, and we dare to say it would rival some restaurants in Melbourne. On top of the evening meals, we were also provided with a hearty breakfast to set us up for the days walking, plus a packed lunch and some snacks for the day. We were well-fed, that's for sure!
The Overall Experience
What we loved about the Twelve Apostles Lodge Walk was the diversity of the landscapes and variety of terrain. Our guides entertained us with fascinating tales of the area's rich history, delving into topics ranging from the iconic Cape Otway Lighthouse to the region's multifaceted diversity.
The trail offered an opportunity to experience this part of Australia in a way that we haven't before. It allowed us to get closer to the coastline and into the forests and the eucalypt trees, something we wouldn't have been able to do on our own. Plus, the absence of mobile phone distractions allowed us to fully immerse ourselves in this Great Ocean Walk.
And the fact that we got to do it all in absolute comfort was just icing on the cake!
About the Australian Walking Company & Great Walks of Australia
Australian Walking Company is an eco-certified Australian Walking Holidays operator offering walking trips on the Australian mainland and in Tasmania.
Through slow journeys on foot, the Australian Walking Company provides the opportunity for travelers to experience some of Australia's most beautiful and remote destinations. These include two mainland hikes (Great Ocean Walk and Kangaroo Island) and 5 hikes in Tasmania.
Great Walks of Australia is a unique collection of independently owned, guided, multiday walks designed to actively immerse travelers in Australia's most iconic landscapes. The Australian Walking Company is one of the many providers that offer iconic walks across Australia.
Have You Walked The Great Ocean Road? What Were Your Favourite Stops Along The Way To The Twelve Apostles?
Disclaimer: Our Twelve Apostles Lodge Walk was a hosted experience courtesy of the Australian Walking Company and the Great Walks of Australia. But as always, all opinions expressed in this article are our own.