*This post may contain affiliate links, as a result, we may receive a small commission (at no extra cost to you) on any bookings/purchases you make through the links in this post. As an Amazon Associate, I earn from qualifying purchases. Read our full disclosure.
Last September, en route from Australia to Costa Rica, we made a much-anticipated stop in Ukraine to finally introduce Max to my extended family and to attend my cousin's wedding. Despite the fact that I grew up in Ukraine (my family moved to Canada when I was 15 years old), I had never attended a traditional Ukrainian wedding before and had no idea what to expect. I guessed that there would be an intimate church ceremony followed by a backyard reception in the bride's village.
Planning a Trip in the time of COVID?

Keep in mind that information found in this article may have been impacted by travel restrictions and other closures. Double check opening hours, tour providers and hotel status before you go. And don't leave your home without travel insurance! If you are looking for an insurance provider that covers COVID-19, we recommend SafetyWing. Get Medical and Travel Insurance starting at just $40/month and you can sign up even if your trip has already started!
To our big surprise, the wedding was far different from that. There was a civil wedding ceremony, a white Ukrainian wedding dress and a suit, a banquet hall, chandeliers, overflowing amounts of food, and some dancing.
From the outside, the wedding looked similar to what you would typically expect to see in North America. But weaved through the traditional Ukrainian wedding were a ton of quirky details, Ukrainian wedding traditions, games, and surprises that made it one of the most unique and memorable weddings we've ever attended.
1. Paying the Ransom
The morning of the wedding, we got our first taste of Ukrainian wedding customs. The groom (my cousin) had to go to the bride's parent's house to pay the ransom to get his bride. His best man, along with his immediate family (which also included my family, Max and I) were allowed to come along for moral support.
He arrived at the house with two loaves of bread to gift to the bride's family. But instead of being taken inside right away, he was greeted by the bridesmaids whose responsibility was to protect the bride from getting "stolen" without the adequate ransom.
The girls worked hard to up the price of the ransom by stumping my cousins on questions about his bride (every wrong answer required him to pay more), forcing him to shower her with compliments and do whatever else was necessary to get him to drop more cash. After about 15 minutes of laughter and solid entertainment for all, my cousin was allowed inside to get his girl.
In some iterations of this Ukrainian wedding tradition, the parents of the bride actually bring out another woman or man dressed as the bride and covered with a veil, so the groom can't see her face to trick the groom. It is said that once the groom realizes that it is not his bride, he is asked to pay for the bride who is much more valuable.
It is also said that if the bride's parents meet the groom at the door with a pumpkin, it means that his offer of marriage was not accepted by either the bride or by her family. The pumpkin is something for him to carry, so that he doesn't leave empty-handed.
Luckily for us, no pumpkins were exchanged during my cousin's wedding.
2. Blahoslovenja (Blessings)
Blahoslovenja is a ritual that typically takes place shortly before the ceremony and involves the parents and grandparents giving their blessings to the couple. In my cousin's case, the ritual took place right after the ransom was settled inside the bride's parents house. The couple and both sets of parents exchanged bows, and the parents gave the bride and groom their best Ukrainian wedding wishes and blessings for a happy and prosperous marriage.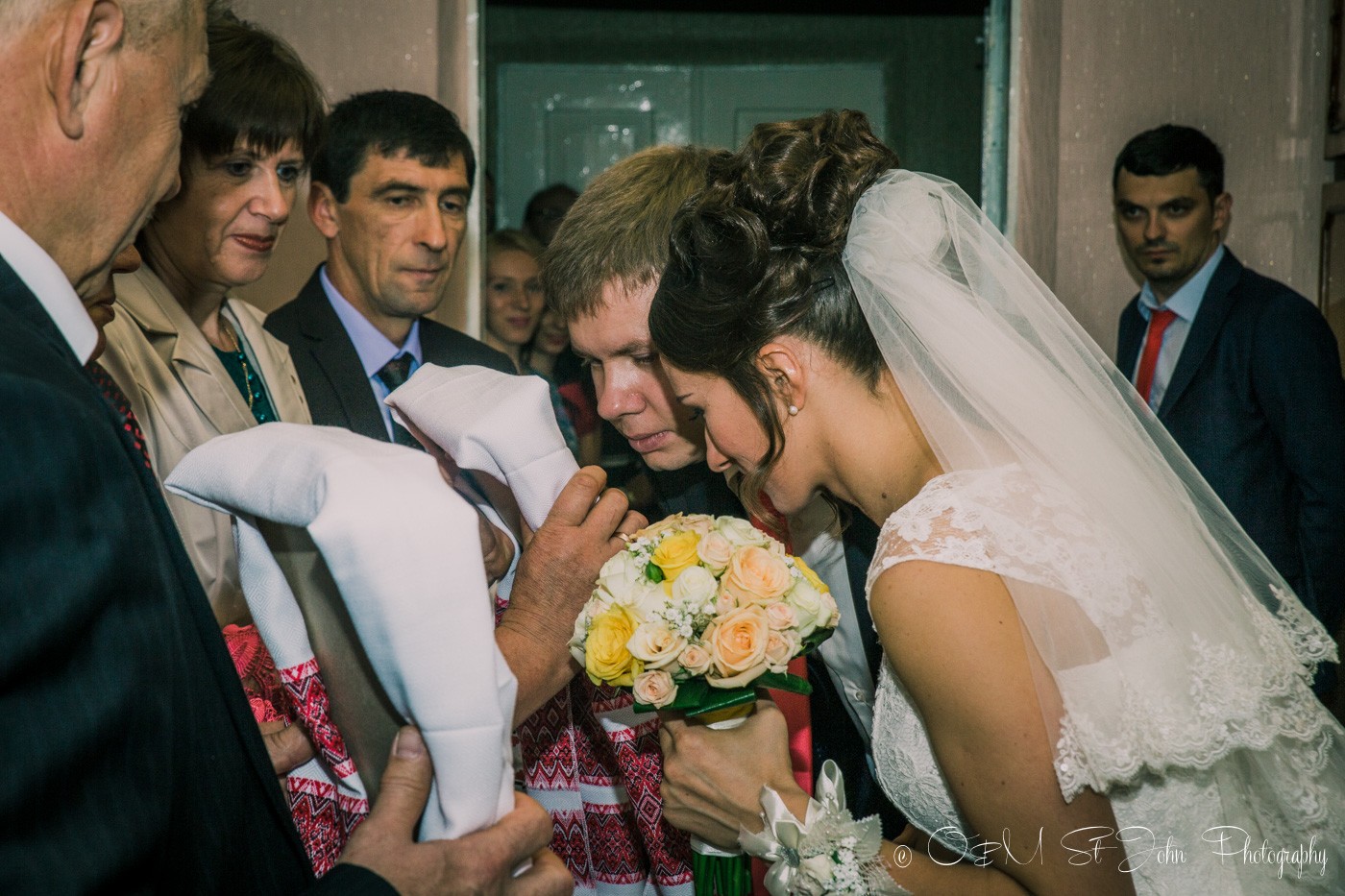 3. Stepping on the Rushnyk ( embroidered cloth)
Almost every Ukrainian wedding ceremony will see the couple step on a traditional embroidered cloth (referred to as rushnyk) before they take their vows. Traditionally, the person that steps on the Ukrainian wedding rushnyk first, will wear the pants in the family, so to say, and have the final say throughout the marriage. It seems that the groom almost always lets the bride step on the Ukrainian wedding rushnyk first, a gesture that is both respectful and endearing during the marriage ceremony.
4. The Ukrainian Wedding Ring Finger
During the marriage ceremony Max was surprised to see my cousin slipping the wedding ring onto the right hand of this bride. That's because unlike in North America where wedding rings are traditionally worn on the left ring finger, a Ukrainian wedding ring finger is on the right hand.
The bride will wear her ring on the same finger throughout her life unless her husband dies before her. In that case, she will switch hands demonstrating that she is a widow.
5. Korovai Ukranian Wedding Bread
Korovai is known as an Ukrainian wedding cake. It's a large round braided bread baked from wheat flour often decorated with various symbols and figurines that's given to the bride and groom as a marriage blessing. It's a delicious, slightly sweet substitute for bread.
While the couple may try pieces of it during the wedding, it is much more likely for the Ukrainian wedding cake to be consumed in week(s) after the wedding. My cousin and his wife received at least 3-4 Korovai Ukrainian wedding bread on their big day. Too many to consume on their own. So luckily, Max, myself, and the rest of our family were there to give them a hand.
A typical Ukrainian wedding bread recipe includes evaporated milk, sugar, wheat flour, butter, eggs, and vanilla. However, some have rum extract, zest of lemon and other ingredients which are often passed through the generations by way of a family Ukrainian wedding bread recipe.
Bread has a lot of symbolism in Urkrianian weddings. Traditionally, a bride would move into the groom's house immediately after the wedding ceremony, without a reception like my cousin had, and so they were greeted there with bread and salt.
Of the Ukrainian wedding traditions, bread & salt carry the most meaning. Bread is symbolic of a Ukrainian wedding blessing for wealth and good luck. While, salt was considered a protector of evil spirits. They were meant to be eaten together.
Sometimes at modern day traditional Ukrainain weddings the couple will still eat the Korovai with salt. However, my cousin and his bride forwent this unpleasant tasting wedding tradition.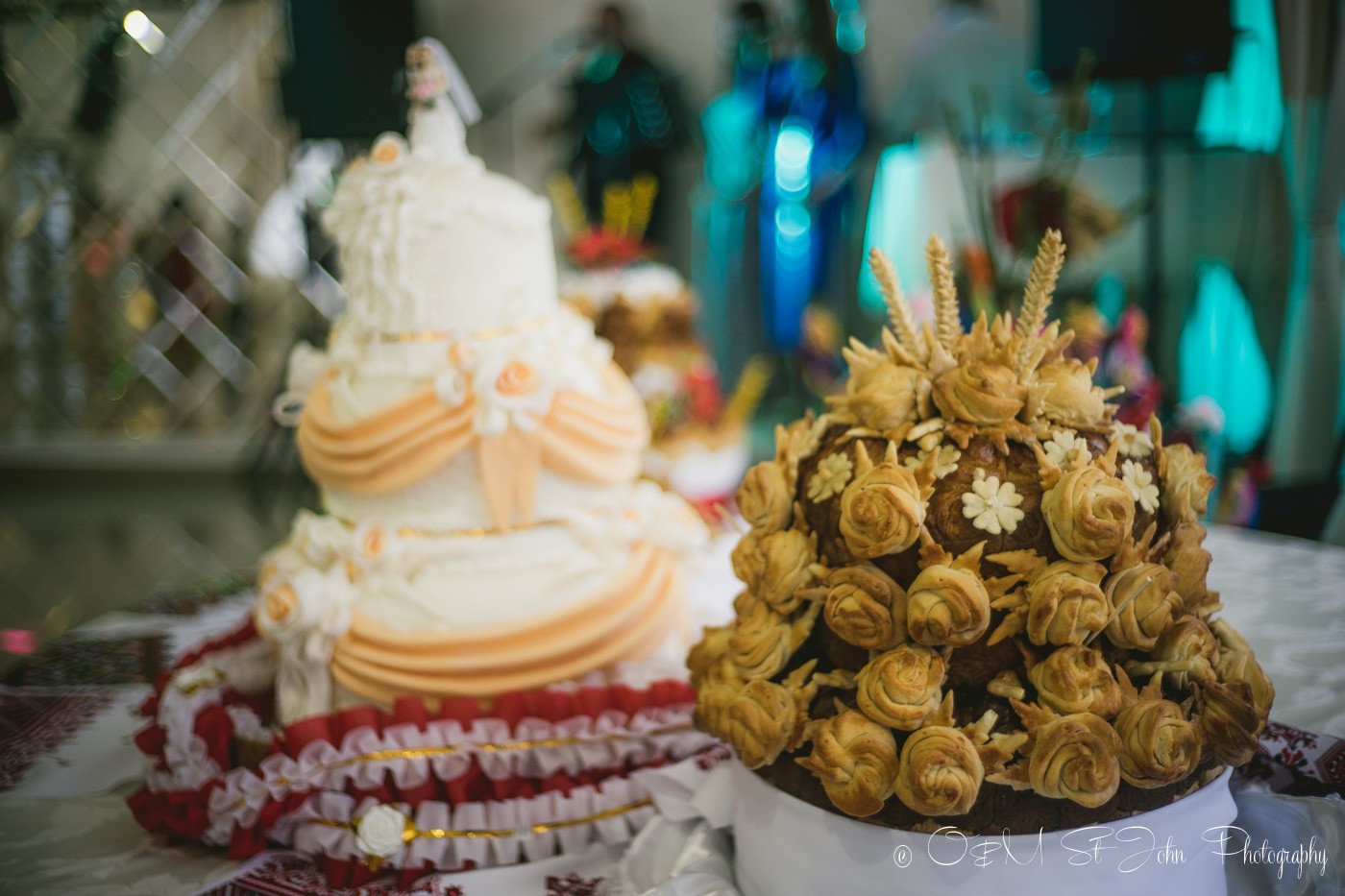 6. Kidnapping the Bride
One of the Ukrainian wedding reception traditions is the "kidnapping of the bride". Numerous times throughout the night, the bride would disappear from the banquet hall and be held captive by her bridesmaids until the groom carried out some dares. I think the idea behind the kidnapping was to make the groom do something he isn't fond of, but in the case of my cousin's wedding all the dares involved vodka.
The first time the bride went missing. He had to drink a shot of vodka from her shoe (Cinderella style). But, as the night progressed the symbolism gave way to practicality. The bride would run off with the girls, leaving my cousin and his friends to tend to vodka. Of course Max joined in.
7. Hirko! Ukrainian Wedding Toast
Ukrainian weddings are renowned for toasts. At times it felt like someone was saying a toast every time we reached over for another sip. Parents, grandparents, uncles, aunts, second cousins twice removed, it felt like everyone had something to say. And every toast ended in a famous Ukrainian phrase "Hirko!", meaning "bitter", which indicated that the bride and groom had to kiss.
As the Ukrainian wedding toast tradition goes, if something is "bitter," kissing will sweeten it. The guests loved yelling out "hirko!" whenever they could and the couple looked so tired of kissing we almost felt sorry for them.
8. Wedding Games & Activities
There were a ton of games and activities going on throughout the night. It felt a bit too much for us (where was all the dancing?), but it made sense when we later learned that Ukrainian weddings are all about entertainment.
Guests expect to be entertained throughout the night and it's up to the bride and groom along with their MC (which they call "tomoda" in Ukraine) to keep the spirits high throughout the night.
The Guessing Baby Gender Game was one of the easier games to understand. The best man and maid of honour each walked around the room asking for the crowd to vote on the gender of the couple's first baby. Those voting for a girl had to drop money into the best man's bucket, and those hoping for a boy, would put money into the maid of honours bucket. The votes were in and according to the friends and family's opinions, they will be having a boy!
9. Single Ladies Dance
During the festivities, all the single ladies (unmarried, which included me at the time), were invited to the floor for a Ukrainian wedding dance. We lined up for our turn to dance with the bride and after an awkward 15 second dance, the bride would spin each one of us and sit us down on a chair.
The premise was to jump up from the chair as quickly as possible (the longer you sit, the more likely you are to end up sitting alone for the rest of your life) and grab a piece of paper out of a hat. The paper would give you your love life prophecy. Mine said that I was going to marry a Hollywood actor. Instead I married a traveler.
10. Favourite Part of the Body Dance Off
This Ukrainian wedding dance was by far the most embarrassing activity I took part in throughout the entire evening! A few of the girls were hand selected by the bride ("You have to play this one", my cousin's wife said as she pulled me towards the dance floor, "it's such a fun one"), to form a line in front of the best man.
One by one we had to do a little catwalk dance for the best man. This is to help him identify each girl's most attractive part of the body. Luckily the best man knew there was a catch to his selection. He picked the most obscure parts, like elbow, knee, and toe. When the catwalk dances were over he was instructed to kiss his favourite part of each girl's body. I got a kiss on the eyebrow and shuffled back to my seat mortified. Never again!
The games continued on all night and Max got a chance to participate in some as well. With my brother by his side as his official translator, he bonded with the rest of the guys at the wedding over vodka, ridiculous dances, Ukrainian wedding songs, horrible singing and wedding traditions.
FAQ's
Do Ukriainans have an arranged marriage?
Nope, Ukrainian dating looks pretty similar to dating in North America. However, gender roles are somewhat more defined.
When it comes to who will pay for the wedding ceremony it is written in any marriage traditions that either party will pay for the ceremony. Sometimes it's the couple themselves and sometimes they get help from their families.
What is traditional Ukrianian wedding dress like?
Before Soviet rule, the traditions were that brides would wear embroidered dresses and Ukrainian wedding crowns to their marriage ceremonies. The traditional Ukrainian wedding dress would be colorful, vibrant with lots of patterns, embroidery, and ornaments. It would be complimented by a Ukrainian wedding crown which would be hand woven, like a wreath. Whereas, the men would wear similarly embroidered shirts with plain trousers to be married.
Today, wedding dress traditions are similar to that of North America. Like my cousin and his bride, most couples wear the standard white wedding gown and black suit to be married. However, there will sometimes be touches of embroidery on the dress or veil. Some brides will wear a Ukrainian wedding crown made of flowers.
What are traditional Ukrainian wedding gifts?
The most popular Ukrainian wedding gifts are sealed envelopes with money. At most Ukrainian weddings the bride and groom will line up and guests will greet the happily married couple one-by-one with a sealed envelope as their gift.
What is Ukrainian wedding music like?
It is a mix of traditional folk and Ukrainian wedding songs, with modern day tunes. However, at some point you will definitely hear the Ukrainian wedding march at the reception which embodies the liviness of the celebration.
It was a night to remember! We were grateful for the opportunity to witness such an amazing celebration! This has been the most memorable and unique wedding we've ever attended.
Have you come across any unique wedding traditions and rituals throughout your travels?