Until the mid-19th century, Shanghai was just another fishing village, it then expanded to become a trading centre, but even in late 1980s, Shanghai looked nothing like it does today…
*This post may contain affiliate links, as a result, we may receive a small commission (at no extra cost to you) on any bookings/purchases you make through the links in this post. As an Amazon Associate, we earn from qualifying purchases. Read our full disclosure
Over the last 20 years Shanghai has developed into a world-class financial and economic centre in China and Asia, and an attractive city for tourists from all over the world.
Those visiting Shanghai for the first time may find it rather overwhelming. On one hand, Shanghai doesn't have any UNESCO World Heritage Sites or other world renowned attractions. But on the other hand, there is so much to see and do that even the guidebooks often miss the best of this diverse city! With the added challenge of the language barrier, it's no wonder that travelers struggle to navigate some of Shanghai's most interesting areas and cultural experiences.
I was spoiled. I lived in Shanghai for a whole year, exploring its most remote and least known sights and attractions. Unfortunately, most travelers won't have the same luxury. On average, a visitor to Shanghai spends only 2-3 days exploring the city. To be honest, unless you are traveling around China for months, I wouldn't recommend you spending any longer than that. After all, there is so much more to China than Beijing and Shanghai.
To help you make the most out of your time in Shanghai I've put together this handy list of the best places to visit during your visit.
Pick and choose the ones that appeal to you or try to visit them all. Just remember, your time in Shanghai is not a race and this isn't a check list!
Top Things To Do in Shanghai
1. Admire the views of Shanghai from the Bund
The Bund is a beautiful waterfront area in Central Shanghai that runs along the western bank of Huangpu River. It is a perfect spot for a mid day stroll or a visit at night, offering great views of the Financial District across the river.

Insider tip: Head to the Bund in the evening. Grab a drink at the rooftop bar, like the budget friendly Captain's Hostel, or the luxurious Hyatt on the Bund, and watch the sun go down.
2. Get lost in the alleyways of Tian Zi Fang
Tian Zi Fang is a neighbourhood of alleyways off Taikang Rd (Taikang Lu) in Shanghai's French Concession. It's a renovated residential area with bars, cafes, craft shops, galleries, and boutiques. This is probably my favourite place in Shanghai!
Insider tip: Head to Kommune for brunch then spend a few hours checking out the shops and the galleries. Look but don't buy. The area is very overpriced, you can find the same items for about 25% of the price elsewhere. See #10.
3. Explore Old City of Shanghai
The Old City of Shanghai, Yu Yuan Gardens and City God Temple are all located in the same area, easily accessible by taxi or by Metro via Line 10. As the name suggests, this is the old part of Shanghai with traditional Chinese architecture and over a hundred of shops and stores, most of which are nearly a century old.
Insider tip: Avoid going on the weekend, as this area is packed with tourists, both foreigners and Chinese. While you might be tempted to check out a traditional Chinese tea house in the Old City, don't. Tea houses in this area are highly overpriced and are notorious for tea house scams. In short: don't follow pretty Chinese girls who want to "practice their English" or "meet tourists" into a tea house, unless you want to be left with a $100-200 bill to pay for your "tea tasting"
4. View Shanghai from the top at Shanghai World Financial Center
Also known as the The Bottle Opener, the Shanghai World Financial Center is the tallest building in the city. It is located in Pudong district, across the Huangpu River. The bottle opener is one of the best ways to see the city from above.
Insider tip: It's a cool building and offers nice views of the city, but it's not located in central Shanghai. If you only have 48 hours to spend in Shanghai, the detour to the Bottle Opener may not be worth it. And in reality, unless it's a beautiful blue sky day, which rarely happens in Shanghai, you won't be able to see anything anyway. If you want an alternative to the Bottle Opener, head to Vue Bar – the view won't disappoint and you can enjoy it with a drink in hand.
5. Be transported into the Paris of the East in Old French Concession
Walking around French Concession you'll forget you are in Shanghai. Enjoy the remnants of French architecture peaking out from tree line streets or pop into one of many boutiques and restaurants along Donghu Lu or Julu Lu.
Insider tip: Choose to walk down a smaller street for a peak into Shanghai's daily life. The hustle and bustle of the local residents never seems to escape this part of the city.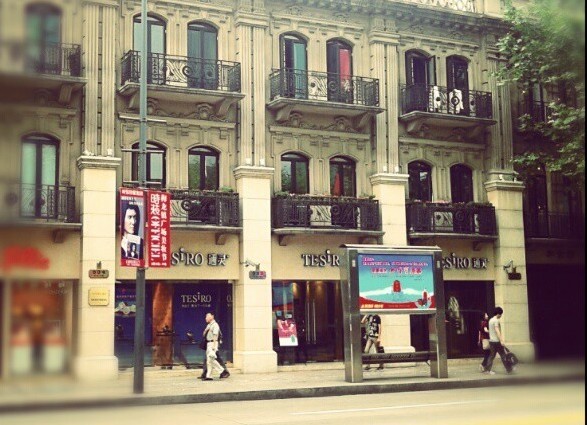 6. Visit a traditional Chinese Buddhist temple
Jade Buddha Temple and Jing' an Temple are two of the most popular and most visited Chinese Buddhist Temples in Shanghai. They are beautiful inside and out, dating hundreds if not thousands of years back. If you have never visited a Chinese Temple before, I recommend you add it to your itinerary.
Insider tip: If you are short on time, choose to visit Jin'g an Temple over Jade Buddha, it has been recently renovated and is much bigger and nicer than Jade Buddha. Jing'an Temple is located on Nanjing Xi Lu, near many other sights and attractions.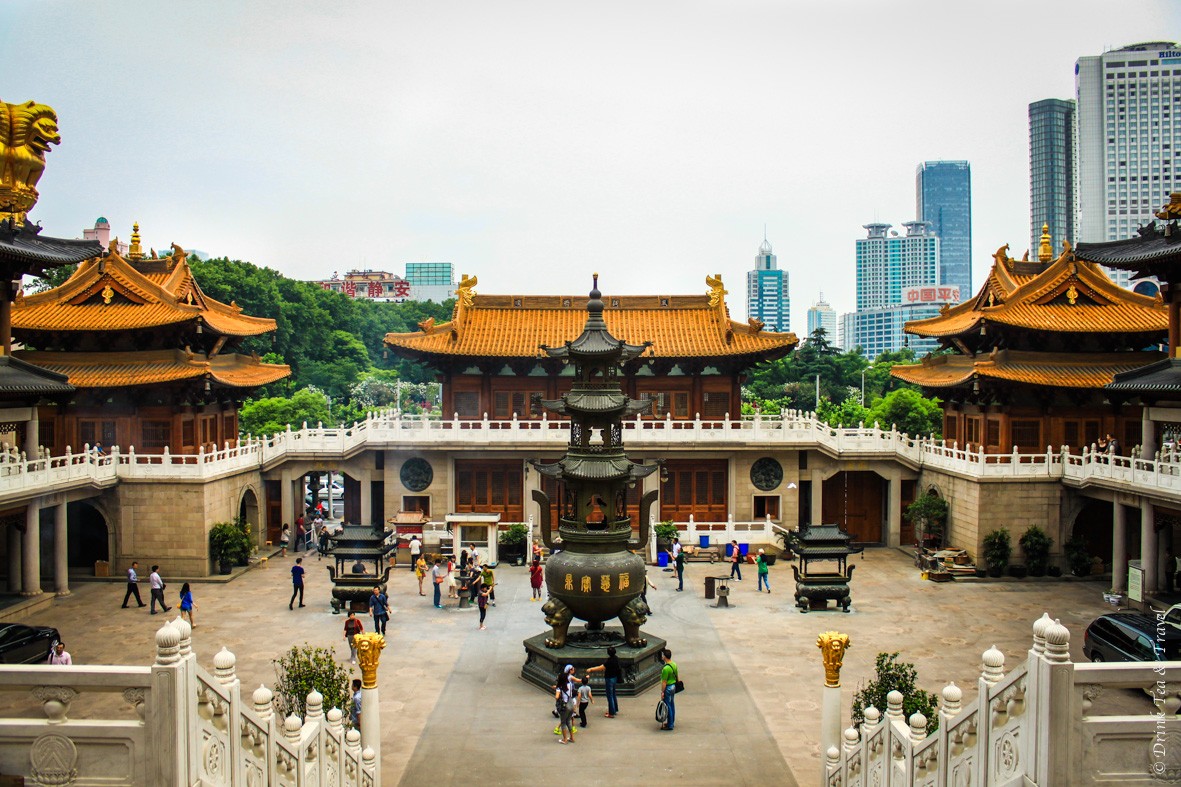 7. Enjoy a meal in Xin Tian Di
Xintiandi is a commercial area with great restaurants, movie theater, and plenty of shopping. It's a great spot for dinner or brunch on a sunny day. Here you'll find a great selection of good western restaurants.
Insider Tip: This is probably the least cultural experience activity to do in Shanghai. It's an expat congregation area with good but rather expensive restaurants and shops. If you are short on time, this is one you can miss. It's nothing you can't find back at home.
8. Enjoy a stroll in People Square Park
People Square is another tourist area with shopping, restaurants, and a small but nice park. I would't necessarily add it to the list of things to do in Shanghai, if it wasn't a great way to see Chinese Culture up close.
Insider tip: Stop by People Square park on a Saturday morning – you will find the park filled with Chinese moms and dads advertising their children to each other – match making at its best! I promise you, you won't find this cultural phenomena anywhere else in the world. ( I think?)
9. Window shop till you drop on Nanjing Road (Nanjing Lu)
Walking down this street, it's easy to forget you are in China. One luxury brand store after another, this has the potential to put a serious dent in your wallet. It goes to show how commercially developed the city is.
Insider tip: You'll find a lot of Western store fronts in this area, but they are really no different from the ones in North America or Europe. If you are looking for some great bargains look into smaller boutique shops on adjacent streets.
10. Bargain your way to the best souvenirs at HanCity Fashion & Accessories Plaza
Located on 580 Nanjing West Rd (Nanjing Xi Lu), this Shanghai's famous fake market. A must visit for shopaholics on a budget or anyone interested in bringing back some cheap souvenirs, electronics, or bags.
Insider tip: Quality of goods at the market ranges from good to horrible and bargaining is an absolute must – don't pay more then 15-20% of the asking price for anything!
BONUS INSIDER TIP:
If you have an extra day to spend in the Shanghai area, get out to the town of Zhujiajao, it's a beautiful traditional water town just outside of Shanghai. You would only need a few hours to see it and a few hours to get there, but it's definitely worth a visit! There are other water towns in the area as well, but this is probably the closest and most famous one.
For tips on which neighborhoods to stay in, in Shanghai check out our article on Where to Stay in Shanghai.
Zhujajiao, China
Like this post? Pin it for later
Enjoyed this post? Please share it with others!