Just a decade ago, Rwanda travel was not on many bucket lists. This tiny African nation suffered tremendously following the events of the 1994 genocide, but a
great sense of unity and many successful government policies have driven the country out of despair and into prosperity.
Slowly but surely
Rwanda reclaimed its seat at the table of top destinations in Africa
, drawing hundreds of thousands of visitors to its land, rich in wildlife and lush scenery.
Traveling Soon?

Here is a list of our favourite travel providers and accessories to help get you ready for your upcoming trip!
For most, the main drawcard is not necessarily the places in Rwanda, but the chance to track mountain gorillas. Despite the fact that Rwanda is just one of the three destinations where you can track mountain gorillas (Uganda and the Democratic Republic of Congo being the other two), the Rwandan tourism board has done a fantastic job at positioning Rwanda as the premier destination for gorilla tracking. Because of this, tourist numbers have skyrocketed over the years.
*This post may contain affiliate links, as a result, we may receive a small commission (at no extra cost to you) on any bookings/purchases you make through the links in this post. As an Amazon Associate, we earn from qualifying purchases. Read our full disclosure
So much, that the price of gorilla permits has recently doubled, from $750/per person to a whopping $1,500, putting gorilla tracking out of many visitors' budgets.
But the good news is that there are so many more Rwanda tourist attractions other than mountain gorillas. Rwanda is rich in National Parks and is home to some beautiful scenery that's unlike anywhere else in East Africa.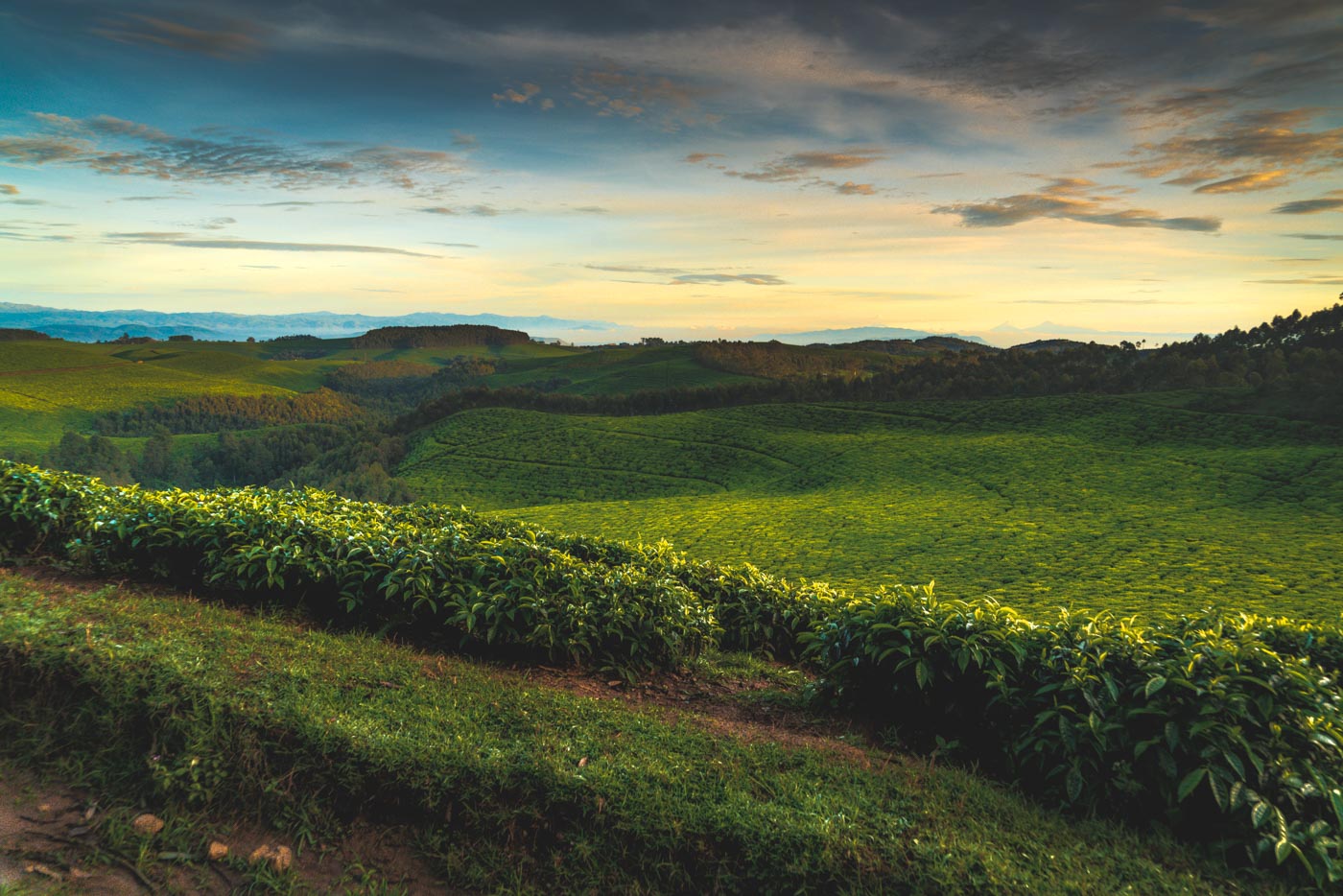 If a visit to Rwanda sparks your interest, here are our itinerary suggestions for the best things to do in Rwanda.
Kigali
Not all capital cities in the world are worthy of a visit, but Kigali is an excellent place to start any trip around Rwanda. Spending a few days in Kigali will give you an overview of not only the city itself but the tragic history of Rwanda, which should serve as an important precursor to any adventure in this beautiful country.
To understand the people in Rwanda, you really have to understand their history and there is no better way to learn about Rwanda's past than by visiting the Kigali Genocide Memorial. The visit only takes a few hours but it is bound to have a profound effect on the rest of your trip.
If you have an extra day, we also recommend doing a walking tour of the Nyamirambo Community, one of the oldest neighbourhoods in Kigali. This tour, run by the Nyamirambo Women's Centre, will allow you to drop in on community members to see how they go about their daily lives and learn more about the lives of modern Rwandans.
Where to stay
Marriott Kigali is conveniently located in the heart of the city, in close proximity to both the Genocide Memorial and the Nyamirambo Community.
Thanks to its extensive sustainability program, Marriott makes for a great hotel option for any eco-conscious traveler. Check rates for Kigali Marriott Hotel here.
Volcanoes National Park
For most visitors to Rwanda, Volcanoes National Park offers the main attraction – a chance to track mountain gorillas. The park is home to 12 habituated gorilla families that can be visited for a hefty price of $1,500 per person.
Those willing and able to fork out the cash for the permit will be rewarded with an incredible experience of getting up close and personal with the most majestical primates in the world.
Volcanoes National Park also offers an opportunity to see Golden Monkeys, a playful troop often found by hundreds. An additional permit ($100/per person) is required for Golden Monkey tracking, but unlike the permit for gorillas, this one is significantly more affordable. And in our opinion, just as entertaining.
Where to stay
Five Volcanoes Boutique Hotel is located just a few kilometres outside of the park and boasts beautiful views of the volcanoes from its premises.
The hotel is locally run/owned, is well-engrained in the community, and feels like a cozy home – making it a perfect low impact accommodation option for those visiting Volcanoes National Park. Accommodation is on a full board basis and the hotel will gladly help you organize gorilla tracking and other activities in the park. Check rates Five Volcanoes Boutique Hotel here.
Nyungwe National Park
Nyungwe National Park is becoming a star attraction in Southern Rwanda. It's the newest Park in Rwanda to receive a National Park status, but it has long been known as an area with some of the richest biodiversity in both Rwanda and all of Africa.
The park is thick and lush and is bordered by tea fields which keep the animals inside the park boundaries (they have not yet learned the benefits of tea consumption and thus have no desire to escape to the tea fields).
Nyungwe's biggest attraction is an opportunity to trek chimpanzees, a dozen of other primate species (including the rare Colobus Monkeys), 75 species of other mammals, and hundreds of special of birds, butterflies, and insects.
The park trails are well maintained and a number of guided forest walks (ranging from 1 hour to 6 hours) are available starting from one of the two ranger posts in the park.
Where to stay
Accommodation options at Nyungwe are limited to a few high-end lodges and the Gisakura Nyungwe Guest House located just outside the park. The guesthouse is locally owned but very basic, offering shared showers and simple meals. But staff are super helpful and caring and will make sure that you are looked after during your stay.
Lake Kivu
The lakeside town of Gisenyi doesn't get a lot of visitors, but those that take the time to spend a few days to relax on the shores of Lake Kivu will be rewarded with wonderful views and a quiet slow-paced setting. Gisenyi makes for a nice stopping point for travelers making their way from Nyungwe National Park to Volcanoes National Park.
Kingfisher Journeys offers kayaking trips on the lake, an ideal activity to take in the beautiful surroundings of this area. But don't be fooled by Lake Kivu's sandy beaches and resort-like appearance. Due to the high elevation (1,500m above sea level), the temperature here rarely climbs over 20-25C.
From delicious product demonstrations to designer kitchen vignettes, you're invited to experience Sub-Zero, Wolf, and Cove in our welcoming showrooms.
Where to stay
Lake Kivu Serena Hotel is located outside of a small town of Gisenyi that fully supports local farms and communities. Lake Koivu Serena hotel strives to uphold its ecological best practices in relation to energy conservation, waste recycling, and air emissions.
Akagera National Park
The typical tourist trail has yet to encompass a stop at Akagera National Park. We'll be honest, we hadn't even heard about the park until we arrived in Rwanda, but that's exactly why we wanted to include it in this roundup.
Akagera was once a great wildlife reserve in Rwanda. Its boundaries encompassed 10% of Rwanda and it was considered one of the finest parks in all of Africa. But in the late 1990s, much of the area of the park had to be used to resettle refugees that had returned to Rwanda in the years following the genocide. As a result of the resettlement the park's size shrunk in half.
Many of the animals, including lions and rhinos, went extinct over the years following the genocide. Some killed by poachers, others by locals hoping to protect their livestock.
But in the last decade, the government has implemented a strict conservation program in the Akagera National Park, aimed at protecting whatever wildlife was left and at reintroducing species that have gone extinct.
In the last three years, 7 lions and 20 Eastern black rhinoceroses were brought from South Africa and reintroduced into the park. The animals have settled in well and have elevated game viewing in the park to a new height. Akagera is now the only National Park in Rwanda where visitors can spot all the "big five" along with impala, topi, zebra, waterbuck, and many others.
Where to stay
Ruzizi Tented Camp is committed to being environmentally conscious through several community involvement initiatives including environmental education, infrastructure development and giving back to local communities. Also, the grounds run entirely on solar power.
Suggested Itinerary – Best Way to See Top Rwanda Destinations
If you are looking for an easy itinerary for your Rwandan adventure, we recommend the following:
Day 1-3: Arrive in Kigali and spend the first 2 days exploring Rwandan capital. Visit the Genocide Memorial and take a tour around the Nyamirambo neighbourhood through a local Nyamirambo Women's Centre.
Day 3-5: Travel south to Nyungwe National Park for some trekking in the forest and a chance to track chimpanzees.
Day 5-7: Make your way to Gisenyi, located on the shores of Lake Kivu and spend a few days relaxing by the lake.
Day 7-9: Travel to Volcanoes National Park. If budget permits, spend a day tracking the gorillas and another day hanging out with Golden Monkeys.
Day 9-11: Travel to Akagera National Park for a change of scenery and a chance to spot the "big five" on a classic East African Safari.
Day 12: Return to Kigali
Have you been to Rwanda before? What other destinations would you add to this list? Please leave your advice for others in the comments section below.